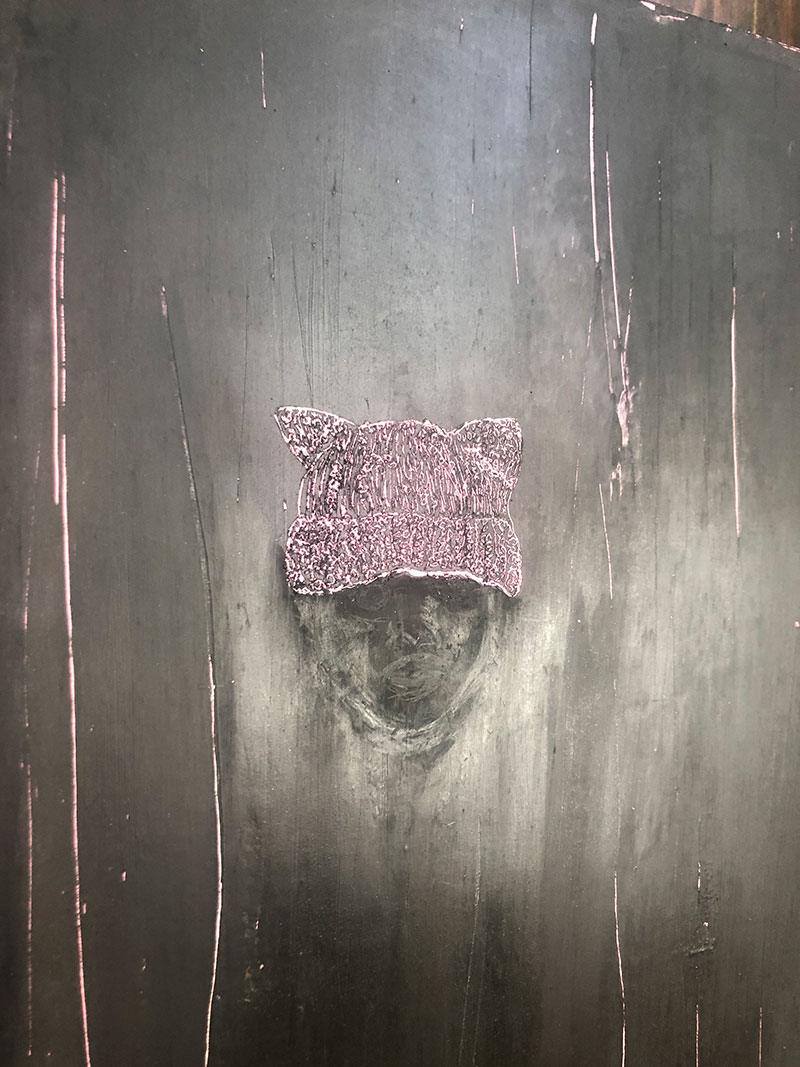 Deanna Chilian, Ghosting, 2020, Oil + cold wax on panel with a 2″ cradle, $400. 100% to Equal Justice Initiative [email protected] https://www.deannachilianfineart.com/
Change begins with awareness. While it may seem ironic, systemic racism impacts how white feminism has failed to engage black women. From that premise, I wanted to bring attention to the need to elevate issues that have a disparate impact on black women, such as inequities surrounding health care and incarceration. Using the pink pussy hat as a feminist symbol, I wanted to invite discussion and exploration of both the history and current state of this dynamic between white feminism and black women activists who struggled to unite in the 1960s and 1970s, a disconnect that continues today. There are numerous resources online for anyone who wants to delve into this subject matter.
The pink hat appears suspended in a black field, a field that overlays layers of pink, some of which peers through scratches on the surface. Pink has long been considered the color of a certain aspect of the feminine – but does it speak to a broad spectrum of feminine power? A closer look at the surface reveals the face of a black woman wearing the hat. Could she be the spirit of a slave woman whose life was taken in the course of 19th century medical experiments designed to benefit white women? Or the descendant of that woman, waiting hours in an ER with no attention because of a lingering medical myth that "black women don't feel pain" like white women do. She is both an apparition and an embodiment of centuries of attempts to erase and de-humanize her – yet still she persists and it is time she is seen and heard.