Randy Shull and Hedy Fischer are creating a colorful sensation on Depot Street in Asheville's River Arts District. The former textile manufacturing and warehouse building at 342-348 Depot Street has been transformed into an exciting mix of artist studios and retail spaces.
Pink Dog Creative shares the neighborhood with New Belgium & the Wedge Breweries, 12 Bones Smokehouse and hundreds of local artists. Pink Dog has 27 artists working in their studios, Fresh West Wood Fired Pizza, Vivian Restaurant and Sunnyside Trading Company.
Open Hours: Artists work odd hours but we promise to have our studios open for the public on Fridays and Saturdays from 11–5.
We're thrilled that Pink Dog Creative was chosen to represent Asheville in this stunning short film.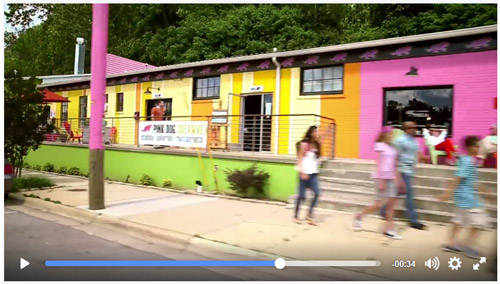 Ongoing Exhibitions & Artist News
Machinations: Oil on wood paintings by Juan Benavides
Pink Dog Creative Gallery, 348 Depot Street
Opening reception Friday, September 7, 6:00–9:00 PM
September 7–October 7, 2018
Juan Benavides' exhibition Machinations is the consummation of a year's work in which Juan explores the human condition. The title Machinations refers to the harmful mental processes and concepts that we learn throughout our lives. Juan has created images that describe machines which were glorious in a distant past, but have been abandoned and eaten away by an indolent and irrevocable future. These machines symbolize the harmful thoughts and concepts that we accumulate in our lives, and that must be rejected and discarded in order to achieve peace and personal freedom.
Trigger Warning
First Presbyterian Church
40 Church Street, Asheville
September 7—October 31
Pink Dog Creative is pleased to announce the exhibition, Trigger Warning which addresses the issue of and consequences of gun violence in the United States and specifically in Asheville and Buncombe County. Sadly, Asheville had 7 homicides in 2017, and 9 in 2016, most occurring in Asheville's poorer neighborhoods. Asheville's homicide total for 2018 has already eclipsed the total for all of 2017.
We each respond in our own particular way to the gun violence issue but 21 artists from Pink Dog Creative are tackling the issue in their specific creative ways with the exhibition Trigger Warning, on view at the First Presbyterian Church, 40 Church St., Asheville in September and at Pink Dog Creative Gallery in Asheville, in January through March, 2019.
Randy Shull in Defining America
Western Carolina University Bardo Arts Center
Cullowhee, NC
September 11, 2018 – May 3, 2019
Opening reception September 20, 5:00–7:00PM
Randy Shull's work Simultaneous Pattern has been chosen for inclusion at Western Carolina University's John Bardo Arts Center in the exhibition Defining America curated by Carolyn Grosch.
Defining America is inspired by the WCU campus theme for the 2018–2019 academic year. The exhibition brings together artists with different perspectives on the concept of America and asks visitors to reflect on the values, definitions, and assumptions attached to this concept. The exhibition will be on view from September 11, 2018 through May 3, 2019 with a reception September 20 from 5–7pm.
Vivian receives Best New Restaurant Award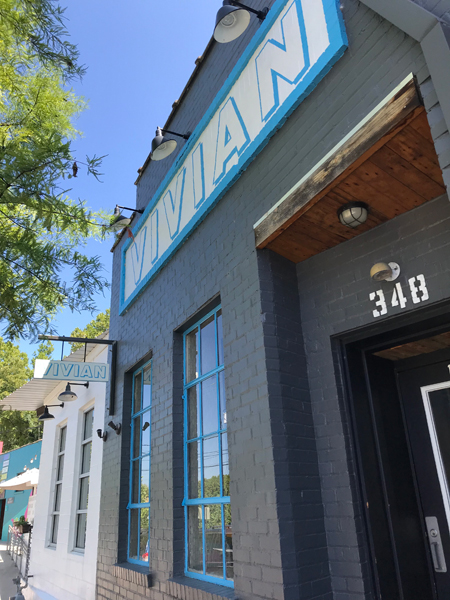 Vivian is honored to receive a "Best New Restaurant" award from Mountain Xpress Best of WNC Awards for Asheville in 2018. Vivian would like to thank all their wonderful guests who voted for their nomination in this category; they look forward to serving you many more delicious meals!
Learn more and make a reservation at Vivian's website.
Holly de Saillan: Featured September Artist in Two Locations
Odyssey Co-Op Gallery, 238 Clingman Ave., Asheville
Holly de Saillan's newest ceramic work will be featured for the month of September at Odyssey Co-Op Gallery in the Asheville River Arts District. Holly will be greeting visitors to the gallery on Second Saturday–September 8 from 11:00AM–1:00PM.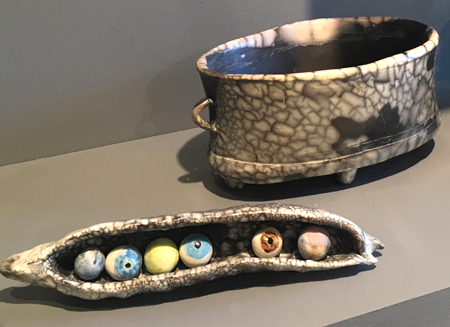 Pink Puppy Gallery, Pink Dog Creative, 344 Depot St., Suite 101, Asheville
Holly de Saillan's vintage image mixed media collages will be displayed in the Pink Puppy Gallery in Pink Dog Creative from September 1– 30.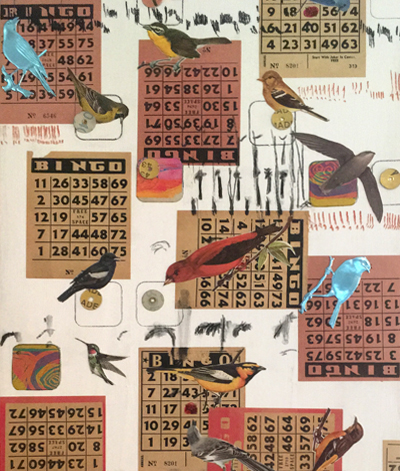 See more of Holly's work at her website.
William Henry Price: Revealing the Soul in Art: A two day workshop
William Henry Price Studio at Pink Dog Creative, 348 Depot St., Asheville
Saturday & Sunday, September 22 & 23, 10:00AM–4:00PM both days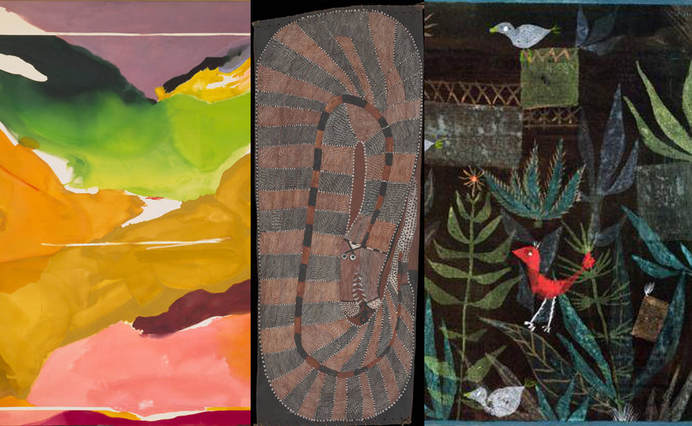 Through hands-on exercises and discussion, participants will study the inherent powers of art. This workshop will clarify the participants' personal vision and lead them toward fulfillment as a creative soul. This is a workshop in learning how to work with the arts as spiritual technology. It is open to artists, musicians, writers, and all those for whom art is a vital part of life.
Learn more and register at William's website.
Ralph Burns: BLUE
Elephant Gallery, Nashville, TN
August 16—September 28
BLUE, an exhibition of selected fiber-based silver gelatin prints from How Great Thou Art, Ralph Burns' 30+ years exploration of Elvis fans and the nature of love, loss and worship, opens at Elephant Gallery in Nashville, TN, on Thursday, August 16, with an opening reception from 6:00—9:00 PM. The exhibition will run through September 28. There will be a limited edition monograph, BLUE, published by Elephant Gallery, available.
Karen Brown art workshop
Shuptrine Fine Art, Chattanooga, TN
October 5, 2018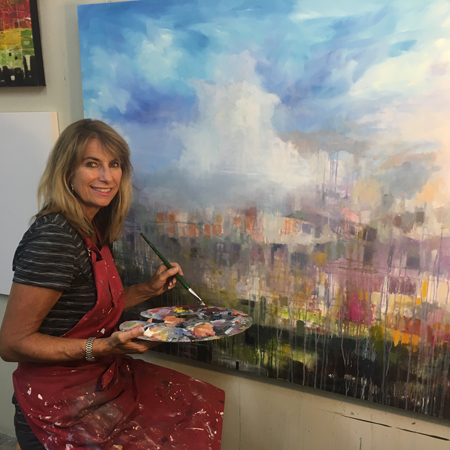 Karen Brown will teach an art workshop in Chattanooga, TN at Shuptrine Fine Art on October 5, 2018.
See more of Karen's work at her website.
Pink Dog Creative and 22 London Featured in Burnaway article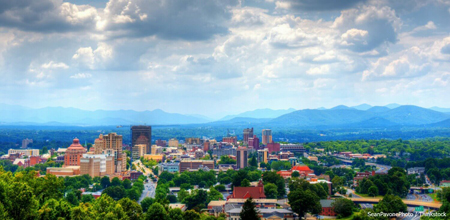 Pink Dog Creative, 22 London, and the upcoming exhibit Say It Loud at 22 London were all mentioned in a new article in Burnaway, The Voice of Art in the South. The article is entitled How Did Asheville Make the List of 40 Most Vibrant Arts Communities in America? by Diana Stoll.
Read the full article at burnaway.org here and the original research findings about the 40 Most Vibrant Art Cities here.
New pole banners in the River Arts District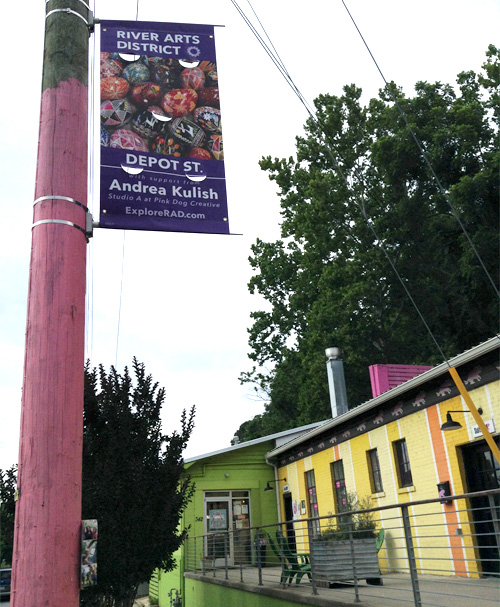 114 new pole banners are part of a project to help River Arts District vitality during RADTIP construction, which involves a partnership of the City of Asheville, RADBA (River Arts District Business Association) and RADA (River Arts District Artists). The banners are meant to help people find their way around the River Arts District and beautify the area. The banners feature artwork by various artists in the district, street names, and are color coded to match the RADA studio guide map. Pink Dog Creative artist and graphic designer Andrea Kulish designed the banners. Pink Dog Creative sponsored four of the banners, which feature artwork by Pink Dog Creative artists. You can see them on Depot Street, Lyman Street and Riverside Drive.
Read more about the project here.
Dining review: RAD's Vivian grows from Salt & Smoke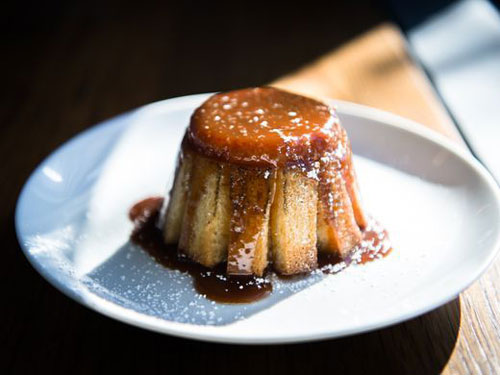 An excerpt from the article: "Vivian feels as though it's been operating for years. Its cuisine is clearly defined, and the warm hospitable approach to the service helps makes the restaurant a success… Vivian set out to meld southern and European cuisines in an elevated way, and it succeeds. "
Randy Shull work acquired by Spartanburg Art Museum
Spartanburg, SC
Pink Dog congratulates Randy Shull as the Spartanburg Art Museum acquires Striped Reflection, a recent piece from his reflection series that explores the relationship between painting and furniture. Fundamentally, Shull says the work is about pairing and relationships.
See more of Randy's work at his website.
Viola Spells featured in the Mountain Xpress
Viola Spells was featured in Mountain Xpress article Two Local Artists Follow Their Passions in the RAD by Alli Marshall.
Fresh West Pizza in the Mountain Xpress
Read Liisa Andreassen's interview of the owner of FRESH West- Quick Dish: Q + A with Mark Tomczak of FRESH Wood Fired Pizza in the Mountain Xpress – read the article here.
10 Top U.S. Cities for Art Lovers: Asheville
Pink Dog Creative is the feature photo for a "Top 10" article on AARP!
Read more at AARP Travel online.
Asheville, North Carolina is unlike anywhere else in the South
"[Asheville's] singular mix of worldliness and hominess gives it a character unique among cities below the Mason-Dixon line."
"A visit to the emerging River Arts District felt more my speed. A string of converted industrial buildings along the French Broad river, it's now home to working artists in spaces that New York creatives would give both arms for. It's impossible to categorize the talent here, but in just a few hours, I met abstract-animal painter Daniel McClendon (349 Depot St., danielmcclendon.com) and record producer-turned ceramicist Akira Satake (191 Lyman St., akirasatake.com), whose airy workshop houses his wife's exquisite pastry shop, Yuzu Patisserie (191 Lyman St., yuzubycynthia.com)."
Read more of this article at the NY Daily News.