Randy Shull and Hedy Fischer are creating a colorful sensation on Depot Street in Asheville's River Arts District. The former textile manufacturing and warehouse building at 342-348 Depot Street has been transformed into an exciting mix of artist studios and retail spaces.
Pink Dog Creative shares the neighborhood with local favorites, such as Wedge Brewery, Clingman Cafe, 12 Bones and many local artist studios. Randy has already established his studio in the building and shares it with 15 other artists, galleries, The Junction Restaurant and Bar, and Fresh Wood Fired Pizza.
Open Hours: Artists work odd hours but we promise to have our studios open for the public on Fridays and Saturdays from 10-4.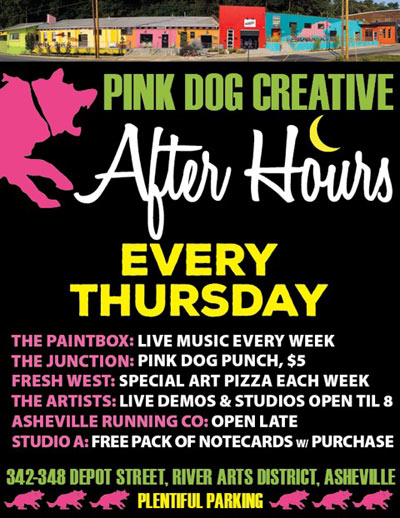 The Asheville Citizen-Times recently featured Pink Dog's summer After Hours weekly Thursday event. Join us on Thursdays this summer for some after hours art and music!
Read about Pink Dog's After Hours at the Asheville Citizen-Times.
Ongoing Exhibitions & Artist News
Check out our June newsletter for news from our studios and ongoing artist exhibitions!
Anna Jensen: The Bait Hides the Hook
at Pink Dog Creative Gallery
June 19 – August 2, 2015
Opening Reception Friday, June 19, 5 – 8 pm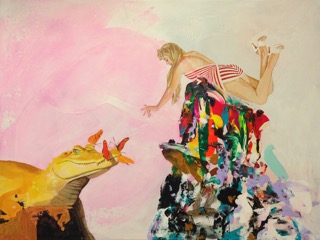 The Bait Hides the Hook, an exhibition of paintings by Anna Jensen, opens at Pink Dog Creative Gallery, 348 Depot St., Asheville, NC on Friday June 19, 2015 with a public reception from 5 – 8 pm.
Jensen's psychological landscapes and emotionally complex narratives in acrylic, glitter, and oil stick bring to mind the humor and pathos previously mastered by great expressionists and later manifested by pop artists. Jensen combines references to art history, pop culture, natural science, and personal chronicles to represent the conflicts of life.
For more about Anna's work visit www.annajensenart.com.
Anna was also recently featured in Paint Pens Collective. Read her post online at Paint Pens Collective.
Steven Silverleaf
at Pink Dog Gallery
May 8 – June 15, 2015
Figurative Work by Steven Silverleaf, an exhibit of paintings and drawings at the Pink Dog Creative Gallery, 348 Depot St., will run through June 15, 2015.
Steven Silverleaf has worked with models and sitting figures for over fifteen years, but creates most of his work from his imagination in the absence of the model. He uses a variety of mediums to create a relaxed and introspective mood. The work shows a love of both the tradition of drawing and painting in combination. The artist explores a very distinctive line and color that is all his own.
David Holt and the Lightning Bolts
at Isis Restaurant and Music Hall
June 25 & 26, 2015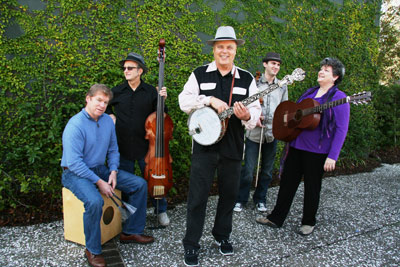 David Holt and the Lightning Bolts will be playing at Isis in West Asheville on Thursday and Friday, June 25 and 26th.
Isis Restaurant and Music Hall
743 Haywood Rd, Asheville, NC 28806
(828) 575-2737
Reiko Miyagi
in WNC Magazine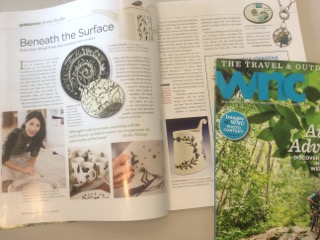 Reiko is featured in this month's WNC Magazine. Congratulations, Reiko! Read her story, Beneath the Surface, online at WNC Magazine.
Karen Keil Brown: Ethereal Paintings
at Ananda West
June 10 – August 10, 2015
Opening Reception Saturday, June 20, 7 – 9 pm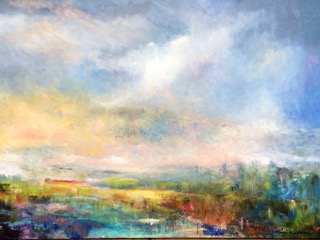 Ethereal Paintings, an exhibition by Karen Keil Brown, opens at Ananda West on Payne Avenue in the River Arts District on Saturday, June 20 with a public reception from 7 – 9 pm. The exhibition runs June 10 – August 10, 2015.
Karen Keil Brown
in the WNC Design Guide
Karen Keil Brown is a participating artist in the WNC Design Guide, which is a free art book designed to help architects, interior designers, and buildings encourage their clients to buy local art for their homes.
Karen Keil Brown
at the Asheville Percussion Festival Invitation Art Show & Sale
June 14 – 21, 2015
Opening Reception Sunday, June 14, 5:30 – 8 pm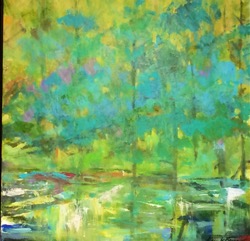 Karen's work will be part of the Asheville Percussion Festival Invitational Art Show & Sale at Odyssey Community School, Asheville, NC June 14 – June 21, 2015 with a public reception June 14, 5:30 pm – 8 pm.
Karen Keil Brown
at Woolworth Walk
Beginning June 5, 2015, Karen will be showing her art at Woolworth Walk, 25 Haywood St. in downtown Asheville.
Pat Phillips
in The Laurel of Asheville
Pat Phillips is featured in The Laurel of Asheville. Congratulations, Pat! Read her story online at The Laurel of Asheville.
The Paintbox – You Never Know What's In Store!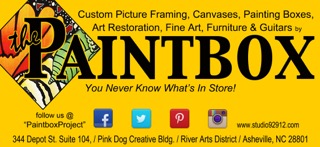 BIG SALE!!!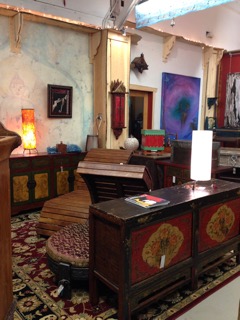 40% off all of our IMPORT FURNITURE. Pass it on! We're pricing it to make room for new things!!
The Paintbox Jam
Tuesday, June 9, 6:00 pm
Opening our hearts and doors to fill the air with music. Bring your favorite musical instrument and sit in on the jam.
When: Tuesday, June 9th, Starts @ 6:00pm and goes till we get blisters!
Where: The Paintbox, 344 Depot St. Suite 104, Pink Dog Creative Bldg. Asheville 28801
Bring: Your Drink (a snack to share is greatly appreciated)
We Provide: a snack, water, and a comfy place to hang out.
The Paintbox Presents The Sunday Sessions with Singer / Songwriter Brad Hodge
Join us Sunday, June 7 and 21 for The Sunday Sessions with Brad Hodge, 2 pm – 6 pm.
We've turned up the mic, and put in a stage with a soundboard! There is music in the air, every other Sunday afternoon during the Summer, at The Paintbox.
Brad Hodge books a lineup of local singer / songwriters for our Paintbox stage. Some of the best music in town. Check out facebook.com/PaintboxProject to see and hear some of the amazing talent we get to share with you. We are partnering with Brad and various local food and beverage owners, to help make The Paintbox and Pink Dog Creative Building, the place to be on a Sunday afternoon. Come see what the buzz is about, and help us "Keep It Asheville!"
New at The Paintbox
Beaded light and fan pulls by local artist Dee Smith, give a lot of class and style to the plain chains. They are a beautiful addition to your style.
Vintage and fun guitars and drums to play, decorate with, or invest in. Come see what's new. Mark is also handcrafting and painting his own artistic guitars.
The Paintbox Framing Corner
We offer Custom Picture Framing and Art Restoration. Please pass it on and consider us for your picture framing, building your painting boxes, canvas stretching, metal leafing, and repair of your frames, paintings and sculptures.
River Arts District artists and business owners receive a wonderful Friend & Family discount. Ask about our reclaimed frames for an even greater deal!
Hours at The Paintbox
Tuesday – Saturday, 11 am – 6 pm
Sunday and Monday by appointment
Julia & Mark Goldthwaite
407-620-1871 & 407-616-4917
Joseph Pearson
at Pink Dog Creative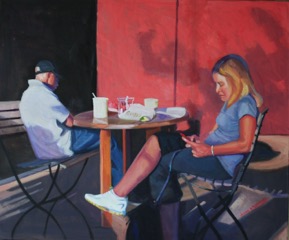 Pink Dog Creative would like to welcome its newest artist, Joseph Pearson, who will have a studio in 348 Depot St.
"Inspired by the subject matter that unites our humanity, I am interested in telling the story of the "Everyman," painting people as portraits and figures in oil, charcoal and pastel pencil. The source of my inspiration derives from numerous directions, including scenes from the streets, issues in the news, and subject matter I have read about regarding current social trends. My present body of work addresses the universal use of social media in public and private settings. My work also embraces the concept of social realism by drawing attention to everyday conditions, I am interested in the transformative energy of art to heal social ills. My work is inspired by my sensitivity to those who are considered to be on the fringes of society as well as the sense of alienation my childhood shyness made me feel. No conversation is more worth having than that which addresses to some degree the condition of our fellow man."
Learn more about Joe at josephart.net.
Pink Dog and RAD in the Mountain Xpress
The Junction Restaurant and Bar:
A Winter Survivor
While some local restaurants choose to hibernate by limiting their hours or closing altogether, the Tribers are driven to meet their customers' expectations. As Charles says, "Sometimes it's harder to stay here through winter than to just shut your doors and wait for the season to change. But we can't do that to our guests. We really owe it to them to be here."
Read the full article at mountainx.com.
The Evolution of Depot Street and RAD
The district a decade ago looked pretty different — even two years ago. Depot Street, once dilapidated territory, now shines at night. Pink Dog Creative at 342-348 Depot St. turned an old Nabisco plant into artist studios, an arts supply store, a gallery (the Artery), the Asheville Area Arts Council's offices and a restaurant (The Junction). Next door, nonprofit development organization Mountain Housing Opportunities built the Glen Rock Depot, a mixed-use complex that includes street-level businesses, such as The Magnetic Field bar and theater.
Read the full article at mountainx.com.
Collect ART Asheville
Pink Dog Creative is participating in "Collect ART Asheville" with open studios every second Saturday of the month. Come visit the open studios at Pink Dog Creative and see work by great artists in the River Arts District.
Read more about Second Saturday open houses:
More from riverartsdistrict.com
More from ashevillerad.com