Randy Shull and Hedy Fischer are creating a colorful sensation on Depot Street in Asheville's River Arts District. The former textile manufacturing and warehouse building at 342-348 Depot Street has been transformed into an exciting mix of artist studios and retail spaces.
Pink Dog Creative shares the neighborhood with New Belgium & the Wedge Breweries, 12 Bones Smokehouse and hundreds of local artists. Pink Dog has 29 artists working in their studios, Fresh West Wood Fired Pizza, Vivian Restaurant and Sunnyside Trading Company.
Open Hours: Artists work odd hours but we promise to have our studios open for the public on Fridays and Saturdays from 11-5.
We're thrilled that Pink Dog Creative was chosen to represent Asheville in this stunning short film.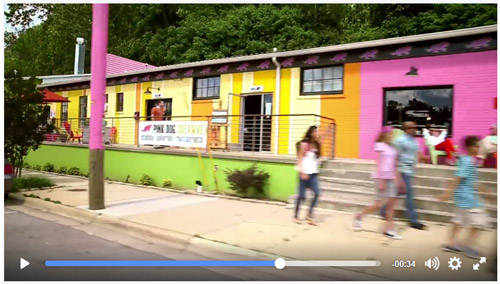 Ongoing Exhibitions & Artist News
Joyce Thornburg: Negative Capability
Pink Dog Creative Gallery, 348 Depot Street
Open house reception Friday, May 11, 5:00 – 8:00 PM
Exhibit runs May 11 – June 24
The term Negative Capability is attributed to the poet John Keats, which means in essence "the ability to be in uncertainty without grasping for resolution or results…to stand "in the mystery," while exercising the discipline of not deciding…."
As a visual artist and poet, this sentiment resonates with Joyce's current personal and world view.
See more of Joyce's work at her website and click here for the reception Facebook invitation.
Trigger Warning
YMI Cultural Center
Opening reception Friday, June 15, 5:00 – 8:00 PM
39 S. Market St., Asheville, upstairs
Reception following at The Block, corner of Eagle and Market Streets
June 15 – July 15
Pink Dog Creative is pleased to announce the exhibition, Trigger Warning which addresses the issue of and consequences of gun violence in the United States and specifically in Asheville and Buncombe County. Sadly, Asheville had 7 homicides in 2017, and 9 in 2016, most occurring in Asheville's poorer neighborhoods. Asheville's homicide total for 2018 has already eclipsed the total for all of 2017.
We each respond in our own particular way to the gun violence issue but 21 artists from Pink Dog Creative are tackling the issue in their specific creative ways with the exhibition Trigger Warning opening at the YMI Cultural Center, 39 S. Market St., Asheville, NC 28801 on Friday, June 15, 2018 from 5-8 with a reception, open to the public, following at The Block, 39 S. Market St. on the corner of Market and Eagle Streets.
Trigger Warning will travel to multiple venues including, Habitat Brewing, 174 Broadway St. Asheville, NC 28801 with an opening reception August 3, First Presbyterian Church, 40 Church St., Asheville in September and at Pink Dog Creative Gallery, 348 Depot St. Asheville, NC 28801, in January through March, 2019.
Stephen St. Claire: The Art of Dinner
Omni Grove Park Inn
June 5
Stephen St. Claire will participate in The Art of Dinner, Tuesday, June 5 at the Omni Grove Park Inn. The head chef will create a dinner for special guests, the Dallas Cowboys football team. The meal will be the chef's gastronomic "interpretation" of Stephen's painting Summer Walks Remembered, which was inspired by teenage memories of exploring the upper wheat fields above the shoreline of Francois Lake in British Columbia, Canada. Stephen will be in attendance to discuss his painting.
Randy Shull in Opening Eyes: New Asheville Painting
The Satellite Gallery, 55 Broadway St., Downtown Asheville
Opening reception: Friday, June 1, 6:00 PM – 9:00 PM
Panel discussion: Sunday, June 10, 3:00 – 4:00 PM
Exhibit runs June 1 – 30
Morgan Santander: Recent Paintings
Pink Dog Creative Gallery, 348 Depot Street
Opening reception June 29, 5:00 – 8:00 PM
June 29 – July 29
This exhibition comprises a selection of recent paintings from two distinct bodies of work. Floral still life paintings, reminiscent of the classical Dutch tradition, are juxtaposed with images from Santander's series Beyond Reconstitution. Santander's narrative paintings, Beyond Reconstitution, challenge as well as reconfigure the roles and the significance of traditional historical genre painting. The combination of these two bodies of work are intended to be both unsettling and playful.
See more of Morgan's work at his website.
Holly de Saillan in Food
Posana, 1 Biltmore Ave., Downtown Asheville
Meet the Artists: Thursday, June 28, 6:00 – 8:00 PM
Holly is part of a food themed group show at Posana Restaurant entitled Food. The opening reception will take place on Thursday, June 28 from 6:00 to 8:00 PM and the exhibit will run throughout the summer.
See more of Holly's work at her website.
Studio A Five Year Anniversary Celebration
Studio A at Pink Dog Creative
344 Depot Street, Suite 100
Saturday, June 9, 3:00 PM – 8:00 PM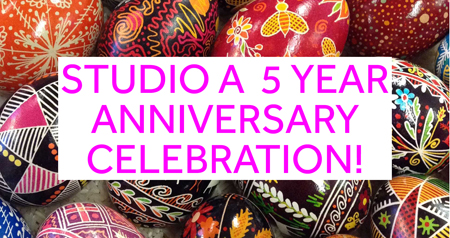 All are invited to the five year anniversary celebration of Studio A at Pink Dog Creative in the River Arts District. There will be lots of merchandise giveaways and refreshments including locally made brews, pink wine and yummy treats with a pink-colored theme, including Ukrainian borscht!
Mary Alice Ramsey in Garden Show Art Tour
Gardens of Fairview Tour
15 Ivy Cove Road, Fairview, NC
Saturday, June 9, 9:00 AM – 3:00 PM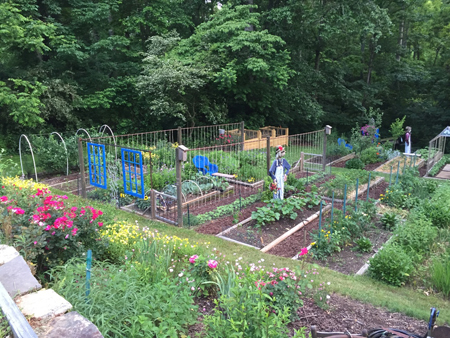 Paintings by Mary Alice Ramsey will be displayed as part of the Gardens of Fairview Tour on Saturday, June 9, from 9:00 until 3:00. Her art can be seen in her greenhouse and garden at 15 Ivy Cove Road in Fairview, NC 28730. The bright acrylics will be complimented by the herb and dye gardens, shade and water gardens, multiple perennial gardens, and her vegetable garden which was featured last August in Southern Living Magazine. Also to be enjoyed at the Ramsey home are a garden shed which won the Habitat for Humanity competition for re-purposed materials, working compost bins, water wheel, water ram, creek fountain, waterfalls and bridges, and a two-story tree house studio. This is an educational setting which combines gardening and art.
Click here for ticket information and additional details for the nine gardens participating.
Reiko Miyagi featured artist for June
Odyssey Co-op Gallery
238 Clingman Ave.
Open daily 11:00 AM – 5:00 PM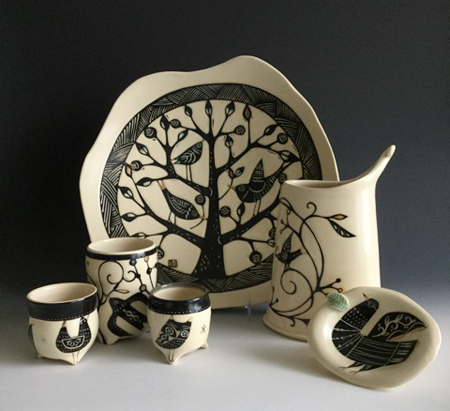 Reiko Miyagi: Master Series Class
The Village Potters
191 Lyman St.
Saturday, June 2, 1:30 PM – 5:30 PM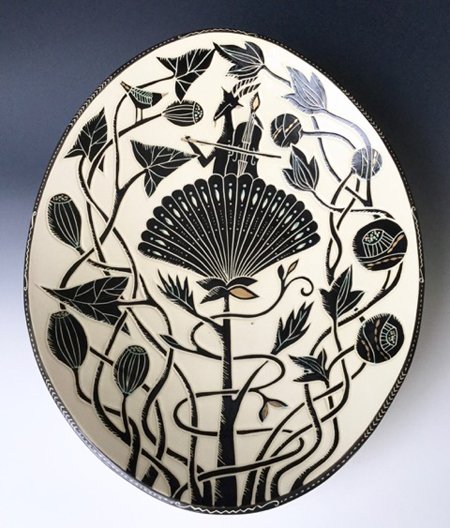 Reiko Miyagi is teaching a surface design class at the Village Potters on June 2nd. The class focuses on sgraffito and it's variations and other carving-related technique such as slip inlay.
For more information please click here.
Dining review: RAD's Vivian grows from Salt & Smoke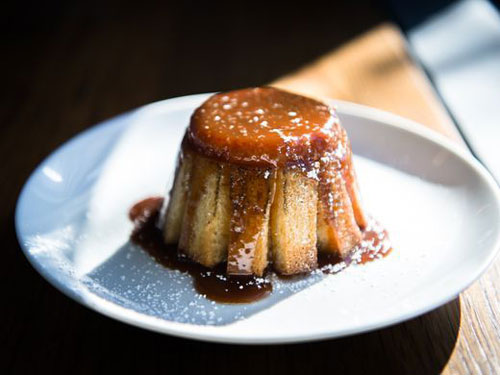 An excerpt from the article: "Vivian feels as though it's been operating for years. Its cuisine is clearly defined, and the warm hospitable approach to the service helps makes the restaurant a success… Vivian set out to meld southern and European cuisines in an elevated way, and it succeeds. "
Randy Shull work acquired by Spartanburg Art Museum
Spartanburg, SC
Pink Dog congratulates Randy Shull as the Spartanburg Art Museum acquires Striped Reflection, a recent piece from his reflection series that explores the relationship between painting and furniture. Fundamentally, Shull says the work is about pairing and relationships.
See more of Randy's work at his website.
Viola Spells featured in the Mountain Xpress
Viola Spells was featured in Mountain Xpress article Two Local Artists Follow Their Passions in the RAD by Alli Marshall.
Fresh West Pizza in the Mountain Xpress
Read Liisa Andreassen's interview of the owner of FRESH West- Quick Dish: Q + A with Mark Tomczak of FRESH Wood Fired Pizza in the Mountain Xpress – read the article here.
10 Top U.S. Cities for Art Lovers: Asheville
Pink Dog Creative is the feature photo for a "Top 10" article on AARP!
Read more at AARP Travel online.
Asheville, North Carolina is unlike anywhere else in the South
"[Asheville's] singular mix of worldliness and hominess gives it a character unique among cities below the Mason-Dixon line."
"A visit to the emerging River Arts District felt more my speed. A string of converted industrial buildings along the French Broad river, it's now home to working artists in spaces that New York creatives would give both arms for. It's impossible to categorize the talent here, but in just a few hours, I met abstract-animal painter Daniel McClendon (349 Depot St., danielmcclendon.com) and record producer-turned ceramicist Akira Satake (191 Lyman St., akirasatake.com), whose airy workshop houses his wife's exquisite pastry shop, Yuzu Patisserie (191 Lyman St., yuzubycynthia.com)."
Read more of this article at the NY Daily News.