Randy Shull and Hedy Fischer are creating a colorful sensation on Depot Street in Asheville's River Arts District. The former textile manufacturing and warehouse building at 342-348 Depot Street has been transformed into an exciting mix of artist studios and retail spaces.
Pink Dog Creative shares the neighborhood with local favorites, such as Wedge Brewery, Clingman Cafe, 12 Bones and many local artist studios. Pink Dog has 25 artists working in their studios, Asheville Running Company, The Junction Restaurant and Bar and Fresh West Wood Fired Pizza.
Open Hours: Artists work odd hours but we promise to have our studios open for the public on Fridays and Saturdays from 10-4.
Ongoing Exhibitions & Artist News
Check out our November newsletter for news from our studios and ongoing artist exhibitions!
Studio Stroll
November 14 – 15, 10:00 am – 5:00 pm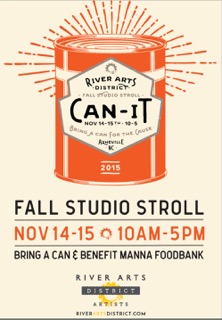 The Artists of Asheville's River Arts District open their doors for a full weekend in the Fall Studio Stroll, welcoming the public to see and collect art in their studios and galleries. All 25 of the artists at Pink Dog Creative will be welcoming everyone to their studios.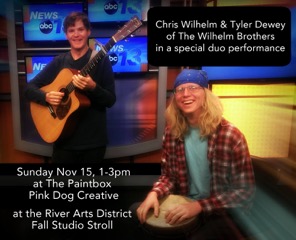 Please join us for a special duo performance of Chris Wilhelm and Tyler Dewey of The Wilhelm Brothers during the Fall Studio Stroll. Live at the Paintbox, Sunday, Nov 15 from 1:00 – 3:00 pm.
The Paintbox
November 14 – 15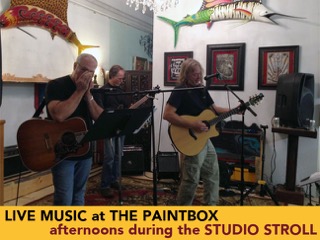 The Paintbox is pleased to present live music by local singer-songwriters during both days of the Fall Studio Stroll. Local musicians will perform originals and cover songs on the Paintbox stage each afternoon. Exact schedule to be announced. Please check the Paintbox Facebook page for updates.
Brett Hunter: Gossima
at Pink Dog Gallery
October 2, 2015 – December 19, 2015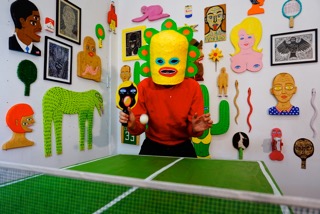 Brett's exhibit, Gossima, continues at the Pink Dog Gallery, 348 Depot St. through December 19. Gossima, derived from a word used to describe something lightweight or delicate, is one of the original names for the game now known as Table Tennis, or Ping Pong. "I use Gossima to describe this collection of work not only for the direct association with the Ping Pong themes in the work, but as a reference to it being 'lightweight,' 'not heavy,' 'FUN,'" says Hunter.
Brett Hunter is an artist working in southern Illinois and beyond. Blowing off a college education to travel and play in punk rock bands his entire adult life has brought a DIY, low-brow aesthetic to his artwork. This goes hand-in-hand with a heavy folk art influence, thanks to growing up around his grandparents' collection of odd, brightly colored, often crudely made folk creations, many of them made by Brett's grandfather, Don Shull. Several members of the family are artists themselves and it's only natural that he follow in their footsteps.
The Junction Bar + Restaurant presents: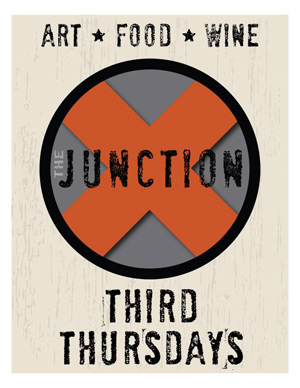 Third Thursday: Holly de Saillan
at The Junction Bar + Restaurant
Opening Reception Thursday, November 19, 5:30 – 8:00 pm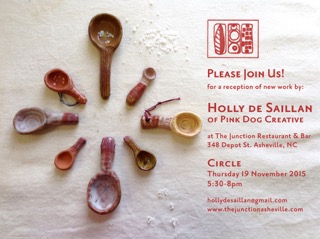 Please join us for Holly de Saillan's fourth Junction solo show opening reception on Thursday, November 19 from 5:30 – 8:00 pm. Wine and light snacks will be served.
Beer Dinner with Burial Brewing Co.
at The Junction Bar + Restaurant
Wednesday, November 4, 6:30 pm
The Junction also has a five-course beer dinner with Burial Brewing Co. on Wednesday, November 4 at 6:30 pm. $75/ea, (not including tax & gratuity). Seating is limited & reservations are required. Call 838-225-3497 to book.
Andrea Kulish/Studio A
November 14 – 15, 12:00 – 5:00 pm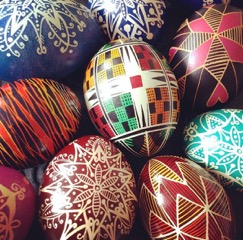 Andrea Kulish of Studio A will demonstrate the ancient art of pysanky—Ukrainian Easter eggs—during the Studio Stroll on both Saturday and Sunday from 12:00 – 5:00 pm. The design is written on the egg with melted beeswax, the eggs are dipped in successively darker dyes, and the wax is melted off in the end to reveal the dazzling design.
Andrea Kulish: It's a Small, Small Work
at Haywood County Arts Council's Gallery & Gifts
November 6 & December 4, 6:00 – 9:00 pm
December 12, 6:00 – 9:00 pm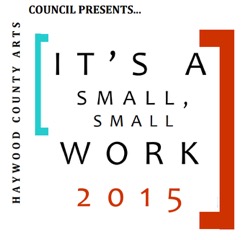 Andrea Kulish of Studio A will participate in the It's a Small, Small Work show at to the Haywood County Arts Council's Gallery & Gifts in Waynesville. All works are 12″ x 12″ x 12″ or under.
"This show proves there's no such thing as small art. It's a community favorite – great for holiday gifts – and the variety of artists represented in one show is unparalleled within our gallery," said Lindsey Solomon, HCAC Executive Director.
Please join us for the Artist Receptions & Art After Dark on November 6 & December 4, 2015 from 6:00 – 9:00 pm and Night Before Christmas on December 12 from 6:00 – 9:00 pm @ HCAC Gallery & Gifts, 86 N. Main St., Waynesville.
Joseph Pearson
November 14, 12:20 – 3:30 pm
Joseph will do a portrait painting demo on Saturday, November 14 from 12:20 – 3:30 pm during the Stroll weekend.
Holly de Saillan: TAPAS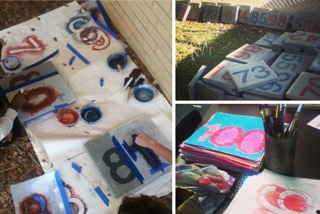 Holly de Saillan recently created and completed her sixth TAPAS (Teaching Artist Presenting in Asheville City Schools) project. She worked individually with 100 first-graders at the Ira B. Jones Elementary School. Inspired by Jasper John's colorful numbers, the students decorated their stenciled numbers with chalk pastels to create a meandering number line through the school. They then stenciled their numbers on 12″ x 12″ concrete pavers. These pavers will be installed to form a 10′ x 10′ outdoor "Hundreds Board" – an interactive learning tool for the school. The kids are very excited about their numbers and what they created for the school. This TAPAS Project was funded by a grant from the Asheville City Schools Foundation.
Pink Dog and RAD in the Mountain Xpress
The Junction Restaurant and Bar:
A Winter Survivor
While some local restaurants choose to hibernate by limiting their hours or closing altogether, the Tribers are driven to meet their customers' expectations. As Charles says, "Sometimes it's harder to stay here through winter than to just shut your doors and wait for the season to change. But we can't do that to our guests. We really owe it to them to be here."
Read the full article at mountainx.com.
The Evolution of Depot Street and RAD
The district a decade ago looked pretty different — even two years ago. Depot Street, once dilapidated territory, now shines at night. Pink Dog Creative at 342-348 Depot St. turned an old Nabisco plant into artist studios, an arts supply store, a gallery (the Artery), the Asheville Area Arts Council's offices and a restaurant (The Junction). Next door, nonprofit development organization Mountain Housing Opportunities built the Glen Rock Depot, a mixed-use complex that includes street-level businesses, such as The Magnetic Field bar and theater.
Read the full article at mountainx.com.
Collect ART Asheville
Pink Dog Creative is participating in "Collect ART Asheville" with open studios every second Saturday of the month. Come visit the open studios at Pink Dog Creative and see work by great artists in the River Arts District.
Read more about Second Saturday open houses:
More from riverartsdistrict.com
More from ashevillerad.com