Randy Shull and Hedy Fischer are creating a colorful sensation on Depot Street in Asheville's River Arts District. The former textile manufacturing and warehouse building at 342-348 Depot Street has been transformed into an exciting mix of artist studios and retail spaces.
Pink Dog Creative shares the neighborhood with local favorites, such as Wedge Brewery, Clingman Cafe, 12 Bones and many local artist studios. Pink Dog has 25 artists working in their studios, The Junction Restaurant and Bar, Fresh West Wood Fired Pizza, and Sunnyside Trading Company.
Open Hours: Artists work odd hours but we promise to have our studios open for the public on Fridays and Saturdays from 10-4.
We're thrilled that Pink Dog Creative was chosen to represent Asheville in this stunning short film.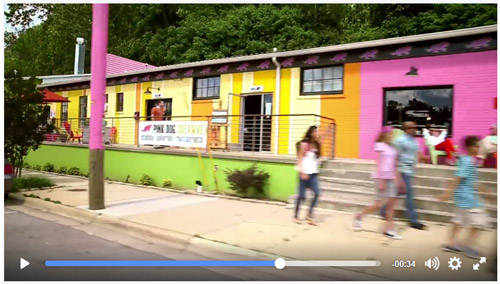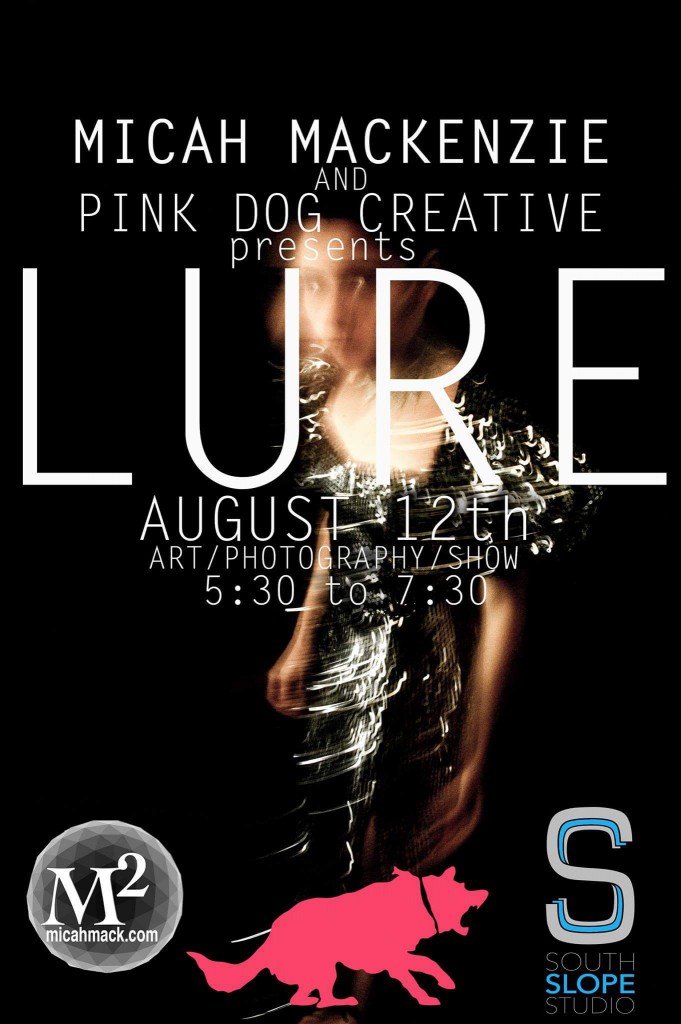 As an artist, all I know to do is create from nothing. LURE is a photography exhibition about being drawn to the fantastic world inside my head that allows for the joy of spreading positivity. I am continuously inspired to push myself past my comfort zone. The lure of the next piece is what drives me. This show will reveal both the art and the artist that drives this passion of mine.
Micah MacKenzie: LURE
Pink Dog Gallery
August 12, 5:30 – 7:30 pm
Join us next Friday, August 12, for the opening of LURE: art/photography by Micah Mackenzie, from 5:30 – 7:30 pm. In the Pink Dog gallery, in the turquoise section of the building.
Wide Open

, Randy Shull's Architecture + Design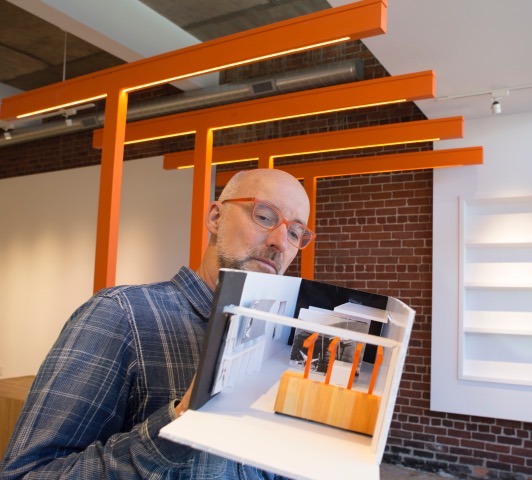 Black Mountain College Museum + Arts Center
69 Broadway, Asheville, NC 28801
Curated by J. Richard Gruber, this exhibition documents internationally recognized artist, designer and builder Randy Shull's creative process in the planning, design and construction of two contemporary art museum and research environments for the Black Mountain College Museum + Arts Center in downtown Asheville, NC. Built in two phases, Phase One (2014-15) focused on the renovation and conversion of the museum's original 56 Broadway site into a new three-zoned environment featuring a public entry and retail sales area with an adjoining Black Mountain College (BMC) orientation center, an expanded and updated BMC exhibition gallery, and a new BMC library, research and study center. Phase Two (2015-16) is a new exhibition, performance, program and office environment designed for a converted historic property at 69 Broadway where expanded contemporary exhibitions and programs will be presented in a flexible, multi-functional public space. The exhibition will consider the distinctive architectural design of each site, as well as the hand-made furniture, counters, desks, cabinets, and display systems by Randy Shull Design, built using vernacular and available regional materials, and inspired by the design aesthetic and creative philosophies of Black Mountain College.
Show review: Perceptions — The Black Male, Images of Dignity
in the Mountain Xpress
"The latest art exhibit at the Pink Dog Creative in the River Arts District seems, in part, a response to all this talking at, rather than conversing with, or, better yet, thinking through. Perceptions: The Black Male, Images of Dignity is a showing of artists Joseph A. Pearson's and Jessie Whitehead's individual works. The exhibition — a combination of print and oil — is both visually stimulating and thought provoking."
Joseph Pearson and Jessie L. Whitehead, Ph.D.
Perceptions: The Black Male, Images of Dignity
at Pink Dog Creative, 348 Depot St. Asheville, NC 28801
Read the full article at the Mountain Xpress online →
Asheville's David Holt chosen for NC Music Hall of Fame
Asheville musician and storyteller David Holt will join the North Carolina Music Hall of Fame later this year.
He was selected for the annual honor along with seven other musicians and groups from around the state: The Avett Brothers, Band of Oz, Chuck Brown, Rhiannon Giddens & The Carolina Chocolate Drops, Percy Heath, Kellie Pickler and Ron Tyson.
Holt will officially become a member of the hall of fame at a red carpet induction ceremony Oct. 20 in Kannapolis, the site of the North Carolina Music Hall of Fame Museum.
"It was really a wonderful surprise, especially since last year Warren Haynes was inducted and this year, The Avett Brothers and Rhiannon Giddens," Holt said. "Those are all good friends of mine, and I'm honored to be in that company."
Holt is no stranger to accolades. He has won four Grammy Awards for music and storytelling. He hosts the TV shows "Folkways," "David Holt's State of Music" and "Great Scenic Railway Journeys," which air on PBS.
He is author or co-author of several books, including "Spiders in the Hairdo: Modern Urban Legends."
To learn more about the North Carolina Music Hall of Fame or to buy tickets for the induction ceremony, visit northcarolinamusichalloffame.org.
— Emily Patrick
Read this article on the Asheville Citizen-Times.
Ongoing Exhibitions & Artist News
Check out our October newsletter for news from our studios and ongoing artist exhibitions!
Randy Siegel: In Search of The One
at Pink Dog Creative
Asheville artist and author Randy Siegel will exhibit his latest art work and launch his newest book, In Search of The One: How to Attract the Relationship You've Longed For, at Pink Dog Creative, 348 Depot Street in the River Arts District through October 29.
In this exhibit, Siegel explores the longing for romance through painting and written word. Siegel believes: "We've become a culture of longing, and in our romance-obsessed culture, the search for love has replaced the search for God."
Siegel writes: "Life is a laboratory for love. By walking the three paths—from the unconscious to the conscious self, from the defended to the authentic self, and from the higher to the divine self—we explore the greatest gift the divine has to offer us—love, and in doing so we find what our hearts ultimately long for—unity."
Siegel's paintings have been described as "postcards from the psyche." Rich in symbolism, his paintings mine the gold that can only come from where the conscious and unconscious mind meet.
Visit his website at LinkToRandy.com.
Randy Shull: Residency
at Bubec Studio in Prague, Czech Republic
Through September, 2016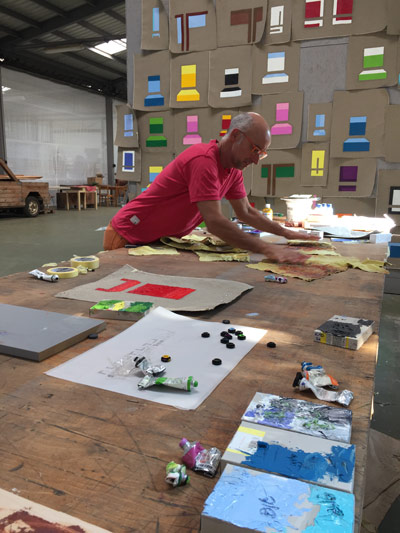 Pink Dog Creative co-founder Randy Shull participated in an artist residency outside of Prague, Czech Republic, for the month of September. Sponsored by The US Embassy in Prague and the Czech Ministry of Culture, Randy was awarded the one-month residency at Bubec, a 100,000 square foot artist-run initiative that is both work space and exhibition space. Randy chose to spend the time investigating color through small oil painting studies of his furniture forms.
Bubec Studio was founded in 2000 by Čestmír Suška, a sculptor. On the outskirts of Prague, Bubec is a former brick factory located in Řeporyje a 12th century village and historical township which combines ancient and contemporary architecture.
Read more at pinkdog-creative.com.
Joseph Pearson: Drawing from Life: The Human Figure
at the Asheville Art Museum
Saturday, October 8, 10:00 am – 3:00 pm
For centuries, artists have perfected their skills in capturing the human form by sketching models. Quick drawing helps artists to trust their eyes rather than relying on memory, which can often be unreliable. In this class, participants draw from a live model, work from photographs, and view works from the Museum's collection to study shapes, value, form, and proportions. Participants of all experience levels can gain and improve skills in measuring, shading, and finishing.
Instructor Joseph Pearson has been drawing since he was 4 or 5 years old. He believes that drawing speaks to our primal instinct to express the world as we perceive it, and provides intrinsic benefits for everyone. His paintings and drawings are featured in private, public, and corporate collections around the country. He holds bachelor's and master's degrees in art education, studied at New York's Art Students League, and has been teaching art for over 40 years. He currently maintains a studio in the River Arts District.
Space is limited; register by October 4. Cost includes lunch; for a materials list, visit ashevilleart.org. For more information, call 828.253.3227 x122.
Cost (includes lunch): Members: $75 | Non-members: $85
Register online at ashevilleart.org.
Presented in conjunction with Selections from the Permanent Collection: 140 Years of American Art.
Christie Calaycay: Coastal Recollection by Calaycay Design
at First City Art Center Gallery, Pensacola, Florida
Opening Reception November 19, 2016, 2:00 – 5:00 pm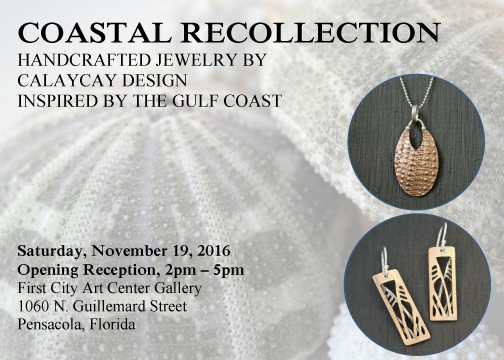 Coastal Recollection is a new handcrafted jewelry collection from Calaycay Design that will be on exhibit at First City Art Gallery in Pensacola, Florida. Based on childhood memories of being raised on the Gulf Coast of Florida, this collection was born from a personal appreciation for the raw beauty of the Gulf Coast and its natural elements. Not your usual seashell trinkets, this collection showcases pieces inspired by the unusual textures and patterns of the shoreline. A percentage of sales will be donated to Manna Food Bank.
For more information go to www.calaycaydesign.com.
Reiko Miyagi: Charlotte Contemporary
at Park Expo Center, Charlotte, NC
October 14 – 16, 2016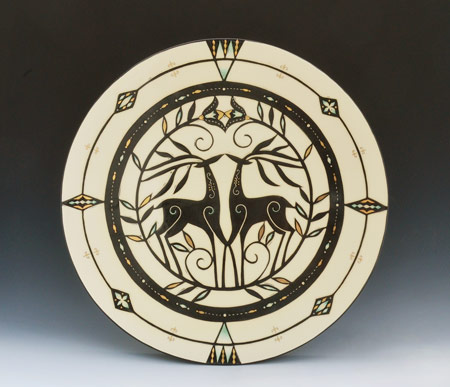 Reiko Miyagi will be showing her work at the Charlotte Contemporary show on Friday, October 14 through Sunday, October 16 at Park Expo Center in Charlotte, NC. Over 100 invited artists from throughout the country will show a variety of art, craft, and fashion.
Visit Charlotte Contemporary online.
Visit Studio Tabula Rasa online.
EJ Kellerman: Durham Arts Council
at Durham Arts Council Pavilion, Durham, NC
October 21 – April 16, 2016
Opening Reception Friday October 21, 5:00 – 7:00 pm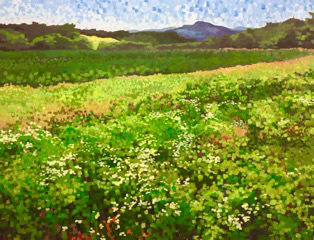 EJ Kellerman will be exhibiting new work with the Durham Arts Council October 21 – April 16, 2016. The opening will be during Durham's Third Friday, October 21 5:00 – 7:00 pm in the Durham Arts Council (DAC) Pavilion.
For more information visit Durham Arts Council.
Stephanie Grimes: 2016 Kentucky National Wildlife Art Exhibit
in Henderson, Kentucky
October 3 – November 30, 2016
Opening Reception October 21, 2016, 5:30 – 6:30 pm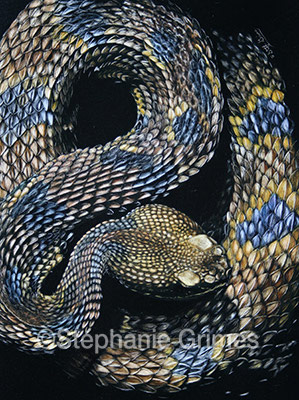 Henderson, Kentucky, home of John James Audubon, will again host the twelfth biennial Kentucky National Wildlife Art Exhibit. John James Audubon lived and painted in Henderson from 1810 to 1819; it is here that he set the course toward painting every bird in North America. The purpose of the exhibit is to increase awareness for the preservation of wildlife and to recognize artists who derive inspiration and imagery from the wildlife and environment.
Two pieces of Stephanie Grimes' artwork were juried into the 2016 Kentucky National Wildlife Art Exhibit, Inspiration for Basket Weavers and In the Shadows of the Cypress.
The show will be on display October 3 to November 30. An opening Reception will be held October 21 from 5:30 to 6:30 pm.
Visit Stephanie Grimes online.
Facebook: StephanieGrimesAnimalArt
A note from the studio of Stephen St. Claire:
Both Joy and I are nicely swamped with commission work these days. The two pieces shown with this posting are two of four panels headed for a medical facility in Oklahoma City later next month. I'm totally enjoying working on these — they're all a revisiting of some of my favorite pieces from the past but approached with different criteria for this project. Technically, this makes the process easier and more enjoyable because I've already worked out the challenges of the piece before, and swinging by a favorite piece with fresh eyes and creating it in a fresh way is just a lot of fun. Two more to finish up and another largish commission on the way. Hey, (and I hate to say it this early) but…it's technically not too soon to start thinking about paintings you might want commissioned to be ready for the holidays.
The Junction Bar & Restaurant: Fall Beer Dinner
Wednesday, October 19, 2016, 7:00 pm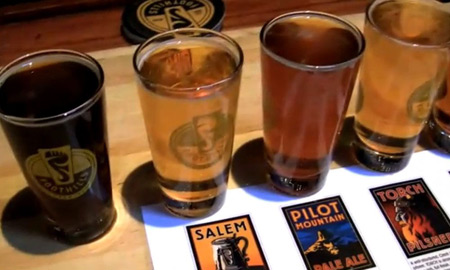 The Junction presents a fall beer dinner with Foothills Brewing!
Winston-Salem based Foothills Brewing has been a stalwart of the NC beer scene for over a decade. With awesome year round beers like People's Porter, Jade & Hoppyum IPA as well as cultish seasonal offerings like Sexual Chocolate Stout, Foothills Brewing is always an excellent collaborator for a beer dinner.
Our fall dinner will feature a few of Foothills' year round offerings as well as a selection of specialty & seasonal beers to make the evening truly special. As always, Chef David Van Tassel will create a fun and fabulous menu specifically paired to the beers, which he hand-selects for the occasion.
5 Beers & 5 Courses
$65/person (not including tax or gratuity)
Seating is limited & reservations are required.
828-225-3497
www.thejunctionasheville.com
Lynn Blass: Visual History Collaborative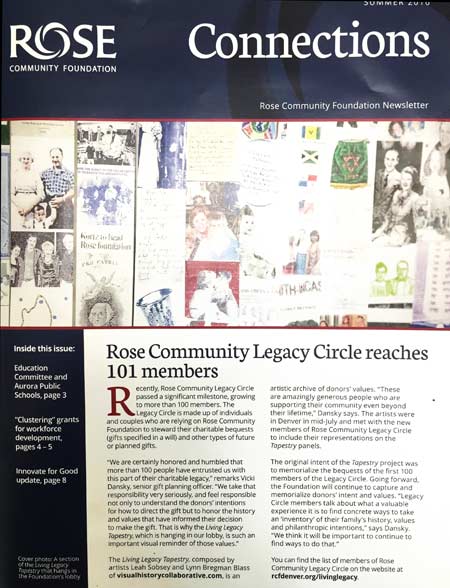 Visual History Collaborative continues its work with Rose Community Foundation in Denver, Colorado.
Visit the Visual History Collaborative online.
Andrea Kulish: Holiday Ornament Workshops
at Studio A
October – December, 2016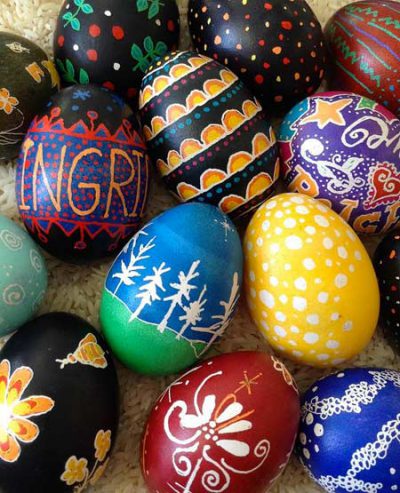 Make your own pysanka egg ornament! This class is open to beginners and those with experience. Andrea will guide you through making snowflakes, stripes, dots, or your own creation.
Evening classes will be take place starting in October and will run through December. Email andreakulish@gmail.com or call/text 828.423.6459 to sign up today.
Visit Studio A online for more information about Pysanky workshops.
10 Top U.S. Cities for Art Lovers: Asheville
Pink Dog Creative is the feature photo for a "Top 10" article on AARP!
Read more at AARP Travel online.
Asheville, North Carolina is unlike anywhere else in the South
"[Asheville's] singular mix of worldliness and hominess gives it a character unique among cities below the Mason-Dixon line."
"A visit to the emerging River Arts District felt more my speed. A string of converted industrial buildings along the French Broad river, it's now home to working artists in spaces that New York creatives would give both arms for. It's impossible to categorize the talent here, but in just a few hours, I met abstract-animal painter Daniel McClendon (349 Depot St., danielmcclendon.com) and record producer-turned ceramicist Akira Satake (122 Riverside Dr., akirasatake.com), whose airy workshop houses his wife's exquisite pastry shop, Yuzu Patisserie (122 Riverside Dr, yuzubycynthia.com)."
Read more of this article at the NY Daily News.
Pink Dog and RAD in the Mountain Xpress
The Junction Restaurant and Bar:
A Winter Survivor
While some local restaurants choose to hibernate by limiting their hours or closing altogether, the Tribers are driven to meet their customers' expectations. As Charles says, "Sometimes it's harder to stay here through winter than to just shut your doors and wait for the season to change. But we can't do that to our guests. We really owe it to them to be here."
Read the full article at mountainx.com.
The Evolution of Depot Street and RAD
The district a decade ago looked pretty different — even two years ago. Depot Street, once dilapidated territory, now shines at night. Pink Dog Creative at 342-348 Depot St. turned an old Nabisco plant into artist studios, an arts supply store, a gallery (the Artery), the Asheville Area Arts Council's offices and a restaurant (The Junction). Next door, nonprofit development organization Mountain Housing Opportunities built the Glen Rock Depot, a mixed-use complex that includes street-level businesses, such as The Magnetic Field bar and theater.
Read the full article at mountainx.com.
Collect ART Asheville
Pink Dog Creative is participating in "Collect ART Asheville" with open studios every second Saturday of the month. Come visit the open studios at Pink Dog Creative and see work by great artists in the River Arts District.
Read more about Second Saturday open houses:
More from riverartsdistrict.com
More from ashevillerad.com