Randy Shull and Hedy Fischer are creating a colorful sensation on Depot Street in Asheville's River Arts District. The former textile manufacturing and warehouse building at 342-348 Depot Street has been transformed into an exciting mix of artist studios and retail spaces.
Pink Dog Creative shares the neighborhood with local favorites, such as Wedge Brewery, Clingman Cafe, 12 Bones and many local artist studios. Randy has already established his studio in the building and shares it with 15 other artists, galleries and The Junction Restaurant and Bar.
Open Hours: Artists work odd hours but we promise to have our studios open for the public on Fridays and Saturdays from 10-4.
Pizza Pura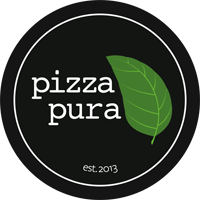 Pizza Pura opened to the public on Saturday, April 6!
Ben Mixson and Laura Reuss of White Duck Taco fame bring Neapolitan-style pizza and gelato to the River Arts District with a new restaurant, Pizza Pura. Instead of making decadent, cheesy meltdowns, Reuss creates scaled-down pies that showcase quality ingredients.
"I like the thin crust, the chewiness, the richness of the ingredients, kind of unspoiled, just add a little salt here and there or fresh herbs," she says. "It's really about the preparation."
Pizza Pura is located at 342 Depot Street in the Pink Dog Studios building, on the opposite end from The Junction Restaurant and Bar. Read more about Neapolitan pizza and Pizza Pura's mission at www.pizzapura.com.
Ongoing Exhibitions & Artist News
Check out our latest newsletter for news from our studios and ongoing artist exhibitions!
Read the May newsletter.
Judy Levine will be doing weaving and felting demos May 11th. This is a 2nd Sat featuring fiber.
Brad Stroman will be exhibiting his paintings at Grovewood Gallery in Asheville, NC.
Congratulations to Caitie Sellers who has been accepted as an artist-in-residence at the Houston Center for Contemporary Craft! She will begin her 9 month residency in December 2013.
Randy Shull has accepted a position on the National Advisory Board to the Innovation Institute in Charlotte, NC.
Western Arts Agencies of North Carolina (WAANC)
at Asheville Area Arts Council
Traveling Postcard Exhibition
Opening Reception June 7, 2013, 6 – 9 PM
A-B Tech Ninth Annual Juried Student Art Show
at Asheville Area Arts Council
May 2 – 25
This juried exhibition will include a variety of student work in painting, drawing, photography, sculpture, ceramics, and digital art. This year's juror is Constance Richards Bora, author, editor, curator and director of the Grand Bohemian Gallery.
Allison Weeks Thomas
The Junction Restaurant and Bar
May, 2013
Opening Reception May 16, 6 pm
The Junction Restaurant and Bar will exhibit the photography of Julie McMillan for their Third Thursday art opening on April 18th at 6 pm. The photo collage work of Pattiy Torno continues at the Junction until mid-April.
2nd Anniversary Crawfish Boil Bash
The Junction Restaurant and Bar
May 19, 11:30 – 3:30 pm, $20 per person
The Junction Restaurant and Bar will host their 2nd Anniversary Crawfish Boil Bash with 10% of sales going to ASAP (Appalachian Sustainable Agriculture Project). Vegetarian options are available. Live music likely. Reservations most helpful.
Asheville Area Arts Council
Second Saturday Concert Series
May 11, 1:30 – 3:30 pm
featuring the music of Paula Hanke and Tony Godwin
Asheville Area Arts Council
Artist Business Brainstorming Sessions
Fridays 9 – 11 am
May 10: Tech-Help
May 17: Personal Financial Coaching
May 24: Ask a Gallery Owner
May 31: A Brand is a Special Way of Feeling
One-on-one brainstorming opportunities between artist entrepreneurs and professionals in the business and arts business fields who would like to brainstorm and assist with arts business support. You must sign up for this opportunity! Visit www.ashevillearts.com for details and sign up!
Sam Reynolds & S. Reynolds Design Gallery in The Laurel of Asheville
Sam Reynolds and the S. Reynolds Design Gallery have been featured in The Laurel of Asheville. Here's an excerpt from Functional Wooden Clutches: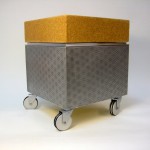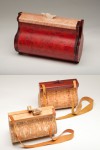 Sam's work is beautiful, intricately designed, and yet functional at the same time. His current passion is woodworking, and as of late, he has been shaping wood and other materials into unique pieces, such as barstools, cubes for storage and seats, and clutches.

His work is highly individualized, not only in design, but also in quality, complexity, and in his combination of materials. Sam makes items that people can recognize and use, but he makes them in ways that people have never seen before.

"I like making functional objects, but using different and unexpected materials," he says.

One of his more recent endeavors has been a line of wooden clutches. The objects' aesthetics strikes the viewer immediately. The handbags are small, one-of-a-kind and feature at once both a curved and boxy shape. There are slight variations between them, whether it is the shape, design, type of wood, hinge, pattern, color, strap, or some other detail that Sam has tweaked.
Read the full article at www.thelaurelofasheville.com.
Sam Reynolds and the S. Reynolds Design Gallery are located in Pink Dog Creative, 348 Depot St. Asheville, NC.
Pink Dog and RAD in the Mountain Xpress
The Junction Restaurant and Bar:
A Winter Survivor
While some local restaurants choose to hibernate by limiting their hours or closing altogether, the Tribers are driven to meet their customers' expectations. As Charles says, "Sometimes it's harder to stay here through winter than to just shut your doors and wait for the season to change. But we can't do that to our guests. We really owe it to them to be here."
Read the full article at mountainx.com.
The Evolution of Depot Street and RAD
The district a decade ago looked pretty different — even two years ago. Depot Street, once dilapidated territory, now shines at night. Pink Dog Creative at 342-348 Depot St. turned an old Nabisco plant into artist studios, an arts supply store, a gallery (the Artery), the Asheville Area Arts Council's offices and a restaurant (The Junction). Next door, nonprofit development organization Mountain Housing Opportunities built the Glen Rock Depot, a mixed-use complex that includes street-level businesses, such as The Magnetic Field bar and theater.
Read the full article at mountainx.com.
Exhibition: Randy Shull
Channeling the USA
New Works by Randy Shull
January 29 – April 5, 2013
Neil Britton Art Gallery
Virginia Wesleyan College
Norfolk, VA
Channeling the USA Reviews
Creative Loafing Review
Charlotte Observer Review
Bold Life Review
Exploring the iconography of the USA, Randy Shull's Channeling the USA exhibition bridges the gap between art and the myriad themes associated with this familiar shape. From spontaneous paintings with energetic compositions to sculptural representations where vacancy becomes a form of its own, Shull has made an exhibition that is both physically open and open to interpretation.
"There is a continuous public dialogue taking place about the role the USA plays throughout the world. This new body of work that I am making is part of that conversation. The work is not intended to be political yet the very outline of the shape we know as the USA takes on a stance that resonates beyond the visual. It resonates in the arena of power, history, geography, economics and politics to name but a few. My intention is to further explore this rich and fertile territory that I have come to know as home." says Randy Shull.
Randy Shull is not only an artist, but he is a designer of furniture and landscapes, buildings and homes, he is a colorist, and an entrepreneur. Shull is a maker. "Furniture has always been an object of skill and service that speaks of its time and also has the potential to express the personal style of the maker. As compelling as his furniture has been, Shull has reached for something different in this new body of work. Continuing his strong form and even stronger surface emphasizing color and spontaneity, he now finds metaphor in ordinary materials and found objects, and with them generates provocative questions." says curator, Janet Koplos, former Art in America editor.
Channeling the USA made its debut exhibition at McColl Center for Visual Art in Charlotte, NC on November 16, 2012 in an exhibition that ran through January 12, 2013. After the inaugural exhibit, Channeling the USA traveled to the Neil Britton Art Gallery at Virginia Wesleyan College in Norfolk, VA.
McColl Center for Visual Art is an artists' residency program and gallery dedicated to promoting contemporary art and supporting artists regionally, nationally, and internationally. The Center's goal is to present art and artists in a way that engages and enriches the public while revealing the creative process through open studios, outreaches, community projects, and educational programs. The gallery is free and open to the public, Thursday and Friday, 3 to 9 PM and Saturday from 11 AM to 6 PM. McColl Center for Visual Art is supported, in part, with a Basic Operating Grant from the Arts and Science Council as well as the North Carolina Arts Council with funding from the state of North Carolina and the National Endowment for the Arts, which believes that a great nation deserves great art and the generosity of corporate and individual donors.
Collect ART Asheville
Pink Dog Creative is participating in "Collect ART Asheville" with open studios every second Saturday of the month. Come visit the open studios at Pink Dog Creative and see work by great artists in the River Arts District.
Read more about Second Saturday open houses:
More from riverartsdistrict.com
More from ashevillerad.com