Randy Shull and Hedy Fischer are creating a colorful sensation on Depot Street in Asheville's River Arts District. The former textile manufacturing and warehouse building at 342-348 Depot Street has been transformed into an exciting mix of artist studios and retail spaces.
Pink Dog Creative shares the neighborhood with New Belgium & the Wedge Breweries, 12 Bones Smokehouse and hundreds of local artists. Pink Dog has 28 artists working in their studios, Fresh West Wood Fired Pizza, Vivian Restaurant and Sunnyside Trading Company.
Open Hours: Artists work odd hours but we promise to have our studios open for the public on Fridays and Saturdays from 11-5.
We're thrilled that Pink Dog Creative was chosen to represent Asheville in this stunning short film.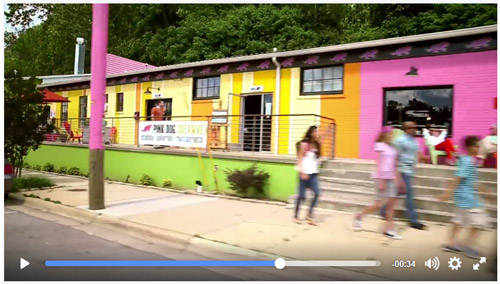 Ongoing Exhibitions & Artist News
Pink Dog Creative Group Show: A Contemporary Response to Our Changing Environment
Pink Dog Creative Gallery, 348 Depot Street
Opening reception at Pink Dog Creative Gallery, February 3, 2018, 5:00 – 8:00 PM
Meet the Artists at the Collider, 1 Haywood Street, Fourth Floor, February 9, 2018, 10:00 – 11:00 AM (open to the public)
Open house for ClimateCon attendees: Sunday, March 18, 4:00 – 6:00 PM (open to the public)
Exhibit runs February 3 – March 31, 2018, Mondays – Saturdays 12:00 – 5:00 PM
Pink Dog Creative is pleased to announce A Contemporary Response to Our Changing Environment, a group exhibition of Pink Dog Creative artists, curated by artist Joseph Pearson to be held at the Pink Dog Gallery, 348 Depot St. Asheville NC, 28801 with an opening reception on February 3.
The debate around climate change tends to dwell in the realms of science and politics rather than in the arts, yet creative solutions to addressing climate issues are needed. This exhibition will look at climate change through artists' perspectives and will share this perspective with the scientists and business leaders attending ClimateCon, The Business of Change, by staging an associated exhibition at the Collider, a nonprofit innovation center focused on catalyzing market-driven solutions to climate issues, March 19th-23rdat the Collider offices in downtown Asheville.
Jacqueline Lowe from the Collider said, "We're so excited to be connected with the Pink Dog artists and I know that being able to create this visual tie between our two worlds will bring a much needed connectivity to both the folks in our space everyday, and those visiting for ClimateCon."
Artists include Joseph A. Pearson, Andrea Kulish, Deanna Chilian, Holly de Saillan, Karen Keil Brown, Lynn Bregman-Blass, Julie Miles, Jennifer Kincaid, Leene Hermann, Ralph Burns, Viola Spells, William Price, Sam Reynolds, Christie Calaycay, Larry Turner, Leene Hermann, Patti Anastasi and Pat Phillips. The exhibition will run through March 31.
Patti Anastasi in Asheville Made magazine
Patti Anastasi is featured in the February issue of Asheville Made magazine, which you can find at various media outlets around Asheville. Patti has also recently revamped her website, which includes her artwork as well as a section on art therapy.
See Patti's website here and read the article here.
Joseph Pearson in MADE LOUISIANA: The Power of Perception
Stella Jones Gallery
201 St. Charles Ave., New Orleans, LA
March 1 – April 28, 2018
Joseph Pearson is one of 47 artists who was invited to contribute to the celebration of New Orleans' Tricentennial in an exhibition sponsored and hosted by Stella Jones Gallery in New Orleans. The working title of the exhibition is "MADE LOUISIANA: The Power of Perception." Joseph was asked to contribute two pieces, one of which is pictured above.
Visit Joseph's website at josephart.net.
Revealing the Soul in Art: A two-day workshop with William Henry Price
Pink Dog Creative, Asheville, NC
Saturday February 24 & Sunday February 25, 2018
10:00 AM – 4:00 PM


Through lecture, hands-on exercises, and discussion, we will study the inherent powers of art. This workshop will clarify your personal vision and lead you toward fulfillment as a creative soul.
With drawing and color studies (in water media or colored pencils), we will explore the syntax of Art. And through attention to the life patterns of nature and the ways of indigenous cultures, we will gain insight into the future of art. We will delve into painting, music, stories and poetry from ancient to modern times.
This is a workshop in learning how to work with the arts as spiritual technology. It is open to artists, musicians, writers, and all those for whom Art is a vital part of life.
The workshop will take place at William's studio at Pink Dog Creative.
Sam Reynolds accepted into ArtFields
Lake City, Utah
April 20-28, 2018
Sam Reynolds has been accepted to ArtFields, an annual, nine-day art competition in Lake City, South Carolina. The largest competition of its kind, ArtFields awards more than $120,000 in cash prizes to artists from across the Southeast.
See more of Sam's work at his website.
Prix fixe Valentines' Day Dinner at VIVIAN
348 Depot Street at Pink Dog Creative
Wednesday, February 14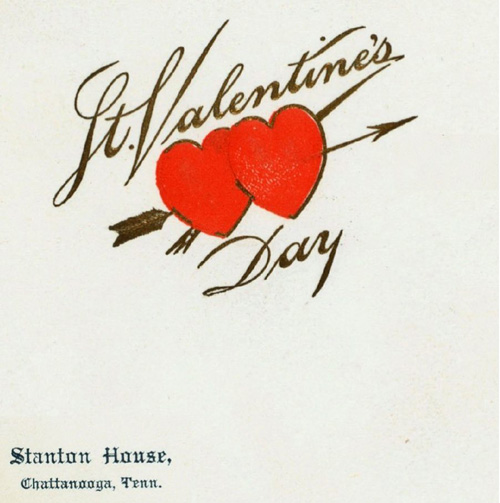 Save the date y'all, this is going to be a special one. VIVIAN has collected vintage menus dated Valentine's Day from various restaurants through history from the New York Public Library records. They're pulling some really cool (and romantic!) dishes from these menus to create a killer Valentines' Day prix fixe menu available on Wednesday February 14.
This photo is from The Stanton House Valentine's Day menu from 1901. The Stanton house was a luxury hotel and restaurant built in 1871 in Chattanooga, TN during the golden era of passenger trains. The menu itself contains some glorious fare, like caviar sur canapé, broiled red snapper & pommes chartreuse, prime rib, macaroons, and "New York ice cream"….what to choose for the menu?!?! All sounds so tasty.
Find out more and make a reservation at Vivian's website.
Randy Shull work acquired by Spartanburg Art Museum
Spartanburg, SC
Pink Dog congratulates Randy Shull as the Spartanburg Art Museum acquires Striped Reflection, a recent piece from his reflection series that explores the relationship between painting and furniture. Fundamentally, Shull says the work is about pairing and relationships.
See more of Randy's work at his website.
Welcome Mudhoneyz Studio
Suite 103 at Pink Dog Creative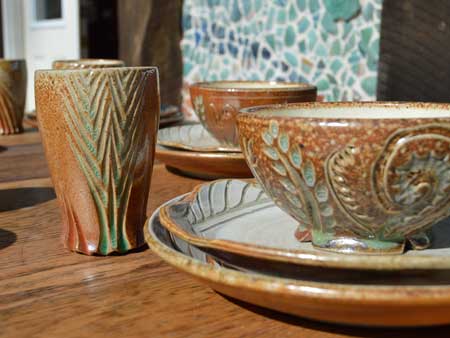 Pink Dog Creative is pleased to welcome Mudhoneyz Studio- the working ceramics studio of LeElaine Comer, Missy Batten and Molly Walter. Their work, both functional and sculptural, is made and fired collectively in their wood kiln located in Weaverville, NC.
Learn more at the Mudhoneyz Studio website.
Ralph Burns' work included in
CREATED BY LIGHT- Photographs from North Carolina Collections,
at the Cameron Art Museum, Wilmington, NC
September 16, 2017 – February 11, 2018

Ralph Burns tells the story of his photograph How Great Thou Art #4 in this video by the Cameron Art Museum.
Exploring the photography collections of eight North Carolina institutions, the exhibition will examine the evolution of photography highlighting the luminaries of the medium, the connections between the institutions and the NC artists working in photography.
The over 100 works included in the exhibition range from 1887 to 2016 with pioneers of the medium including Ansel Adams, Diane Arbus, Lewis Hine, Robert Mapplethorpe, Eadweard Muybridge, and Andres Serrano among others.
Ralph Burns' work is in the permanent collections of both the North Carolina Museum of Art and the Asheville Art Museum.
Read more at the museum's website.
Julie Miles and Deanna Chilian accepted to Art Fields
Lake City, SC
April, 2018
Julie Miles and Deanna Chilian have both been accepted to Art Fields, an annual, nine-day art competition in Lake City, South Carolina. The largest competition of its kind, ArtFields awards more than $120,000 in cash prizes to artists from across the Southeast. And, it's also infused new energy, creativity, and growth into Lake City and its surrounding communities.
Learn more about ArtFields at their website.
Christie Calaycay: Best of WNC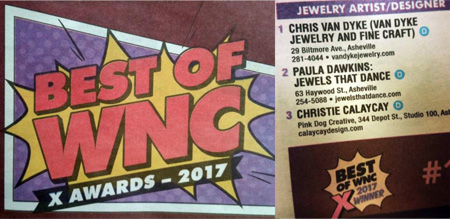 Congratulations Christie Calaycay for being voted #3 Best Jeweler in the WNC Best of Awards! Visit Christie in her studio Monday-Friday in Suite 100 and online at calaycaydesign.com.
Viola Spells featured in the Mountain Xpress
Viola Spells was featured in Mountain Xpress article Two Local Artists Follow Their Passions in the RAD by Alli Marshall.
Fresh West Pizza in the Mountain Xpress
Read Liisa Andreassen's interview of the owner of FRESH West- Quick Dish: Q + A with Mark Tomczak of FRESH Wood Fired Pizza in the Mountain Xpress – read the article here.
10 Top U.S. Cities for Art Lovers: Asheville
Pink Dog Creative is the feature photo for a "Top 10" article on AARP!
Read more at AARP Travel online.
Asheville, North Carolina is unlike anywhere else in the South
"[Asheville's] singular mix of worldliness and hominess gives it a character unique among cities below the Mason-Dixon line."
"A visit to the emerging River Arts District felt more my speed. A string of converted industrial buildings along the French Broad river, it's now home to working artists in spaces that New York creatives would give both arms for. It's impossible to categorize the talent here, but in just a few hours, I met abstract-animal painter Daniel McClendon (349 Depot St., danielmcclendon.com) and record producer-turned ceramicist Akira Satake (122 Riverside Dr., akirasatake.com), whose airy workshop houses his wife's exquisite pastry shop, Yuzu Patisserie (122 Riverside Dr, yuzubycynthia.com)."
Read more of this article at the NY Daily News.