Randy Shull and Hedy Fischer are creating a colorful sensation on Depot Street in Asheville's River Arts District. The former textile manufacturing and warehouse building at 342-348 Depot Street has been transformed into an exciting mix of artist studios and retail spaces.
Pink Dog Creative shares the neighborhood with New Belgium & the Wedge Breweries, 12 Bones Smokehouse and hundreds of local artists. Pink Dog has 29 artists working in their studios, GRIND Coffee Bar, Fresh West Wood Fired Pizza, and Vivian Restaurant. Pink Dog raises funds and awareness for people and organizations working to make our communities more equitable and just, including Southside Rising, Youth Artists Empowered and the Edington Center, among others.
Open Hours: Artists work odd hours but we promise to have our studios open for the public on Fridays and Saturdays from 11–5.
We're thrilled that Pink Dog Creative was chosen to represent Asheville in this stunning short film.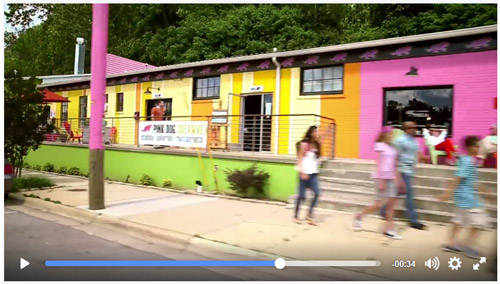 Ongoing Exhibitions & Artist News
In Solidarity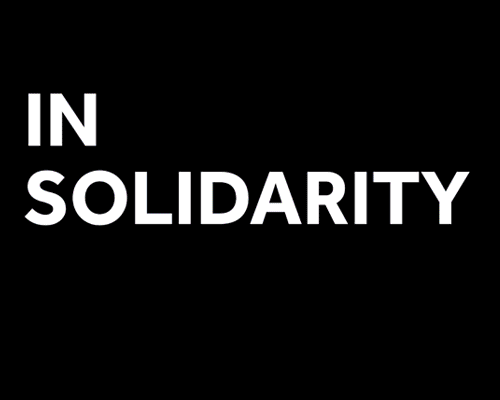 In Solidarity, an exhibition by Pink Dog Creative artists and associated friends, seeks to speak to the violence, fear and grief caused by centuries of injustice to Black people and to celebrate the many contributions made by people of African descent to the culture of this country and the world. At Pink Dog we stand for justice and equity for everyone. We are outraged and saddened by the recent deaths of George Floyd, Ahmaud Arbery and Breonna Taylor and the unnecessary violence against Johnnie Rush in our own city. These names are only the more recent victims in a long history of racism in this country. We believe that artists speak to our times and that art can uplift, enlighten and encourage dialogue. Art can be a vehicle for social change.
Up to 100% from the sale of art from this exhibition will go to the following charities whose mission is justice and equity, Black Lives Matter, BeLoved Asheville, and the Equal Justice Initiative. We encourage you to join us in donating to organizations that are working to progress racial equality. Pink Dog Creative will match all donations from sales from this exhibition. Now also on view in the Pink Dog Gallery, 348 Depot Street. Click here to see the exhibition.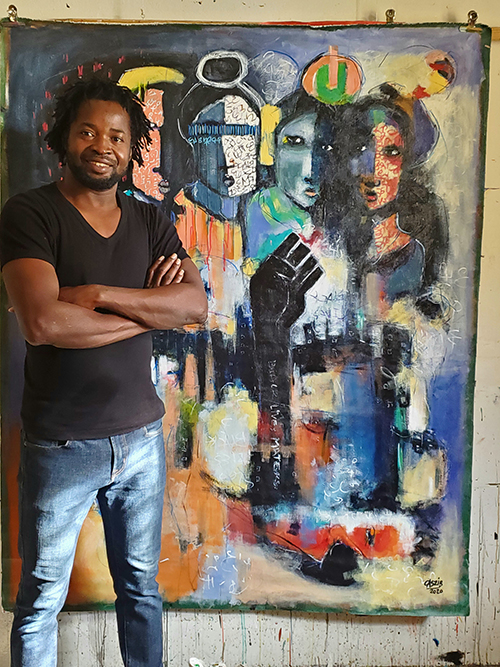 Congratulations to Casimir Bationo (Caszi B) on the sale of his "Black Lives Matter" painting as part of the "In Solidarity" exhibition. 35% of the sale of this painting went to Black Lives Matter, and this amount has been matched by Pink Dog Creative, doubling the donation amount. See the online exhibit at http://www.pinkdog-creative.com/in-solidarity
High Anxiety Exhibition
22 London
22 London Road, Asheville
By appointment only through November 22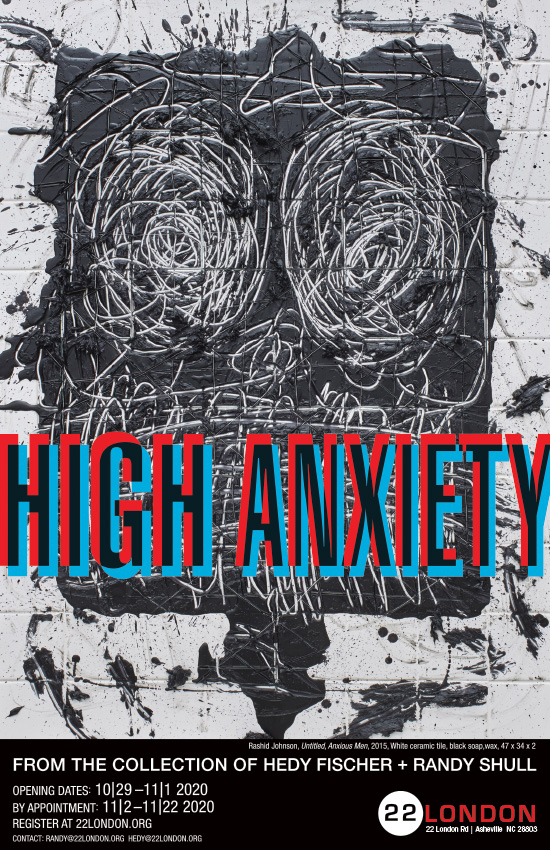 High Anxiety, an exhibition of contemporary art from the Collection of Hedy Fischer and Randy Shull examines our unstable times through a multiplicity of artistic positions and voices. High Anxiety brings new perspectives to bear on themes such as identity, race, forced migration, politics, technology, pandemics and corporate culture.
Please visit 22london.org for more information.Email Hedy or Randy to make an appointment to view the exhibition.
Pink Dog Creative featured in Asheville Made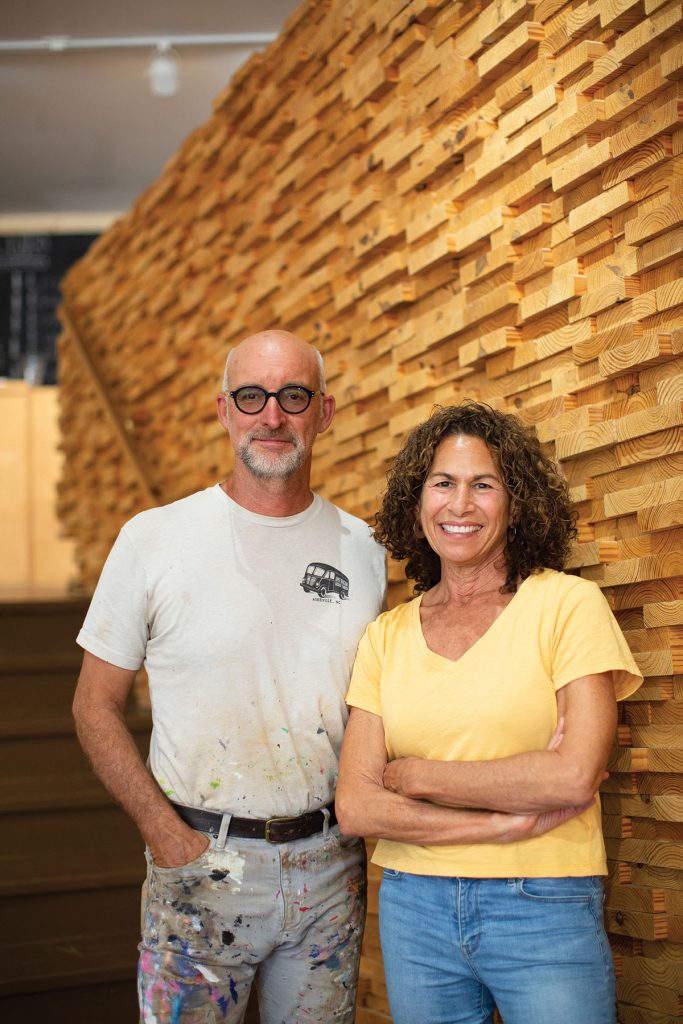 Pink Dog Creative is featured in the November issue of Asheville Made. Paul Howey's article Gallery Addresses Big Issues in Bright Hues includes the history, current artists, restaurants and retail which comprise Pink Dog Creative.
Please click here to read the article.
Viola Spells in Women at the Table Now Panel
6th Annual Western Women's Business Center Digital Conference
Thursday, November 19, 9am–1pm



Viola Spells, ZenobiaStudio, is on the panel of Creative Women and Makers at the Table, a Breakout Session of Women at the Table Now, 6th Annual Western Women's Business Center Digital Conference. The discussion will take place Thursday, November 19 from 9am–1pm.
For more information, please visit the conference website here.
Leaded Came Stained Glass Workshop
Stained Glass Expressions
Pink Dog Creative, 344 Depot Street, Suite 101
November + December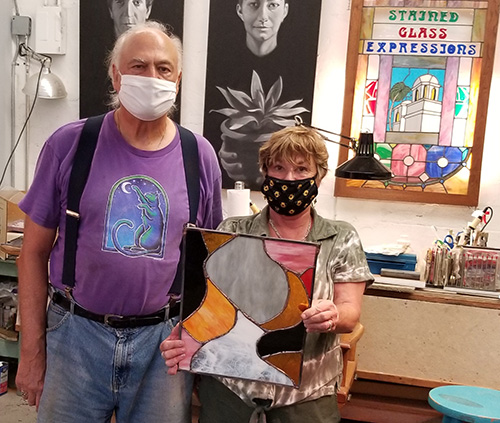 David Watts continues to teach stained glass classes at his PDC studio. For November and December, Dave will teach a foundation course in Leaded Came, with wearing of masks/shields and social distancing. This is the first Leaded Came class that he has taught in several years, so it will be exciting for him and his students! Email David at [email protected] or call/text 828-231-1397 to sign up or for more information.
Creative Hub Market
Pink Dog Creative Parking Lot
Saturday, November 14 and Sunday, November 15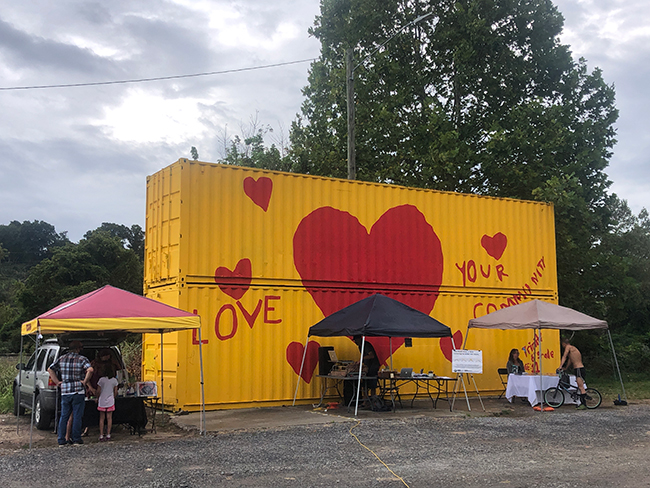 Creative Hub Studios will be hosting outdoor Creative Hub Markets on November 14 and December 12 from 11am-4pm in the lot next to Fresh West Pizza with live demos and minority vendors sponsored by an exciting new initiative. On Sunday, November 15, CHS will host a Business Expo in the same lot from noon–4pm.
Apply here to be a vendor or sponsor: https://creativehubstudios.com/creative-market/.
Welcome GRIND Coffee Bar and Co-Working Event Space
346 Depot Street, Asheville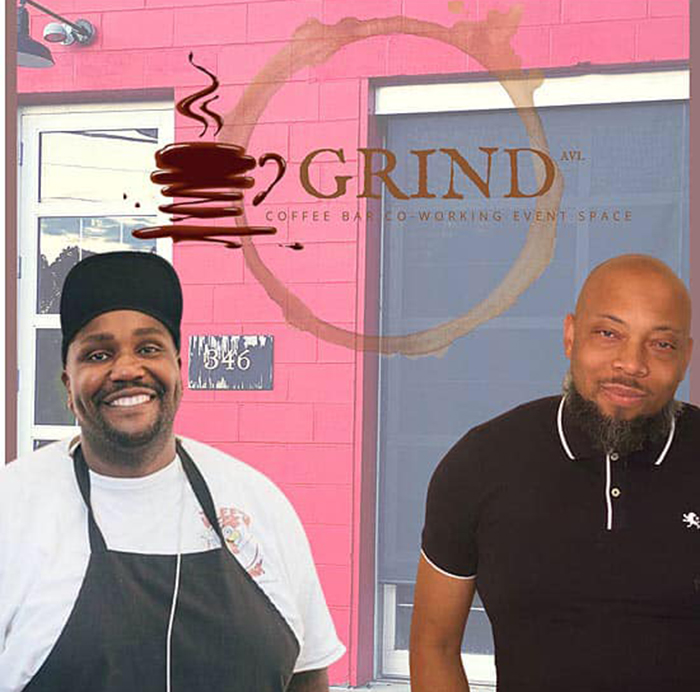 Asheville's first Black-owned coffee shop, GRIND is a place for coffee. It's also a place for co-working, and for events, team meetings, and business decisions. And for hanging out and enjoying the best coffee in town. GRIND is located at 346 Depot Street and will be open 7 days a week, 7 a.m. until 10pm.
For more information call The Grind at 828-785-0233, email [email protected], read the article in Urban news or visit GRIND's website.
In Love's Shadow Featured in The Bitter Southerner
In Love's Shadow, a short documentary film about Ralph Burns and his multi-decade photography project, How Great Thou Art, is showcased in a recent issue of The Bitter Southerner. The film, made by Jethro Waters, follows Burns as he returns to Graceland on the 40th anniversary of Elvis Presley's death, and looks at the relationship of this project to Burns' fuller body of work. In Love's Shadow was produced by David Raymond, and was made possible with the generous support of many.
Link to film and article: bittersoutherner.com/in-loves-shadow
Joseph Pearson and Jenny Pickens Lead Artists for Asheville Black Lives Matter Mural
Joseph Pearson and Jenny Pickens were Lead Artists for the Asheville Black Lives Matter Mural. On Sunday, July 19, 20+ artists came together to create this mural in the heart of downtown Asheville. Many thanks go to Councilwoman Sheneika Smith for providing the leadership to bring community members, artists, and the Asheville of City together to create this community project.
Read more about the artists and mural here.
Welcome Julieta Fumberg and Creative Hub Studios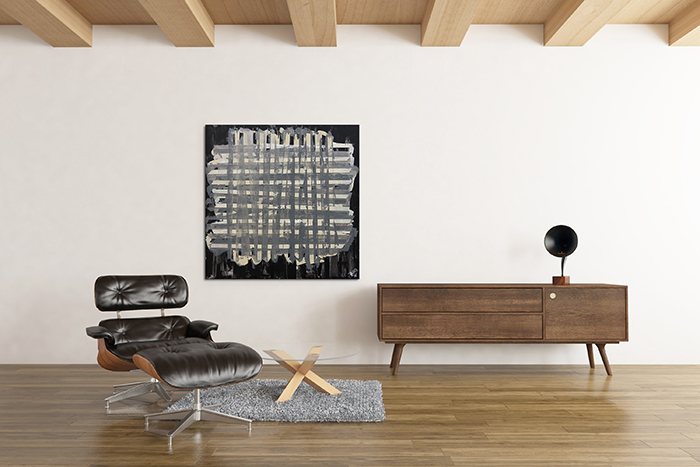 Welcome Julieta Fumberg from Julieta Fumberg Studio – Branding Agency. As a photographer and graphic designer, Julieta develops websites to her client's specifications using her 15 years of experience of adding creative and innovative ideas each and every day. In 2020 Julieta partnered up with Shawndra Russell, from Mad Genius Studios, to co-found Creative Hub Studio. Creative Hub Studios is a space where people can come create art, where artists of all kinds are showcased, and a place where business people can come together in fresh ways with twists on networking, workshops, conferences, panels, presentations and more–all carefully curated so that every single happening is a high-value experience in an inspiring space. Find them in Suite 120.
Learn more at their websites: julietafumberg.com and creativehubstudios.com.
Welcome Sarah St. Laurent
Taking inspiration from the textile-based encaustics of Daniella Woolf and the mixed-media art of Michelle Belto, St. Laurent incorporates fabric, metal, wood, and photography to create pieces that make the most of encaustic's nearly three-dimensional quality. She implements the technique in a variety of genres, from landscape to collage, in a process that requires not only an artistic eye but also a constructor's planning savvy. "With encaustic, wax is laid down in layers, and as I apply the wax and other elements, I really do feel like I'm building the painting," she says. "When I envision a piece, I need to decide in what order those layers will be painted." You can find her in Studio 160B.
See more of Sarah's work at her website.
Welcome Cindy Walton
The desire to dig deeper into abstraction drives Cindy's work. She makes abstract paintings and assemblage paper works. Derived from plein air painting experiences, photography, memories and emotions from places she has visited, Cindy uses abstraction to distill these sources into their raw essence. Her paintings address less tangible aspects of landscape: texture, light, color, rhythm and space. Find her in Suite 180 beginning in mid-September.
See more of Cindy's work at her website.
Fresh West Pizza and Vivian Updates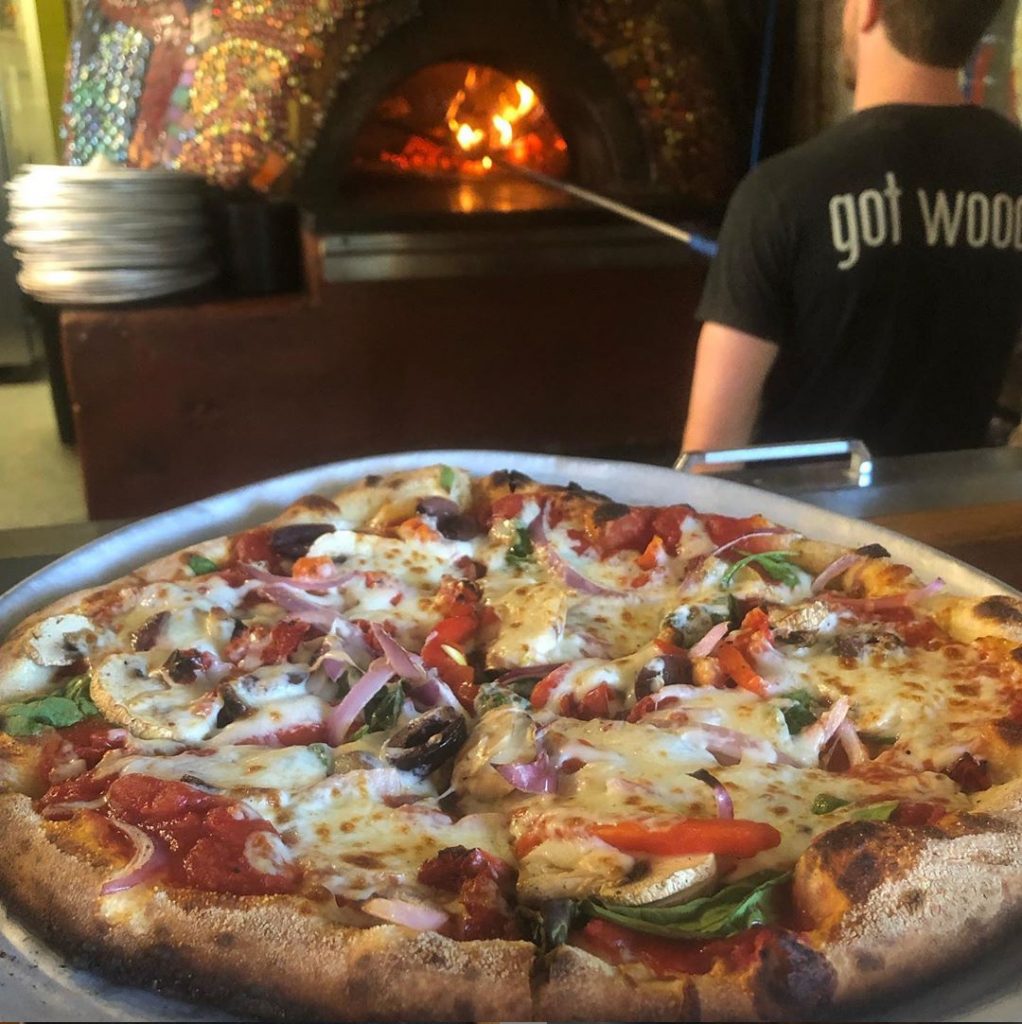 FRESH WEST PIZZA is open for takeout. In addition to their wood-fired pizza, salads and sandwiches, they are also offering par baked non cut pizzas, beer and wine to go. Delivery is available through UberEats, or call (828) 552-3917. Please visit their Instagram for updates. Hours: Wednesday–Sunday noon–8pm
(Closed Monday + Tuesday.)



Award-winning VIVIAN restaurant has recently reopened for takeout and dining on selected days.
• open for dinner Thursday – Saturday with seatings between 5–8:30pm, reservation only. We also have brunch on Sundays with seatings between 10:30am–1:30pm.
• currently we are only seating on the patio, but hope to reopen the dining room soon!
• all guests are required to wear masks whenever they are not dining at their table, and all Vivian staff will be wearing them at all times.
• if you aren't feeling 100%, save your visit for another time!
• take out available curbside for those that are not ready to dine in just yet!
Check out their Facebook page for daily menus and updates.
Now Open: Online Viewing Room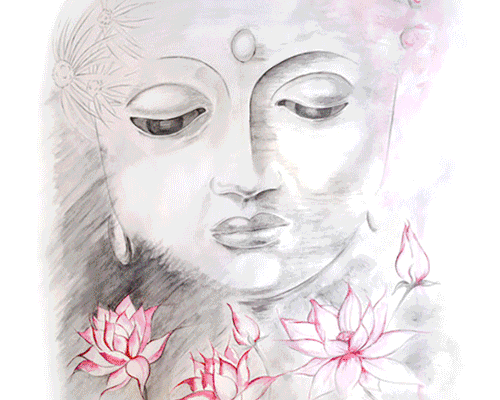 A new online gallery of recent work by Pink Dog Creative artists is now open. Artists are hard at work during this time of isolation. All work is available for purchase. Please contact the artists directly for inquiries.
#artistsupportpledgeRAD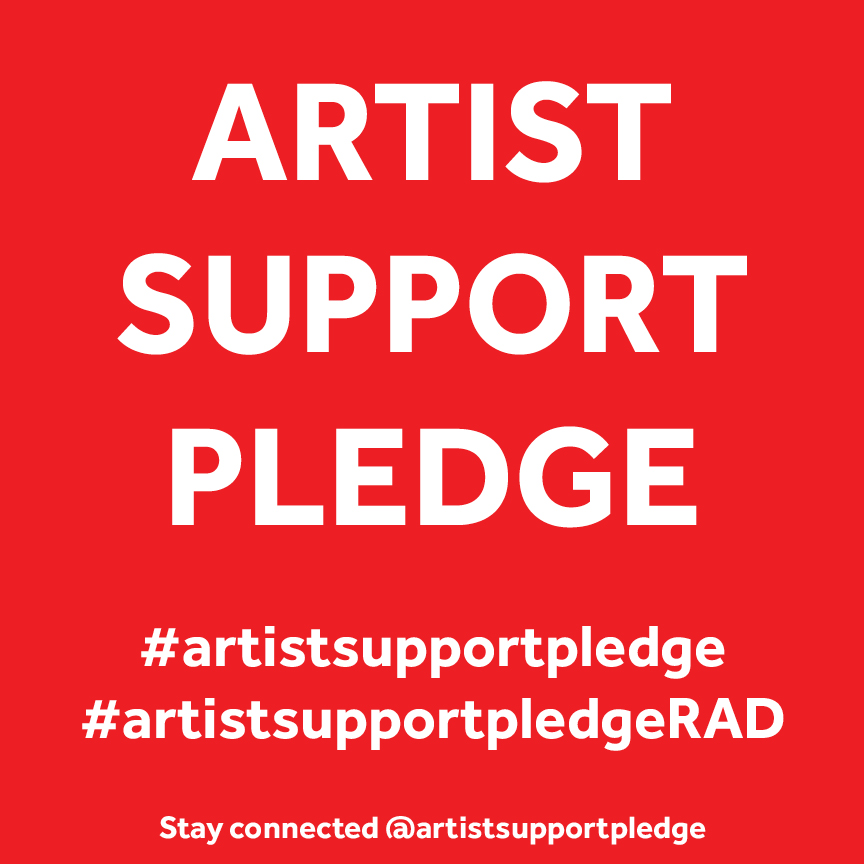 #artistsupportpledge is a movement to support artists and makers during Covid-19. Artists post pictures of their works for sale for $200 or less. Every time an artist makes $1,000 in sales they commit 20% on purchasing the work of another artist using the hashtag. It is a system based on trust where everyone, at every level can contribute in supporting artists and makers. Many Pink Dog Creative artists are participating using the local hashtag #artistsupportpledgeRAD. Please search Instagram and Facebook using that hashtag, and check our Pink Dog Creative social media frequently for the latests posts from our artists.
Click here to see work for sale as part of the #artistsupportpledgeRAD initiative.
Andrea Kulish Artwork Acquired by Pysanka Museum
Kolomyia, Ukraine
Pink Dog congratulates Andrea Kulish as the Pysanka Museum in Kolomyia, Ukraine acquires three of her pysanky eggs for their permanent collection. The museum will be launching their first-ever exhibit dedicated to the pysanka artists of North America. This historic exhibit will present how traditional pysanky writing was preserved in North America by waves of immigrants and enthusiasts, and how the artform has grown to include innovative techniques, methodology and creativity. The Evolution of Pysanky in North America exhibit opens on Saturday, April 25, during the annual Kolomyia Pysanka Festival.
Visit the museum's website to learn more.
VIVIAN Wins 2019 Best Restaurant of the Year Award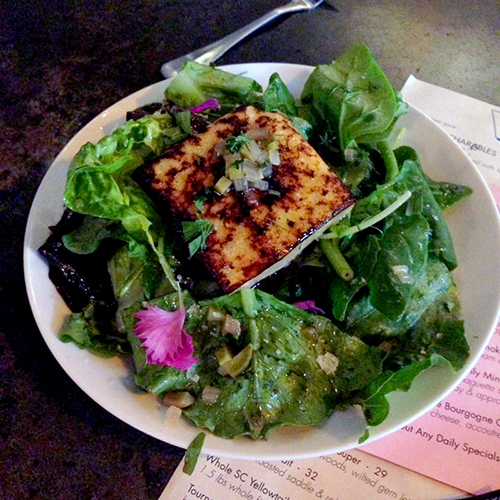 Congratulations to VIVIAN restaurant for winning the 2019 Asheville Food Fan Award for Best Restaurant. This is the second year in a row that VIVIAN has won this honor.
Read more about VIVIAN and make a reservation at their website.
Randy Shull Artwork Acquired by Western Carolina University Fine Art Museum
Cullowhee, NC
Pink Dog Congratulates Randy Shull as the John W. Bardo Fine and Performing Arts Center at Western Carolina University acquires Simultaneous Pattern for their permanent collection. Curator Carolyn Grosch writes: "Shull's Simultaneous Pattern, part of a series called Borders, transforms a map of the United States into a dialogue about immigration, cultural exchange, and contemporary politics. The work raises questions about our country's border policies, the relationship between the United States and the rest of the world, and the effects of treating one's country like an island."
Visit Randy's website to see more of his work.
Congratulations Brett Douglas Hunter for being included in Architectural Digest
Brett, formerly a Pink Dog studio artist, had a successful exhibition of his artwork at the Pink Dog Gallery in October, 2015. He also created a mural of Manute Bol for the Container Project at Pink Dog Creative.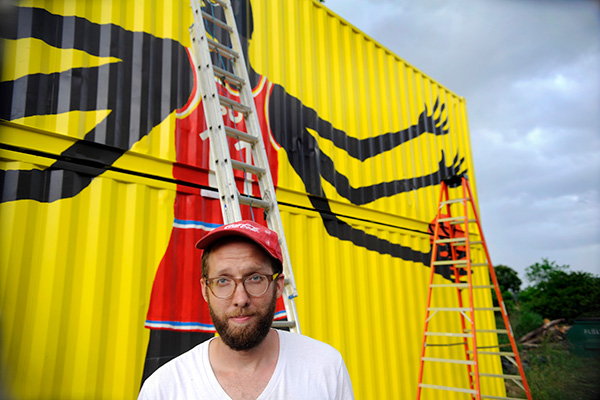 Ralph Burns Photographs Acquired by North Carolina Museum of Art
Raleigh, NC
A suite of twelve vintage photographs by Ralph Burns has been acquired by the North Carolina Museum of Art. The photographs, all from Burns' three decades long project, How Great Thou Art, Memphis, TN, 1978 – 2007+, were acquired in December, 2019, and will be held in the museum's permanent collection.
In writing about How Great Thou Art for a European/British exhibition, the German/Israeli Curator Doreet LeVitte Harten wrote that "(his) insight into the religious character of the Graceland pilgrimage makes Burns' works, apart from their aesthetic qualities, into documents of anthropological significance."
With this latest acquisition, the North Carolina Museum of Art will have 16 of Burns' photographs in their collection.
See more of Ralph's work at his website.
Joseph Pearson artwork featured in Time Magazine and The New York Times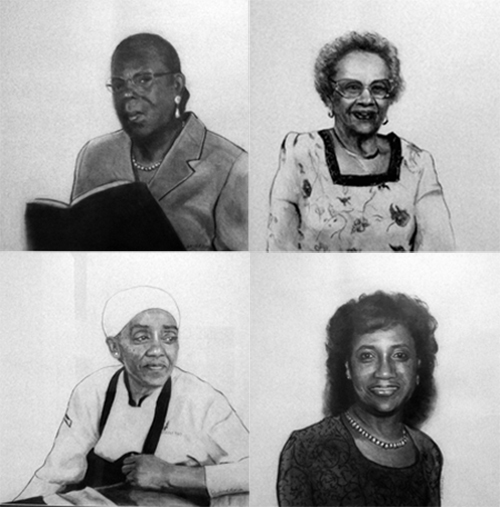 Joseph Pearson's painting The Block, Looking Back In Time has been featured twice this month in national publications, the New York Times and Time Magazine. Time Magazine named Benne on Eagle, a restaurant in the Foundry Hotel in downtown Asheville, one of their World's 100 Greatest Places of 2019. Illustrated in the article is artist Joseph Pearson's painting, The Block, Looking Back In Time, documenting the historic African American business district of Asheville, along with charcoal portraits of four significant female black business owners when The Block was in it's heyday.
The New York Times also highlighted the Benne on Eagle along with a photograph of Joseph's painting, in the article, "Summer's Not Over Yet! 8 Ways to Extend Your Vacation."
Pearson states, "I was honored to be a part of reflecting our history in this area, realizing that without this documentation in visual form, in a few years of gentrification no one would know the rich Black history of The BLOCK."
See more of Joseph's work at his website and Instagram.
Randy Shull's Open Space acquired by

Congratulations to Randy Shull as the Asheville Art Museum acquires Open Space. Shaping negative space with a combined artistic and mathematical precision, Shull explores the boundaries and intersections between furniture and fine art. In Open Space, sculptural components comment on the relationship between furniture and art as well as their implications when occupying a shared environment. Considering furniture to be an equalizer among people in its ubiquity and daily utility, Shull encourages us to not only reconsider our personal rapport with furniture but also the ways in which we navigate our world.
See more of Randy's work at his website.
Hedy Fischer appointed to Art21 Board of Trustees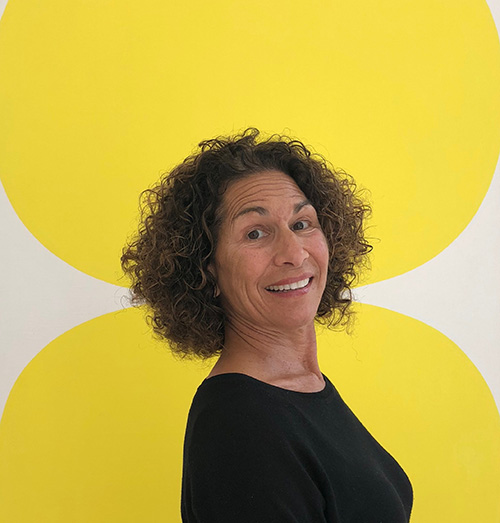 Hedy Fischer, co-founder of Pink Dog Creative, has been named to sit on the Board of Trustees of Art21. Art21 provides unparalleled access to the artist's voice to diverse audiences around the world, using the power of digital media to introduce millions of people to contemporary art and artists. For over two decades, Art21 has changed the paradigm for teaching and learning about the creative process.
In addition to its Peabody Award-winning PBS-broadcast television series Art in the Twenty-First Century, Art21 produces the digital film series New York Close Up and Extended Play; as well as special artist projects. Art21 also creates educational resources and professional development programs; annual public programming; an online publication featuring guest contributors; and a comprehensive website at Art21.org.
Community Container Project in The Laurel
Pink Dog Creative's Community Container Project was recently featured in The Laurel. Connection was a theme for Trinity Harper Pierce as she created her work. "If you don't love your community, there are lots of things that could happen that could be bad, like more violence and heartache," says Pierce. "It's sad to see families lose loved ones to violence." Pierce says creating art helps her feel calm and express herself, and seeing her art on such a large scale gave her lots of emotions. "I feel a little bit nervous because I have never done anything like this and I am excited at the same time," she says. "I hope that when people see the mural that their hearts grow bigger than the heart in the middle."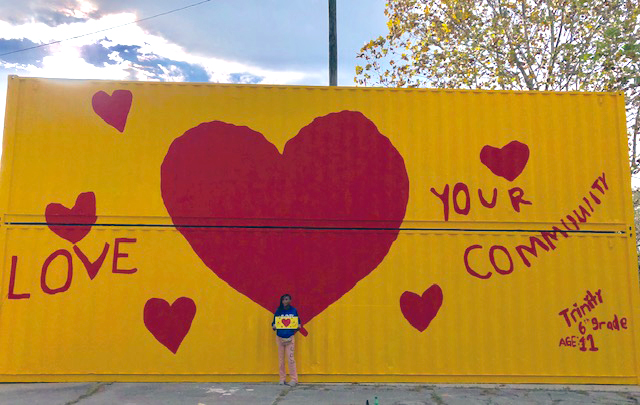 Read the full article at The Laurel website.
VIVIAN wins Best New Restaurant and Best Restaurant in the 2018 Stoobie Awards
Congratulations to Vivian restaurant for winning not one, but two awards in the 2018 Stoobie Awards. Vivian won Best New Restaurant and Best Restaurant. Vivian is "an insanely great restaurant, and a brilliant new jewel in the crown of high-end dining establishments that currently rings our city." – Stu Helm
Click here to read about Vivian and the other winners at the Stoobie Awards website, and here to see Vivian's menu and make a reservation.
Vivian receives Best New Restaurant Award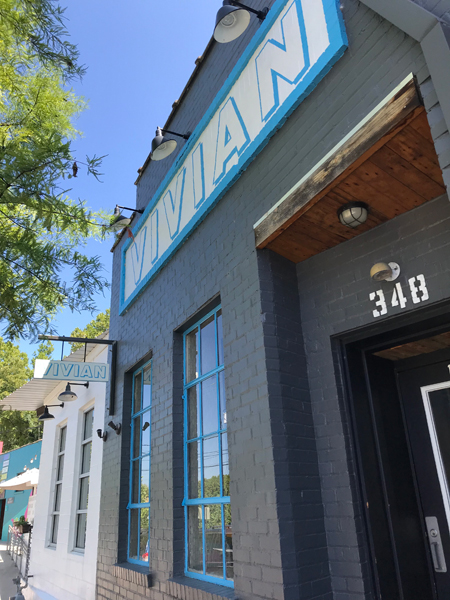 Vivian is honored to receive a "Best New Restaurant" award from Mountain Xpress Best of WNC Awards for Asheville in 2018. Vivian would like to thank all their wonderful guests who voted for their nomination in this category; they look forward to serving you many more delicious meals!
Learn more and make a reservation at Vivian's website.
Pink Dog Creative and 22 London Featured in Burnaway article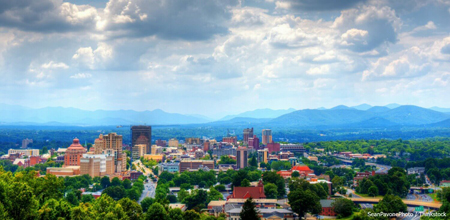 Pink Dog Creative, 22 London, and the upcoming exhibit Say It Loud at 22 London were all mentioned in a new article in Burnaway, The Voice of Art in the South. The article is entitled How Did Asheville Make the List of 40 Most Vibrant Arts Communities in America? by Diana Stoll.
Read the full article at burnaway.org here and the original research findings about the 40 Most Vibrant Art Cities here.
Dining review: RAD's Vivian grows from Salt & Smoke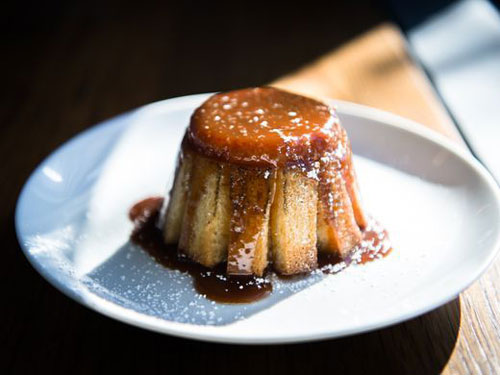 An excerpt from the article: "Vivian feels as though it's been operating for years. Its cuisine is clearly defined, and the warm hospitable approach to the service helps makes the restaurant a success… Vivian set out to meld southern and European cuisines in an elevated way, and it succeeds. "
Randy Shull work acquired by Spartanburg Art Museum
Spartanburg, SC
Pink Dog congratulates Randy Shull as the Spartanburg Art Museum acquires Striped Reflection, a recent piece from his reflection series that explores the relationship between painting and furniture. Fundamentally, Shull says the work is about pairing and relationships.
See more of Randy's work at his website.
Viola Spells featured in the Mountain Xpress
Viola Spells was featured in Mountain Xpress article Two Local Artists Follow Their Passions in the RAD by Alli Marshall.
Fresh West Pizza in the Mountain Xpress
Read Liisa Andreassen's interview of the owner of FRESH West- Quick Dish: Q + A with Mark Tomczak of FRESH Wood Fired Pizza in the Mountain Xpress – read the article here.
10 Top U.S. Cities for Art Lovers: Asheville
Pink Dog Creative is the feature photo for a "Top 10" article on AARP!
Read more at AARP Travel online.
Asheville, North Carolina is unlike anywhere else in the South
"[Asheville's] singular mix of worldliness and hominess gives it a character unique among cities below the Mason-Dixon line."
"A visit to the emerging River Arts District felt more my speed. A string of converted industrial buildings along the French Broad river, it's now home to working artists in spaces that New York creatives would give both arms for. It's impossible to categorize the talent here, but in just a few hours, I met abstract-animal painter Daniel McClendon (349 Depot St., danielmcclendon.com) and record producer-turned ceramicist Akira Satake (191 Lyman St., akirasatake.com), whose airy workshop houses his wife's exquisite pastry shop, Yuzu Patisserie (191 Lyman St., yuzubycynthia.com)."
Read more of this article at the NY Daily News.