Randy Shull and Hedy Fischer are creating a colorful sensation on Depot Street in Asheville's River Arts District. The former textile manufacturing and warehouse building at 342-348 Depot Street has been transformed into an exciting mix of artist studios and retail spaces.
Pink Dog Creative shares the neighborhood with local favorites, such as Wedge Brewery, Clingman Cafe, 12 Bones and many local artist studios. Randy has already established his studio in the building and shares it with 15 other artists, galleries, The Junction Restaurant and Bar, and Pizza Pura.
Open Hours: Artists work odd hours but we promise to have our studios open for the public on Fridays and Saturdays from 10-4.
Ongoing Exhibitions & Artist News
Check out our latest newsletter for news from our studios and ongoing artist exhibitions!
Read the November newsletter.
River Arts District Autumn Studio Stroll
November 8 – 9, 10:00 am to 6:00 pm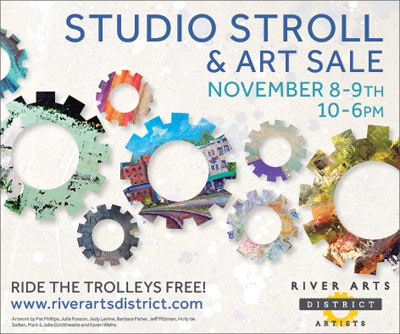 The Artists of Asheville's River Arts District open their doors for a full weekend in the Fall Studio Stroll and Art Walk, welcoming the public to see and collect amazing art in their studios and galleries.
Find more information at www.riverartsdistrict.com.
And congratulations to Pink Dog Creative's Andrea Kulish for winning the stroll poster design contest!
Rob Amberg: ShatterZone
at the Pink Dog Creative Gallery
Curated by Ralph Burns and Rob Amberg
November 7, 2014 – January 11, 2015
Opening Reception Friday November 7, 5:00 -8:00 pm
Shatter zone is an 18th century geologic term that refers to an area of fissured or fractured rock. The phrase took on new meaning after World War II when political theorists began using it to denote borderlands. In this modern definition shatter zones become places of refuge from, and resistance to, capitalist economies, state rule, and social upheaval. Appalachia, and Madison County in particular, fit that definition. While the county is wired into the 21st century, many individuals understand it as a place where one can continue to resist modernity and be as "off the grid" as you want to be.
Curator and photographer Ralph Burns states, "Rob is a significant and highly revered regional photographer. His body of work will be increasingly viewed as one of the seminal works of late 20th and early 21st century American photography, and also as a sensitive and unsparing look at a regional culture in transition. This exhibition at Pink Dog, titled ShatterZone, offers Asheville and WNC an exciting opportunity to see this new and extensive iteration / collection of Rob's work, in one place and within shared context."
For more information, visit www.robamberg.com.
Limited Visibility
at CAM Raleigh
409 W Martin Street, Raleigh NC
October 3, 2014 – January 4, 2015
CAM Raleigh is pleased to present an exceptional exhibition of contemporary works from Latin America. Curated by Patricia Garcia-Velez Hanna and Natalia Zuluaga of Miami, Florida, Limited Visibility features a selection of works from the collection of Randy Shull and Hedy Fischer of Asheville, North Carolina and Merida, Mexico. In addition to the works in the Shull Fischer collection, the curators selected works by other leading artists from Latin America. Limited Visibility features sculpture, photography, mixed media, painting, video and installation.
Curators' Statement: Voluntary omission, erasure, withholding, and concealment: these are the methods the artists in Limited Visibility employ in order to draw attention to that which is missing. What we see in these images, paintings, and installations is what is not there: each work absents presence and presents something absent. In each case, the viewer is required a certain amount of belief to fill in that which is not visibly available—these are not riddles, but questions with actual answers in the form of artworks.
For more information, visit camraleigh.org.
Viola Spells
at Pink Dog Creative
Pink Dog Creative would like to welcome back Viola Spells. Viola, a jeweler and sculptor, was the first artist at Pink Dog Creative and she has returned. Please visit Viola at 344 Depot St. and see her new work.
The Junction Bar + Restaurant presents:
Third Thursday: Holly de Saillan, Objet Trouvé
at The Junction Bar + Restaurant
Opening Reception Thursday, November 20, 5:00 – 8:00 pm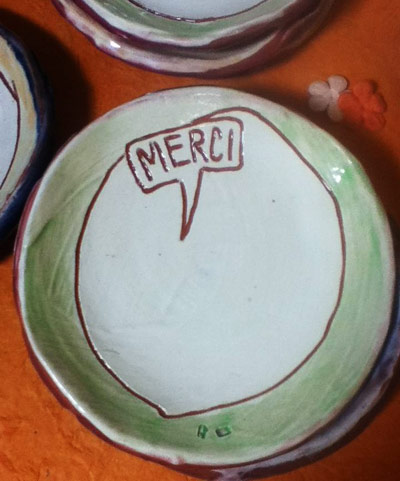 See more of Holly's work at www.beetlesagogo.org.
Randy Shull
at Black Mountain College Museum + Arts Center

Asheville artist and designer Randy Shull is not one to shy away from challenges. He has been pushing the limits of functional work and design for over 25 years. Shull blurs the boundaries of art, craft and design and is about to take on a challenge to all three: he has been commissioned to design and oversee the expansion of the Black Mountain College Museum + Arts Center, which is slated to begin this fall.
Shull was chosen for the BMCM+AC project not only for his vision, creativity and multiple skills but it is also in keeping with the spirit of Black Mountain College, the experimental art school in Black Mountain, NC from 1933- 1957, that saw major creative talents teach or study there such as Josef and Annie Albers, Merce Cunningham, John Cage, Buckminster Fuller and Willem de Kooning, to name only a few. Students and faculty were known to have designed and/or built several structures on the campus so it seems only fitting to ask an artist to lead the design of the Museum that honors its legacy. "He has a particular appreciation for the art and architectural work and philosophies of the Bauhaus masters who taught at BMC, their use of available materials, and their blurring of the lines between art, architecture, furniture design and traditional notions of 'craft.'" states BMCM +AC board chairman Dr. Richard Gruber.
Read more at Carolina Living.
Read more at Black Mountain College online.
Pink Dog and RAD in the Mountain Xpress
The Junction Restaurant and Bar:
A Winter Survivor
While some local restaurants choose to hibernate by limiting their hours or closing altogether, the Tribers are driven to meet their customers' expectations. As Charles says, "Sometimes it's harder to stay here through winter than to just shut your doors and wait for the season to change. But we can't do that to our guests. We really owe it to them to be here."
Read the full article at mountainx.com.
The Evolution of Depot Street and RAD
The district a decade ago looked pretty different — even two years ago. Depot Street, once dilapidated territory, now shines at night. Pink Dog Creative at 342-348 Depot St. turned an old Nabisco plant into artist studios, an arts supply store, a gallery (the Artery), the Asheville Area Arts Council's offices and a restaurant (The Junction). Next door, nonprofit development organization Mountain Housing Opportunities built the Glen Rock Depot, a mixed-use complex that includes street-level businesses, such as The Magnetic Field bar and theater.
Read the full article at mountainx.com.
Collect ART Asheville
Pink Dog Creative is participating in "Collect ART Asheville" with open studios every second Saturday of the month. Come visit the open studios at Pink Dog Creative and see work by great artists in the River Arts District.
Read more about Second Saturday open houses:
More from riverartsdistrict.com
More from ashevillerad.com