Randy Shull and Hedy Fischer are creating a colorful sensation on Depot Street in Asheville's River Arts District. The former textile manufacturing and warehouse building at 342-348 Depot Street has been transformed into an exciting mix of artist studios and retail spaces.
Pink Dog Creative shares the neighborhood with New Belgium & the Wedge Breweries, 12 Bones Smokehouse and hundreds of local artists. Pink Dog has 27 artists working in their studios, Fresh West Wood Fired Pizza, Vivian Restaurant and RADical Elements. Pink Dog raises funds and awareness for people and organizations working to make our communities more equitable and just, including Southside Rising, Youth Artists Empowered and the Edington Center, among others.
Open Hours: Artists work odd hours but we promise to have our studios open for the public on Fridays and Saturdays from 11–5.
We're thrilled that Pink Dog Creative was chosen to represent Asheville in this stunning short film.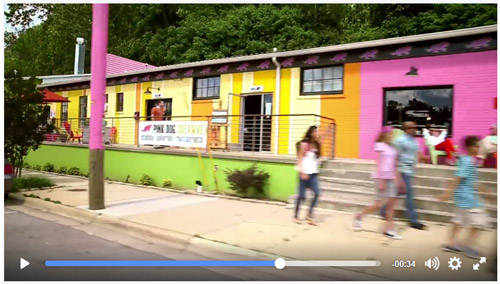 Ongoing Exhibitions & Artist News
Barbara Fisher: Tangled Mapping: Memories of the Future
Pink Dog Gallery, 348 Depot St., Asheville, NC
Opening Reception Friday, August 23, 5:30–7:30 PM
August 23–September 22, 2019
Aerial views, brain circuitry, weather patterns, lost memories………all of these narratives can be found in the intricate meanderings and devious spaces of the Tangled Mapping series. Some evoke being lost in a big city, others feel like the brain trying to recall a distant memory or translate a twisted knot of thoughts into something coherent; still others evoke the ecotones of climate change. All of these images presage the future while already being present in our consciousness, through communal memory or our own forgotten thoughts, dreams and early life experiences.
Please click here for more info.
Randy Shull: Sight Lines
Tracey Morgan Gallery, 188 Coxe Ave., Asheville, NC
July 19–August 23, 2019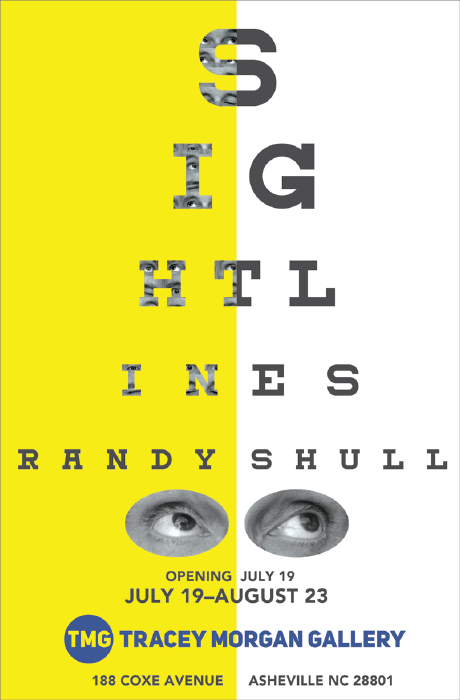 Tracey Morgan Gallery is pleased to present Sight Lines, an exhibition of new painting by interdisciplinary artist Randy Shull. This will be Shull's first exhibition with the gallery. An opening reception will be held Friday, July 19, 6-8 p.m.
In this new body of work, Shull plays hide and seek with the viewer as he blurs the boundaries of photography and painting. Taking photos of his own eyes and collaging them into the core of his highly textured relief paintings, Shull adds another medium to his visual vocabulary. "In addition to my own inner searching and experimenting, I'm thinking about many things in this work: the self becoming other, fragmented vision, my father's ongoing issues with his eyes, as well as Josef Albers and his passion for 'opening eyes," states Shull. In Sunflower Eyes, 2019, Concise, 2019, and Eye Storm, 2019, Shull playfully arranges the cut out photographs and buries them under layers of bright paint which is then sanded to reveal the eyes below. In these works, Shull subverts the voyeuristic gaze of the audience by allowing the object to become the observer. In doing so, Shull alters the space between the object and the audience, creating patterns of tension.
For more information, please contact Tracey Morgan Gallery.
Read more about Randy and his work in Asheville Made and hear an interview with him at the Blue Ridge Public Radio website.
Randy Shull's Open Space acquired by

Congratulations to Randy Shull as the Asheville Art Museum acquires Open Space. Shaping negative space with a combined artistic and mathematical precision, Shull explores the boundaries and intersections between furniture and fine art. In Open Space, sculptural components comment on the relationship between furniture and art as well as their implications when occupying a shared environment. Considering furniture to be an equalizer among people in its ubiquity and daily utility, Shull encourages us to not only reconsider our personal rapport with furniture but also the ways in which we navigate our world.
See more of Randy's work at his website.
Stephen St. Claire: Guest Artist
Capella on 9, 10 Broadway Street, Asheville
Wednesday, August 14–Wednesday, October 2, 2019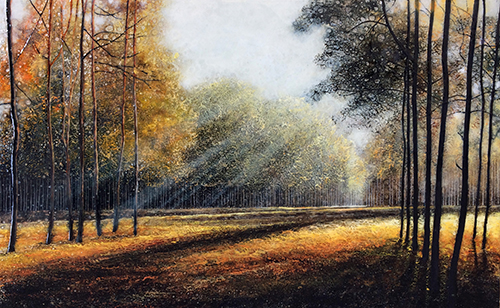 Stephen St.Claire will be the guest artist at Capella's rooftop bar and restaurant on the ninth floor of the AC Hotel from Wednesday, August 14 through Wednesday, October 2. Several original paintings and framed giclée prints will be displayed and available for purchase.
See more of Stephen's work at his website.
Holly de Saillan in Industry
Adler Gallery, Posana Restaurant, 1 Biltmore Ave., Asheville
Opening reception Thursday, August 8, 6:00–8:00 PM
August–October, 2019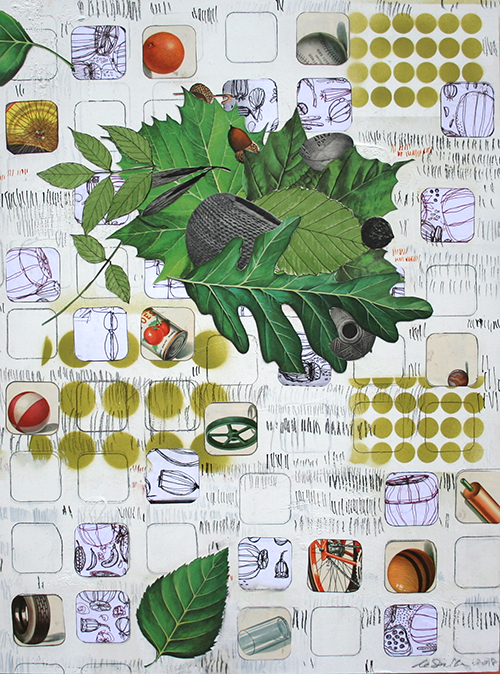 The Adler Gallery at Posana restaurant in downtown Asheville presents the group exhibition Industry, opening on Thursday, August 8 from 6-8 pm through October. Holly de Saillan's collage work Indigenous will be included.
To see more of Holly's work, please visit her website.
Karen Keil Brown artwork commission for Mission Hospital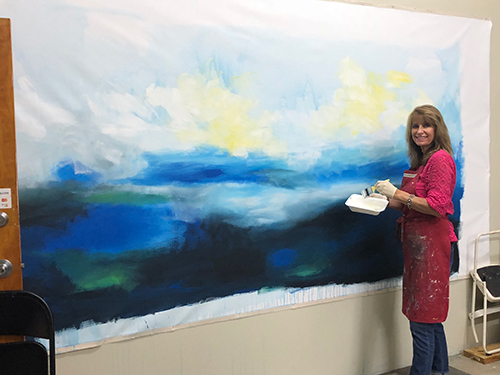 Mission Hospital in Asheville, North Carolina has commissioned Karen Keil Brown to create a 96″ x 42″ painting. It will be displayed in the Waiting Area Lounge.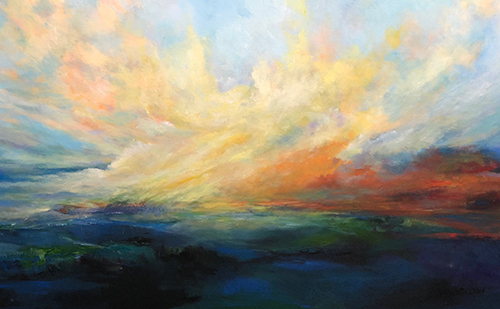 See more of Karen's work at her website.
Hedy Fischer appointed to Art21 Board of Trustees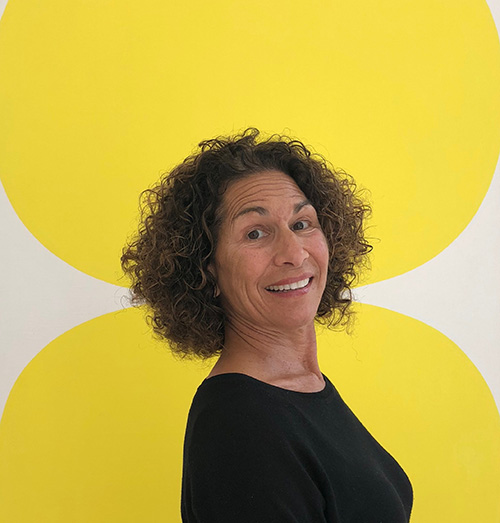 Hedy Fischer, co-founder of Pink Dog Creative, has been named to sit on the Board of Trustees of Art21. Art21 provides unparalleled access to the artist's voice to diverse audiences around the world, using the power of digital media to introduce millions of people to contemporary art and artists. For over two decades, Art21 has changed the paradigm for teaching and learning about the creative process.
In addition to its Peabody Award-winning PBS-broadcast television series Art in the Twenty-First Century, Art21 produces the digital film series New York Close Up and Extended Play; as well as special artist projects. Art21 also creates educational resources and professional development programs; annual public programming; an online publication featuring guest contributors; and a comprehensive website at Art21.org.
Christie Calaycay in Asheville Made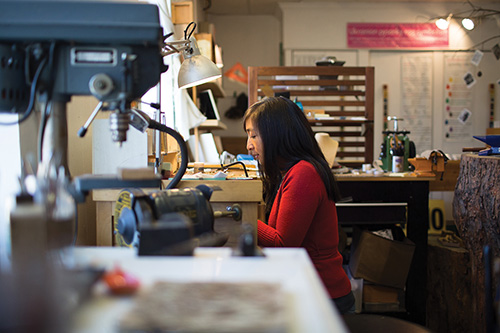 Jewelry artist and designer Christie Calaycay was featured in the March issue of Asheville Made. "Calaycay's work captures both the delicacy and endurance of botanical life, inspired by natural ecosystems around the world." Visit her in Suite 100 at Pink Dog Creative.
Read the article at the Asheville Made website.
Lucy Cobos in 2019 NC Statewide Pastel Exhibition
Hickory Museum of Art, Hickory, NC
May 4–August 18, 2019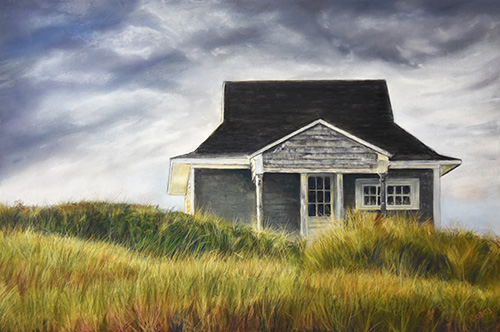 Two pastel paintings by Lucy Cobos have been accepted into the 2019 NC Statewide Pastel Society show. Out of 190 submissions, 60 paintings were selected by master pastelist Lyn Asselta.
View more of Lucy's work at her website.
Community Container Project in The Laurel
Pink Dog Creative's Community Container Project was recently featured in The Laurel. Connection was a theme for Trinity Harper Pierce as she created her work. "If you don't love your community, there are lots of things that could happen that could be bad, like more violence and heartache," says Pierce. "It's sad to see families lose loved ones to violence." Pierce says creating art helps her feel calm and express herself, and seeing her art on such a large scale gave her lots of emotions. "I feel a little bit nervous because I have never done anything like this and I am excited at the same time," she says. "I hope that when people see the mural that their hearts grow bigger than the heart in the middle."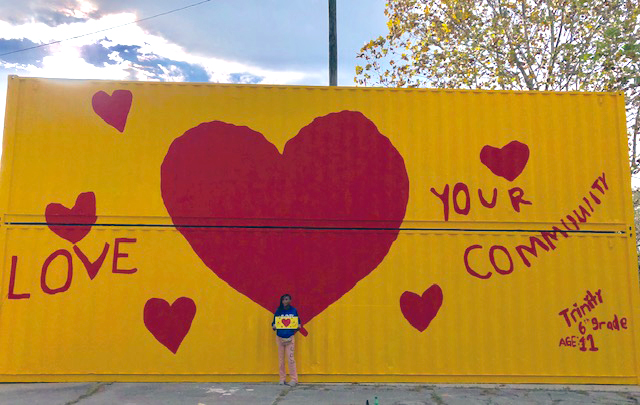 Read the full article at The Laurel website.
VIVIAN wins Best New Restaurant and Best Restaurant in the 2018 Stoobie Awards
Congratulations to Vivian restaurant for winning not one, but two awards in the 2018 Stoobie Awards. Vivian won Best New Restaurant and Best Restaurant. Vivian is "an insanely great restaurant, and a brilliant new jewel in the crown of high-end dining establishments that currently rings our city." – Stu Helm
Click here to read about Vivian and the other winners at the Stoobie Awards website, and here to see Vivian's menu and make a reservation.
Vivian receives Best New Restaurant Award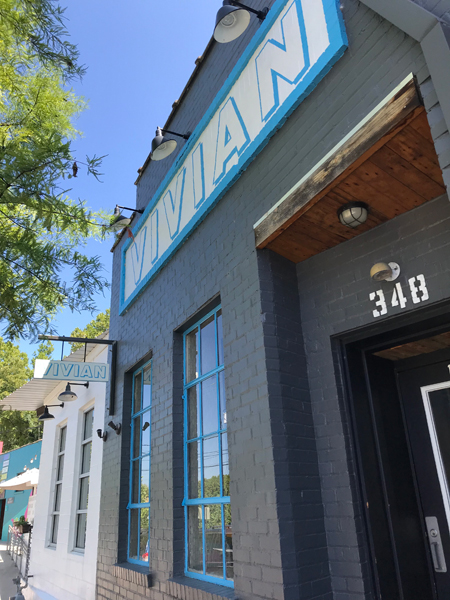 Vivian is honored to receive a "Best New Restaurant" award from Mountain Xpress Best of WNC Awards for Asheville in 2018. Vivian would like to thank all their wonderful guests who voted for their nomination in this category; they look forward to serving you many more delicious meals!
Learn more and make a reservation at Vivian's website.
Pink Dog Creative and 22 London Featured in Burnaway article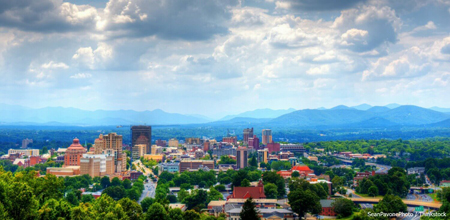 Pink Dog Creative, 22 London, and the upcoming exhibit Say It Loud at 22 London were all mentioned in a new article in Burnaway, The Voice of Art in the South. The article is entitled How Did Asheville Make the List of 40 Most Vibrant Arts Communities in America? by Diana Stoll.
Read the full article at burnaway.org here and the original research findings about the 40 Most Vibrant Art Cities here.
New pole banners in the River Arts District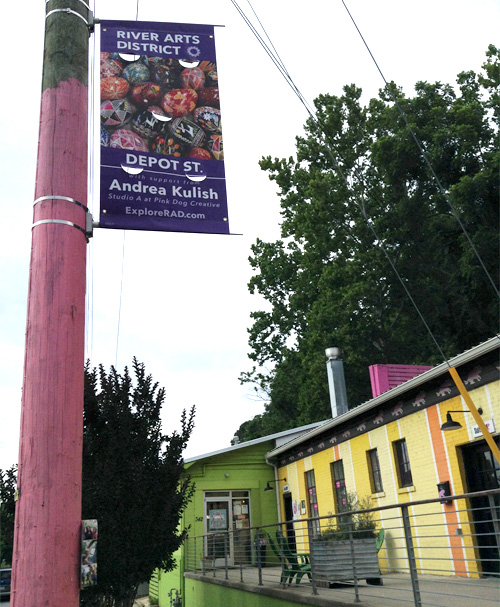 114 new pole banners are part of a project to help River Arts District vitality during RADTIP construction, which involves a partnership of the City of Asheville, RADBA (River Arts District Business Association) and RADA (River Arts District Artists). The banners are meant to help people find their way around the River Arts District and beautify the area. The banners feature artwork by various artists in the district, street names, and are color coded to match the RADA studio guide map. Pink Dog Creative artist and graphic designer Andrea Kulish designed the banners. Pink Dog Creative sponsored four of the banners, which feature artwork by Pink Dog Creative artists. You can see them on Depot Street, Lyman Street and Riverside Drive.
Read more about the project here.
Dining review: RAD's Vivian grows from Salt & Smoke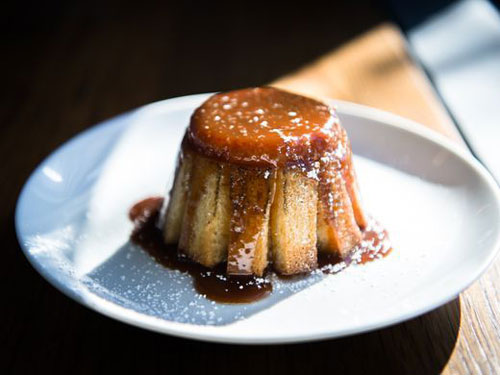 An excerpt from the article: "Vivian feels as though it's been operating for years. Its cuisine is clearly defined, and the warm hospitable approach to the service helps makes the restaurant a success… Vivian set out to meld southern and European cuisines in an elevated way, and it succeeds. "
Randy Shull work acquired by Spartanburg Art Museum
Spartanburg, SC
Pink Dog congratulates Randy Shull as the Spartanburg Art Museum acquires Striped Reflection, a recent piece from his reflection series that explores the relationship between painting and furniture. Fundamentally, Shull says the work is about pairing and relationships.
See more of Randy's work at his website.
Viola Spells featured in the Mountain Xpress
Viola Spells was featured in Mountain Xpress article Two Local Artists Follow Their Passions in the RAD by Alli Marshall.
Fresh West Pizza in the Mountain Xpress
Read Liisa Andreassen's interview of the owner of FRESH West- Quick Dish: Q + A with Mark Tomczak of FRESH Wood Fired Pizza in the Mountain Xpress – read the article here.
10 Top U.S. Cities for Art Lovers: Asheville
Pink Dog Creative is the feature photo for a "Top 10" article on AARP!
Read more at AARP Travel online.
Asheville, North Carolina is unlike anywhere else in the South
"[Asheville's] singular mix of worldliness and hominess gives it a character unique among cities below the Mason-Dixon line."
"A visit to the emerging River Arts District felt more my speed. A string of converted industrial buildings along the French Broad river, it's now home to working artists in spaces that New York creatives would give both arms for. It's impossible to categorize the talent here, but in just a few hours, I met abstract-animal painter Daniel McClendon (349 Depot St., danielmcclendon.com) and record producer-turned ceramicist Akira Satake (191 Lyman St., akirasatake.com), whose airy workshop houses his wife's exquisite pastry shop, Yuzu Patisserie (191 Lyman St., yuzubycynthia.com)."
Read more of this article at the NY Daily News.