Randy Shull and Hedy Fischer are creating a colorful sensation on Depot Street in Asheville's River Arts District. The former textile manufacturing and warehouse building at 342-348 Depot Street has been transformed into an exciting mix of artist studios and retail spaces.
Pink Dog Creative shares the neighborhood with local favorites, such as Wedge Brewery, Clingman Cafe, 12 Bones and many local artist studios. Pink Dog has 25 artists working in their studios, Asheville Running Company, The Junction Restaurant and Bar and Fresh West Wood Fired Pizza.
Open Hours: Artists work odd hours but we promise to have our studios open for the public on Fridays and Saturdays from 10-4.
Ongoing Exhibitions & Artist News
Check out our Octobert newsletter for news from our studios and ongoing artist exhibitions!
Brett Hunter: Gossima
at Pink Dog Gallery
October 2, 2015 – December 19, 2015
Opening Reception Friday, October 2, 5:00 – 8:00 pm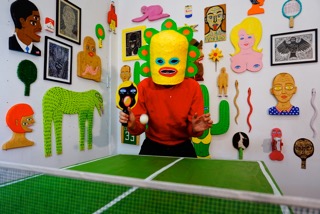 Brett's exhibit, Gossima, will open at the Pink Dog Gallery, 348 Depot St., Friday, October 2 from 5:00 – 8:00 pm and will run through December 19. Gossima, derived from a word used to describe something lightweight or delicate, is one of the original names for the game now known as Table Tennis, or Ping Pong. "I use Gossima to describe this collection of work not only for the direct association with the Ping Pong themes in the work, but as a reference to it being 'lightweight,' 'not heavy,' 'FUN,'" says Hunter.
Brett Hunter is an artist working in southern Illinois and beyond. Blowing off a college education to travel and play in punk rock bands his entire adult life has brought a DIY, low-brow aesthetic to his artwork. This goes hand-in-hand with a heavy folk art influence, thanks to growing up around his grandparents' collection of odd, brightly colored, often crudely made folk creations, many of them made by Brett's grandfather, Don Shull. Several members of the family are artists themselves and it's only natural that he follow in their footsteps.
Stephen St. Claire
at Pink Dog Creative
Wednesday – Saturday, 10:00 am – 5:00 pm
Road to Highrock Cove, Stephen St. Claire
As of September 1, 2015, local painter Stephen St.Claire is joining the Pink Dog Creative family of artists. Stephen is known for his unique genre he calls Dialuminism ("light passing through") which entails painting atop a textured aluminum leaf surface and finished with layers of solar-protective resins. Light reflects off the metal background layer, passes through the layers of paint and then is refracted by the layers of clear resin (which act as a sort of clear lens, fused to the surface of the painting). The result is a painting that is basically back-lit, which creates very intense color and depth. Light plays off some areas and casts shadows beneath others, creating a dimensional painting that changes in appearance depending upon where the viewer is standing in relation to the light source. St.Claire art is open Wednesday through Saturday and most Mondays, 10:00 am – 5:00 pm, and he can be reached at stclaireart@gmail.com or www.stclaireart.com.
Reiko Miyagi: Vessels of Merriment
at Grovewood Gallery
Opening Reception Saturday, October 3, 3:00 – 6:00 pm
Reiko Miyagi will be showing sake jars and cups for the exhibition Vessels of Merriment at Grovewood Gallery. The exhibition will be celebrated with an opening reception on October 3 from 3:00 – 6:00 pm and is open to the public. Metro Wines and Noble Cider will offering tastings of their products.
Read more about Vessels of Merriment.
Two of Reiko Miyagi's platters were purchased at the Charlotte Mint Museum Potters Market Invitational for the museum's permanent collection.
&nbps;
William Henry Price: The Art Gods Must Be Crazy
at REVOLVE AVL in the Cottonmill Building, River Arts District
October 22, 7:00 pm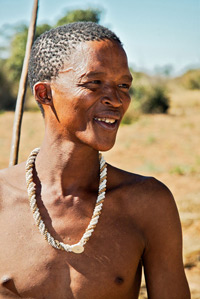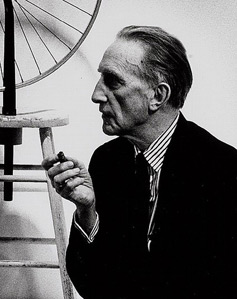 The Art Gods Must Be Crazy
A talk by William Henry Price
One hundred years ago, Marcel Duchamp mounted a bicycle wheel on a stool and placed it into the rarified space of art. And while Duchamp was endeavoring to "put painting once again to the service of the mind", Bushman shamans of the Kalahari were making images in the service of spirits, as they had done for thousands of years. In this talk, William reframes Duchamp's quizzical art by taking us deep into the rock art and ritual of the San Bushman.
We will look at San Bushman paintings on rock faces and decipher their meanings. And we will decipher Duchamp as well, as we watch him erasing traditions, seeking freedom from dogmas of any kind. These are the bookends of art as spiritual activity: the Bushman having no concept of art apart from its function, and Duchamp wanting no "art" beyond concepts.
From this dialogue, a stunning question arises. Can we embrace both? Come and enjoy the wit and grace of both Duchamp and the Bushmen of the Kalahari.
Seating is limited. Contact REVOLVE AVL to reserve a seat.
The Junction Bar + Restaurant presents:
The Junction Third Thursdays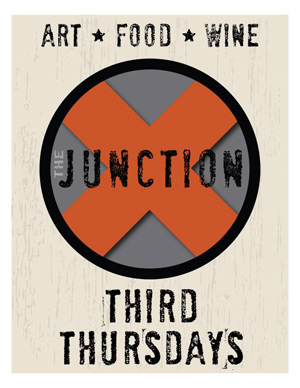 Third Thursday: Mixed Media • Painting Artists of 352 Depot St.
with Bernadette St. Pierre-George, Bill George, Constance Vlahoulis, Jeff Pittman, Karen Weihs, Richard Christian Nelson
at The Junction Bar + Restaurant
Opening Reception Thursday, October 15, 5:00 – 7:00 pm
The Paintbox – You Never Know What's In Store!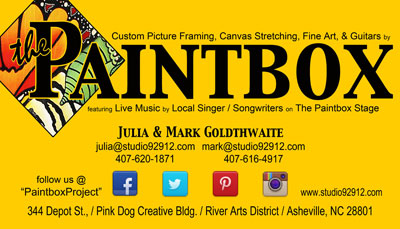 The Paintbox
When we said good-bye to Pink Dog life last month, we didn't realize an opportunity to stay in the building was just around the corner…or actually through our side door! We're so happy to still have a space at Pink Dog!
The Paintbox Framing Corner and our Stage for Music and Events are both now in the back warehouse, 344 Depot St., of the Pink Dog Creative Building.
Hours at The Paintbox
Thursdays, 11:00 am – 5:00 pm (but we're usually there more often)
or by appointment
Stay connected at: /PaintboxProject on facebook, twitter, and instagram
Pink Dog and RAD in the Mountain Xpress
The Junction Restaurant and Bar:
A Winter Survivor
While some local restaurants choose to hibernate by limiting their hours or closing altogether, the Tribers are driven to meet their customers' expectations. As Charles says, "Sometimes it's harder to stay here through winter than to just shut your doors and wait for the season to change. But we can't do that to our guests. We really owe it to them to be here."
Read the full article at mountainx.com.
The Evolution of Depot Street and RAD
The district a decade ago looked pretty different — even two years ago. Depot Street, once dilapidated territory, now shines at night. Pink Dog Creative at 342-348 Depot St. turned an old Nabisco plant into artist studios, an arts supply store, a gallery (the Artery), the Asheville Area Arts Council's offices and a restaurant (The Junction). Next door, nonprofit development organization Mountain Housing Opportunities built the Glen Rock Depot, a mixed-use complex that includes street-level businesses, such as The Magnetic Field bar and theater.
Read the full article at mountainx.com.
Collect ART Asheville
Pink Dog Creative is participating in "Collect ART Asheville" with open studios every second Saturday of the month. Come visit the open studios at Pink Dog Creative and see work by great artists in the River Arts District.
Read more about Second Saturday open houses:
More from riverartsdistrict.com
More from ashevillerad.com