Randy Shull and Hedy Fischer are creating a colorful sensation on Depot Street in Asheville's River Arts District. The former textile manufacturing and warehouse building at 342-348 Depot Street has been transformed into an exciting mix of artist studios and retail spaces.
Pink Dog Creative shares the neighborhood with New Belgium & the Wedge Breweries, 12 Bones Smokehouse and hundreds of local artists. Pink Dog has 27 artists working in their studios, Fresh West Wood Fired Pizza, Vivian Restaurant and Sunnyside Trading Company.
Open Hours: Artists work odd hours but we promise to have our studios open for the public on Fridays and Saturdays from 11–5.
We're thrilled that Pink Dog Creative was chosen to represent Asheville in this stunning short film.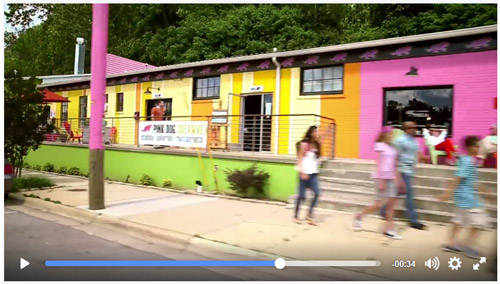 Ongoing Exhibitions & Artist News
Trigger Warning
Pink Dog Creative Gallery, 348 Depot Street
January 11–February 24, 2019
Opening reception Friday, January 11, 6:00–8:00PM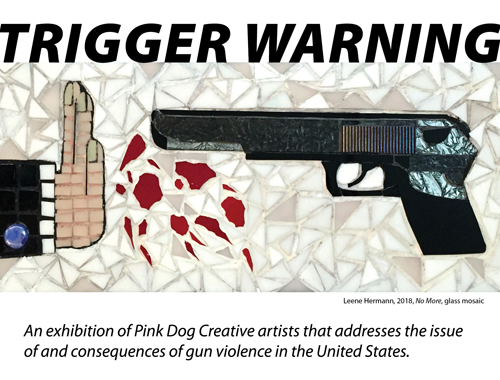 Pink Dog Creative is pleased to announce the exhibition, Trigger Warning which addresses the issue of and consequences of gun violence in the United States and specifically in Asheville and Buncombe County. Sadly, Asheville had 7 homicides in 2017, and 9 in 2016, most occurring in Asheville's poorer neighborhoods. Asheville's homicide total for 2018 has already eclipsed the total for all of 2017.
We each respond in our own particular way to the gun violence issue but 21 artists from Pink Dog Creative are tackling the issue in their specific creative ways with the exhibition Trigger Warning, on view at the Pink Dog Creative Gallery, 348 Depot St. Asheville, NC, beginning January 11 through February 24, 2019.
Please click here to learn more.
Randy Shull: The Devil's Hammock
Centro Cultural La Cúpola, Mérida, Mexico
Through January 12, 2019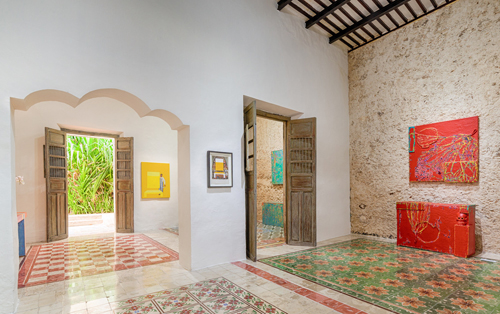 Shull has engaged a wide range of Mexican imagery in this new body of work—appropriating, collaging, conflating, colliding, concealing, painting, and pasting; evoking enduringly complicated sets of relationships. Old and new, past and present, privileged and powerless, near and far, horizontal and vertical, over and under, faded and saturated. The stability of abstracted architectural form meets the instability of historical representation and interpretation. Cut-out eyes, applied crudely onto pre-Colombian figurines and Mexican folk heroes offer an opportunity to feel the figures looking back at us, or communing knowingly among themselves. The museum springs to life in uncanny ways.
-Eric Baden, Professor, Warren Wilson College
Joseph Pearson: Thoughts on the time: reflections on today's current of racial injustice and violence
Walker Arts Center at Asheville School
360 Asheville School Road, Asheville, NC
January 10–March 1, 2019
Opening reception Thursday, January 10, 5:30–7:30PM
Joseph Pearson has been invited to have a solo exhibition at The Asheville School. The show will open January 10th with a reception from 5:30–7:30PM, and on January 18th Joseph will conduct two presentations to the students.
See more of Joseph's work at his website.
Community Container Project in The Laurel
Pink Dog Creative's Community Container Project was recently featured in The Laurel. Connection was a theme for Trinity Harper Pierce as she created her work. "If you don't love your community, there are lots of things that could happen that could be bad, like more violence and heartache," says Pierce. "It's sad to see families lose loved ones to violence." Pierce says creating art helps her feel calm and express herself, and seeing her art on such a large scale gave her lots of emotions. "I feel a little bit nervous because I have never done anything like this and I am excited at the same time," she says. "I hope that when people see the mural that their hearts grow bigger than the heart in the middle."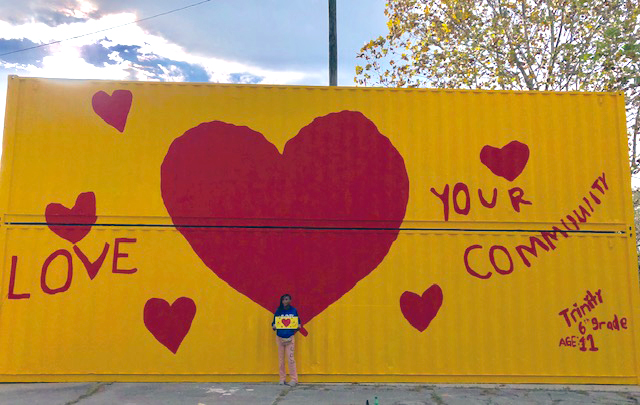 Read the full article at The Laurel website.
Puppy Love: Adoption Event, Fundraiser & Exhibit
Pink Puppy Gallery
348 Depot St., Suite 101, Asheville, NC
Adoption Event, Fundraiser & Opening Reception Saturday, February 9, 12:00–3:00PM
Exhibit February 1–28, 2019
For more information please click here.
Holly de Saillan and Stephanie Grimes in Eyes Group Show
Posana Restaurant
1 Biltmore Ave., Pack Square, Downtown Asheville, NC
Opening reception Wednesday, December 5, 2018, 6:00–8:00PM
December 5, 2018–January 25, 2019
The art exhibition, Eyes, is currently on view at the Adler Gallery in Posana Restaurant. Curator Constance Vlahoulis has invited local artists to create their best work using the theme of eyes as their inspiration. The twenty participants include a host of Asheville's best and most beloved artists. Styles range from representational to atmospheric impression, abstract and whimsical.
Reiko Miyagi Zone One Arts Interview
East Meets West and Reiko Miyagi Produces New Ceramics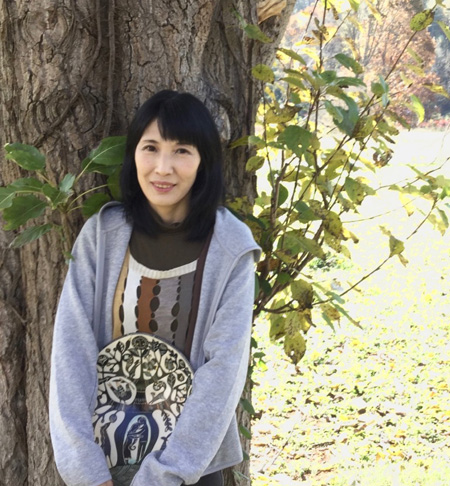 The Australian blog, Zone One Arts, features an interview with Reiko by Deborah Blakeley: East Meets West and Reiko Miyagi Produces New Ceramics. In the interview, Reiko talks about thirty years of making her art, both pottery and jewelry in Japan and the USA.
Read more at the the Zone One Arts website.
Randy Shull in Defining America
Western Carolina University Bardo Arts Center
Cullowhee, NC
September 11, 2018 – May 3, 2019
Randy Shull's work Simultaneous Pattern has been chosen for inclusion at Western Carolina University's John Bardo Arts Center in the exhibition Defining America curated by Carolyn Grosch.
Defining America is inspired by the WCU campus theme for the 2018–2019 academic year. The exhibition brings together artists with different perspectives on the concept of America and asks visitors to reflect on the values, definitions, and assumptions attached to this concept. The exhibition will be on view through May 3, 2019.
Vivian receives Best New Restaurant Award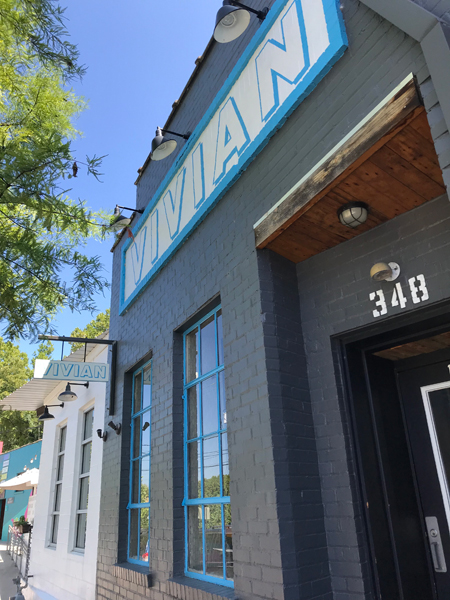 Vivian is honored to receive a "Best New Restaurant" award from Mountain Xpress Best of WNC Awards for Asheville in 2018. Vivian would like to thank all their wonderful guests who voted for their nomination in this category; they look forward to serving you many more delicious meals!
Learn more and make a reservation at Vivian's website.
Pink Dog Creative and 22 London Featured in Burnaway article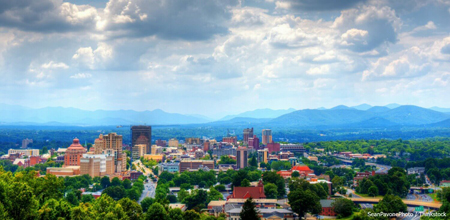 Pink Dog Creative, 22 London, and the upcoming exhibit Say It Loud at 22 London were all mentioned in a new article in Burnaway, The Voice of Art in the South. The article is entitled How Did Asheville Make the List of 40 Most Vibrant Arts Communities in America? by Diana Stoll.
Read the full article at burnaway.org here and the original research findings about the 40 Most Vibrant Art Cities here.
New pole banners in the River Arts District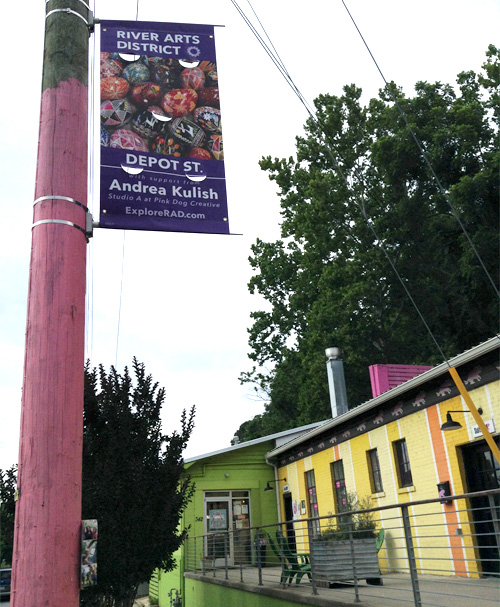 114 new pole banners are part of a project to help River Arts District vitality during RADTIP construction, which involves a partnership of the City of Asheville, RADBA (River Arts District Business Association) and RADA (River Arts District Artists). The banners are meant to help people find their way around the River Arts District and beautify the area. The banners feature artwork by various artists in the district, street names, and are color coded to match the RADA studio guide map. Pink Dog Creative artist and graphic designer Andrea Kulish designed the banners. Pink Dog Creative sponsored four of the banners, which feature artwork by Pink Dog Creative artists. You can see them on Depot Street, Lyman Street and Riverside Drive.
Read more about the project here.
Dining review: RAD's Vivian grows from Salt & Smoke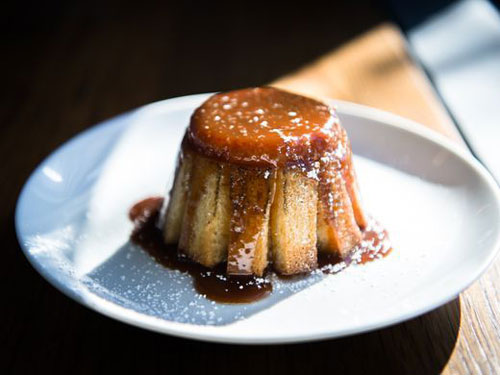 An excerpt from the article: "Vivian feels as though it's been operating for years. Its cuisine is clearly defined, and the warm hospitable approach to the service helps makes the restaurant a success… Vivian set out to meld southern and European cuisines in an elevated way, and it succeeds. "
Randy Shull work acquired by Spartanburg Art Museum
Spartanburg, SC
Pink Dog congratulates Randy Shull as the Spartanburg Art Museum acquires Striped Reflection, a recent piece from his reflection series that explores the relationship between painting and furniture. Fundamentally, Shull says the work is about pairing and relationships.
See more of Randy's work at his website.
Viola Spells featured in the Mountain Xpress
Viola Spells was featured in Mountain Xpress article Two Local Artists Follow Their Passions in the RAD by Alli Marshall.
Fresh West Pizza in the Mountain Xpress
Read Liisa Andreassen's interview of the owner of FRESH West- Quick Dish: Q + A with Mark Tomczak of FRESH Wood Fired Pizza in the Mountain Xpress – read the article here.
10 Top U.S. Cities for Art Lovers: Asheville
Pink Dog Creative is the feature photo for a "Top 10" article on AARP!
Read more at AARP Travel online.
Asheville, North Carolina is unlike anywhere else in the South
"[Asheville's] singular mix of worldliness and hominess gives it a character unique among cities below the Mason-Dixon line."
"A visit to the emerging River Arts District felt more my speed. A string of converted industrial buildings along the French Broad river, it's now home to working artists in spaces that New York creatives would give both arms for. It's impossible to categorize the talent here, but in just a few hours, I met abstract-animal painter Daniel McClendon (349 Depot St., danielmcclendon.com) and record producer-turned ceramicist Akira Satake (191 Lyman St., akirasatake.com), whose airy workshop houses his wife's exquisite pastry shop, Yuzu Patisserie (191 Lyman St., yuzubycynthia.com)."
Read more of this article at the NY Daily News.