Randy Shull and Hedy Fischer are creating a colorful sensation on Depot Street in Asheville's River Arts District. The former textile manufacturing and warehouse building at 342-348 Depot Street has been transformed into an exciting mix of artist studios and retail spaces.
Pink Dog Creative shares the neighborhood with local favorites, such as Wedge Brewery, Clingman Cafe, 12 Bones and many local artist studios. Pink Dog has 25 artists working in their studios, The Junction Restaurant and Bar, Fresh West Wood Fired Pizza, and Sunnyside Trading Company.
Open Hours: Artists work odd hours but we promise to have our studios open for the public on Fridays and Saturdays from 10-4.
We're thrilled that Pink Dog Creative was chosen to represent Asheville in this stunning short film.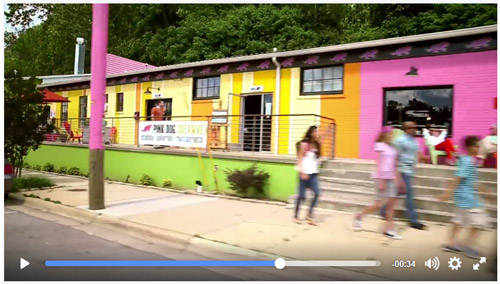 Ongoing Exhibitions & Artist News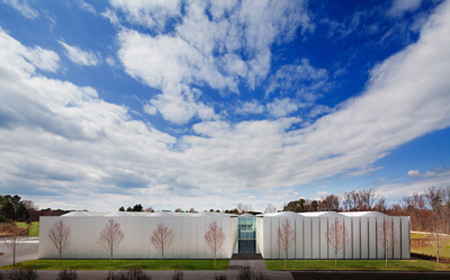 Randy Shull has been appointed to the North Carolina Museum of Art's Board of Trustees. Located in Raleigh, The North Carolina Museum of Art serves all the people of North Carolina and was named by INSIDER one of the top 25 museums in the USA. Architectural Record named NCMA as one of the top 125 buildings in the last 125 years. Randy is immensely proud to serve on the board and brings his knowledge and passion for collecting contemporary art and looks forward to engaging with this special museum.
Read more about the museum at the NCMA blog.
Zona Torrida
Photographs from Mexico and Peru by Eric Baden
Pink Dog Creative Gallery, 348 Depot Street
ongoing through December 21


Every 29.5 years Saturn completes its orbit around the sun. In astrology, the return of Saturn to its place in the heavens at the time of one's birth is significant—signaling the reframing of one's individualized conditions at a new stage in life. Saturn has twice circled round in my lifetime—each time I began again in the desert.
Eric Baden is professor of photography at Warren Wilson College in Swannanoa, NC. He was Project Director for photo+craft, an inter-disciplinary arts festival in Asheville, NC. His photographs are included in the collections of the Fogg Art Museum at Harvard University, the International Museum of Photography/George Eastman House in Rochester New York, and the Westlicht Museum for Photography in Vienna, Austria.
See more of Eric's work at his website.
December on Depot
Depot Street, River Arts District
December 10, 4:00 – 8:00 pm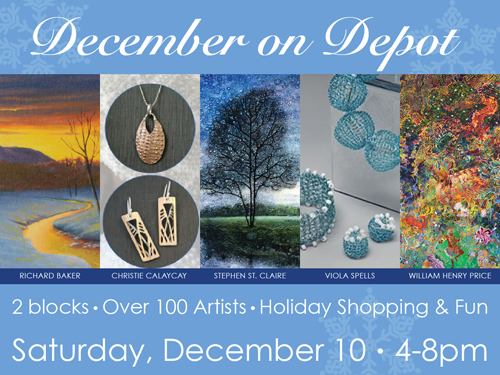 100 artists in several buildings on Depot Street open their doors for holiday shoppers! Two blocks of Depot Street will be lit up for festivities including snacks and beverages at many of the studios. Buy one-of-a-kind art and gifts for friends and yourself!
Read more about the event on Facebook.
Reiko Miyagi
2nd Annual Akira Satake Ceramic Invitational
Beauty + Function: Ceramic Artists in Western North Carolina
Asheville Area Arts Council, 207 Coxe Avenue in the Refinery Creator Space
December 2, 2016 – January 7, 2017
Opening Reception Friday, December 2, 5:00 – 8:00 pm
Gallery talk at 5:45 pm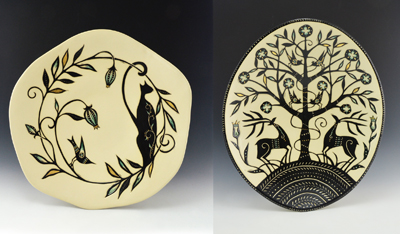 This show is curated by internationally recognized ceramic artist, Akira Satake, a River Arts District artist, showing functional pottery created by 12 local WNC artists. Participating artists include Akira Satake, Becky Lloyd, Josh Copus, Joy Tanner, Judith Duff, Linda McFarling, Maggie Finlayson, Michael Hunt and Naomi Dalglish, Reiko Miyagi, Tom Jaszczak, Will Dickert, and William Baker.
Read more about the exhibit at the AAAC website.

Holly de Saillan and Andrea Kulish at The East West Holiday Pop Up Shop
East West Venue, 278 Haywood Road, West Asheville
December 8 – 17th, 10:00 am – 8:00 pm daily, until 9:00 pm on Fridays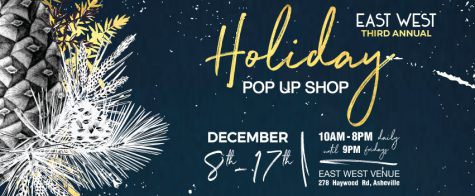 The East West Popup Shop team are thrilled to present their Third Annual Holiday Pop Up Shop for 10 days this holiday season. They will transform the East West Venue into a full-service boutique featuring over 75 artists, crafters, vintage collectors, and food vendors. Join us in support of local and independent makers along with special events like a visit from Santa, Meet the Makers, food and drink, music, and more.
Shoppers will find a variety of outstanding handmade and vintage goods at the Pop Up – ranging from one-of-a-kind jewelry, greeting cards, clothing, accessories, leather goods, art prints, housewares, and gifts for baby. Browse this year's line up of 75+ talented makers and collectors below.
Read more about the East West Holiday Popup Shop.
A note from Northville Apparel: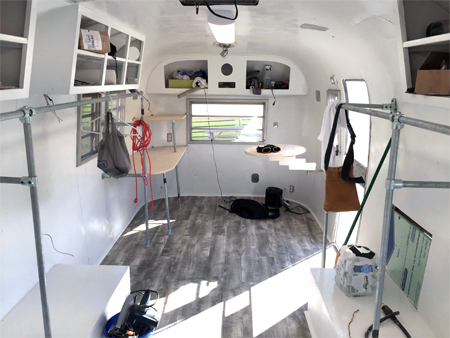 Hi there, my name is David Kopelman and I'm opening Northville Apparel next to Fresh West on Saturday, December 3rd. We are a locally owned and operated wholesale company that will be selling outdoor brands and products.
You have probably noticed the trailer next to Fresh West Pizzeria recently and might have wondered what is going on? I have converted a 1967 Avion Travel Trailer into a mobile retail store. The trailer had to be stripped down completely to the ground and built from the floor up. I'm no carpenter so it's been quit the experience to say the least. Also I have two local artists, Kelly Takacs and Joy Hof, who will be painting a 360-degree mural on the outside. Please stop by and say hello anytime! I'm really excited to be joining the Pink Dog team and look forward to meeting all of you!
-Best,
David
Visit Northville Apparel on Facebook.
Make Your Own Pysanka Ornament at Studio A
ongoing throughout December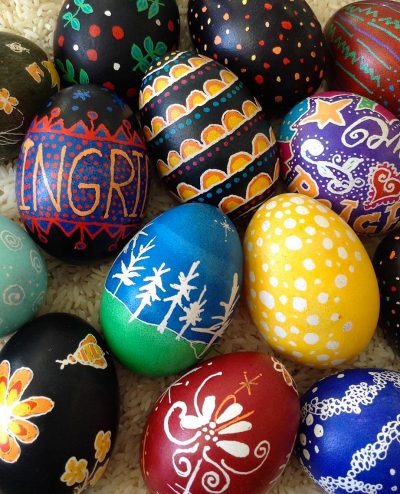 Some of Andrea's students' ornaments
Make your own pysanka egg ornament! This class is open to beginners and also those with experience. Andrea will guide you through making snowflakes, stripes, dots, or your own creation.
Evening and afternoon classes are taking place through December. Email andreakulish@gmail.com or call/text 828.423.6459 to sign up today.
Visit Studio A online for the workshop schedule and more information.
10 Top U.S. Cities for Art Lovers: Asheville
Pink Dog Creative is the feature photo for a "Top 10" article on AARP!
Read more at AARP Travel online.
Asheville, North Carolina is unlike anywhere else in the South
"[Asheville's] singular mix of worldliness and hominess gives it a character unique among cities below the Mason-Dixon line."
"A visit to the emerging River Arts District felt more my speed. A string of converted industrial buildings along the French Broad river, it's now home to working artists in spaces that New York creatives would give both arms for. It's impossible to categorize the talent here, but in just a few hours, I met abstract-animal painter Daniel McClendon (349 Depot St., danielmcclendon.com) and record producer-turned ceramicist Akira Satake (122 Riverside Dr., akirasatake.com), whose airy workshop houses his wife's exquisite pastry shop, Yuzu Patisserie (122 Riverside Dr, yuzubycynthia.com)."
Read more of this article at the NY Daily News.
Pink Dog and RAD in the Mountain Xpress
The Junction Restaurant and Bar:
A Winter Survivor
While some local restaurants choose to hibernate by limiting their hours or closing altogether, the Tribers are driven to meet their customers' expectations. As Charles says, "Sometimes it's harder to stay here through winter than to just shut your doors and wait for the season to change. But we can't do that to our guests. We really owe it to them to be here."
Read the full article at mountainx.com.
The Evolution of Depot Street and RAD
The district a decade ago looked pretty different — even two years ago. Depot Street, once dilapidated territory, now shines at night. Pink Dog Creative at 342-348 Depot St. turned an old Nabisco plant into artist studios, an arts supply store, a gallery (the Artery), the Asheville Area Arts Council's offices and a restaurant (The Junction). Next door, nonprofit development organization Mountain Housing Opportunities built the Glen Rock Depot, a mixed-use complex that includes street-level businesses, such as The Magnetic Field bar and theater.
Read the full article at mountainx.com.