Randy Shull and Hedy Fischer are creating a colorful sensation on Depot Street in Asheville's River Arts District. The former textile manufacturing and warehouse building at 342-348 Depot Street has been transformed into an exciting mix of artist studios and retail spaces.
Pink Dog Creative shares the neighborhood with local favorites, such as Wedge Brewery, Clingman Cafe, 12 Bones and many local artist studios. Pink Dog has 25 artists working in their studios, Asheville Running Company, The Junction Restaurant and Bar and Fresh West Wood Fired Pizza.
Open Hours: Artists work odd hours but we promise to have our studios open for the public on Fridays and Saturdays from 10-4.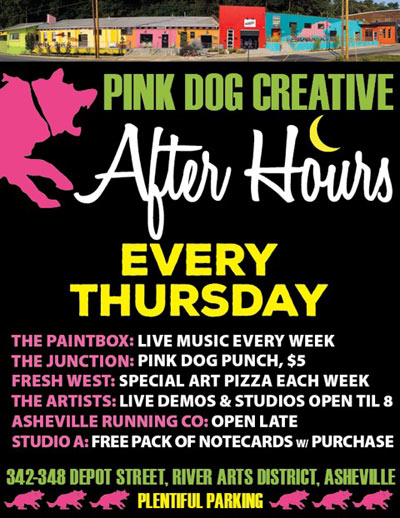 The Asheville Citizen-Times recently featured Pink Dog's summer After Hours weekly Thursday event. Join us on Thursdays this summer for some after hours art and music!
Read about Pink Dog's After Hours at the Asheville Citizen-Times.
Ongoing Exhibitions & Artist News
Check out our August newsletter for news from our studios and ongoing artist exhibitions!
John Rudel: PICK A NUMBER
at Pink Dog Gallery
August 7, 2015 – September 26, 2015
Opening Reception Friday, August 7, 5:00 – 8:00 pm
An exhibition of new mixed media paintings by John Rudel will be featured in PICK A NUMBER at the Pink Dog Creative Gallery, 348 Depot St., River Arts District, Asheville, NC. The exhibition will open with a public reception on Friday, August 7, 2015 from 5 pm to 8 pm.
"I believe that, if you know ahead of time what a painting is going to be, there is no point in doing it. Painting is a means of summoning a revelation while exploring the mystery of creation, transmutation, emotion, and the limits of cognition. All the terrain of the inner life." —Judith McWillie
The exhibition title PICK A NUMBER references the tendency of individuals to engage in games of chance with a belief that they can somehow intuit a positive outcome. "Obviously painting is an endeavor that leans heavily on intuition and emotion," Rudel states. "The idea also relates to a certain tendency in my artistic practice, and really the practice of a great many artists to romanticize the role of chance in the creative process. A found object or image that emerges from the world accidentally contains much more creative energy than something I may have procured on purpose, and I am not totally sure why that is true. It's the inherent power of chance I guess."
The work for this exhibition is completed entirely on found pieces of stainless steel. The use of photographic transfers, spray paint, aluminum tape, color pencil, ink, acrylic paint, and adhesive letters and numbers inform Rudel's layered images. His creative process invites the rapid ability of digital imaging into a slow and reflective practice of painting with lots of revisions and interventions. Rudel's work has been featured in New American Paintings Magazine, he has received a Mississippi Arts Commission Fellowship, he has exhibited in museums across the country including the Williamsburg Art and Historical Center, NY, the Miami University Art Museum, OH, the Georgia Museum of Art, and the Virginia Museum of Contemporary Art. Rudel is currently Batten Associate Professor of Art and Curator of Exhibitions at Virginia Wesleyan College in Norfolk, VA. He received his MFA from the University of Georgia in 2002 and his BFA from UNC-Asheville in 1998. This is his first solo show in Asheville in over a decade.
For additional information about John Rudel visit johnrudel.com.
Canceled: Hoots Flea
August 15

We're sorry to announce that Hoots Flea will not be congregating on Saturday, August 15. Their September reservation has also been canceled.
Karen Keil Brown
at the UNCA Art Stroll
August 22, 2015
The UNC Asheville Alumni Association will stroll the River Arts District, visiting the galleries of numerous UNC Asheville beginning with Karen Keil Brown at Pink Dog Creative Studios. This event is free to alumni, friends and family.
Read more about the stroll at the UNC-Asheville Alumni website.
Andrea Kulish and Studio A
in Art for All Seasons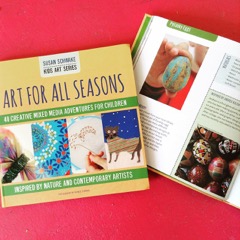 Andrea Kulish pysanky are featured in bestselling author Susan Schwake's newest book, Art for All Seasons, 40 Creative Mixed Media Adventures for Children. You can find both Andrea's pysanky and this book at her studio, Studio A, located next to Fresh West Pizza.
Richard Baker
at Saluda's Historic Depot
Opening Reception Saturday, August 8, 6:00 – 8:00 pm
Asheville artist Richard Baker's landscapes will be featured at an exhibition through August at Saluda's Historic Depot. An opening reception from 6:00 – 8:00 pm on August 8 will be a fundraiser for the depot museum.
Baker, formerly of Saluda, is a painter of fine art landscapes and portraits with a studio at 344 Depot St. in the Pink Dog Creative building in Asheville's River Arts District. He will exhibit 15 of his landscapes in Saluda, with half of the proceeds from sales being donated.
To learn more, visit www.historicsaluda.org or find the depot on Facebook, Twitter and YouTube. For more about Baker, visit www.richardbakersstudio.com.
The Junction Bar + Restaurant presents:
The Junction Third Thursdays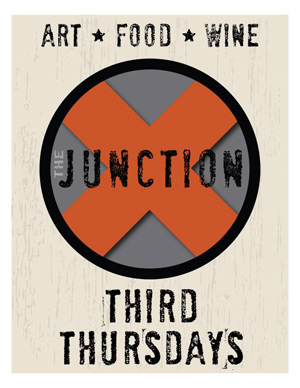 Third Thursday: Jeremy Russell
at The Junction Bar + Restaurant
through August 16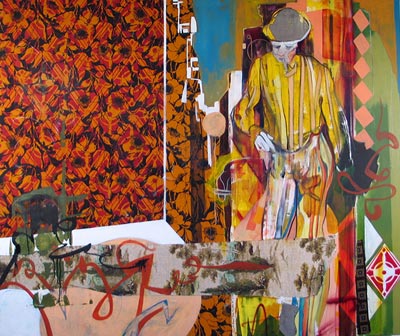 From Jeremy's website: Jeremy works in several genres and mediums ranging between non-objective and photo-realism. His work is conceptual in nature and plays with symbolic imagery to establish the cause and effect relationships of the particular focus. His subject matter deals with issues such as science, sexuality, psychology, human nature, religions, politics, and the interconnectedness of the universe.
Third Thursday: Justin Rabuck
at The Junction Bar + Restaurant
Opening Reception Thursday, August 20, 6:00 – 8:00 pm
The Paintbox – You Never Know What's In Store!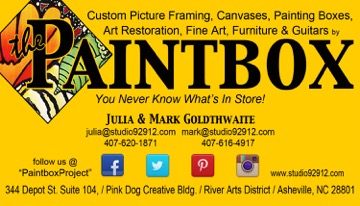 We say good-bye to Pink Dog life this month.
August is the last month for us in the Pink Dog Creative building. Mark & I are very sad to leave our fellow artists who have become such wonderful friends over the last 2 years. And at the same time, we're very excited that our lives are in transformation. Hedy and Randy, we thank you both so very much for your love, and for sharing your lives with us.
We'll keep our music jams and picture framing going even while we're in transition over the next few months, so please stay in touch through Facebook, Twitter, email, or text, so that we can keep you up to date on where and when everything's happening!
The Paintbox Jam
Tuesday, August 11, 6:00 pm
The Paintbox Jam starts @ 6:00pm and goes till we get blisters!
Our August jam goes on as usual, as we welcome local singers, songwriters, and musicians, to join the jam on our stage. And to those of us who enjoy listening, stop in for some fun and refreshments.
Where: The Paintbox, 344 Depot St. Suite 104, Pink Dog Creative, Asheville
Bring: Your Drink and a snack to share is greatly appreciated.
We Provide: A snack, water, and a comfy place to hang out.
The Paintbox Presents:
The Sunday Sessions with Singer / Songwriter Brad Hodge
Sunday, August 2 & 16, 2:00 – 6:00 pm
Join us Sunday, August 2nd & August 16th, 2pm – 6pm, as Brad Hodge MC's an afternoon local singer/songwriters on our Paintbox stage. He tops it off by adding his own fabulous singing, between sets. Check out facebook.com/PaintboxProject to see and hear some of our recent performers. And remember to "Keep It Local – Keep It Live – Keep It Asheville!"
CD Release Party at The Paintbox!!!
Thursday, August 20, 2015, 6:00 pm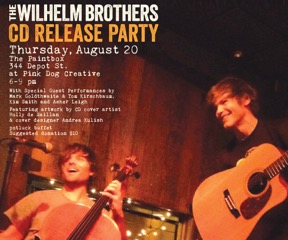 The Wilhelm Brothers make our last month in the Pink Dog Creative bldg. one of the most memorable, as they bring their talent and their newest music to The Paintbox stage. Treat yourself to their live performance, and enjoy the fun as friends of The Wilhelm Brothers perform their own renditions of their favorite Wilhelm Brothers songs. Can't wait to see everyone there! For more info go to: https://www.facebook.com/events/1461320687523367/
The Paintbox Framing Corner
Julia will be attending to our Custom Picture Framing and Art Restoration through the next few months, by visiting the artists and businesses in the River Arts District, and taking your framing with her! I hope this to be UBER convenient for you!!
August Hours at The Paintbox
Tuesday – Saturday, 11am – 6pm
Sunday – Monday by appointment
September 1st and Beyond
Call us for coffee or lunch, and definitely stay connected to us for our next big adventure at: /PaintboxProject on Facebook, Twitter, Instagram and Pinterest
Peace & Love
Julia & Mark Goldthwaite
407-620-1871 & 407-616-4917
Pink Dog and RAD in the Mountain Xpress
The Junction Restaurant and Bar:
A Winter Survivor
While some local restaurants choose to hibernate by limiting their hours or closing altogether, the Tribers are driven to meet their customers' expectations. As Charles says, "Sometimes it's harder to stay here through winter than to just shut your doors and wait for the season to change. But we can't do that to our guests. We really owe it to them to be here."
Read the full article at mountainx.com.
The Evolution of Depot Street and RAD
The district a decade ago looked pretty different — even two years ago. Depot Street, once dilapidated territory, now shines at night. Pink Dog Creative at 342-348 Depot St. turned an old Nabisco plant into artist studios, an arts supply store, a gallery (the Artery), the Asheville Area Arts Council's offices and a restaurant (The Junction). Next door, nonprofit development organization Mountain Housing Opportunities built the Glen Rock Depot, a mixed-use complex that includes street-level businesses, such as The Magnetic Field bar and theater.
Read the full article at mountainx.com.
Collect ART Asheville
Pink Dog Creative is participating in "Collect ART Asheville" with open studios every second Saturday of the month. Come visit the open studios at Pink Dog Creative and see work by great artists in the River Arts District.
Read more about Second Saturday open houses:
More from riverartsdistrict.com
More from ashevillerad.com