Randy Shull and Hedy Fischer are creating a colorful sensation on Depot Street in Asheville's River Arts District. The former textile manufacturing and warehouse building at 342-348 Depot Street has been transformed into an exciting mix of artist studios and retail spaces.
Pink Dog Creative shares the neighborhood with New Belgium & the Wedge Breweries, 12 Bones Smokehouse and hundreds of local artists. Pink Dog has 28 artists working in their studios, Fresh West Wood Fired Pizza, Vivian Restaurant (opening in December) and Sunnyside Trading Company.
Open Hours: Artists work odd hours but we promise to have our studios open for the public on Fridays and Saturdays from 11-5.
We're thrilled that Pink Dog Creative was chosen to represent Asheville in this stunning short film.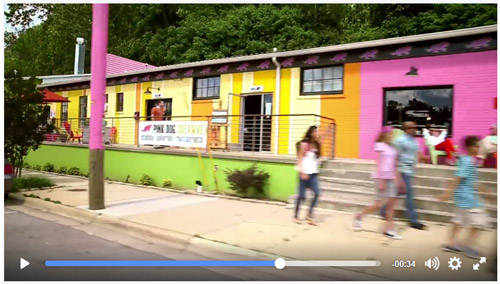 Ongoing Exhibitions & Artist News
Ralston Fox Smith: Furtherance
Pink Dog Creative Gallery, 348 Depot Street
November 10 – December 17, 2017
opening reception Friday, November 10, 6:00 PM – 9:00 PM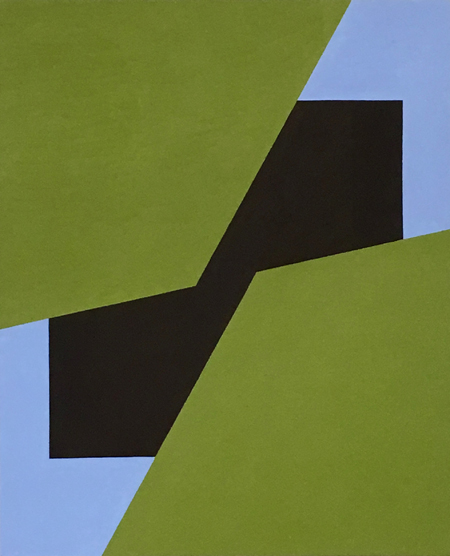 Furtherance represents a progression and transformation of vision as Fox has explored abstract and surreal landscapes and pushed beyond into the world of pure geometric abstraction. This exhibit is an opportunity to explore that evolution and to revel in his most recent compelling work.
The geometry of nature – from tree trunks and boulders to vast crop fields – have long been the building blocks of Fox's work. The sharp lines and angles of man- made structures have also fueled the evolution of clean and ordered constructs in his work. With his newest collection, Fox has pushed further into the role of geometry, spatial relationships, and inherent positive and negative balance. On a two-dimensional surface, Fox expresses his response to chaotic energy through dynamic geometric constructs in a clean hard-edged manner. Furtherance is your chance to tap into that spirited power, which Fox calls both "honest and uplifting."
Please go to ralstonfoxsmith.com for more a comprehensive look at Fox's work.


We are excited to welcome food impresarios Josiah and Shannon McGaughey who have run the highly successful Salt & Smoke at Burial Brewing on the South Slope for the past two years and are the creators of

, a new restaurant at Pink Dog Creative, named after Josiah's grandmother, a driving force in his culinary upbringing as she hosted grand dinner parties in a Julia Child-like fashion will he was growing up in Georgia. Josiah's menu will elevate his cuisine by exploring the melding of European flavors and techniques into the realm of his Southern heritage within a comforting, casual dining space. The menu will be seasonal and change frequently with weekly specials and various special events.

will offer a large wine list with unique and delectable varietals that will complement the food as well as an extensive cocktail list to include pre-prohibition classics and craft cocktails and many of the talented local breweries.
For those of us Salt & Smoke fans, Salt & Smoke will remain open under the caring hands of their Chef de Cuisine, Daniel Rubner.

plans to open in December, 2017. Follow them on Instagram and Facebook at saltandsmokeasheville or on their website at saltandsmokeavl.com.
Pink Dog would like to thank The Junction Restaurant and Bar for a successful 7 year run on Depot Street. The Junction, which has been at Pink Dog Creative since our opening in 2010, is now permanently closed. We want to wish Charles and Tanya Triber and their dedicated and professional staff the best in their coming endeavors and thank them for providing the River Arts District with a sensational restaurant with a great vibe for locals and visitors alike.
Read more in the Citizen-Times article.
Joseph Pearson in Latitude & Longitude, Curated by Victor Palomino
The Refinery at the Asheville Area Arts Council
207 Coxe Avenue, Asheville
October 27 – November 22, 2017
Opening reception Friday, November 3, 5:00 – 8:00 PM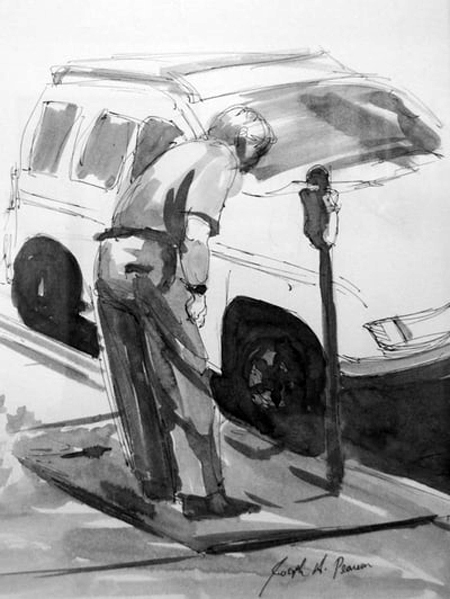 Joseph Pearson will take part in the group exhibition Latitude & Longitude, which is curated by Victor Palomino. The exhibition will focus on Buncombe County artists of various cultural backgrounds, races and genres. It will represent the diversity of our area and how the participating artists see our region. Conversation is invited regarding the concept of diversity from differing viewpoints within our local geography– the place where we live, create, and share our art. We will use the universal language of art as a way to create a safe space for questions and dialogue. Participating artists: Ariana Dixon, Chris Corral, DeWayne Barton, Harry Rivera, Joseph Adams, Joseph Pearson, Martha Skinner, Pedro Esqueda, Sandra Garcia, Suzanne Teune, Priya Ray, Victor Alvarez, and Victor Palomino.
Visit Joseph's website at josephart.net.
Julie Miles: The Surface of Belonging: Exploring the Spectrum from Isolation to Inter-relatedness
London District Studios
8 London Road, Asheville
November 5 – 30, 2017
Opening reception Wednesday, November 8, 5:00 – 10:00 PM



What healing lies beyond hurt and hate? How can we coexist, celebrating our diversity and exploring our common threads of being human? These questions initiated a journey for painter Julie Miles. Wanting to experience the spectrum of complete isolation to that of total inter-relatedness, she has made a series of paintings spanning fourteen linear feet with well over 8,000 painted lines. The color palette is comprised of a variety of skin tones to show that wherever we are, our life experiences and social conditionings shape our perceptions. Each line represents a person somewhere on this earth, with a wish that they may know love and a sense of belonging in community.
FUELING HEALING: 10% of the proceeds from sold work will benefit the Life After Hate organization, whose mission is to inspire individuals to engage in compassion and forgiveness, for themselves and for all people.
See more of Julie's work at her website.
Karen Keil Brown in Small Works art show
Asheville Gallery of Art
82 Patton Ave., Asheville
November 1 – 31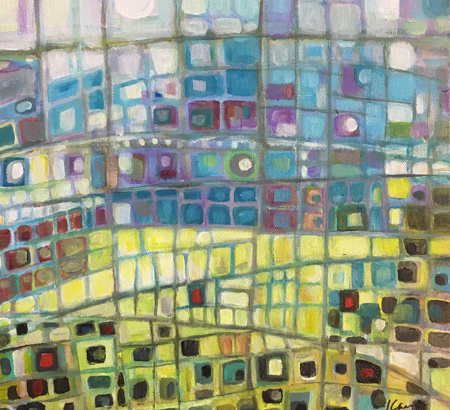 Karen Keil Brown will participate in an exhibition of small works at the Asheville Gallery of Art during the month of November.
Ralph Burns' work included in
CREATED BY LIGHT- Photographs from North Carolina Collections,
at the Cameron Art Museum, Wilmington, NC
September 16, 2017 – February 11, 2018

Ralph Burns tells the story of his photograph How Great Thou Art #4 in this video by the Cameron Art Museum.
Exploring the photography collections of eight North Carolina institutions, the exhibition will examine the evolution of photography highlighting the luminaries of the medium, the connections between the institutions and the NC artists working in photography.
The over 100 works included in the exhibition range from 1887 to 2016 with pioneers of the medium including Ansel Adams, Diane Arbus, Lewis Hine, Robert Mapplethorpe, Eadweard Muybridge, and Andres Serrano among others.
Ralph Burns' work is in the permanent collections of both the North Carolina Museum of Art and the Asheville Art Museum.
Read more at the museum's website.
Pink Dog Creative welcomes Noël Yovovich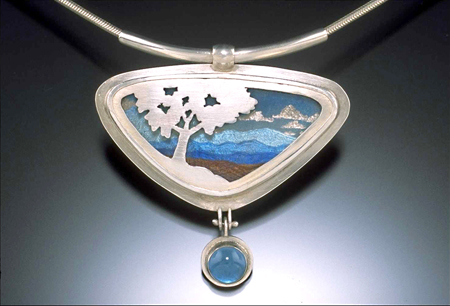 A very recent transplant to the gorgeous mountains of WNC from Evanston, Illinois, I was born and raised in rural Florida. For many years, I have been creating works with mountain imagery and calling them Imaginary Landscapes—places I wished for and dreamed about that were not available to me in the "here and now." At last, living the dream!
Much of the magic of my jewelry pieces comes from the exploration of the amazing properties of titanium, a metal which can be colored with the use of heat and/or voltage. The minutely detailed imagery I create in this unique material shifts in appearance from different angles, giving it a sense of life and vitality that cannot be captured fully in a photograph. I believe that every experience in my life makes its way into my work, and I can hardly wait to see what comes in this newest chapter!
See more of Noël's work at her website.
River Arts District Fall Studio Stroll
River Arts District, Asheville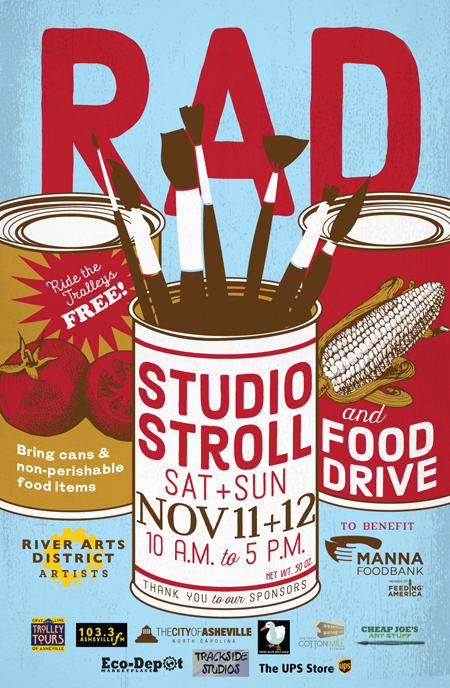 November 11 & 12, 10:00 AM – 5:00 PM
The Artists of Asheville's River Arts District open their doors for a full weekend at the Fall Studio Stroll, welcoming the public to experience and collect amazing art in the studios and galleries. The Fall Stroll will once again feature a Food Drive in support of MANNA FoodBank by collecting non-perishable food items for our area's needy families. Donations and information on the event will be located at the City of Asheville's newly renovated building at 14 Riverside Drive. Attendees will enjoy free parking, restrooms and shuttle pick up at the location right on the French Broad River. The artists are hoping to match or surpass the approximately 1000 pounds of non-perishables they collected last year for MANNA Food Bank.
At 5pm on Saturday be sure to check out the Studio Stroll After Party hosted by Cotton Mill Studios. The party will featuring live music and DJs, food trucks and circus performers. More information can be found at cottonmillasheville.com.
Please be sure to stop by the large group studio at 344 Depot Street on Saturday beginning at noon, where Whole Foods Market will be giving out complementary samples from their upcoming holiday menu.
Please click here to RSVP & invite your friends using our Facebook event invitation.
Christie Calaycay: Best of WNC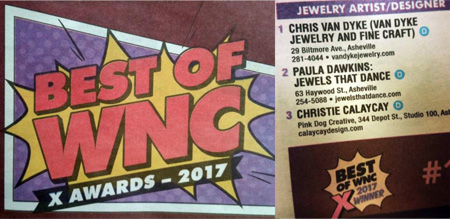 Congratulations Christie Calaycay for being voted #3 Best Jeweler in the WNC Best of Awards! Visit Christie in her studio Monday-Friday in Suite 100 and online at calaycaydesign.com.
Lucy Cobos in 2017 Appalachian Pastel National Exhibition
The Jailhouse Gallery
115 E. Meeting St., Morganton, SC
October 21 – November 17
opening reception Saturday, October 21, 5:00 – 7:00 PM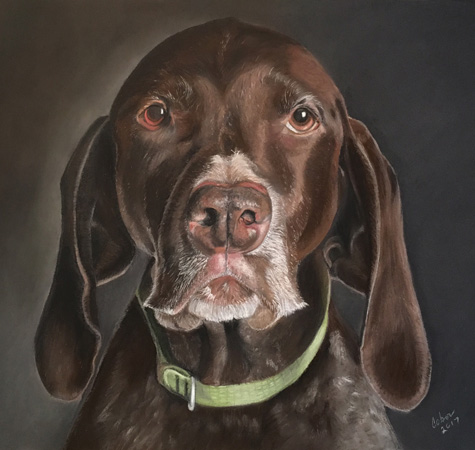 A pastel portrait by Lucy Cobos of her dog, Lolita, was accepted in the 2017 Appalachian Pastel National Exhibition. Forty seven paintings were chosen out of 196 entries.
See more of Lucy's work at her website.
Black Mountain College Museum receives NEA grant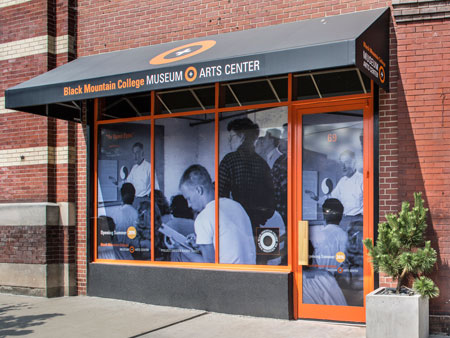 Pink Dog Creative would like to congratulate the Black Mountain College Museum + Arts Center for receiving a $25,000 grant from the National Endowment for the Arts. The BMCM + AC carries on the legacy of the Black Mountain College, one of the foremost innovative platforms for American artists in the 20th century. This particular grant supports a multidisciplinary exhibition about the pioneering visual artist Jacob Lawrence. The exhibition will focus on the summer of 1946, when Lawrence was invited by Josef Albers to teach painting at Black Mountain College. Among the artworks to be included are a series of Lawrence's early gouache paintings and a series of photographs of Lawrence at the campus taken by Beaumont and Nancy Newhall. The BMCM+AC museum was designed by Pink Dog Creative Co-Owner and Creative Director Randy Shull.
Read more at the BMCM+AC website.
Pink Dog Creative display at the I-26 Visitors' Center
I-26 at Mile Marker 6, Mars Hill, NC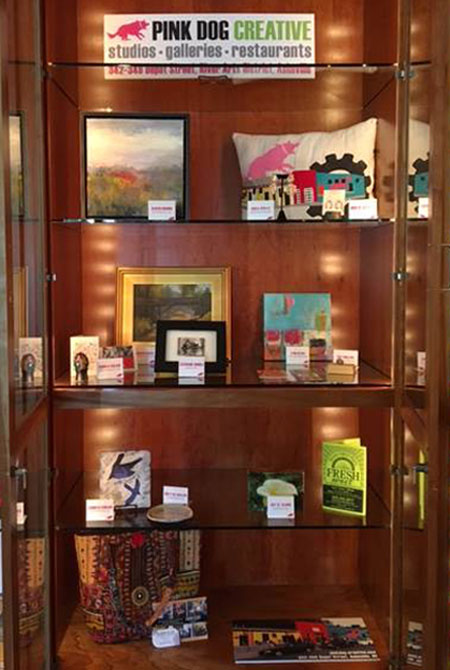 Small works by artists at Pink Dog Creative as well as information about the businesses in the building will be on display at the I-26 Visitors' Center through early January. Be sure to stop in when you are passing by!
More information about the Visitors' Center is at their website.

Beware of the Dog: new mural by Randy Shull
Pink Dog Creative
342-348 Depot Street, River Arts District, Asheville
Come see Randy Shull's newest mural on the two shipping containers in the Pink Dog Creative parking lot, across from the Pink Dog Creative building at 342-348 Depot Street in Asheville's River Arts District. Randy is co-owner and co-creator of Pink Dog Creative.
Here are some recent photos we found on Instagram- be sure to tag your pics with #pinkdogcreative!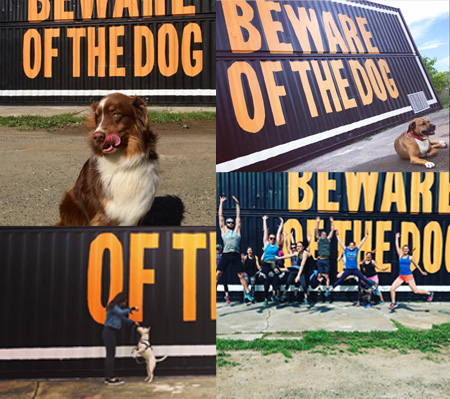 See more of Randy's work at his website.
Viola Spells featured in the Mountain Xpress
Viola Spells was featured in Mountain Xpress article Two Local Artists Follow Their Passions in the RAD by Alli Marshall.
Brett Douglas Hunter in the New York Times

Pink Dog Creative congratulates Brett Hunter, former Pink Dog artist, for his work in the New York Times. Brett now lives in Nashville, TN.
William Price launches YouTube channel
William has started making videos and started a YouTube channel. This first one is a video diary of the process of painting Firebird.
Sunnyside Trading Company and Northville Apparel
featured in the Mountain Xpress Retail Comes to the RAD article
"When you think of Asheville's River Arts District, what comes to mind are probably things like painting, sculpture, pottery, glass blowing — you get the drift. But as the neighborhood continues to expand and evolve, new businesses are also popping up. In the last six months, a number of retail shops have opened in the district. Xpress met with the owners of three of these newbies to discuss the challenges of developing a business while surfing the changes in a rapidly evolving area." -Thomas Calder, excerpted from the article.
Read the full article at the Mountain Xpress online.
Pink Dog Creative featured in 25 Most Popular Instagram Spots in Asheville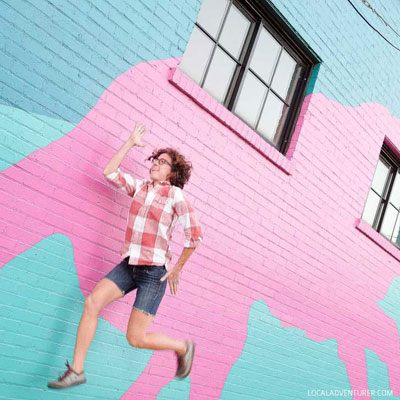 Pink Dog Creative is featured twice in the article 25 Most Popular Instagram Spots in Asheville by the popular blog Local Adventurer.
See the other 23 spots and read the article here.
Joseph Pearson featured in LOCAL HEARTED podcast: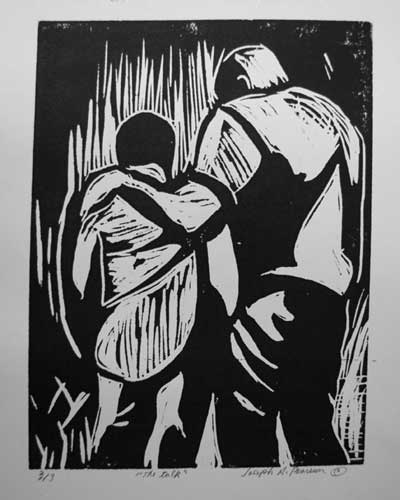 The Talk linocut
Local heARTed host Meredith Adler talks with Joseph Pearson about his paintings themed on guiding children to do well in society, and tips on artist grants. This podcast regularly features interviews with artists of Asheville and Western North Carolina about their inspirations, their lives, and their businesses. Meredith also interviews people in the community with services to help our local artists with the business end of things, such as printing, framing, and social media.
Read the article and hear the podcast on the Local Hearted website.
Fresh West Pizza in the Mountain Xpress
Read Liisa Andreassen's interview of the owner of FRESH West- Quick Dish: Q + A with Mark Tomczak of FRESH Wood Fired Pizza in the Mountain Xpress – read the article here.
10 Top U.S. Cities for Art Lovers: Asheville
Pink Dog Creative is the feature photo for a "Top 10" article on AARP!
Read more at AARP Travel online.
Asheville, North Carolina is unlike anywhere else in the South
"[Asheville's] singular mix of worldliness and hominess gives it a character unique among cities below the Mason-Dixon line."
"A visit to the emerging River Arts District felt more my speed. A string of converted industrial buildings along the French Broad river, it's now home to working artists in spaces that New York creatives would give both arms for. It's impossible to categorize the talent here, but in just a few hours, I met abstract-animal painter Daniel McClendon (349 Depot St., danielmcclendon.com) and record producer-turned ceramicist Akira Satake (122 Riverside Dr., akirasatake.com), whose airy workshop houses his wife's exquisite pastry shop, Yuzu Patisserie (122 Riverside Dr, yuzubycynthia.com)."
Read more of this article at the NY Daily News.
Pink Dog and RAD in the Mountain Xpress
The Junction Restaurant and Bar:
A Winter Survivor
While some local restaurants choose to hibernate by limiting their hours or closing altogether, the Tribers are driven to meet their customers' expectations. As Charles says, "Sometimes it's harder to stay here through winter than to just shut your doors and wait for the season to change. But we can't do that to our guests. We really owe it to them to be here."
Read the full article at mountainx.com.
The Evolution of Depot Street and RAD
The district a decade ago looked pretty different — even two years ago. Depot Street, once dilapidated territory, now shines at night. Pink Dog Creative at 342-348 Depot St. turned an old Nabisco plant into artist studios, an arts supply store, a gallery (the Artery), the Asheville Area Arts Council's offices and a restaurant (The Junction). Next door, nonprofit development organization Mountain Housing Opportunities built the Glen Rock Depot, a mixed-use complex that includes street-level businesses, such as The Magnetic Field bar and theater.
Read the full article at mountainx.com.