Randy Shull and Hedy Fischer are creating a colorful sensation on Depot Street in Asheville's River Arts District. The former textile manufacturing and warehouse building at 342-348 Depot Street has been transformed into an exciting mix of artist studios and retail spaces.
Pink Dog Creative shares the neighborhood with New Belgium & the Wedge Breweries, 12 Bones Smokehouse and hundreds of local artists. Pink Dog has 29 artists working in their studios, Fresh West Wood Fired Pizza, Vivian Restaurant and Sunnyside Trading Company.
Open Hours: Artists work odd hours but we promise to have our studios open for the public on Fridays and Saturdays from 11-5.
We're thrilled that Pink Dog Creative was chosen to represent Asheville in this stunning short film.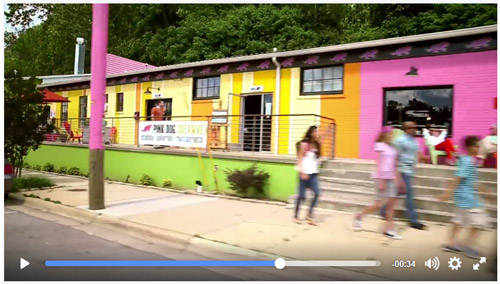 Ongoing Exhibitions & Artist News
Joyce Thornburg: Negative Capability
Pink Dog Creative Gallery, 348 Depot Street
Open house reception Friday, May 11, 5:00 – 8:00 PM
Exhibit runs May 11 – June 24
The term Negative Capability is attributed to the poet John Keats, which means in essence "the ability to be in uncertainty without grasping for resolution or results…to stand "in the mystery," while exercising the discipline of not deciding…."
As a visual artist and poet, this sentiment resonates with Joyce's current personal and world view.
See more of Joyce's work at her website and click here for the reception Facebook invitation.
The Community Container Project
in collaboration with LEAF's Easel Rider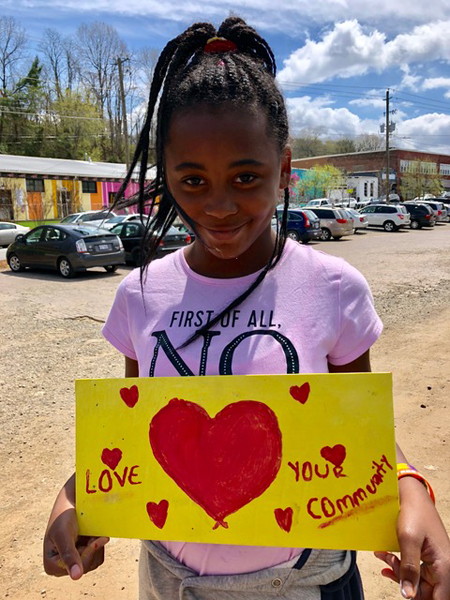 Pink Dog Creative collaborated with the Edington Center's Shuvonda Harper and LEAF's Easel Rider on April 14 for a fun and successful day painting what the children would like to see on the mural as part of Pink Dog's community Container Project. About 30 children participated. Pink Dog wishes to thank the children and their parents for coming out to paint and Fresh West Pizza for donating bottled water. A selection will be made from the many fine artistic submissions and will be painted on the containers as the next Pink Dog mural.
Read more about LEAF's Easel Rider here.
Randy Shull in Opening Eyes: New Asheville Painting
The Satellite Gallery, 55 Broadway St., Downtown Asheville
Opening reception: Friday, June 1, 6:00 PM – 9:00 PM
Panel discussion: Sunday, June 10, 3:00 – 4:00 PM
Exhibit runs June 1 – 30
William Henry Price in Impressions
Chase Young Gallery
450 Harrison Avenue, Boston, MA
May 4 – May 31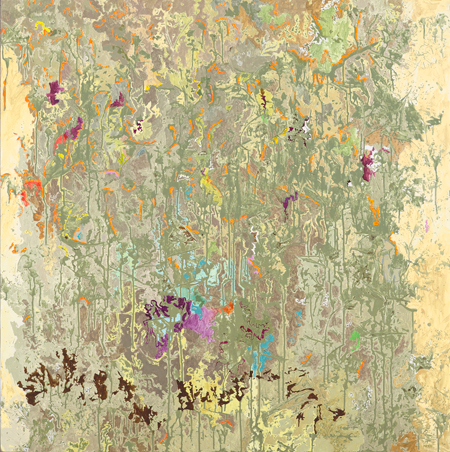 William is part of a two-person show at Chase Young Gallery in Boston for the month of May. The show opens May 4th.
See more of William's work at his website.
Viola Spells
Featured artist for May
Pink Dog Creative 344 Depot Street, Suite 101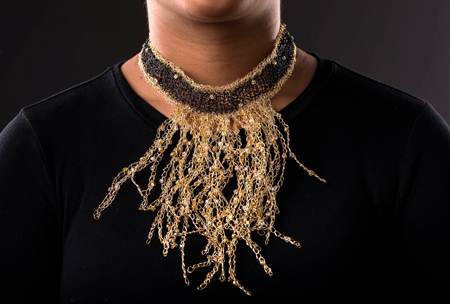 For the month of May, Viola Spells will be showing her jewelry in the entry lobby of suite 101, in addition to the work in her studio space.
Please click here for more information.
Moving Sale at Sunnyside Trading Company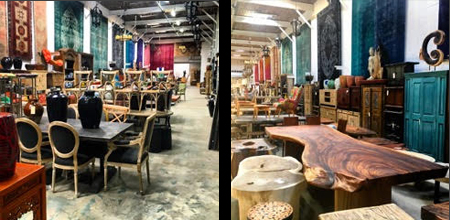 Sunnyside Trading Co. is excited to move their beautiful 10,000 square foot warehouse from Old Fort, NC to the River Arts District! In addition to their retail store in Pink Dog Creative, they will be joining The Foundation, where the new Wedge Brewing and Summit Coffee are located. The Sunnyside Warehouse is open from 10 to 4 on Friday and Saturday, and during the move there are great deals throughout the warehouse! Don't miss out on 25-75% off a variety of antiques, vintage rugs, unique upholstery, and live edge furniture!
For more information about their sale and move please visit their website.
Mary Alice Ramsey in Garden Show Art Tour
Gardens of Fairview Tour
15 Ivy Cove Road, Fairview, NC
Saturday, June 9, 9:00 AM – 3:00 PM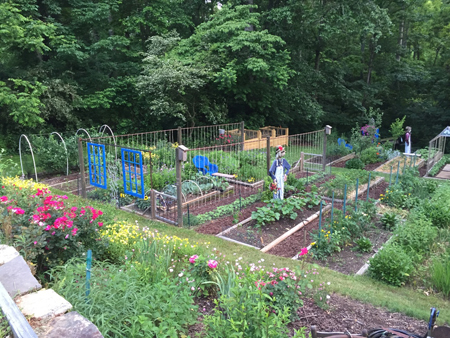 Paintings by Mary Alice Ramsey will be displayed as part of the Gardens of Fairview Tour on Saturday, June 9, from 9:00 until 3:00. Her art can be seen in her greenhouse and garden at 15 Ivy Cove Road in Fairview, NC 28730. The bright acrylics will be complimented by the herb and dye gardens, shade and water gardens, multiple perennial gardens, and her vegetable garden which was featured last August in Southern Living Magazine. Also to be enjoyed at the Ramsey home are a garden shed which won the Habitat for Humanity competition for re-purposed materials, working compost bins, water wheel, water ram, creek fountain, waterfalls and bridges, and a two-story tree house studio. This is an educational setting which combines gardening and art.
Click here for ticket information and additional details for the nine gardens participating.
Dining review: RAD's Vivian grows from Salt & Smoke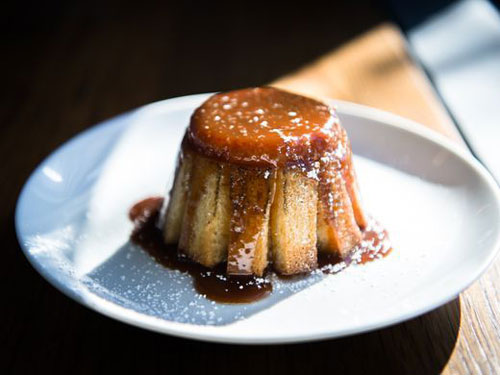 An excerpt from the article: "Vivian feels as though it's been operating for years. Its cuisine is clearly defined, and the warm hospitable approach to the service helps makes the restaurant a success… Vivian set out to meld southern and European cuisines in an elevated way, and it succeeds. "
Stephanie Grimes in the 2018 Exhibition of the International Society of Scratchboard Artists
Middletown Arts Center
130 N. Verity Parkway, Middletown, Ohio
opening reception May 4, 6:00 – 9:00 PM
exhibit runs May 4 – May 31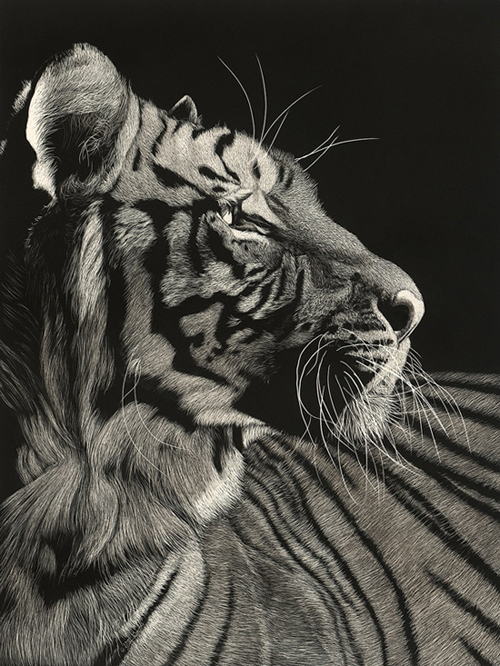 Stephanie Grimes has established herself as an animal artist, scratchboard being her primary medium. She likes to emphasize the individual animal in her artwork. Stephanie is a signature member of the International Scratchboard Society (ISSA) and has been an active member since the society's inception in 2011. Two of her pieces have been chosen to be a part of this year's exhibition in Middleton, Ohio. Her two pieces are Focus (shown above) and Dreaming. To see more of her artwork, please visit her website at: www.artist-f.com or come by her studio, located at 344 Depot St., Suite 102 in Pink Dog Creative.
Randy Shull work acquired by Spartanburg Art Museum
Spartanburg, SC
Pink Dog congratulates Randy Shull as the Spartanburg Art Museum acquires Striped Reflection, a recent piece from his reflection series that explores the relationship between painting and furniture. Fundamentally, Shull says the work is about pairing and relationships.
See more of Randy's work at his website.
Viola Spells featured in the Mountain Xpress
Viola Spells was featured in Mountain Xpress article Two Local Artists Follow Their Passions in the RAD by Alli Marshall.
Fresh West Pizza in the Mountain Xpress
Read Liisa Andreassen's interview of the owner of FRESH West- Quick Dish: Q + A with Mark Tomczak of FRESH Wood Fired Pizza in the Mountain Xpress – read the article here.
10 Top U.S. Cities for Art Lovers: Asheville
Pink Dog Creative is the feature photo for a "Top 10" article on AARP!
Read more at AARP Travel online.
Asheville, North Carolina is unlike anywhere else in the South
"[Asheville's] singular mix of worldliness and hominess gives it a character unique among cities below the Mason-Dixon line."
"A visit to the emerging River Arts District felt more my speed. A string of converted industrial buildings along the French Broad river, it's now home to working artists in spaces that New York creatives would give both arms for. It's impossible to categorize the talent here, but in just a few hours, I met abstract-animal painter Daniel McClendon (349 Depot St., danielmcclendon.com) and record producer-turned ceramicist Akira Satake (122 Riverside Dr., akirasatake.com), whose airy workshop houses his wife's exquisite pastry shop, Yuzu Patisserie (122 Riverside Dr, yuzubycynthia.com)."
Read more of this article at the NY Daily News.