Randy Shull and Hedy Fischer are creating a colorful sensation on Depot Street in Asheville's River Arts District. The former textile manufacturing and warehouse building at 342-348 Depot Street has been transformed into an exciting mix of artist studios and retail spaces.
Pink Dog Creative shares the neighborhood with local favorites, such as Wedge Brewery, Clingman Cafe, 12 Bones and many local artist studios. Randy has already established his studio in the building and shares it with 15 other artists, galleries, The Junction Restaurant and Bar, and Pizza Pura.
Open Hours: Artists work odd hours but we promise to have our studios open for the public on Fridays and Saturdays from 10-4.
Ongoing Exhibitions & Artist News
Check out our March newsletter for news from our studios and ongoing artist exhibitions!
Jennifer Kincaid
at Pink Dog Creative
Pink Dog Creative would like to welcome Jennifer Kincaid in 348 Depot St. Suite 140.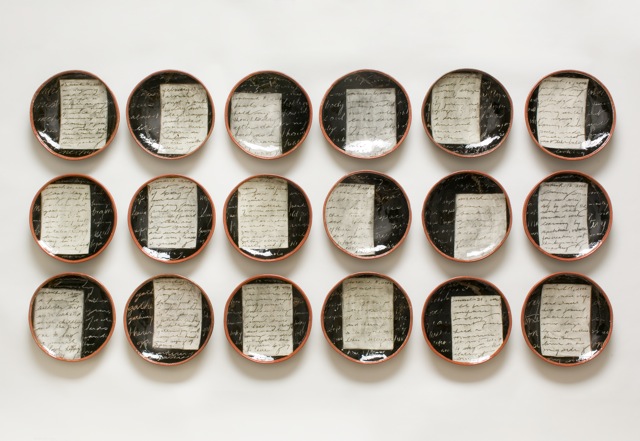 A native and resident of North Carolina, Jennifer has been a professional visual and ceramic artist for more than twenty years. She has twice been a recipient of the North Carolina Arts Council and the Charlotte-Mecklenburg Arts And Science Council Artist Project Grant and is a past Affiliate Artist of the McColl Center for Visual Arts. Her exhibits include the American Craft Council Shows, the SECCA, Blue Spiral Gallery and many other juried and invitational exhibits. Her work is in public and many private and corporate collections. Jennifer's art is included in Lark Books' 500 Plates and Chargers.
Visit Jennifer online at jenniferkincaid.net.
Contact Jennifer at jennifer@kincaid.net.
Judy Levine
at The Van Dyke Gallery
and The Old Edwards Inn and Spa
And Pink Dog would like to say good-bye to Judy Levine.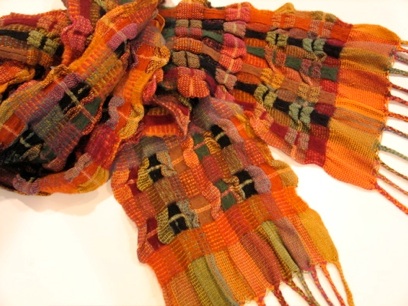 Judy will be showing her work at The Van Dyke Gallery, 29 Biltmore Ave. in downtown Asheville and will be in a show this summer at The Old Edwards Inn and Spa in Highlands, NC. Judy can be reached at 704.560.1601, judy.aboutcolor@gmail.com, or online at www.aboutcolor.net.
Farewell Pizza Pura
through Saturday, February 28, 5:00 – 9:00 pm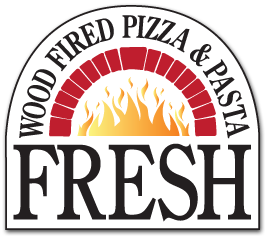 Pizza Pura's last night is this Saturday, February 28. We'll miss those delicious Neopolitan pizzas, but look forward to having Mark Tomczyk & Fresh Wood-Fired Pizza opening in 342 Depot St. in early April.
Read about Pizza Pura's closing and the new Fresh Wood Fired Pizza and Pasta in the Asheville Citizen-Times.
Pysanky Workshops
with Andrea Kulish
at Studio A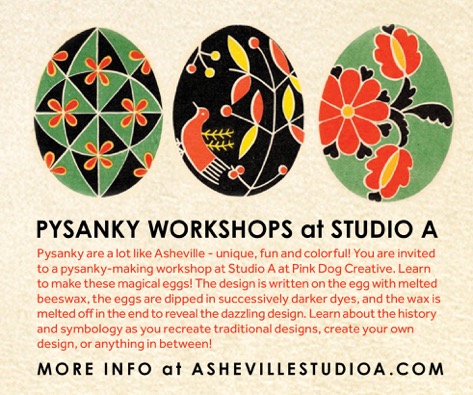 Pysanky workshops return to Studio A! Pysanky are a lot like Asheville- unique, fun and colorful! During the workshops, you'll learn to make beautiful Ukrainian Easter eggs—pysanky—with Andrea Kulish. Andrea is an artist, craftsperson, photographer and graphic design professional. She's a first-generation Ukrainian-American and has been making pysanky since she was five years old. She's been teaching pysanky to people of all ages for the past several years, in both the Boston, MA & New Hampshire and now Asheville, NC.
For more information, please visit the Studio A website.
Boost Your Breakfast
at Asheville Running Company
Friday, March 13, 9:00 am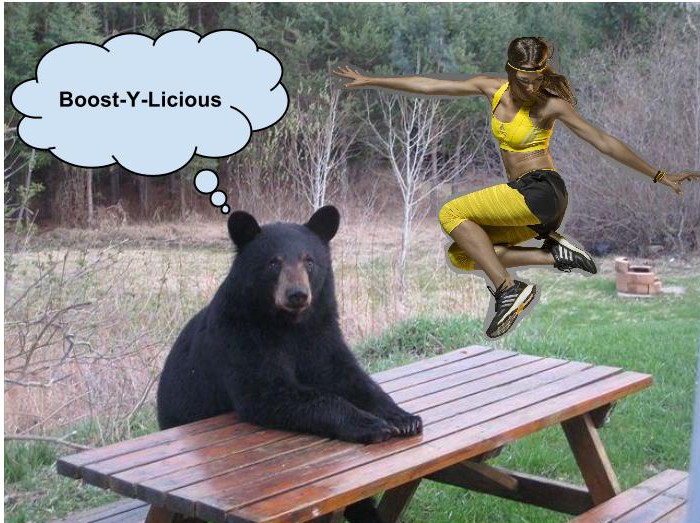 Inject some Boost into your Friday morning!
Andrew, from Adidas will be bringing Adidas Running Boost shoes for all to run in! He will have the Sequence, Energy, and Glide Boost shoes available to try. See for yourself what all the excitement is about Boost Technology.
We'll go out for a 3-4 mile easy, all paces, run starting from the store at 9 am and plan on staying after for coffee and yummy breakfast foods! If you're running the Asheville Marathon or Half, this would be a great "pre" race shake out run!
Tell your friends! You don't have to be a Marathoner to take advantage of this opportunity to run in some of the greatest shoes on the market.
The Paintbox presents: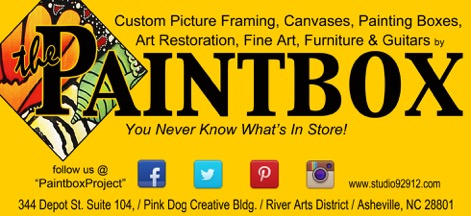 The Paintbox Framing Corner
We are now offering Picture Framing and Art Restoration. Please pass it on and consider us for your picture framing, building your painting boxes, canvas stretching, metal leafing, and repair of your frames, paintings and sculptures.
River Arts District artists and business owners receive a wonderful discount. Ask about our reclaimed frames for an even greater deal!
The Paintbox Jam
at The Paintbox
Tuesday, March 10, 6:00 pm
Bring any instrument that inspires you, and come hang out at our studio for this casual get-together. Even if you don't play, we welcome you to share the evening with us listening to some great music.
When: Tuesday, March 10th, 6:00 pm and "It Goes To 11"!
Where: The Paintbox, 344 Depot St. Suite 104, Pink Dog Creative, Asheville
Bring: A Drink, (and a snack to share if you like)
We Provide: snacks, water, and a comfy place to hang out.
New Items at The Paintbox
Vintage and fun guitars and drums to play, decorate with, or invest in. Come see what's new. Mark is also handcrafting and painting his own artistic guitars.
Hours at The Paintbox
Tuesday – Saturday, 11am – 6pm
Sunday and Monday by appointment
You Never Know What's In Store!
— Julia & Mark Goldthwaite
Pink Dog and RAD in the Mountain Xpress
The Junction Restaurant and Bar:
A Winter Survivor
While some local restaurants choose to hibernate by limiting their hours or closing altogether, the Tribers are driven to meet their customers' expectations. As Charles says, "Sometimes it's harder to stay here through winter than to just shut your doors and wait for the season to change. But we can't do that to our guests. We really owe it to them to be here."
Read the full article at mountainx.com.
The Evolution of Depot Street and RAD
The district a decade ago looked pretty different — even two years ago. Depot Street, once dilapidated territory, now shines at night. Pink Dog Creative at 342-348 Depot St. turned an old Nabisco plant into artist studios, an arts supply store, a gallery (the Artery), the Asheville Area Arts Council's offices and a restaurant (The Junction). Next door, nonprofit development organization Mountain Housing Opportunities built the Glen Rock Depot, a mixed-use complex that includes street-level businesses, such as The Magnetic Field bar and theater.
Read the full article at mountainx.com.
Collect ART Asheville
Pink Dog Creative is participating in "Collect ART Asheville" with open studios every second Saturday of the month. Come visit the open studios at Pink Dog Creative and see work by great artists in the River Arts District.
Read more about Second Saturday open houses:
More from riverartsdistrict.com
More from ashevillerad.com