Randy Shull and Hedy Fischer are creating a colorful sensation on Depot Street in Asheville's River Arts District. The former textile manufacturing and warehouse building at 342-348 Depot Street has been transformed into an exciting mix of artist studios and retail spaces.
Pink Dog Creative shares the neighborhood with New Belgium & the Wedge Breweries, 12 Bones Smokehouse and hundreds of local artists. Pink Dog has 28 artists working in their studios, Fresh West Wood Fired Pizza, Vivian Restaurant (opening on December 14) and Sunnyside Trading Company.
Open Hours: Artists work odd hours but we promise to have our studios open for the public on Fridays and Saturdays from 11-5.
We're thrilled that Pink Dog Creative was chosen to represent Asheville in this stunning short film.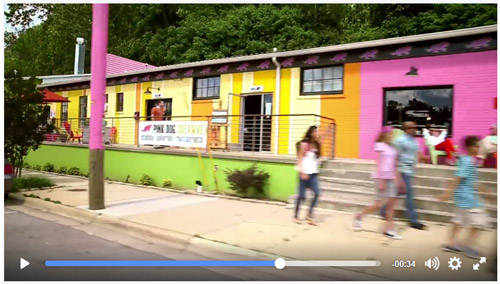 Ongoing Exhibitions & Artist News
Ralston Fox Smith: Furtherance
Pink Dog Creative Gallery, 348 Depot Street
November 10 – December 17, 2017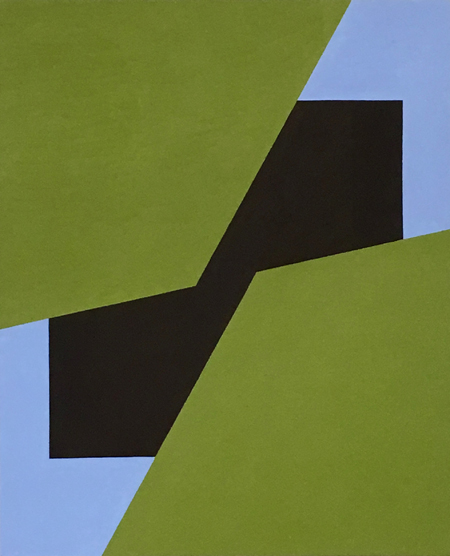 Furtherance represents a progression and transformation of vision as Fox has explored abstract and surreal landscapes and pushed beyond into the world of pure geometric abstraction. This exhibit is an opportunity to explore that evolution and to revel in his most recent compelling work.
The geometry of nature – from tree trunks and boulders to vast crop fields – have long been the building blocks of Fox's work. The sharp lines and angles of man- made structures have also fueled the evolution of clean and ordered constructs in his work. With his newest collection, Fox has pushed further into the role of geometry, spatial relationships, and inherent positive and negative balance. On a two-dimensional surface, Fox expresses his response to chaotic energy through dynamic geometric constructs in a clean hard-edged manner. Furtherance is your chance to tap into that spirited power, which Fox calls both "honest and uplifting."
Please go to ralstonfoxsmith.com for more a comprehensive look at Fox's work.
New Mural at Pink Dog Creative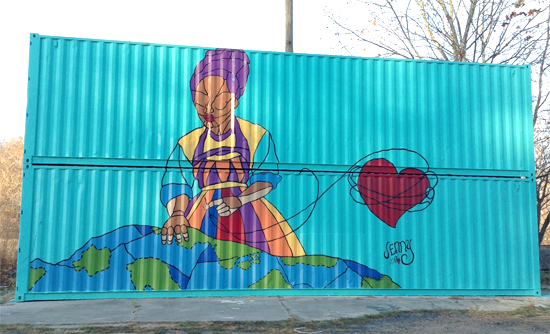 Pink Dog Creative is pleased to announce a new mural on its' containers across the street from 342 Depot Street in the River Arts District.
In a continued effort to build bridges between the River Arts District and the Southside community, Pink Dog Creative has commissioned the second of our Southside neighbors, Jenny Pickens, to design and paint a mural. Jenny grew up in the Southside community and is an accomplished artist. Her design, entitled Zolas Embrace (peaceful earth) depicts a woman stitching the world back together. Pickens says, "With so much negative energy going on worldwide, I wanted to show mother nature repairing the world with the love that's been lost. We all share a common goal. Peace on earth."
Stop by Pink Dog Creative, 342-348 Depot Street, to see the completed mural.


We are excited to welcome food impresarios Josiah and Shannon McGaughey who have run the highly successful Salt & Smoke at Burial Brewing on the South Slope for the past two years and are the creators of

, a new restaurant at Pink Dog Creative, named after Josiah's grandmother, a driving force in his culinary upbringing as she hosted grand dinner parties in a Julia Child-like fashion will he was growing up in Georgia. Josiah's menu will elevate his cuisine by exploring the melding of European flavors and techniques into the realm of his Southern heritage within a comforting, casual dining space. The menu will be seasonal and change frequently with weekly specials and various special events.

will offer a large wine list with unique and delectable varietals that will complement the food as well as an extensive cocktail list to include pre-prohibition classics and craft cocktails and many of the talented local breweries.
For those of us Salt & Smoke fans, Salt & Smoke will remain open under the caring hands of their Chef de Cuisine, Daniel Rubner.

plans to open on December 14, 2017. Follow them on Instagram and Facebook at saltandsmokeasheville or on their website at saltandsmokeavl.com.
Pink Dog would like to thank The Junction Restaurant and Bar for a successful 7 year run on Depot Street. The Junction, which has been at Pink Dog Creative since our opening in 2010, is now permanently closed. We want to wish Charles and Tanya Triber and their dedicated and professional staff the best in their coming endeavors and thank them for providing the River Arts District with a sensational restaurant with a great vibe for locals and visitors alike.
Read more in the Citizen-Times article.
Joseph Pearson in New Orleans African American Tricentennial Art Exhibition
In celebrating the 300th anniversary of New Orleans, the New Orleans chapter of the National Conference of Artists sponsored a National competition. The competition celebrates outstanding New Orleanians, and participants were presented a list of subjects to choose from. Joseph Pearson's portrait of Dr. Dwight McKenna was chosen for inclusion in this exhibition. Dr. McKenna is a physician, surgeon and former Orleans Parish school board member. He and Beverly Stanton McKenna founded the New Orleans Tribune in 1985. He is also the founder of the McKenna Museum of African American Art in New Orleans.
Visit Joseph's website at josephart.net.
Holly de Saillan featured artist for December
Odyssey Co-op Gallery
82 Patton Ave., Asheville
238 Clingman Ave in the River Arts District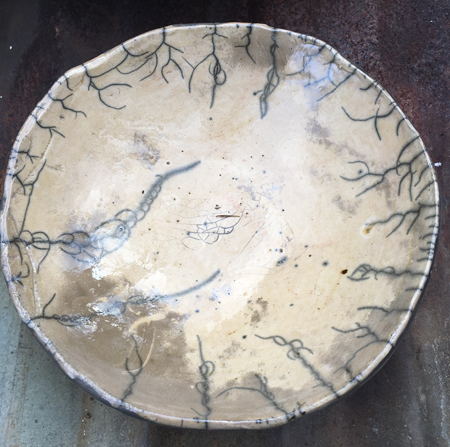 Holly will be a featured artist at the Odyssey Co-op Gallery for the month of December. Stop in to see her newest Raku-fired pieces and other new work.
Lucy Cobos' Lolita voted People's Choice
2017 Appalachian Pastel Society National Exhibition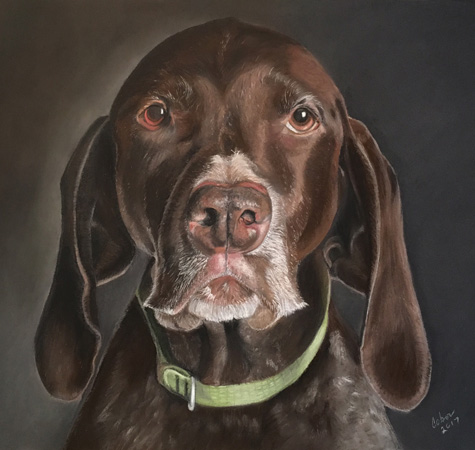 Congratulations to Lucy Cobos, whose piece Lolita was voted People's Choice in the 2017 Appalachian Pastel Society National Exhibition.
See more of Lucy's work at her website.
Pysanky ornament workshops at Studio A
throughout December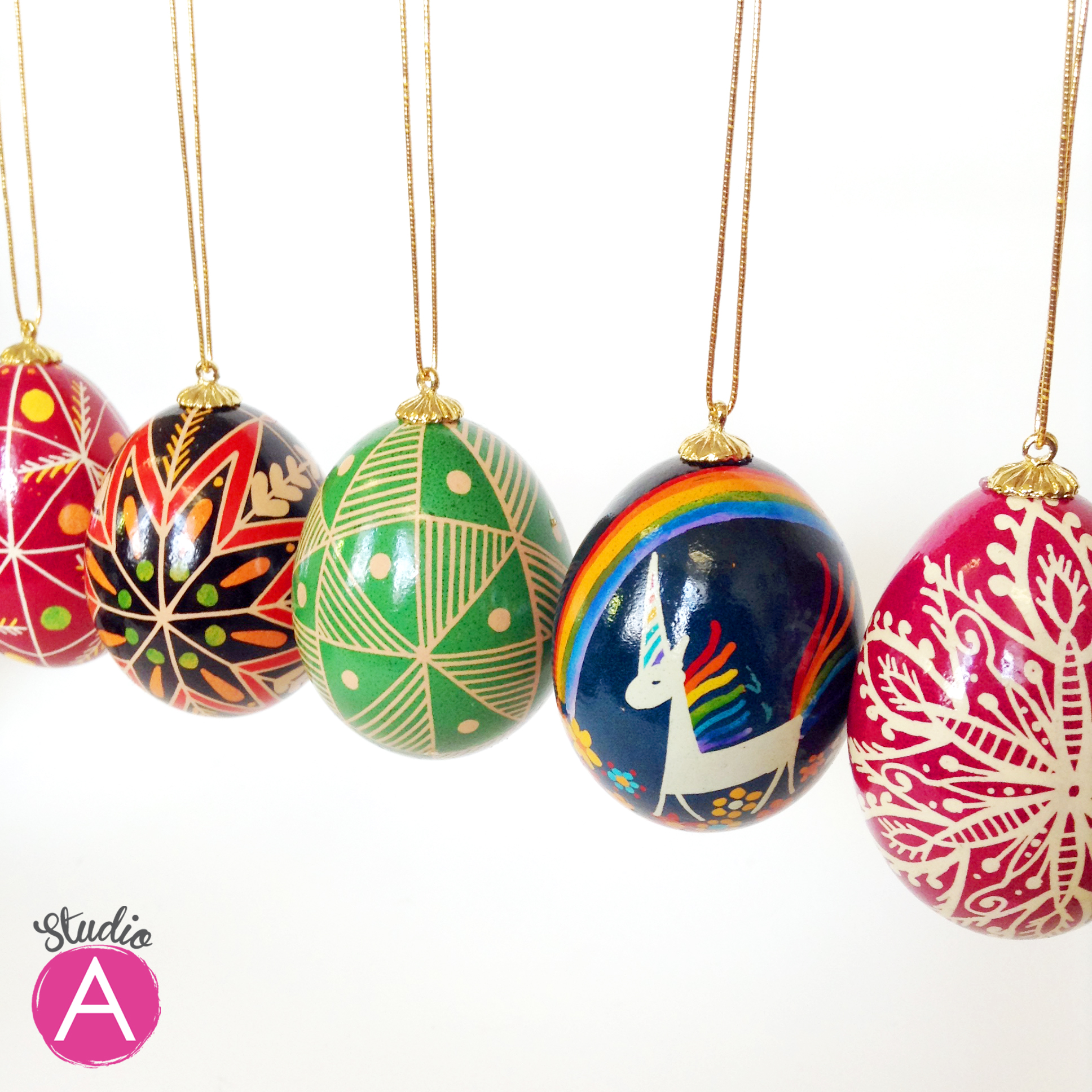 Make your own pysanka egg ornament! These workshops are open to beginners and also those with experience. Andrea Kulish will guide you through making snowflakes, stripes, dots, or your own creation. Classes will take place at Studio A, Biltmore and the Show and Tell Holiday Spectacular Pop Up Shop.
See Andrea's website for more details.
Karen Keil Brown in Winter Blues art show
Asheville Gallery of Art
82 Patton Ave., Asheville
January 1-31, 2018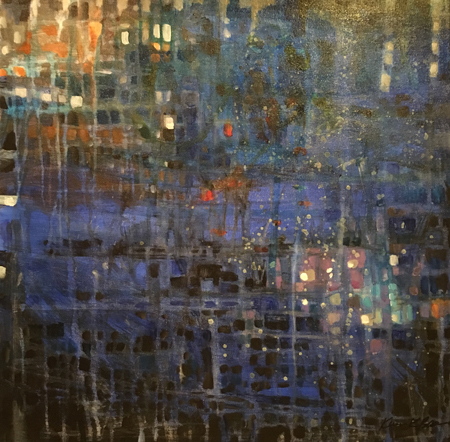 Karen Keil Brown will participate in an exhibition, Winter Blues, at the Asheville Gallery of Art during the month of January.
Ralph Burns' work included in
CREATED BY LIGHT- Photographs from North Carolina Collections,
at the Cameron Art Museum, Wilmington, NC
September 16, 2017 – February 11, 2018

Ralph Burns tells the story of his photograph How Great Thou Art #4 in this video by the Cameron Art Museum.
Exploring the photography collections of eight North Carolina institutions, the exhibition will examine the evolution of photography highlighting the luminaries of the medium, the connections between the institutions and the NC artists working in photography.
The over 100 works included in the exhibition range from 1887 to 2016 with pioneers of the medium including Ansel Adams, Diane Arbus, Lewis Hine, Robert Mapplethorpe, Eadweard Muybridge, and Andres Serrano among others.
Ralph Burns' work is in the permanent collections of both the North Carolina Museum of Art and the Asheville Art Museum.
Read more at the museum's website.
Noël Yovovich shifts to larger studio space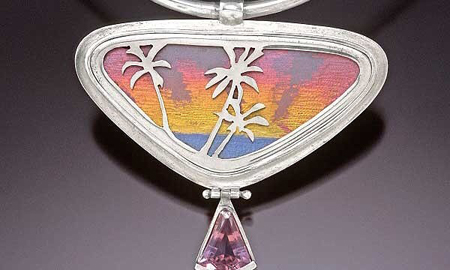 Pink Dog Creative's newest member, jeweler, painter and potter Noël Yovovich will be shifting to a larger space early in December. The space previously occupied by Sew What? artist Jaime Lawrence (who is relocating to another space within the building) will offer the opportunity to display a wider variety of artwork in addition to easier visibility as work is produced.
See more of Noël's work at her website.
Christie Calaycay: Best of WNC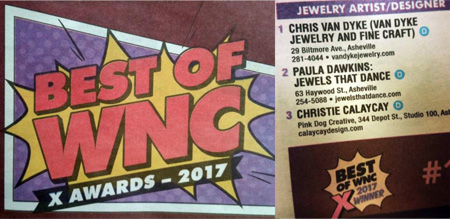 Congratulations Christie Calaycay for being voted #3 Best Jeweler in the WNC Best of Awards! Visit Christie in her studio Monday-Friday in Suite 100 and online at calaycaydesign.com.
Viola Spells featured in the Mountain Xpress
Viola Spells was featured in Mountain Xpress article Two Local Artists Follow Their Passions in the RAD by Alli Marshall.
Fresh West Pizza in the Mountain Xpress
Read Liisa Andreassen's interview of the owner of FRESH West- Quick Dish: Q + A with Mark Tomczak of FRESH Wood Fired Pizza in the Mountain Xpress – read the article here.
10 Top U.S. Cities for Art Lovers: Asheville
Pink Dog Creative is the feature photo for a "Top 10" article on AARP!
Read more at AARP Travel online.
Asheville, North Carolina is unlike anywhere else in the South
"[Asheville's] singular mix of worldliness and hominess gives it a character unique among cities below the Mason-Dixon line."
"A visit to the emerging River Arts District felt more my speed. A string of converted industrial buildings along the French Broad river, it's now home to working artists in spaces that New York creatives would give both arms for. It's impossible to categorize the talent here, but in just a few hours, I met abstract-animal painter Daniel McClendon (349 Depot St., danielmcclendon.com) and record producer-turned ceramicist Akira Satake (122 Riverside Dr., akirasatake.com), whose airy workshop houses his wife's exquisite pastry shop, Yuzu Patisserie (122 Riverside Dr, yuzubycynthia.com)."
Read more of this article at the NY Daily News.