Randy Shull and Hedy Fischer are creating a colorful sensation on Depot Street in Asheville's River Arts District. The former textile manufacturing and warehouse building at 342-348 Depot Street has been transformed into an exciting mix of artist studios and retail spaces.
Pink Dog Creative shares the neighborhood with local favorites, such as Wedge Brewery, Clingman Cafe, 12 Bones and many local artist studios. Pink Dog has 25 artists working in their studios, Asheville Running Company, The Junction Restaurant and Bar and Fresh West Wood Fired Pizza.
Open Hours: Artists work odd hours but we promise to have our studios open for the public on Fridays and Saturdays from 10-4.
We're thrilled that Pink Dog Creative was chosen to represent Asheville in this stunning short film.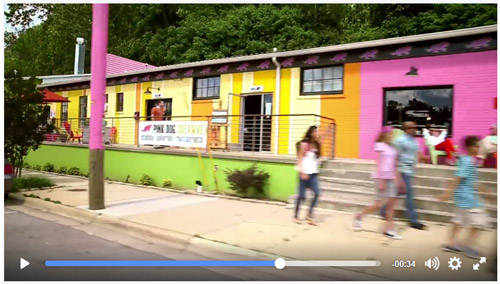 Ongoing Exhibitions & Artist News
Check out our February newsletter for news from our studios and ongoing artist exhibitions!
Joseph Pearson
at the Tangipahoa African America Heritage Museum
in Hammond, Louisiana
February 20 – March 20
Joseph will be part of a group exhibition at the Tangipahoa African America Heritage Museum in Hammond, Louisiana February 20th to March 20th.
The title of this piece is from the late Gordon Parks biography, A Choice of Weapons. It speaks to the option of choosing education over violence to address conflict. I chose this work as a positive representation of a black male choosing a different path.
This work speaks to a sense of peace in the midst of societal abuses.
Karen Keil Brown: April Featured Artist
at The Asheville Gallery of Art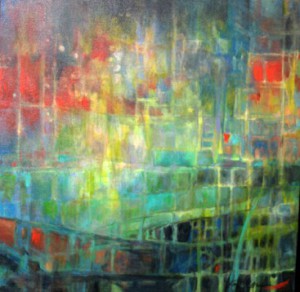 Karen is represented in Asheville by The Asheville Gallery of Art which is moving to a new location in The Capital Building, 82 Patton Avenue in downtown Asheville in February. Grand Opening to be announced.
Karen Keil Brown will be the featured artist in April.
Karen Is in the 7th Annual juried art show at the Wells Gallery on Kiawah Island, SC through February.
Larry Turner
at Ananda West
January 15 – Mid-March, 2016
Larry Turner, part of the local art scene for 40 years, is having a showing of recent work , (Reverse Cowboy/ Bronco Buck) at Ananda West in the Wedge Building, 37 Payne's Way, Asheville 28801. The exhibit will continue through the middle of March.
Most of the new work, which he characterizes as expressive-representational, is based upon an image of a bucking bronco and rider he found in a newspaper while traveling in Wyoming. Images from the past like pointers, green man and Bacchus also make guest appearances. The paintings include bits of ephemera he has collected over the last 35-40 years. These include labels, tickets, show stubs etc. sometimes with dates which act as a diary to key a memory of when and where they came from. He first started collecting "litter" in the late 70s while traveling extensively in India where there are so many colorful and graphic labels. Many of the "bits" in the recent works are from those bags.
Although the bronco started out merely as an image to use to get on with the practice of painting; as always it lead to other things and can refer to Turner's path of life he has followed through the years of "going for a ride."
Grace Carol Bomer: Symposium on Worship
at Calving College
in Grand Rapids, MI
January 28 – 30, 2016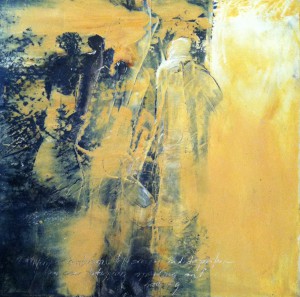 Carol has eight paintings in a show opening January 28, 2016 for The Art / Worship Symposium at Calvin College in Grand Rapids, MI.
Read more about the symposium.
Grace Carol Bomer: Come to the Table, CIVA Traveling Exhibition
at Center Art Gallery, Calvin College
January 18 – March 7, 2016
Additionally, Carol has a painting in the CIVA travelling show called Come to The Table which happens to be at Calvin College January – February, 2016.
Read more about Come to the Table.
Carol is represented by Muse&Co in the Atlanta area.
Jennifer Kincaid
at NC State University Crafts Center
in Raleigh, NC
February 1 – March 3, 2016
Opening Reception Wednesday, February 3, 2016, 6:30 pm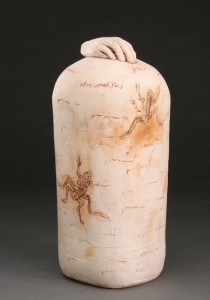 Jennifer Kincaid is one of the exhibitors in an environmental arts exhibit at NC State University Crafts Center, Raleigh, NC. The exhibit is open February 1 – March 3, 2016. There will be an opening reception Wednesday, February 3, 2016 at 6:30 pm.
The mission of the Disappearing Frogs Project is to apply the power of art in support of scientific educational and community efforts focused on the preservation of amphibians.
Research reveals frogs are an important environmental indicator for changes that affect all life forms. In some of the world's most pristine places an astounding and unexplainable amount of deformities are occurring in frogs. This urn is etched with malformed frogs…giving pause for cause.
Andrea Kulish of Studio A
in the Mountain Xpress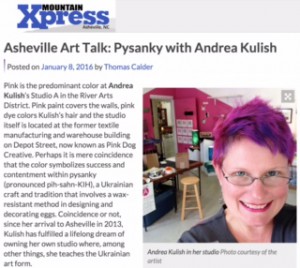 What's going on inside the studios at Pink Dog Creative? Read the Mountain XPress interview with Andrea Kulish of Studio A and read about one such studio!
Read about Pysanky with Andrea Kulish in the Mountain Xpress.
10 Top U.S. Cities for Art Lovers: Asheville
Pink Dog Creative is the feature photo for a "Top 10″ article on AARP!
Read more at AARP Travel online.
Asheville, North Carolina is unlike anywhere else in the South
"[Asheville's] singular mix of worldliness and hominess gives it a character unique among cities below the Mason-Dixon line."
"A visit to the emerging River Arts District felt more my speed. A string of converted industrial buildings along the French Broad river, it's now home to working artists in spaces that New York creatives would give both arms for. It's impossible to categorize the talent here, but in just a few hours, I met abstract-animal painter Daniel McClendon (349 Depot St., danielmcclendon.com) and record producer-turned ceramicist Akira Satake (122 Riverside Dr., akirasatake.com), whose airy workshop houses his wife's exquisite pastry shop, Yuzu Patisserie (122 Riverside Dr, yuzubycynthia.com)."
Read more of this article at the NY Daily News.
Pink Dog and RAD in the Mountain Xpress
The Junction Restaurant and Bar:
A Winter Survivor
While some local restaurants choose to hibernate by limiting their hours or closing altogether, the Tribers are driven to meet their customers' expectations. As Charles says, "Sometimes it's harder to stay here through winter than to just shut your doors and wait for the season to change. But we can't do that to our guests. We really owe it to them to be here."
Read the full article at mountainx.com.
The Evolution of Depot Street and RAD
The district a decade ago looked pretty different — even two years ago. Depot Street, once dilapidated territory, now shines at night. Pink Dog Creative at 342-348 Depot St. turned an old Nabisco plant into artist studios, an arts supply store, a gallery (the Artery), the Asheville Area Arts Council's offices and a restaurant (The Junction). Next door, nonprofit development organization Mountain Housing Opportunities built the Glen Rock Depot, a mixed-use complex that includes street-level businesses, such as The Magnetic Field bar and theater.
Read the full article at mountainx.com.
Collect ART Asheville
Pink Dog Creative is participating in "Collect ART Asheville" with open studios every second Saturday of the month. Come visit the open studios at Pink Dog Creative and see work by great artists in the River Arts District.
Read more about Second Saturday open houses:
More from riverartsdistrict.com
More from ashevillerad.com