Randy Shull and Hedy Fischer are creating a colorful sensation on Depot Street in Asheville's River Arts District. The former textile manufacturing and warehouse building at 342-348 Depot Street has been transformed into an exciting mix of artist studios and retail spaces.
Pink Dog Creative shares the neighborhood with New Belgium & the Wedge Breweries, 12 Bones Smokehouse and hundreds of local artists. Pink Dog has 27 artists working in their studios, Fresh West Wood Fired Pizza, Vivian Restaurant and Sunnyside Trading Company.
Open Hours: Artists work odd hours but we promise to have our studios open for the public on Fridays and Saturdays from 11—5.
We're thrilled that Pink Dog Creative was chosen to represent Asheville in this stunning short film.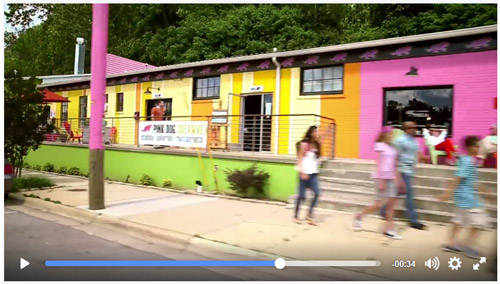 Ongoing Exhibitions & Artist News
Inimitable Creation: Clay + Paper + Paint
A Mixed Media exhibition highlighting the work of Holly de Saillan, Betsy Kendrick and Maria Andrade Troya
Pink Dog Creative Gallery, 348 Depot Street
Opening reception Thursday, August 9, 6:00—8:00 PM
August 3—September 2
Inimitable Creation features the work of three Asheville-area artists: Holly de Saillan, Betsy Kendrick, and Maria Andrade Troya. Each artist works with a different process, including both two- and three-dimensional media. The show will exemplify the artists' comfort in exploring the creative tension that exists between clay, paper, and paint.
See more of the artists' work at their individual websites: Holly de Saillan, Betsy Kendrick and Maria Andrade Troya, and read more in the Mountain Xpress article.
Trigger Warning
Habitat Brewing Co.
174 Broadway St., Asheville
August 3—30
Opening reception Friday, August 3, 5:00—7:00PM
Pink Dog Creative is pleased to announce the exhibition, Trigger Warning which addresses the issue of and consequences of gun violence in the United States and specifically in Asheville and Buncombe County. Sadly, Asheville had 7 homicides in 2017, and 9 in 2016, most occurring in Asheville's poorer neighborhoods. Asheville's homicide total for 2018 has already eclipsed the total for all of 2017.
We each respond in our own particular way to the gun violence issue but 21 artists from Pink Dog Creative are tackling the issue in their specific creative ways with the exhibition Trigger Warning on view at Habitat Brewing Co., 174 Broadway St. in Asheville, from August 3—30, with an opening reception on Friday, August 3 from 5:00—7:00 PM.
Trigger Warning will travel to multiple venues including the First Presbyterian Church, 40 Church St., Asheville in September and Pink Dog Creative Gallery, 348 Depot St. Asheville, NC 28801, in January through March, 2019.
Ralph Burns: BLUE
Elephant Gallery, Nashville, TN
Opening reception Thursday, August 16, 6:00—9:00 PM
August 16—September 28
BLUE, an exhibition of selected fiber-based silver gelatin prints from How Great Thou Art, Ralph Burns' 30+ years exploration of Elvis fans and the nature of love, loss and worship, opens at Elephant Gallery in Nashville, TN, on Thursday, August 16, with an opening reception from 6:00—9:00 PM. The exhibition will run through September 28. There will be a limited edition monograph, BLUE, published by Elephant Gallery, available.
Larry Turner: Recent Paintings
The Wedge at Foundation, 5 Foundy Street, Asheville, NC
Opening reception August 7, 5:00—9:00 PM
August 1—September 4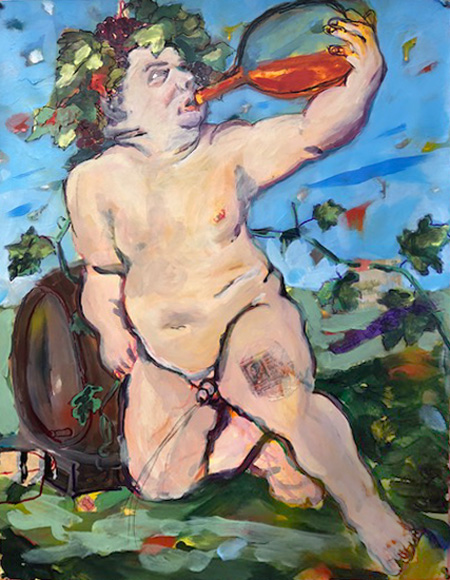 Larry Turner will have an exhibition of recent paintings at The Wedge at the Foundation August 1st until September 4th. There will be a reception on August 7th from 5:00 to 9:00 PM.
Reiko Miyagi in Worldwide Welcome
North Carolina Pottery Center, Seagrove, NC
Opening reception Saturday, July 28, noon to 2:00 PM
July 27—November 27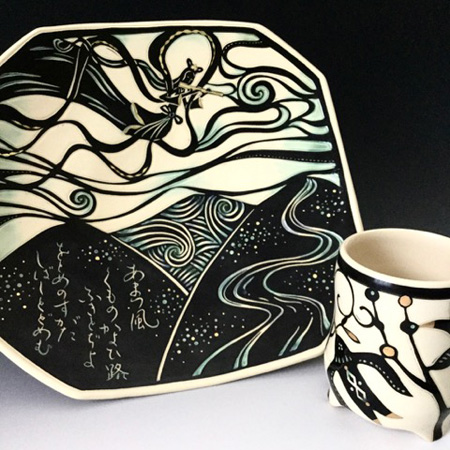 Reiko Miyagi is participating in a show called Worldwide Welcome at the North Carolina Pottery Center in Seagrove, from July 27th to November 27th.
The title, Worldwide Welcome, is borrowed from Emma Lazarus' poem at the base of the Statue of Liberty. The show celebrates the diversity of work produced by a number of contemporary ceramic artists who have moved to North Carolina from different places around the world over the past several decades, bringing with them a multiplicity of perspectives and traditions.
The opening reception on Saturday, July 28, 2018, from noon to 2:00 PM. It is free of charge and open to the public.
Read more about the event at the NC Pottery website.
Joseph Pearson painting accepted into Real People national competition
Old Courthouse Arts Center, Woodstock, IL
Opening reception Saturday, July 28, noon—2:00 PM
August—September
Joseph Pearson's painting "Everything Helps" has been accepted into the Real People national painting competition, which is sponsored by the Old Courthouse Arts Center in Woodstock, Illinois, about 50 miles from Chicago. Joseph's piece is taken from a street scene in Dublin, Ireland.
See more of Joseph's work at his website.
Lucy Cobos painting wins Honorable Mention
UART 2018 Pastel Competition
Out of 700 entries, Lucy Cobos' entry Field Dog was one of 5 paintings winning in the "Honorable Mention" category of the UART 2018 Pastel Competition, which is a national competition sponsored by the UART Pastel Paper company.
See more of Lucy's work on her website.
Holly de Saillan in Food
Posana, 1 Biltmore Ave., Downtown Asheville
Holly is part of a food themed group show at Posana Restaurant entitled Food. The exhibit will run throughout the summer.
See more of Holly's work at her website.
New pole banners in the River Arts District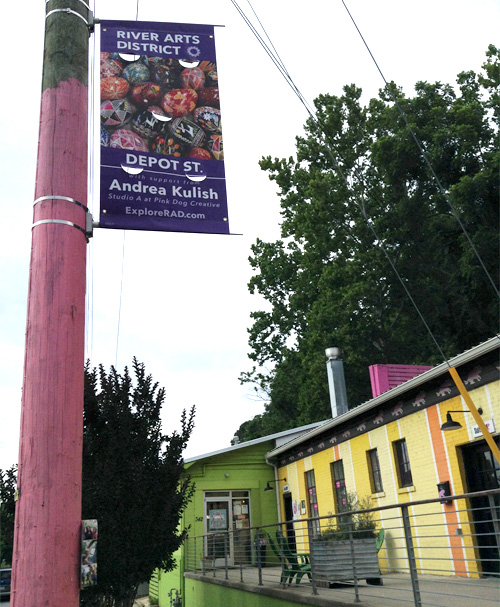 114 new pole banners are part of a project to help River Arts District vitality during RADTIP construction, which involves a partnership of the City of Asheville, RADBA (River Arts District Business Association) and RADA (River Arts District Artists). The banners are meant to help people find their way around the River Arts District and beautify the area. The banners feature artwork by various artists in the district, street names, and are color coded to match the RADA studio guide map. Pink Dog Creative artist and graphic designer Andrea Kulish designed the banners. Pink Dog Creative sponsored four of the banners, which feature artwork by Pink Dog Creative artists. You can see them on Depot Street, Lyman Street and Riverside Drive.
Read more about the project here.
Stephen St. Claire at 30A Home
Oklahoma City, OK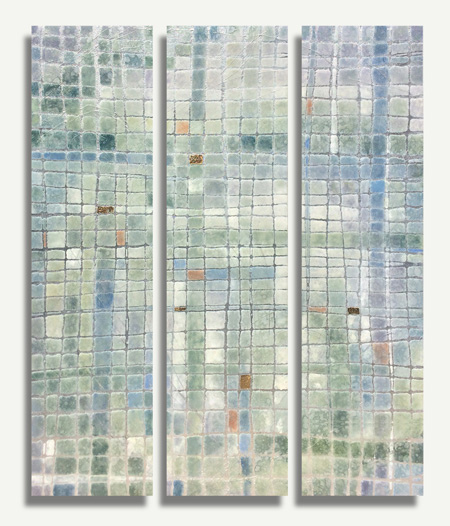 Stephen St. Claire has recently joined forces with 30A Home, an interior design firm in the Oklahoma City area, where his paintings are displayed in their showroom, which is frequented by interior designers as well as the general public. Stephen has developed a whole new type of abstract for this market, combining all of his standard "ingredients" including texture, metallic leaf, oil paint and solar-resistant resin and putting them together in a completely new way. He'll be creating several more of this type of abstract for his Pink Dog studio / gallery space as well.
See more of Stephen's work at his website.
Dining review: RAD's Vivian grows from Salt & Smoke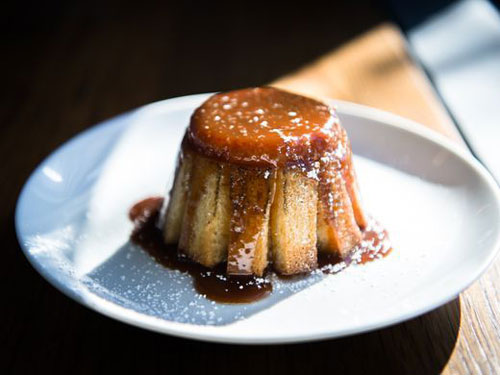 An excerpt from the article: "Vivian feels as though it's been operating for years. Its cuisine is clearly defined, and the warm hospitable approach to the service helps makes the restaurant a success… Vivian set out to meld southern and European cuisines in an elevated way, and it succeeds. "
Randy Shull work acquired by Spartanburg Art Museum
Spartanburg, SC
Pink Dog congratulates Randy Shull as the Spartanburg Art Museum acquires Striped Reflection, a recent piece from his reflection series that explores the relationship between painting and furniture. Fundamentally, Shull says the work is about pairing and relationships.
See more of Randy's work at his website.
Viola Spells featured in the Mountain Xpress
Viola Spells was featured in Mountain Xpress article Two Local Artists Follow Their Passions in the RAD by Alli Marshall.
Fresh West Pizza in the Mountain Xpress
Read Liisa Andreassen's interview of the owner of FRESH West- Quick Dish: Q + A with Mark Tomczak of FRESH Wood Fired Pizza in the Mountain Xpress – read the article here.
10 Top U.S. Cities for Art Lovers: Asheville
Pink Dog Creative is the feature photo for a "Top 10" article on AARP!
Read more at AARP Travel online.
Asheville, North Carolina is unlike anywhere else in the South
"[Asheville's] singular mix of worldliness and hominess gives it a character unique among cities below the Mason-Dixon line."
"A visit to the emerging River Arts District felt more my speed. A string of converted industrial buildings along the French Broad river, it's now home to working artists in spaces that New York creatives would give both arms for. It's impossible to categorize the talent here, but in just a few hours, I met abstract-animal painter Daniel McClendon (349 Depot St., danielmcclendon.com) and record producer-turned ceramicist Akira Satake (191 Lyman St., akirasatake.com), whose airy workshop houses his wife's exquisite pastry shop, Yuzu Patisserie (191 Lyman St., yuzubycynthia.com)."
Read more of this article at the NY Daily News.