Randy Shull and Hedy Fischer are creating a colorful sensation on Depot Street in Asheville's River Arts District. The former textile manufacturing and warehouse building at 342-348 Depot Street has been transformed into an exciting mix of artist studios and retail spaces.
Pink Dog Creative shares the neighborhood with New Belgium & the Wedge Breweries, 12 Bones Smokehouse and hundreds of local artists. Pink Dog has 25 artists working in their studios, The Junction Restaurant and Bar, Fresh West Wood Fired Pizza, and Sunnyside Trading Company.
Open Hours: Artists work odd hours but we promise to have our studios open for the public on Fridays and Saturdays from 11-5.
We're thrilled that Pink Dog Creative was chosen to represent Asheville in this stunning short film.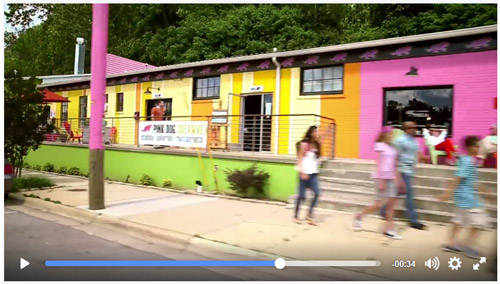 Ongoing Exhibitions & Artist News
Modern American Photographs
Photographs by Kora Manheimer
Pink Dog Creative Gallery
Opening Reception Saturday, April 29, 5:00 – 7:00 PM
April 29 – May 27, 2017
Kora Manheimer is a photographer, interactive producer, and occasional adjunct professor at UNCA living in Woodfin. She received her MFA in photography from UCLA and her BFA from Cooper Union. Her work has been exhibited nationally, including PS 122 in New York, and she was a featured photographer in 25 and Under: Photographers, published by W.W. Norton/DoubleTake. She has received numerous awards and grants, including an emerging artist residency fellowship at the Anderson Center.
More of her work can be seen at koramanheimer.com.

Beware of the Dog: new mural by Randy Shull
Pink Dog Creative
342-348 Depot Street, River Arts District, Asheville
Come see Randy Shull's newest mural on the two shipping containers in the Pink Dog Creative parking lot, across from the Pink Dog Creative building at 342-348 Depot Street in Asheville's River Arts District. Randy is co-owner and co-creator of Pink Dog Creative.
See more of Randy's work at his website.
River Arts District Spring Studio Stroll
Saturday, May 20 & Sunday May 21, 10:00 AM – 5:00 PM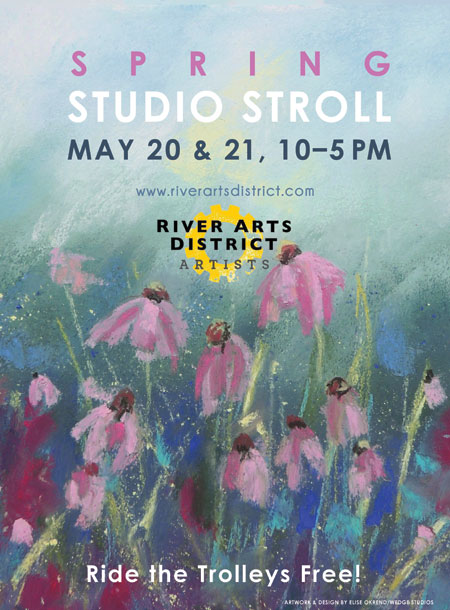 Come Explore The Artists of Asheville's Historic River Arts District for Studio Stroll. Visit artists in their studios, learn about their artistic process through conversations and live demonstrations. Collect art at its source among the amazing displays of creativity from painting to sculpture, glassblowing to ceramics, fiber art, jewelry and more from over 220 artists.
Learn more about the Studio Stroll and River Arts District at their website.
Reiko Miyagi in Functional Canvas II
Charlie Cummings Gallery, Chapel Hill, NC
May 6 – 27, 2017
Charlie Cummings Gallery features contemporary functional and sculptural ceramic work by emerging and nationally-recognized artists. Since 2001, the Charlie Cummings Gallery has held more than 100 ceramic exhibitions and exclusively represents ceramic artists nationally. They are in the transition of moving from Gainesville, FL to Chapel Hill so this exhibition is going to be online only this year.
Visit the gallery website here.
Reiko Miyagi in the National Teapot Show
Cedar Creek Gallery, Creedmore, NC
May 19 – September 5, 2017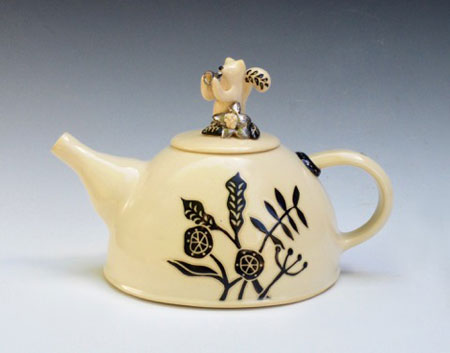 This show has been hosted every three years for the past twenty-six years. Cedar Creek Gallery carries hand-crafted treasures from across the nation to enrich the lives of all those who come across it and supports a healthy, happy community.
Visit the gallery website here,
and see more of Reiko's work at her site.
Deanna and Julie's Excellent Adventure
344 Depot Street
Friday, May 19, 6:00 – 8:00 PM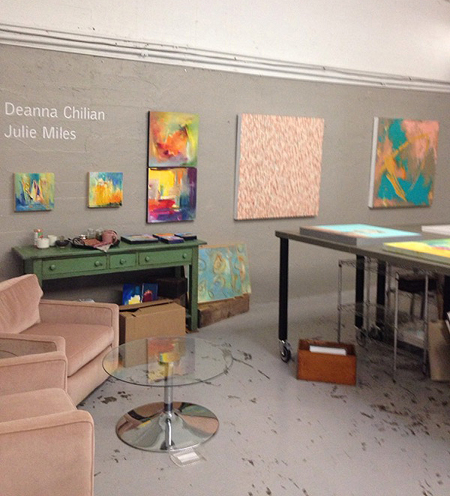 All are invited to come visit our new studio and get your Pink Dog on!
Welcome May Rhea and Lucy Cobos
Pink Dog Creative is excited to announce that artists May Rhea and Lucy Cobos will be joining our studios beginning in May.
May Rhea
Everything in my life is connected to and influenced by my love of nature. I grew up on a farm in South Carolina and spent much of my time as a child with my grandmother who enjoyed painting plein air. The combination of these influences created a necessity for me to lead a life that was always in some way connected to nature and allowed me to stay inspired by the "art" we see daily in our surroundings.
I reside in Fairview, NC, with my husband, dogs and cats. When I am not painting, I enjoy filling my days gardening and hiking. In addition, my volunteer work at Brother Wolf Animal Rescue in Asheville is a source of great personal fulfillment.
Lucy Cobos
I relocated to Asheville with my husband from Boston, MA where I worked as a professional commercial photographer for over 35 years. Among a diverse clientele in different industries, I also managed the first photography department at the NBC affiliate in Boston for ten of those years. The timing was right for me to explore other mediums of expression with our move to Asheville. I'm inspired by so much creativity I see around me, community support for artists and the resources Asheville has to offer. I often use my photography as a reference for encaustics, pastels and cold wax. Experimental or with purpose, my art is an extension of who I am and how I respond to my own imagination or the environment I find myself in.
Click here to visit Lucy's website.
Karen Brown on WLOS TV Morning Show
Monday, May 15, 5:15 AM – 5:25 AM and 6:15 AM – 6:25 AM
Karen Keil Brown of Pink Dog Creative along with Frances Domingues of FD Found Design will appear on WLOS ABC TV Morning news, Channel 13, to promote their work and the upcoming Spring Studio Stroll. You can catch them between 5:15 AM and 5:25 AM and also between 6:15 AM and 6:25 AM on Monday, May 15.
Andrea Kulish on Breakfast with the 828
Wednesday, May 17, 8:15 AM – 9:15 AM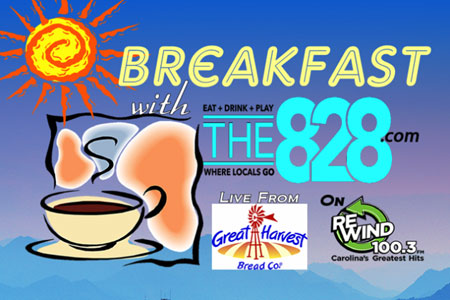 Pink Dog Creative artist Andrea Kulish will be on the radio program Breakfast with the 828 on Rewind 100.3 FM to talk about the River Arts District Spring Studio Stroll, along with Studio Stroll Coordinator Morgan Markowitz of Earth River Productions. The show will be aired live from Great Harvest Bread Company in Gerber Village on Hendersonville Road.
Read more about the radio show here.
Ukrainian Easter Egg Workshops
Ongoing during May 2017

Spring is here, the traditional time to make Easter, or springtime, eggs. In this workshop we will be making beautiful Ukrainian Easter eggs – pysanky. You will learn the method of batik – also called wax-resist – dying. You will also be familiarized with the wide range of Ukrainian folk art traditional patterns, designs and symbols and their history. The designs are made with beeswax which is melted in the flame of a candle and applied to the egg using a tool called a kistka. The eggs are dipped into successively darker dyes. At the end of the process the beeswax is melted off to reveal the beautiful and colorful design. You may use the traditional patterns, or also freestyle and make up your own design. Classes taught at Studio A or your location.
View more information about workshops at Studio A online.
William Price launches YouTube channel
William has started making videos and started a YouTube channel. This first one is a video diary of the process of painting Firebird.
Julie Miles in Hats – Group Art Show
Posana, 1 Biltmore Ave, Asheville
April 20 – July 2017

Meet the ARTISTS at our Opening Reception, Thursday April 20th from 6 to 8pm in the heart of Asheville, Pack Square, Posana Alder Gallery. Exciting & FUN art show with a WHO'S WHO of artists: Julie Bell, Mark Bettis, Anne Bevan, Gary Cooley, Tebbe Davis, Jacqui Fehl, Kristin Foley, William George, Barbara Hipwell, Nancy Joyce, Cheryl Keefer, Julie Miles, Virginia Pendergrass, Kathryn Phillips, Cason Rankin, Bee Sieburg, Constance Vlahoulis, Wendy Whitson, and a special Opening night display of custom made hats by Simone Bernhard of her Chapeaux by Simone. Curated by Constance Vlahoulis.
More information at: www.Conn-Artist.com
RSVP to the Facebook event invite here.
Sunnyside Trading Company and Northville Apparel
featured in the Mountain Xpress Retail Comes to the RAD article
"When you think of Asheville's River Arts District, what comes to mind are probably things like painting, sculpture, pottery, glass blowing — you get the drift. But as the neighborhood continues to expand and evolve, new businesses are also popping up. In the last six months, a number of retail shops have opened in the district. Xpress met with the owners of three of these newbies to discuss the challenges of developing a business while surfing the changes in a rapidly evolving area." -Thomas Calder, excerpted from the article.
Read the full article at the Mountain Xpress online.
Pink Dog Creative featured in 25 Most Popular Instagram Spots in Asheville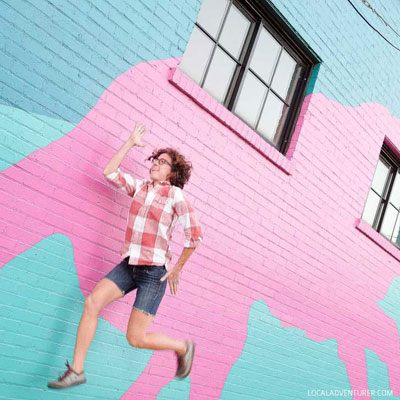 Pink Dog Creative is featured twice in the article 25 Most Popular Instagram Spots in Asheville by the popular blog Local Adventurer.
See the other 23 spots and read the article here.
Joseph Pearson featured in LOCAL HEARTED podcast: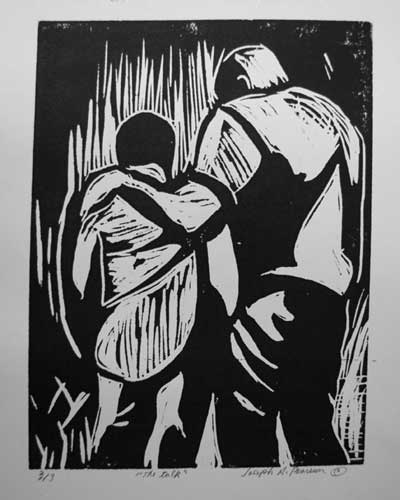 The Talk linocut
Local heARTed host Meredith Adler talks with Joseph Pearson about his paintings themed on guiding children to do well in society, and tips on artist grants. This podcast regularly features interviews with artists of Asheville and Western North Carolina about their inspirations, their lives, and their businesses. Meredith also interviews people in the community with services to help our local artists with the business end of things, such as printing, framing, and social media.
Read the article and hear the podcast on the Local Hearted website.
Fresh West Pizza in the Mountain Xpress
Read Liisa Andreassen's interview of the owner of FRESH West- Quick Dish: Q + A with Mark Tomczak of FRESH Wood Fired Pizza in the Mountain Xpress – read the article here.
10 Top U.S. Cities for Art Lovers: Asheville
Pink Dog Creative is the feature photo for a "Top 10" article on AARP!
Read more at AARP Travel online.
Asheville, North Carolina is unlike anywhere else in the South
"[Asheville's] singular mix of worldliness and hominess gives it a character unique among cities below the Mason-Dixon line."
"A visit to the emerging River Arts District felt more my speed. A string of converted industrial buildings along the French Broad river, it's now home to working artists in spaces that New York creatives would give both arms for. It's impossible to categorize the talent here, but in just a few hours, I met abstract-animal painter Daniel McClendon (349 Depot St., danielmcclendon.com) and record producer-turned ceramicist Akira Satake (122 Riverside Dr., akirasatake.com), whose airy workshop houses his wife's exquisite pastry shop, Yuzu Patisserie (122 Riverside Dr, yuzubycynthia.com)."
Read more of this article at the NY Daily News.
Pink Dog and RAD in the Mountain Xpress
The Junction Restaurant and Bar:
A Winter Survivor
While some local restaurants choose to hibernate by limiting their hours or closing altogether, the Tribers are driven to meet their customers' expectations. As Charles says, "Sometimes it's harder to stay here through winter than to just shut your doors and wait for the season to change. But we can't do that to our guests. We really owe it to them to be here."
Read the full article at mountainx.com.
The Evolution of Depot Street and RAD
The district a decade ago looked pretty different — even two years ago. Depot Street, once dilapidated territory, now shines at night. Pink Dog Creative at 342-348 Depot St. turned an old Nabisco plant into artist studios, an arts supply store, a gallery (the Artery), the Asheville Area Arts Council's offices and a restaurant (The Junction). Next door, nonprofit development organization Mountain Housing Opportunities built the Glen Rock Depot, a mixed-use complex that includes street-level businesses, such as The Magnetic Field bar and theater.
Read the full article at mountainx.com.