Randy Shull and Hedy Fischer are creating a colorful sensation on Depot Street in Asheville's River Arts District. The former textile manufacturing and warehouse building at 342-348 Depot Street has been transformed into an exciting mix of artist studios and retail spaces.
Pink Dog Creative shares the neighborhood with local favorites, such as Wedge Brewery, Clingman Cafe, 12 Bones and many local artist studios. Randy has already established his studio in the building and shares it with 15 other artists, galleries, The Junction Restaurant and Bar, the Asheville Area Arts Council, and Pizza Pura.
Open Hours: Artists work odd hours but we promise to have our studios open for the public on Fridays and Saturdays from 10-4.
Roaming in the Raw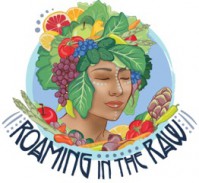 Roaming in the Raw, our favorite raw foods food truck which has been deliciously and healthfully supplying us lunch on Thursdays and Fridays from the Pink Dog Creative lot is heading south for the winter months.  Look for them in early April for more creative and tasty dishes on Depot St.
About Roaming in the Raw
We have Raw Foods (including desserts), Juices, and Smoothies. We use all organic ingredients and most of our food comes from all of the awesome local farms surrounding us (Milo Acres, Ivey Creek Farm, Mountain Harvest Organics, Gaining Ground, Thatchmore Farms, Country Fields). Some examples of things you might find on our ever evolving and rotating menu might be: Raw Enchiladas, Raw Lasagna, Raw Pad Thai, Living Wraps, Zucchini Noodle Pastas, Spring Rolls, Beet Salad, Kale Salad, Raw Desserts like Superfood Truffle Cookies, Raw Chocolate Avocado Mousse Torte, Raw Carrot Cake or Pecan Pie. We also have tons of unique juices and smoothies. Jenni Squires is the main chef and she learned a lot of what she knows about Raw Foods while she worked at Back to Nature Organic Market in Cape Coral, FL.
Visit Roaming in the Raw on Facebook at www.facebook.com/roamingintheraw
Pizza Pura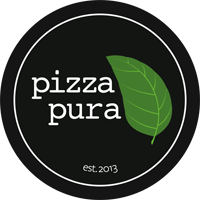 Pizza Pura opened to the public on Saturday, April 6!
Ben Mixson and Laura Reuss of White Duck Taco fame bring Neapolitan-style pizza and gelato to the River Arts District with a new restaurant, Pizza Pura. Instead of making decadent, cheesy meltdowns, Reuss creates scaled-down pies that showcase quality ingredients.
"I like the thin crust, the chewiness, the richness of the ingredients, kind of unspoiled, just add a little salt here and there or fresh herbs," she says. "It's really about the preparation."
Pizza Pura is located at 342 Depot Street in the Pink Dog Studios building, on the opposite end from The Junction Restaurant and Bar. Read more about Neapolitan pizza and Pizza Pura's mission at www.pizzapura.com.
Ongoing Exhibitions & Artist News
Check out our latest newsletter for news from our studios and ongoing artist exhibitions!
Read the December newsletter.
Asheville Area Arts Council Presents:
Point of View: a girl and a gun
curated by Taiyo la Paix
Opening Reception December 13, 6 – 9pm
December 13, 2013 – January 24, 2014
Join local artist Taiyo la Paix as he gathers a sample of Asheville's most talented in a provocative show about love and death, sex and violence, a girl and a gun. Opening at the Asheville Area Arts Council Gallery on Friday, December 13, a girl and a gun: asheville artists cope with love and death will give viewers an insight into life's most moving experiences through the eyes of Asheville artists.
Taiyo la Paix is the sixth curator in the Asheville Area Arts Council's Point of View, artists curate artists exhibitions. Point of View puts local artists in charge of creating a month-long exhibit showcasing the talents of their peers who illuminate the breadth and depth of Asheville/Buncombe County's creative sector. In la Paix's artist's statement, he admits he has a fear of dying and losing loved ones. His approach to this month's exhibit continues his artistic exploration of sadness and joy by inviting local artists to share their visions of the same. "La Nouvelle Vague filmmaker Jean-Luc Godard infamously said, 'All you need to make a movie is a girl and a gun.' When it comes down to it, sex and violence are our timeless allegories for love and death, our most burning concerns," says la Paix in describing his vision for his first curated show. Born in Philadelphia, PA, la Paix was raised in Kyoto, Japan and graduated with a BA in Art from Middlebury College in 1994. His artwork has been seen throughout the Southeast United States, and he now resides in Asheville, NC. Opening Friday, December 13, 6:00pm with a reception at the Asheville Area Arts Council Gallery, 346 Depot St., a girl and a gun: asheville artists cope with love and death is on display through January 24, 2014.
A portion of the proceeds from artwork sold will support the Asheville Area Arts Council's programs and mission to strengthen the vitality and visibility of the creative community, and grow Buncombe County's arts, culture, and entertainment. Programs include supporting Kids Tixx, where the AAAC provides tickets to one child and one adult to attend various arts events in the Asheville area, and the AAAC's Artist's Curriculum, providing area artists with resources and opportunities to build upon their business skills.
Gallery hours Tuesday-Saturday 11:00-4:00pm.For more information about the exhibit and the Asheville Area Arts Council visit www.ashevillearts.com or call 828.258.0710.
An Evening of Art and Writing: Exploration of the Divine through Creative Media
December 6, 7:30-10:30
An Evening of Art and Writing: Exploration of the Divine through Creative Media is a double-dip cultural exposé featuring new selected works from Holly M. Paar's collection of mixed media paintings, The Lady and Comus, and a reading from Kristen Hedberg's new memoir, God Is Not a Bully. Kristen's book, replete with comic dryness and a penchant for pointing out the absurd in the mundane, is a combination of prose and poetry, much like the Tutus' Made for Goodness, and traces the author's journey from innocent preacher's kid to eyes-wide-open adult. After encountering numerous bullies in her life—both individual and institutional—Hedberg heeds the call to find peace with God outside of organized religion and its often spiritually antithetical strictures. She will be reading several excerpts, beginning at 8:30pm. Holly M. Paar's collection of paintings was inspired by the theme of Milton's masque, Comus: the conflict between reason and desire. Her newest abstract collection hints at the resounding and constant battle between these two halves of human nature, and how this contention manifests in all aspects of our lives—from society's proclivities to our intimate relationships. The event is from 7:30 to 10:30pm with Kristen's reading at 8:30pm. Wine and dessert is complimentary.
Third Thursday: Laura Balombini
at The Junction Bar + Restaurant
Third Thursday Opening Reception December 19, 2013, 6:00 pm
The Third Thursday reception will take place December 19th at 6:00 pm. Light food & complimentary wine are provided. Third Thursday is an ongoing series of openings and events along Depot Street.
The Junction is now booking holiday parties and will be open two Mondays through the Christmas and New Year's Eve—December 23rd & 30th. The Junction will be closed December 24-25, January 1-2. For more information or reservations, please call 828.225.3497.
Studio A celebrated its Grand Opening and pink ribbon cutting during the November Studio Stroll.
Studio A thanks Henco Reprographics for the banner and Mark Schieferstein of Skrapmonkey for the metal sign frame.
Holly de Saillan in TAPAS
(Teaching Artists Presenting in Asheville Schools)
at 5 Walnut Wine Bar
Opening Night December 5, 2013, 5:30 – 8:30pm
December 5, 2013 – January 2, 2014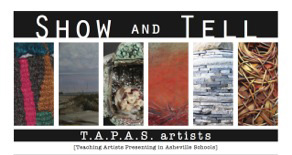 TAPAS (Teaching Artists Presenting in Asheville Schools) is a creative community program that embodies the artistic culture of Asheville by training and placing local artists in Asheville City Schools for residencies spanning 1-12 days. Despite the richness of our community, few of the students living in poverty have access to the arts that are the hallmark of Asheville. Currently 48% of the more than 4,000 children in Asheville City Schools live in poverty. In three years, the TAPAS program has provided more than 300 days of artists in residence in our schools, trained more than 42 highly-qualified artists, and impacted directly more than 3000 students.
A percentage of sales will benefit artist residencies.
Pink Dog and RAD in the Mountain Xpress
The Junction Restaurant and Bar:
A Winter Survivor
While some local restaurants choose to hibernate by limiting their hours or closing altogether, the Tribers are driven to meet their customers' expectations. As Charles says, "Sometimes it's harder to stay here through winter than to just shut your doors and wait for the season to change. But we can't do that to our guests. We really owe it to them to be here."
Read the full article at mountainx.com.
The Evolution of Depot Street and RAD
The district a decade ago looked pretty different — even two years ago. Depot Street, once dilapidated territory, now shines at night. Pink Dog Creative at 342-348 Depot St. turned an old Nabisco plant into artist studios, an arts supply store, a gallery (the Artery), the Asheville Area Arts Council's offices and a restaurant (The Junction). Next door, nonprofit development organization Mountain Housing Opportunities built the Glen Rock Depot, a mixed-use complex that includes street-level businesses, such as The Magnetic Field bar and theater.
Read the full article at mountainx.com.
Collect ART Asheville
Pink Dog Creative is participating in "Collect ART Asheville" with open studios every second Saturday of the month. Come visit the open studios at Pink Dog Creative and see work by great artists in the River Arts District.
Read more about Second Saturday open houses:
More from riverartsdistrict.com
More from ashevillerad.com