Randy Shull and Hedy Fischer are creating a colorful sensation on Depot Street in Asheville's River Arts District. The former textile manufacturing and warehouse building at 342-348 Depot Street has been transformed into an exciting mix of artist studios and retail spaces.
Pink Dog Creative shares the neighborhood with local favorites, such as Wedge Brewery, Clingman Cafe, 12 Bones and many local artist studios. Randy has already established his studio in the building and shares it with 15 other artists, galleries, The Junction Restaurant and Bar, and Fresh Wood Fired Pizza.
Open Hours: Artists work odd hours but we promise to have our studios open for the public on Fridays and Saturdays from 10-4.
Ongoing Exhibitions & Artist News
Check out our May newsletter for news from our studios and ongoing artist exhibitions!
Spring Studio Stroll Mother's Day Weekend!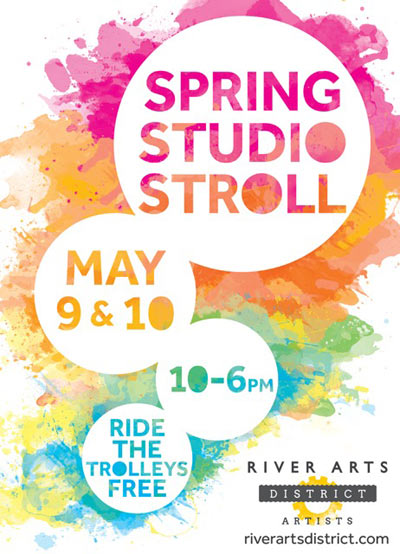 Asheville's River Arts District Artists will open their doors May 9 – 10 for the annual Spring Studio Stroll and Art Sale, welcoming the public to see and collect amazing art in our studios and galleries.
Pink Dog Creative's 25 artists will welcome you into their studios and galleries at 342-348 Depot St. You can discover works in paint, pencil, pottery, metal, encaustic, paper, wood and more. There is no better time to meet our artists and watch live demonstrations!
Take advantage of the ample parking across from Pink Dog and along Depot St. and hop aboard one of our free trolleys running throughout the Studio Stroll Weekend.
Spring Stroll poster designed by Pink Dog Creative's own Andrea Kulish of Studio A.
Visit River Arts District Artists online.
David Holt
at Pink Dog Creative
May 9, 1:00 pm
344 Depot Street, Suite 101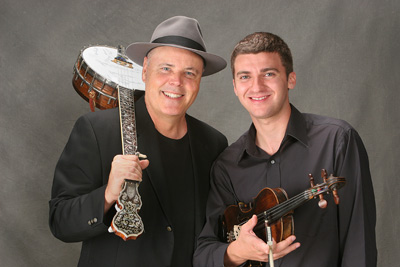 As a special treat, Grammy Award winning musician David Holt will be playing music with Josh Goforth and friends in his studio, 344 Depot St., Suite 101, on May 9 beginning at 1:00 pm.
Steven Silverleaf
at Pink Dog Gallery
May 8 – June 15, 2015
Opening Reception Friday, May 8, 5 – 7:00 pm
Figurative Work by Steven Silverleaf, an exhibit of paintings and drawings, will open at the Pink Dog Creative Gallery, 348 Depot St., on May 8, 2015 and run through June 15, 2015. There will be a reception for the artist held on May 8 from 5 – 7:00 pm open to the public. The artist will also be on hand for both days of the River Arts District's Studio Stroll, Saturday, May 9 and Sunday, May 10.
Steven Silverleaf has worked with models and sitting figures for over fifteen years, but creates most of his work from his imagination in the absence of the model. He uses a variety of mediums to create a relaxed and introspective mood. The work shows a love of both the tradition of drawing and painting in combination. The artist explores a very distinctive line and color that is all his own.
Cleaster Cotton
across from Pink Dog Creative
Asheville artist, Cleaster Cotton, has adorned the 20 x 40' containers across the street from Pink dog Creative with the bright, expressive, shocking green-haired Cover-Up Girl (Sister of the Nubian Diaspora).
Read about Cover-Up Girl at The Urban News.
See more images at the Asheville Citizen-Times.
Stephanie Grimes
at The Bennington Center for the Arts
June 5 – August 2, 2015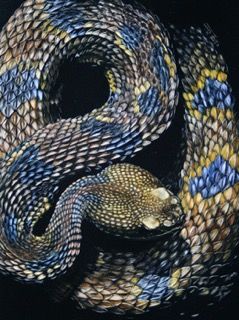 Inspiration for Basket Weavers was accepted into ART OF THE ANIMAL KINGDOM XX, an invitational, international show located in Bennington, Vermont at The Bennington Center for the Arts. The show will run from Friday, June 5, 2015 10:00 am until Sunday, August 2, 2015 5:00 pm.
Pat Phillips
in the Laurel of Asheville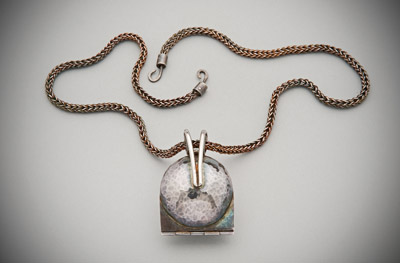 Pat will be the featured artist in the May issue of The Laurel of Asheville magazine.
Visit The Laurel of Asheville online.
Lynn Bregman Blass
at The Junction
Opening Reception Thursday, May 21, 6 – 8:00 pm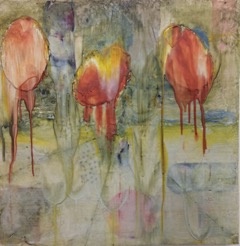 Lynn will have an exhibit opening at The Junction, 348 Depot St., May 21 through June 15, 2015. The opening reception will be May 21 from 6 – 8:00 pm.
www.lynnbregmanblass.com
www.visualhistorycolllaborative.com
Fresh Wood Fired Oven Pizza
at 342 Depot St.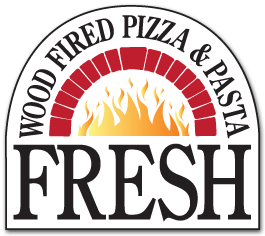 Fresh Wood Fired Oven Pizza opens April 29, 2015 at 342 Depot St. Come try the pizza, pasta, salads, and sandwiches at Fresh.
Closed Tuesdays
Open 11 am – 9:00 pm Monday, Wednesday, Thursday
Open 11 am – 10:00 pm Friday – Saturday
Open 12 – 9:00 pm Sunday
Reiko Miyagi
in WNC Magazine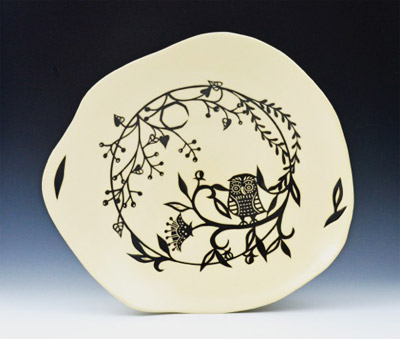 Reiko Miyagi will be featured in the May/June issue of WNC Magazine.
Reiko will also be participating in the Artisphere show in Greenville, SC, May 8 – 10, 2015.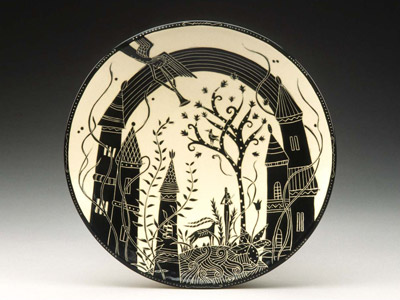 Holly de Saillan
at YMI DiverseWorks
April 28 – May 15, 2015
Opening Reception Friday, May 1, 5 – 8:00 pm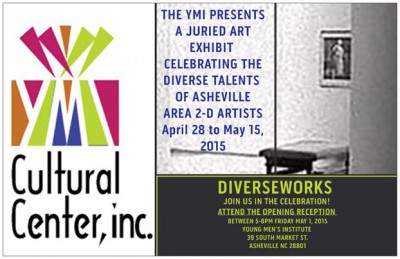 Please join the Young Men's Institute for an opening reception on May 1 that celebrates the talents of local artists featured in the first YMI DiverseWorks exhibit. It promises be a vibrant show. Holly de Saillan of Pink Dog Creative has entered new work into the show.
Andrea Kulish
at Articulture Art + Farm Tour
Sunday, May 31, 2015, 1 – 5:00 pm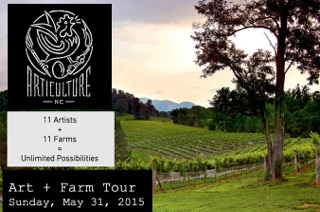 Articulture is proud to present their first annual Art + Farm Tour, Sunday, May 31, 2015 from 1 – 5:00 pm. Well-known local artists will be paired with area farms for a day of workshops, exhibitions and family fun.
The farms will open their doors to the public, and passholders will be able to tour the farms and view special exhibitions of the artists' works. Many of the farms will have goodies available for sale, so remember to bring your coolers!
Andrea Kulish of Studio A at Pink Dog Creative brings her Ukrainian pysanky eggs to Adelbert farms. The colorful eggs will mirror the blooms and vegetables of the gardens while the chickens wandering around will remind you of their role in the creative process. Andrea will give a workshop in the morning and an egg painting station will be available during the tour. A great stop for both children and adults.
Read more about the Articulture Tour.
Hoots Flea – Qualified Quirkiness
at 342 Depot Street
June 6, July 11, August 15, and September 26, 11 am – 4:00 pm

Hoots Flea is a mélange of food trucks, beer garden, live auction, music, raffle, and more. You can sell, browse, buy, or just show up and have fun. Visit their website for a schedule of events, or to apply as a vendor.
The Junction Bar + Restaurant presents:
Beer Dinner featuring Green Man Brewing
Wednesday, March 13, 2015, 7:00 pm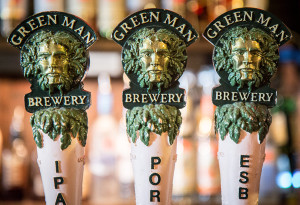 Now taking reservations for our Spring Beer Dinner with Green Man Brewing. The event will take place on Wednesday, May 13. Chef David and his team will prepare a 5-course meal specifically paired to 5 hand-selected Green Man Beers.
$55/person (not including tax & gratuity)
6:30 pm social, 7 pm first course served
Reservations required. Seating is limited.
828.225.3497
The Paintbox – You Never Know What's In Store!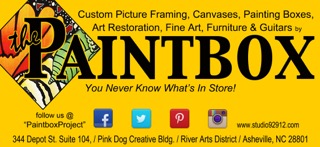 The Paintbox Jam
Tuesday, May 12, 6:00 pm
Opening our hearts and doors to fill the air with music. Bring your favorite musical instrument and jump in to the jam.
When: Tuesday, May 12, Starts @ 6:00pm and goes till we get blisters!
Where: The Paintbox, 344 Depot St. Suite 104, Pink Dog Creative Bldg. Asheville
Bring: Your Drink, (a snack to share is greatly appreciated)
We Provide: a snack, water, and a comfy place to hang out.
The Paintbox Presents The Sunday Sessions with Brad Hodge
Get ready because we're building a stage, turning up the mic, and putting in a soundboard! Every other Sunday at The Paintbox, there will be music in the afternoons during the summer.
Beginning Sunday, May 10, The Paintbox will bring music to the Studio Stroll, as early as we can get our bands to show up! Visit with us till the evening to enjoy the groove.
Then again on Sunday, May 24, we'll be open from 2 – 6:00 pm, with even more bands & music to fill the air.
We're partnering with Brad Hodge and various local food and beverage owners to make The Paintbox and Pink Dog Creative the place to be on a Sunday afternoon. Brad will bring his own style of playing to our new stage, and will engage other musicians and acoustic groups to come play at our studio. Brad hails from Michigan, and has a list of fabulous musical credentials.
New at The Paintbox
Vintage and fun guitars and drums to play, decorate with, or invest in. Come see what's new. Mark is also handcrafting and painting his own artistic guitars.
New beaded light and fan pulls by local artist Dee Smith, give a lot of class and style to the plain chains. Beautiful as a Mother's Day gift!
The Paintbox Framing Corner
We are now offering Picture Framing and Art Restoration. Please pass it on and consider us for your picture framing, building your painting boxes, canvas stretching, metal leafing, and repair of your frames, paintings and sculptures.
River Arts District artists and business owners receive a wonderful Friend & Family discount. Ask about our reclaimed frames for an even greater deal!
Hours at The Paintbox
Tuesday – Saturday, 11 am – 6:00 pm
Sunday and Monday by appointment
Julia & Mark Goldthwaite
407-620-1871 & 407-616-4917
Pink Dog and RAD in the Mountain Xpress
The Junction Restaurant and Bar:
A Winter Survivor
While some local restaurants choose to hibernate by limiting their hours or closing altogether, the Tribers are driven to meet their customers' expectations. As Charles says, "Sometimes it's harder to stay here through winter than to just shut your doors and wait for the season to change. But we can't do that to our guests. We really owe it to them to be here."
Read the full article at mountainx.com.
The Evolution of Depot Street and RAD
The district a decade ago looked pretty different — even two years ago. Depot Street, once dilapidated territory, now shines at night. Pink Dog Creative at 342-348 Depot St. turned an old Nabisco plant into artist studios, an arts supply store, a gallery (the Artery), the Asheville Area Arts Council's offices and a restaurant (The Junction). Next door, nonprofit development organization Mountain Housing Opportunities built the Glen Rock Depot, a mixed-use complex that includes street-level businesses, such as The Magnetic Field bar and theater.
Read the full article at mountainx.com.
Collect ART Asheville
Pink Dog Creative is participating in "Collect ART Asheville" with open studios every second Saturday of the month. Come visit the open studios at Pink Dog Creative and see work by great artists in the River Arts District.
Read more about Second Saturday open houses:
More from riverartsdistrict.com
More from ashevillerad.com