Randy Shull and Hedy Fischer are creating a colorful sensation on Depot Street in Asheville's River Arts District. The former textile manufacturing and warehouse building at 342-348 Depot Street has been transformed into an exciting mix of artist studios and retail spaces.
Pink Dog Creative shares the neighborhood with local favorites, such as Wedge Brewery, Clingman Cafe, 12 Bones and many local artist studios. Randy has already established his studio in the building and shares it with 15 other artists, galleries, The Junction Restaurant and Bar, the Asheville Area Arts Council, and Pizza Pura.
Open Hours: Artists work odd hours but we promise to have our studios open for the public on Fridays and Saturdays from 10-4.
Pizza Pura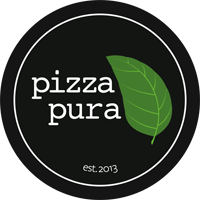 Pizza Pura opened to the public on Saturday, April 6!
Ben Mixson and Laura Reuss of White Duck Taco fame bring Neapolitan-style pizza and gelato to the River Arts District with a new restaurant, Pizza Pura. Instead of making decadent, cheesy meltdowns, Reuss creates scaled-down pies that showcase quality ingredients.
"I like the thin crust, the chewiness, the richness of the ingredients, kind of unspoiled, just add a little salt here and there or fresh herbs," she says. "It's really about the preparation."
Pizza Pura is located at 342 Depot Street in the Pink Dog Studios building, on the opposite end from The Junction Restaurant and Bar. Read more about Neapolitan pizza and Pizza Pura's mission at www.pizzapura.com.
Ongoing Exhibitions & Artist News
Check out our latest newsletter for news from our studios and ongoing artist exhibitions!
Read the August newsletter.
Tom Pazderka: Twenty Years of Progress
at Pink Dog Creative
Opening Reception Friday, August 1, 2014, 6-8 pm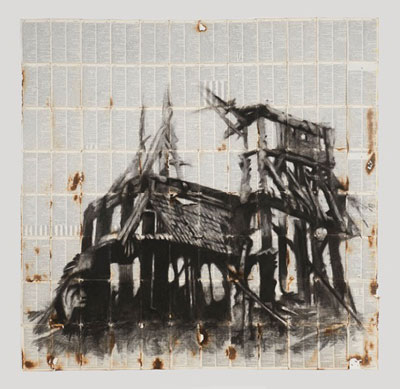 Artist Tom Pazderka's new exhibit is a burnt biography. Pink Dog Creative cordially invites you to the opening reception of Twenty Years of Progress, an exhibition of large scale drawings on burned book paper by Tom Pazderka. The exhibition will open at Pink Dog Creative, 348 Depot Street, Asheville, NC on Friday, August 1, 2014 with a public reception from 6-8 pm.
Visit www.tompazderka.com to see more work by Tom Pazderka.
Read more about Tom Pazderkas in the Asheville Citizen Times.
Reiko Miyagi
in Carolina Home + Garden Magazine
Congratulations to Reiko Miyagi. Reiko is the featured artist in the summer 2014 issue of Carolina Home + Garden magazine. Reiko was born and raised in Japan where ceramic culture has a long and rich history so she naturally developed the love for pottery.
Reiko relocated to the San Francisco bay area and in 1998 founded her Studio Tabula Rasa making pottery. Here she was exposed to new clay techniques, materials, shapes and styles. From these experiences she developed her signature black & white, sgraffito stoneware and her earth tone, subtly imaged glaze work pottery. Over the years she also explored an interest in jewelry making as well.
This interest led her to study metal fabrication and enameling technique to create her recent line of jewelry. In parallel she has explored using encaustic medium with found images to make collage. Although she is working in new media her art retains its organic feel, shapes and colors as well as her unique imagery.
Reiko is currently living in the Asheville and has a studio at Pink Dog Creative.
See more of Reiko's work at www.studiotabularasa.com.
Judy Levine: About Color
at Pink Dog Creative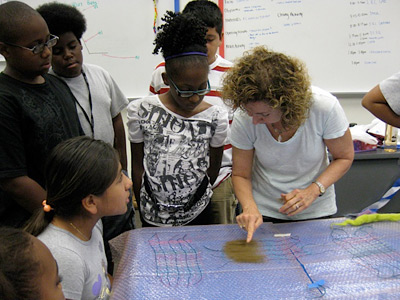 Judy does demos at Pink Dog Creative in the studio she shares with jeweler Pat Phillips and ceramicist, Reiko Miyagi every Saturday afternoon of either weaving, felting, beading or embroidery.
Asheville Running
at Pink Dog Creative
Asheville Running Company, a Specialty Running Store with a huge community focus, is opening in Pink Dog Creative, 346 Depot Street, mid-September. They plan to develop a group run program where on multiple evenings runs will start and end from the store for different fitness levels.
Asheville Running will also offer various fitness classes, such as yoga and Pilates.
Running and fitness apparel as well as great running/trail shoes, sunglasses, watches, socks and many other fitness products will be available.
The store is locally owned by Dan and Judi Foy and will be managed by local two-time Olympic Marathon Trials qualifier, Randy Ashley.
Read more in the Asheville Citizen Times.
Asheville Area Arts Council:
The Asheville Area Arts Council (AAAC) is moving locations, from 346 Depot St. in the River Arts District to the downtown Grove Arcade suite 144 and 143A, in order to expand its exhibitions and launch new programs. Opening in August 2014, the AAAC will continue to host Point of View: Artists Curate Artists gallery exhibitions, as well as expand resources for artists by developing the Artist Resource Center (ARC). Pink Dog Creative is happy to have been a part of the revival of the AAAC and we wish them all the best in their new location.
The Junction Bar + Restaurant presents:
Third Thursday: Suzanne Gernandt
at The Junction Bar + Restaurant
Opening Reception Thursday, August 21, 6:00 pm
Suzanne Gernandt is The Junction's featured artist for August. A reception will take place on Third Thursday, August 21 at 6 p.m.
The Junction Bar + Restaurant
at Welcome Table, Haywood Street Congregation
August 27
The Junction is partnering with King James Public House to cook for Welcome Table at the Haywood Street Congregation on August 27th. Welcome Table provides weekly, family style sit down meals for the homeless and underprivileged every Wednesday. They typically seat four groups of people and feed as many as 400 in one day! It's a multi-course meal, served on china, with tablecloths and cloth napkins. Everyone is welcome & volunteers serve the food.
About once a month, chefs from local restaurants volunteer to cook the meal. Over the next month, we'll be taking donations at the restaurant to offset the food costs. Donations of any amount are welcome and appreciated! All money directly supports the meal and goes to Haywood Street Congregation.
Karen Keil Brown's current collection of works can be viewed at:
Agora Gallery
530 W 25st (Chelsea), NYC, NY
Art-Mine.com
Shuptrine Fine Art Gallery and Gold Leaf Designs
2646 Broad St., Chattanooga, TN 37408
Shuptrines.com
Asheville Gallery of Art
16 College St., Asheville, NC
ashevillegallery-of-art.com
Pink Dog and RAD in the Mountain Xpress
The Junction Restaurant and Bar:
A Winter Survivor
While some local restaurants choose to hibernate by limiting their hours or closing altogether, the Tribers are driven to meet their customers' expectations. As Charles says, "Sometimes it's harder to stay here through winter than to just shut your doors and wait for the season to change. But we can't do that to our guests. We really owe it to them to be here."
Read the full article at mountainx.com.
The Evolution of Depot Street and RAD
The district a decade ago looked pretty different — even two years ago. Depot Street, once dilapidated territory, now shines at night. Pink Dog Creative at 342-348 Depot St. turned an old Nabisco plant into artist studios, an arts supply store, a gallery (the Artery), the Asheville Area Arts Council's offices and a restaurant (The Junction). Next door, nonprofit development organization Mountain Housing Opportunities built the Glen Rock Depot, a mixed-use complex that includes street-level businesses, such as The Magnetic Field bar and theater.
Read the full article at mountainx.com.
Collect ART Asheville
Pink Dog Creative is participating in "Collect ART Asheville" with open studios every second Saturday of the month. Come visit the open studios at Pink Dog Creative and see work by great artists in the River Arts District.
Read more about Second Saturday open houses:
More from riverartsdistrict.com
More from ashevillerad.com