Randy Shull and Hedy Fischer are creating a colorful sensation on Depot Street in Asheville's River Arts District. The former textile manufacturing and warehouse building at 342-348 Depot Street has been transformed into an exciting mix of artist studios and retail spaces.
Pink Dog Creative shares the neighborhood with local favorites, such as Wedge Brewery, Clingman Cafe, 12 Bones and many local artist studios. Randy has already established his studio in the building and shares it with 15 other artists, galleries, The Junction Restaurant and Bar, and Fresh Wood Fired Pizza.
Open Hours: Artists work odd hours but we promise to have our studios open for the public on Fridays and Saturdays from 10-4.
Ongoing Exhibitions & Artist News
Check out our April newsletter for news from our studios and ongoing artist exhibitions!
Fresh Wood Fired Pizza
at 342 Depot St.
Opens Mid-April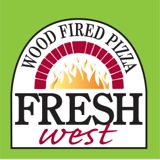 Pink Dog welcomes our new restaurant, Fresh Wood Fired Pizza. Enjoy their wood-fired pizzas prepared using centuries-old traditions from Naples, Italy along with their starters, soups, salads and sandwiches all made with the freshest local ingredients and served with a contemporary gourmet flair. Fresh will be open beginning mid-April for lunch and dinner. 342 Depot St.
Hours
Monday, Wednesday, Thursday: 11am – 9pm
Friday, Saturday: 11am – 10pm
Sunday: 12pm – 9pm
Tuesdays: Closed
Randy Shull
at The Black Mountain College Museum + Arts Center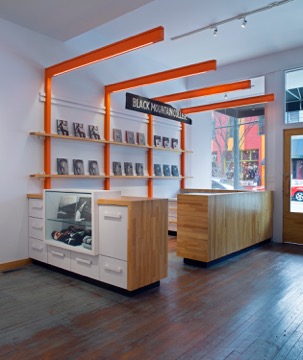 Randy Shull recently led the project design for The Black Mountain College Museum + Arts Center (BMCM+AC) renovation and expansion in downtown Asheville, and the project has been featured in the New York Times.
"Both spaces were built and designed by an Asheville-based artist, Randy Shull, who drew inspiration from Black Mountain's Modernist utilitarian aesthetic, maintaining the old scuffed, paint-stained floors; creating shelves and bookcases from double layers of plywood; and using repurposed Southern yellow pine as a unifying trim."
Read more online at the New York Times.
Dyann Myers
at Pink Dog Creative
344 Depot Street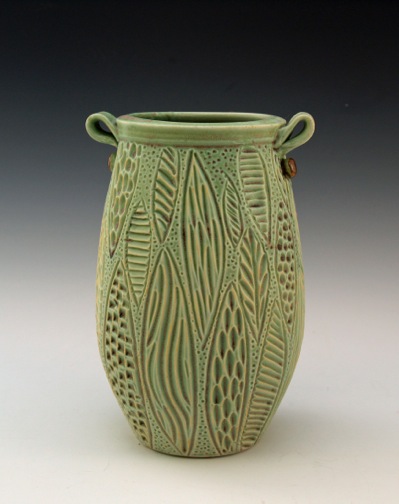 Pink Dog Creative welcomes Dyann Myers. You can find her wheel-thrown, high-fire porcelain, glaze fired in a reduction pottery in Studio A, 344 Depot Street.
See more of Dyan's work at www.dyannmyers.com.
Reiko Miyagi
Quiet Inspiration: Japanese Influence on North Carolina Potters
at The North Carolina Pottery Center
February 7 – May 16, 2015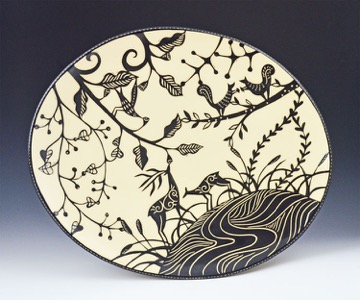 Reiko Miyagi's work is featured in Quiet Inspiration: Japanese Influence on North Carolina Potters at the NC Pottery Center in Seagrove, NC through May 16.
Read more about the exhibition online at The North Carolina Pottery Center.
Andrea Kulish & Studio A
Pysanky Workshops
at Studio A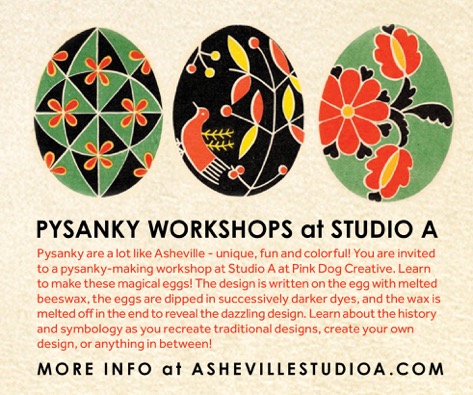 Pysanky workshops continue in April at Studio A! Pysanky are a lot like Asheville- unique, fun and colorful! During the workshops, you'll learn to make beautiful Ukrainian Easter eggs—pysanky—with Andrea Kulish. Andrea is an artist, craftsperson, photographer and graphic design professional. She's a first-generation Ukrainian-American and has been making pysanky since she was five years old. She's been teaching pysanky to people of all ages for the past several years, in both the Boston, MA & New Hampshire and now Asheville, NC.
For more information, please visit the Studio A website.
The Paintbox – You Never Know What's In Store!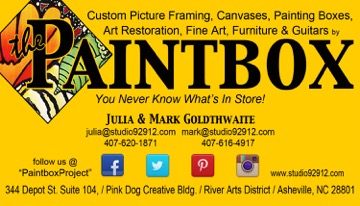 The Paintbox Framing Corner
We are now offering Picture Framing and Art Restoration. Please pass it on and consider us for your picture framing, building your painting boxes, canvas stretching, metal leafing, and repair of your frames, paintings and sculptures.
River Arts District artists and business owners receive a wonderful discount. Ask about our reclaimed frames for an even greater deal!
The Paintbox Jam
Tuesday, April 14, 6:00 pm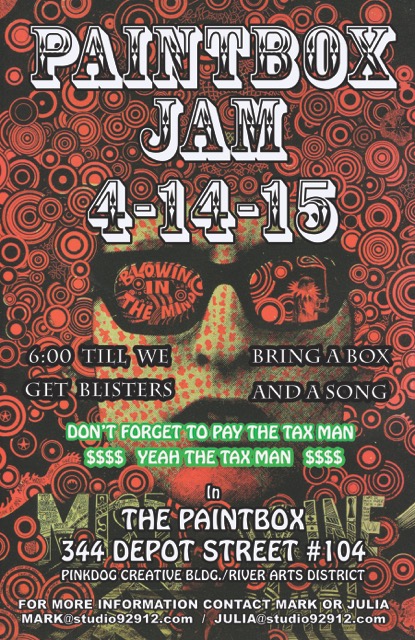 Opening our hearts and doors to fill the air with music. Bring your favorite musical instrument and jump in to the jam.
When: Tuesday, April 14th, Starts @ 6:00pm and goes till we get blisters!
Where: The Paintbox, 344 Depot St. Suite 104, Pink Dog Creative, Asheville
Bring: Your Drink, (snacks to share are greatly appreciated)
We Provide: a snack, water, and a comfy place to hang out. And don't forget to pay the Tax Man…Yeah…The Tax Man…
New at The Paintbox
Vintage and fun guitars and drums to play, decorate with, or invest in. Come see what's new. Mark is also handcrafting and painting his own artistic guitars.
The Paintbox Presents: The Sunday Sessions with Brad Hodge
Get ready because we're building a stage, turning up the mic, and putting in a soundboard! Beginning May 3rd, every other weekend throughout the summer, The Paintbox will be open Sunday afternoons from 2 – 6 with even more music to fill the air.
We look forward to partnering with Brad Hodge and various local food and beverage owners, to make The Paintbox and Pink Dog Creative Building, the place to be on a Sunday afternoon.
Brad will bring his own style of playing to our new stage, and will engage other musicians and acoustic groups to come play at our studio. Brad hails from Michigan, and has a list of fabulous musical credentials. Stay tuned for more info on our new gig!
Hours at The Paintbox
Tuesday – Saturday, 11am – 6pm
Sunday and Monday by appointment
Julia & Mark Goldthwaite
407-620-1871 & 407-616-4917
Pink Dog and RAD in the Mountain Xpress
The Junction Restaurant and Bar:
A Winter Survivor
While some local restaurants choose to hibernate by limiting their hours or closing altogether, the Tribers are driven to meet their customers' expectations. As Charles says, "Sometimes it's harder to stay here through winter than to just shut your doors and wait for the season to change. But we can't do that to our guests. We really owe it to them to be here."
Read the full article at mountainx.com.
The Evolution of Depot Street and RAD
The district a decade ago looked pretty different — even two years ago. Depot Street, once dilapidated territory, now shines at night. Pink Dog Creative at 342-348 Depot St. turned an old Nabisco plant into artist studios, an arts supply store, a gallery (the Artery), the Asheville Area Arts Council's offices and a restaurant (The Junction). Next door, nonprofit development organization Mountain Housing Opportunities built the Glen Rock Depot, a mixed-use complex that includes street-level businesses, such as The Magnetic Field bar and theater.
Read the full article at mountainx.com.
Collect ART Asheville
Pink Dog Creative is participating in "Collect ART Asheville" with open studios every second Saturday of the month. Come visit the open studios at Pink Dog Creative and see work by great artists in the River Arts District.
Read more about Second Saturday open houses:
More from riverartsdistrict.com
More from ashevillerad.com