Randy Shull and Hedy Fischer are creating a colorful sensation on Depot Street in Asheville's River Arts District. The former textile manufacturing and warehouse building at 342-348 Depot Street has been transformed into an exciting mix of artist studios and retail spaces.
Pink Dog Creative shares the neighborhood with local favorites, such as Wedge Brewery, Clingman Cafe, 12 Bones and many local artist studios. Pink Dog has 25 artists working in their studios, Asheville Running Company, The Junction Restaurant and Bar and Fresh West Wood Fired Pizza.
Open Hours: Artists work odd hours but we promise to have our studios open for the public on Fridays and Saturdays from 10-4.
We're thrilled that Pink Dog Creative was chosen to represent Asheville in this stunning short film.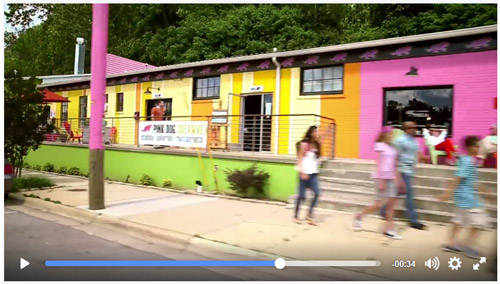 Asheville's David Holt chosen for NC Music Hall of Fame
Asheville musician and storyteller David Holt will join the North Carolina Music Hall of Fame later this year.
He was selected for the annual honor along with seven other musicians and groups from around the state: The Avett Brothers, Band of Oz, Chuck Brown, Rhiannon Giddens & The Carolina Chocolate Drops, Percy Heath, Kellie Pickler and Ron Tyson.
Holt will officially become a member of the hall of fame at a red carpet induction ceremony Oct. 20 in Kannapolis, the site of the North Carolina Music Hall of Fame Museum.
"It was really a wonderful surprise, especially since last year Warren Haynes was inducted and this year, The Avett Brothers and Rhiannon Giddens," Holt said. "Those are all good friends of mine, and I'm honored to be in that company."
Holt is no stranger to accolades. He has won four Grammy Awards for music and storytelling. He hosts the TV shows "Folkways," "David Holt's State of Music" and "Great Scenic Railway Journeys," which air on PBS.
He is author or co-author of several books, including "Spiders in the Hairdo: Modern Urban Legends."
To learn more about the North Carolina Music Hall of Fame or to buy tickets for the induction ceremony, visit northcarolinamusichalloffame.org.
— Emily Patrick
Read this article on the Asheville Citizen-Times.
Ongoing Exhibitions & Artist News
Check out our May newsletter for news from our studios and ongoing artist exhibitions!
Spring Studio Stroll
in the River Arts District
May 21-22, 2016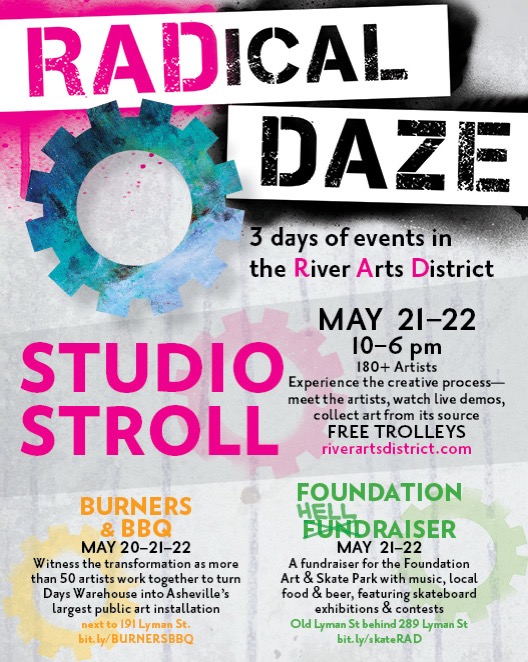 The annual spring Studio Stroll will be held this year the weekend of May 21-22 throughout the River Arts District. In addition, Asheville's largest mural project called Burners & BBQ is taking place on Lyman St. and an outdoor fundraising event is being held behind Riverview Station. It's really going to be RADical this year!
Pink Dog Creative would like to welcome their newest artist:
EJ Kellerman
EJ says about her work, "My paintings are mostly colorful and expressive landscapes. The environment around me is a vehicle to explore hue and texture in my work. Using acrylic medium with palette knife and brush I make impasto marks on canvas. The process of experimentation and refinement is thrilling to me, thus I like to explore the properties of materials. I have worked with gel transfers, vintage paper, foil, stencils and found objects. It is important to me to push my boundaries and continue to grow while at the same time making work that connects with the audience."
Contact Information
ejkellerman77@gmail.com
St. Claire Art
at Pink Dog Creative & Woolworth Walk
Several commissions are underway, including one of the largest (and most complex) pieces Stephen's ever been asked to do: a school of tropical fish swimming in and around giant kelp. For progress photos and video, check his website: www.stclaireart.com/news
He's also busy with new abstract paintings (including Regatta — 36 x 36″) and a large set of smaller/medium sized landscape pieces ready for the summer season.
If you're in downtown Asheville at Woolworth Walk, check out his new booth right in front on the street level. This was a huge, huge honor to be asked "to consider" this space (which they considered about about 1.5 seconds). It's awesome. More and more traffic is wandering down Depot Street these days — make sure you come in and check out all the new art!
Stephen St.Claire
828-505-3329
Review on TripAdvisor
www.stclaireart.com
Facebook
Twitter
Andrea Kulish/Studio A: Every Egg Has a Story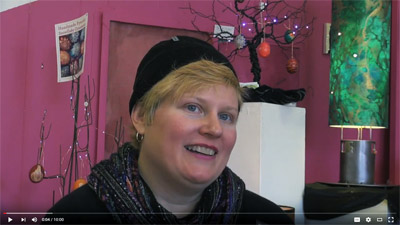 Every Egg Has a Story: Watch the new short documentary video about Andrea Kulish and her pysanky by journalist and filmmaker Kimberly Best of Durham, NC.
Watch the documentary on YouTube.
The Paintbox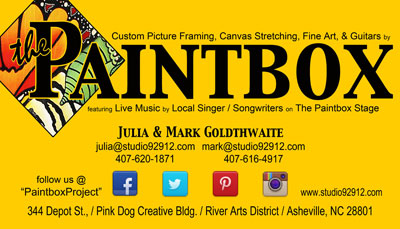 The Paintbox Framing Corner
Offering Archival Framing – (sample shown), canvas stretching, and all aspects of custom picture framing.
The Paintbox Stage for Music and Events
Catch "Will Ray and The Space Cooties" on Tuesday the 3rd, 17th, & 31st, in May. Look for the opening of "The Asheville Guitar Bar" in The Cotton Mill Studios, coming soon!
Hours at The Paintbox
Thursdays, 11:00 am – 5:00 pm
or by appointment
Stay connected at: /PaintboxProject on facebook, twitter, and instagram
Carol Bomer
Studio Stroll Specials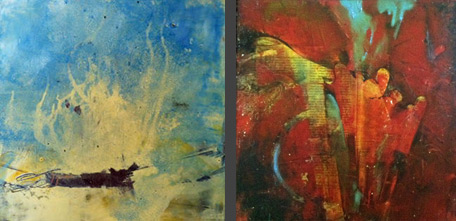 Grace C Bomer Oil and Wax Paintings are available May 21 during the Studio Stroll at Pink Dog Creative #101 — David Holt photographs and paintings too!
Carol is also teaching a workshop in May.
Visit her website for more information.
Joseph Pearson: Carrol Harris Sims National Black Art competition
at the African American Museum in Dallas, Texas
June 16 – November 12, 2016
The Guitar Lesson and Man at the Crossroads were accepted in the Carrol Harris Sims National Black Art competition sponsored and hosted by the African American Museum in Dallas, Texas. The exhibition will hang from June 16 – November 12, 2016.
STEVE MANN:
ORTHOGONAL CONVERGENCE — PHOTOGRAPHS, 1982 – 2016
at Pink Dog Creative
March 18 – May 22, 2016
Beginning in 1982, when he was 15 – and using a 4″ x 5″ film camera – Steve Mann has spent 34 years as a photographer, working not only as a classic documentarian but also as a visual artist attempting to peer through a seemingly obscuring cultural miasma in search of signs of human authenticity and personal singularity. In pursuit of these notions Mann has photographed in his home town of Asheville, NC, and in India, Africa, New Orleans, and more broadly, in the American South. Quickly adapting to technological changes, Mann was an early adoptor of digital capture technology and has employed its full range, from demanding high-end medium format sensors to the playful and spontaneous iPhone.
STEVE MANN: ORTHOGONAL CONVERGENCE — PHOTOGRAPHS, 1982 – 2016 is Mann's first solo exhibition in Asheville since 2004, and offers a broad overview of his photography. STEVE MANN: ORTHOGONAL CONVERGENCE was curated for Pink Dog Creative by Ralph Burns, and is being exhibited in conjunction with photo+craft.
Randy Shull: Another Better World
Curated by David J Brown
at The Bascom: A Center for the Visual Arts
March 19 – June 5, 2016
Panel Discussion Saturday, May 7, 5:00 – 7:00 pm
"Think of it. We are blessed with technology that would be indescribable to our forefathers. We have the wherewithal, the know-it-all to feed everybody, clothe everybody, and give every human on Earth a chance. We know now what we could never have known before — that we now have the option for all humanity to make it successfully on this planet in this lifetime. Whether it is to be Utopia or Oblivion will be a touch-and-go relay race right up to the final moment." — R Buckminster Fuller
Artists include: Patrick Jacobs (NY), Workingman Collective with Morgan Kennedy (DC and Milwaukee), Joyce Scott (MD), Carol Prusa (FL), John O'Connor (NY), Randy Shull (NC), Menno Aden (Berlin), Gonzalo Fuenmayor (FL and Columbia), Richie Johnson and Marconi Union (UK), Gideon Mendel (UK), and Ruth Dusseault (GA).
Ralph Burns: A Persistence of Vision — Photographs 1972 – 2013
at Blowing Rock Art & History Museum
March 5 – July 24, 2016
Artist Talk April 21, 6:00 pm
This exhibition was organized by the Asheville Art Museum and is guest curated by J. Richard Gruber, PhD, Director Emeritus Ogden Museum of Southern Art.
Ralph Burns has long been recognized as a documentary photographer whose images have captured the diverse and enigmatic nature of ritual and religion, and who has explored the subjective and often defining nature of belief, worship, and culture. Like his predecessors — such as Walker Evans, Diane Arbus, Mary Ellen Mark and Robert Frank — Burns uses his cameras to probe a constantly shifting human landscape and to document the public and private aspects of culture and religion in transition, often working at the unclear and overlapping intersection of both. Throughout his career, Burns has displayed a continuous and persistent interest in the motivations for worship and ritual while maintaining a compassionate and non-judgmental intimacy with his subjects. He has photographed both collective and individualized manifestations of what he sees as a seemingly irrepressible human need to ritualize loss, love, and death, and to formally externalize and codify hope and the desire for transcendence.
The photographs in A Persistence of Vision illuminate Burns's concerns and interactions: an Elvis fan seemingly keeping vigil over a blanket-covered, bed-ridden Elvis icon in Memphis; a penitent in Mexico carrying the statue of Our Lady of Guadalupe, strapped awkwardly to his back; a man staring hard into the distance while being prayed over for healing at a Marion apparition site in Georgia; a woman in agonized ecstasy struggling with being baptized in the Jordan River in Israel.
A native of Louisiana and a resident of Asheville since 1975, Burns has travelled great distances to photograph a specific event or religious festival. He has photographed in New Orleans, Asheville and Western North Carolina, the American South, Mexico, Cuba, Israel, England, Thailand, Nepal, Afghanistan, and Europe. Burns is recognized both nationally and internationally, exhibiting his photographs in museums worldwide. In her curator's statement for Heaven, a group exhibition that included a number of Burns's photographs and exhibited at Kunsthalle Düsseldorf in Germany and Tate Liverpool in England, the German/Israeli curator Doreet Levitte Hartten wrote: "(His) insights into the religious character … makes Burns's work, apart from their aesthetic qualities, into documents of anthropological significance."
10 Top U.S. Cities for Art Lovers: Asheville
Pink Dog Creative is the feature photo for a "Top 10″ article on AARP!
Read more at AARP Travel online.
Asheville, North Carolina is unlike anywhere else in the South
"[Asheville's] singular mix of worldliness and hominess gives it a character unique among cities below the Mason-Dixon line."
"A visit to the emerging River Arts District felt more my speed. A string of converted industrial buildings along the French Broad river, it's now home to working artists in spaces that New York creatives would give both arms for. It's impossible to categorize the talent here, but in just a few hours, I met abstract-animal painter Daniel McClendon (349 Depot St., danielmcclendon.com) and record producer-turned ceramicist Akira Satake (122 Riverside Dr., akirasatake.com), whose airy workshop houses his wife's exquisite pastry shop, Yuzu Patisserie (122 Riverside Dr, yuzubycynthia.com)."
Read more of this article at the NY Daily News.
Pink Dog and RAD in the Mountain Xpress
The Junction Restaurant and Bar:
A Winter Survivor
While some local restaurants choose to hibernate by limiting their hours or closing altogether, the Tribers are driven to meet their customers' expectations. As Charles says, "Sometimes it's harder to stay here through winter than to just shut your doors and wait for the season to change. But we can't do that to our guests. We really owe it to them to be here."
Read the full article at mountainx.com.
The Evolution of Depot Street and RAD
The district a decade ago looked pretty different — even two years ago. Depot Street, once dilapidated territory, now shines at night. Pink Dog Creative at 342-348 Depot St. turned an old Nabisco plant into artist studios, an arts supply store, a gallery (the Artery), the Asheville Area Arts Council's offices and a restaurant (The Junction). Next door, nonprofit development organization Mountain Housing Opportunities built the Glen Rock Depot, a mixed-use complex that includes street-level businesses, such as The Magnetic Field bar and theater.
Read the full article at mountainx.com.
Collect ART Asheville
Pink Dog Creative is participating in "Collect ART Asheville" with open studios every second Saturday of the month. Come visit the open studios at Pink Dog Creative and see work by great artists in the River Arts District.
Read more about Second Saturday open houses:
More from riverartsdistrict.com
More from ashevillerad.com