Randy Shull and Hedy Fischer are creating a colorful sensation on Depot Street in Asheville's River Arts District. The former textile manufacturing and warehouse building at 342-348 Depot Street has been transformed into an exciting mix of artist studios and retail spaces.
Pink Dog Creative shares the neighborhood with local favorites, such as Wedge Brewery, Clingman Cafe, 12 Bones and many local artist studios. Randy has already established his studio in the building and shares it with 15 other artists, galleries, The Junction Restaurant and Bar, and Pizza Pura.
Open Hours: Artists work odd hours but we promise to have our studios open for the public on Fridays and Saturdays from 10-4.
Ongoing Exhibitions & Artist News
Check out our February newsletter for news from our studios and ongoing artist exhibitions!
Randy Shull
at The Black Mountain College Museum + Arts Center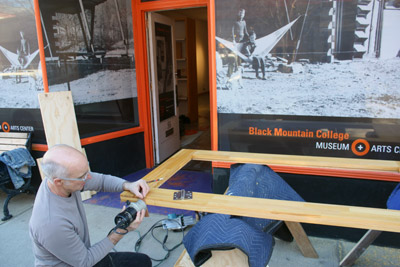 Randy Shull led the project design for The Black Mountain College Museum + Arts Center (BMCM+AC) renovation and expansion in downtown Asheville. Shull reinvigorated the space through simple and functional design details. He envisioned the design in three zones: The welcome, entry area; the gallery space and the library. The new entry area was inspired by the Black Mountain College Pot Shop. The building featured beam elements similar to the bright orange features above the desk. The redesign is the first phase of a larger expansion for the organization. The Black Mountain College Museum + Arts Center will more than double its physical presence in downtown Asheville with an expansion in the nearby The Center for Craft Creativity and Design (CCCD). Stop in to the Black Mountain College Museum at 56 Broadway in downtown Asheville to see the newly designed space.
Read more at the Asheville Citizen-Times.
The Black Mountain College Museum + Arts Center officially reopens on Friday, January 30, (following a monthlong closure and a complete gallery overhaul) with a reception for its newest exhibition, Poemumbles: 30 years of Susan Weil's poems/images. The opening marks the completion of the first in a series of major renovations and program initiatives made possible through a grant from the Windgate Charitable Foundation.
Read more at the Mountain Xpress.
Patti Anastasi
at Ananda West
February 7 – March 30, 2015
Opening reception Saturday, February 7, 7:00 – 9:00 pm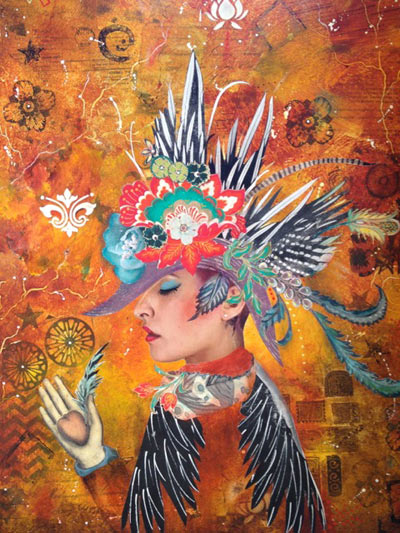 Patti Anastasi will be having a show at Ananda West, in the Wedge on Paynes Way in Asheville's River Arts District from February 7 until March 30. The opening reception is Saturday, February 7 from 7:00 to 9:00 pm.
David Holt: Three Davids Concert
at Diana Wortham Theater
February 21, 8:00 pm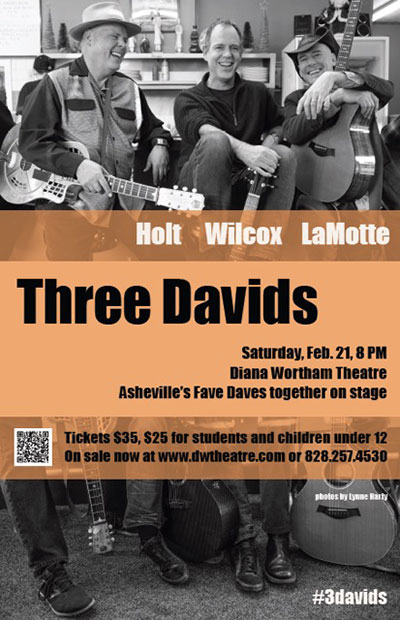 David Holt will play a special concert with David Wilcox and David LaMotte as Three Davids, some of Asheville's favorite songwriters. The Three Davids Concert will be Saturday, February 21 at Diana Wortham Theater, 8:00 pm.
Read more of David Holt's State of Music at the Asheville Citizen-Times.
Visit davidholt.com for more information about David Holt.
The Junction Bar + Restaurant presents:
Third Thursday: Sheri Howe, Natura Perfectus
at The Junction Bar + Restaurant
Opening Reception Thursday, February 19, 5:30 – 8:00 pm
February's Third Thursday artist is Sheri Howe, opening her exhibit Natura Perfectus on Thursday, February 19, 2015 from 5:30 – 8:00 pm.
"I have hardly known a moment of life without the desire to create something…anything, and I seek to satiate that impulse every day. As an artist I am drawn to the story of things, the layers of exquisite depth and details of people, nature…life. I have little interest in static interpretations of the world, neither as artist nor observer, but rather, I find myself called into to the mystery and magic of the world and the deeper story of all things within it. Visual representations of my (and our) connection and relationship to these stories are my art form, and reflect a moment of contemplation, an offering and a prayer," says Howe.
sherihowe.com
facebook.com/SheriHoweGallery
The Paintbox presents: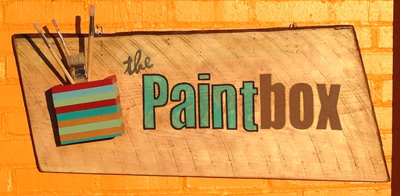 The Paintbox Framing Corner
We are now offering Picture Framing and Art Restoration. Please pass it on and consider us for your picture framing, building your painting boxes, canvas stretching, metal leafing, and repair of your frames, paintings and sculptures.
River Arts District artists and business owners receive a wonderful discount.
The Paintbox Jam
at The Paintbox
Tuesday, February 10, 6:00 pm
Grab your guitar, fiddle, harmonica, bass, drum…any instrument that inspires you, and come hang out at our studio for this casual get-together. Even if you don't play, we welcome you to share the evening with us listening to some great music. I can almost guarantee you'll want to join in and sing along with at least one tune!!
When: Tuesday, February 10, 6:00 pm till we get blisters!
Where: The Paintbox, 344 Depot St. Suite 104, Pink Dog Creative, Asheville
Bring: A Drink (and a snack to share if you like)
We Provide: snacks, water, and a comfy place to hang out.
New Items at The Paintbox
Vintage and fun guitars and drums to play, decorate with, or invest in. Come see what's new. Mark is also handcrafting and painting his own artistic guitars.
Hours at The Paintbox
Tuesday – Saturday, 11am – 6pm
Sunday and Monday by appointment
You Never Know What's In Store!
— Julia & Mark Goldthwaite
Pink Dog and RAD in the Mountain Xpress
The Junction Restaurant and Bar:
A Winter Survivor
While some local restaurants choose to hibernate by limiting their hours or closing altogether, the Tribers are driven to meet their customers' expectations. As Charles says, "Sometimes it's harder to stay here through winter than to just shut your doors and wait for the season to change. But we can't do that to our guests. We really owe it to them to be here."
Read the full article at mountainx.com.
The Evolution of Depot Street and RAD
The district a decade ago looked pretty different — even two years ago. Depot Street, once dilapidated territory, now shines at night. Pink Dog Creative at 342-348 Depot St. turned an old Nabisco plant into artist studios, an arts supply store, a gallery (the Artery), the Asheville Area Arts Council's offices and a restaurant (The Junction). Next door, nonprofit development organization Mountain Housing Opportunities built the Glen Rock Depot, a mixed-use complex that includes street-level businesses, such as The Magnetic Field bar and theater.
Read the full article at mountainx.com.
Collect ART Asheville
Pink Dog Creative is participating in "Collect ART Asheville" with open studios every second Saturday of the month. Come visit the open studios at Pink Dog Creative and see work by great artists in the River Arts District.
Read more about Second Saturday open houses:
More from riverartsdistrict.com
More from ashevillerad.com