Randy Shull and Hedy Fischer are creating a colorful sensation on Depot Street in Asheville's River Arts District. The former textile manufacturing and warehouse building at 342-348 Depot Street has been transformed into an exciting mix of artist studios and retail spaces.
Pink Dog Creative shares the neighborhood with local favorites, such as Wedge Brewery, Clingman Cafe, 12 Bones and many local artist studios. Pink Dog has 25 artists working in their studios, Asheville Running Company, The Junction Restaurant and Bar and Fresh West Wood Fired Pizza.
Open Hours: Artists work odd hours but we promise to have our studios open for the public on Fridays and Saturdays from 10-4.
We're thrilled that Pink Dog Creative was chosen to represent Asheville in this stunning short film.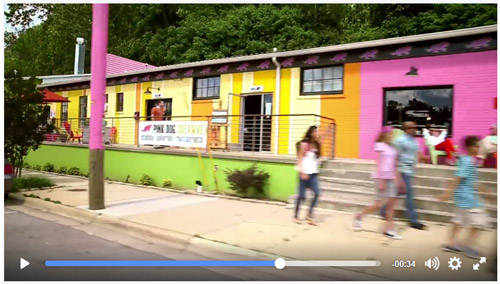 Wide Open

, Randy Shull's Architecture + Design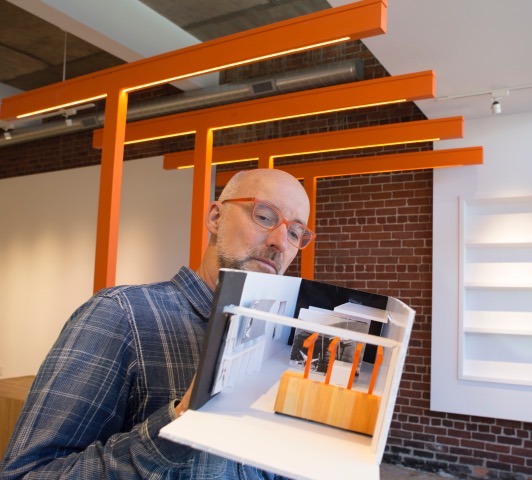 Opening July 1, 2016, 5 pm – 9 pm
at Black Mountain College Museum + Arts Center
69 Broadway, Asheville, NC 28801
Curated by J. Richard Gruber, this exhibition documents internationally recognized artist, designer and builder Randy Shull's creative process in the planning, design and construction of two contemporary art museum and research environments for the Black Mountain College Museum + Arts Center in downtown Asheville, NC. Built in two phases, Phase One (2014-15) focused on the renovation and conversion of the museum's original 56 Broadway site into a new three-zoned environment featuring a public entry and retail sales area with an adjoining Black Mountain College (BMC) orientation center, an expanded and updated BMC exhibition gallery, and a new BMC library, research and study center. Phase Two (2015-16) is a new exhibition, performance, program and office environment designed for a converted historic property at 69 Broadway where expanded contemporary exhibitions and programs will be presented in a flexible, multi-functional public space. The exhibition will consider the distinctive architectural design of each site, as well as the hand-made furniture, counters, desks, cabinets, and display systems by Randy Shull Design, built using vernacular and available regional materials, and inspired by the design aesthetic and creative philosophies of Black Mountain College.
Show review: Perceptions — The Black Male, Images of Dignity
in the Mountain Xpress
"The latest art exhibit at the Pink Dog Creative in the River Arts District seems, in part, a response to all this talking at, rather than conversing with, or, better yet, thinking through. Perceptions: The Black Male, Images of Dignity is a showing of artists Joseph A. Pearson's and Jessie Whitehead's individual works. The exhibition — a combination of print and oil — is both visually stimulating and thought provoking."
Joseph Pearson and Jessie L. Whitehead, Ph.D.
Perceptions: The Black Male, Images of Dignity
at Pink Dog Creative, 348 Depot St. Asheville, NC 28801
Opening Reception Friday, June 3 from 5-7 pm
Read the full article at the Mountain Xpress online →
Asheville's David Holt chosen for NC Music Hall of Fame
Asheville musician and storyteller David Holt will join the North Carolina Music Hall of Fame later this year.
He was selected for the annual honor along with seven other musicians and groups from around the state: The Avett Brothers, Band of Oz, Chuck Brown, Rhiannon Giddens & The Carolina Chocolate Drops, Percy Heath, Kellie Pickler and Ron Tyson.
Holt will officially become a member of the hall of fame at a red carpet induction ceremony Oct. 20 in Kannapolis, the site of the North Carolina Music Hall of Fame Museum.
"It was really a wonderful surprise, especially since last year Warren Haynes was inducted and this year, The Avett Brothers and Rhiannon Giddens," Holt said. "Those are all good friends of mine, and I'm honored to be in that company."
Holt is no stranger to accolades. He has won four Grammy Awards for music and storytelling. He hosts the TV shows "Folkways," "David Holt's State of Music" and "Great Scenic Railway Journeys," which air on PBS.
He is author or co-author of several books, including "Spiders in the Hairdo: Modern Urban Legends."
To learn more about the North Carolina Music Hall of Fame or to buy tickets for the induction ceremony, visit northcarolinamusichalloffame.org.
— Emily Patrick
Read this article on the Asheville Citizen-Times.
Ongoing Exhibitions & Artist News
Check out our June newsletter for news from our studios and ongoing artist exhibitions!
Joseph Pearson and Jessie L. Whitehead, Ph.D.
Perceptions: The Black Male; Images of Dignity
at Pink Dog Creative, 348 Depot St. Asheville, NC 28801
Opening Reception Friday, June 3 from 5-7 pm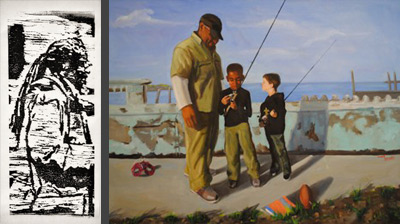 "I am human, and nothing of that which is human is alien to me." — Terence
There is a seemingly continuous collective negative perception of black males in the United States. In light of some most recent events, we believe that now is an important and opportune time to address the various perceptions of black males in our society. This body of work portrays different perceptions of black males in the United States, with an emphasis on positive representations. We believe in the power of art to provoke and/or expand society's re-imagination, effectively contributing to social transformation.
Steven St. Claire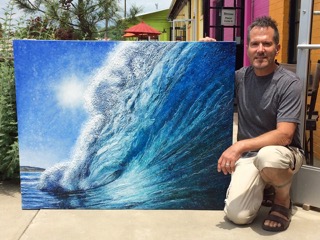 For some reason, "water" is the theme of my most of my larger pieces at the moment. I'm heading for the coast as I write this to install a painting featuring tropical fish swimming down amongst giant sea kelp, and then there's my most recent baby (above) featuring a large crashing wave. I've discovered the technique I'm using ("Dialuminism") lends itself well to the random patterns and color variations in water — which is hugely fun! I doubt this means I'm headed for a career in Asheville seascapes, but it's still a really fun subject matter to paint.
See more of Steven's work at www.stclaireart.com.
David Holt and Josh Goforth: Good Medicine CD Release Party
at ISIS Music Hall
June 18
David Holt and Josh Goforth have a CD release party at ISIS Music Hall in West Asheville on June 18. Their new CD, Good Medicine, celebrates the wide variety of sounds and styles found in mountain music. David and Josh's creative blend of ballads, blues, banjos with a dash of Tin Pan Alley and bluegrass makes a powerful tonic. Join them for an evening of high spirits and good medicine. We guarantee you'll feel rejuvenated.
The Paintbox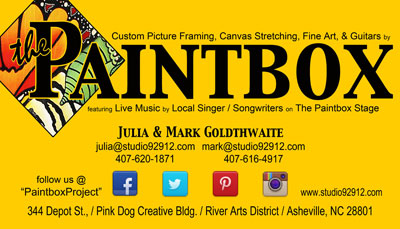 The Paintbox Framing Corner
Offering Archival Framing – (sample shown), canvas stretching, and all aspects of custom picture framing.
The Paintbox Stage for Music and Events
Catch "Will Ray and The Space Cooties" on Tuesday May 31st. Look for the opening of "The Asheville Guitar Bar" in The Cotton Mill Studios, coming soon!
Hours at The Paintbox
Thursdays, 11:00 am – 5:00 pm
or by appointment
Stay connected at: /PaintboxProject on facebook, twitter, and instagram
Mary Carol Koester
at the Folk Art Center
June 18 & 19, 2016, 10:00 am – 4:00 pm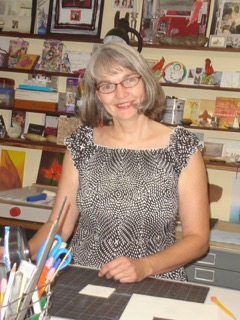 Mary Carol Koester will be demonstrating the art of bookbinding at the Folk Art Center, Milepost 382, Blue Ridge Parkway, home of the Southern Highland Craft Guild, on Saturday, June 18 and Sunday June 19, 2016, 10:00 am – 4:00 pm.
828.545.6219
marycarol@azaleabindery.com
10 Top U.S. Cities for Art Lovers: Asheville
Pink Dog Creative is the feature photo for a "Top 10″ article on AARP!
Read more at AARP Travel online.
Asheville, North Carolina is unlike anywhere else in the South
"[Asheville's] singular mix of worldliness and hominess gives it a character unique among cities below the Mason-Dixon line."
"A visit to the emerging River Arts District felt more my speed. A string of converted industrial buildings along the French Broad river, it's now home to working artists in spaces that New York creatives would give both arms for. It's impossible to categorize the talent here, but in just a few hours, I met abstract-animal painter Daniel McClendon (349 Depot St., danielmcclendon.com) and record producer-turned ceramicist Akira Satake (122 Riverside Dr., akirasatake.com), whose airy workshop houses his wife's exquisite pastry shop, Yuzu Patisserie (122 Riverside Dr, yuzubycynthia.com)."
Read more of this article at the NY Daily News.
Pink Dog and RAD in the Mountain Xpress
The Junction Restaurant and Bar:
A Winter Survivor
While some local restaurants choose to hibernate by limiting their hours or closing altogether, the Tribers are driven to meet their customers' expectations. As Charles says, "Sometimes it's harder to stay here through winter than to just shut your doors and wait for the season to change. But we can't do that to our guests. We really owe it to them to be here."
Read the full article at mountainx.com.
The Evolution of Depot Street and RAD
The district a decade ago looked pretty different — even two years ago. Depot Street, once dilapidated territory, now shines at night. Pink Dog Creative at 342-348 Depot St. turned an old Nabisco plant into artist studios, an arts supply store, a gallery (the Artery), the Asheville Area Arts Council's offices and a restaurant (The Junction). Next door, nonprofit development organization Mountain Housing Opportunities built the Glen Rock Depot, a mixed-use complex that includes street-level businesses, such as The Magnetic Field bar and theater.
Read the full article at mountainx.com.
Collect ART Asheville
Pink Dog Creative is participating in "Collect ART Asheville" with open studios every second Saturday of the month. Come visit the open studios at Pink Dog Creative and see work by great artists in the River Arts District.
Read more about Second Saturday open houses:
More from riverartsdistrict.com
More from ashevillerad.com