Randy Shull and Hedy Fischer are creating a colorful sensation on Depot Street in Asheville's River Arts District. The former textile manufacturing and warehouse building at 342-348 Depot Street has been transformed into an exciting mix of artist studios and retail spaces.
Pink Dog Creative shares the neighborhood with local favorites, such as Wedge Brewery, Clingman Cafe, 12 Bones and many local artist studios. Pink Dog has 25 artists working in their studios, The Junction Restaurant and Bar, Fresh West Wood Fired Pizza, and Sunnyside Trading Company.
Open Hours: Artists work odd hours but we promise to have our studios open for the public on Fridays and Saturdays from 10-4.
We're thrilled that Pink Dog Creative was chosen to represent Asheville in this stunning short film.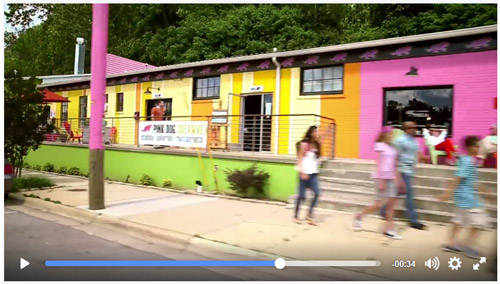 Ongoing Exhibitions & Artist News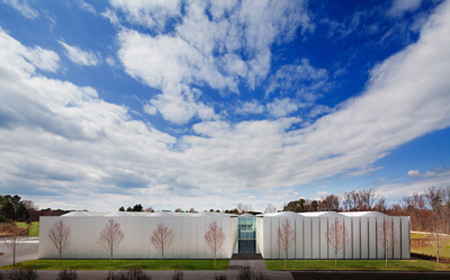 Randy Shull has been appointed to the North Carolina Museum of Art's Board of Trustees. Located in Raleigh, The North Carolina Museum of Art serves all the people of North Carolina and was named by INSIDER one of the top 25 museums in the USA. Architectural Record named NCMA as one of the top 125 buildings in the last 125 years. Randy is immensely proud to serve on the board and brings his knowledge and passion for collecting contemporary art and looks forward to engaging with this special museum.
Read more about the museum at the NCMA blog.
Joseph Pearson: Figure-scapes and Figures
Mars Hill University, Mars Hill, North Carolina
January 15 – February 10, 2017
Opening reception Wednesday, January 18, 6:00 – 8:00 pm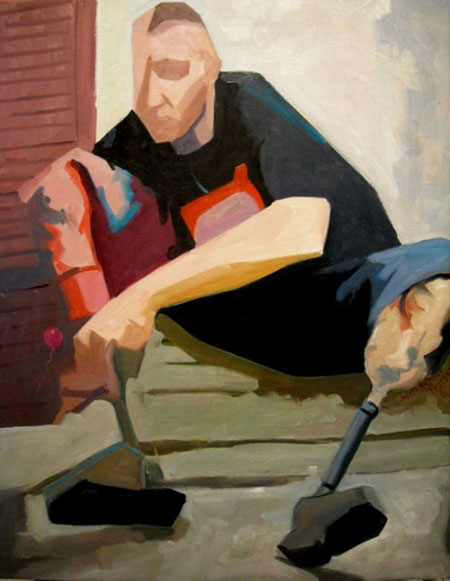 Home From War
Joseph Pearson will have a solo show entitled "Figure-scapes and Figures" at Mars Hill University from January 15 until February 10, 2017. Please join us for the opening reception, which will be Wednesday, January 18 from 6:00 to 8:00 pm. The exhibit will be at the Weizenblatt Art Gallery in the Moore Fine Arts Building at Mars Hill University, which is located at 79 Cascade Street in Mars Hill, North Carolina.
This project is supported by the North Carolina Arts Council, a division of the Department of Cultural Resources, a state agency with funding from local arts councils in Buncombe, Madison, Mitchell and Yancey counties, and with support from Avery county.
See more of Joseph's work at his website.
Fourth Annual Winter Beer Dinner with New Belgium Brewing
The Junction Restaurant + Bar
Wednesday, January 18, 7:00 – 10:00 pm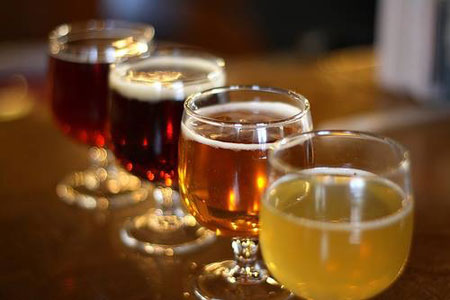 The Junction Restaurant + Bar is hosting the Fourth Annual Winter Beer Dinner with New Belgium Brewing. The dinner will feature 6 beers & 5 courses and is $65/person. Seating is limited and reservations are required. The Junction is located at 348 Depot Street, in the Pink Dog Creative Building.
Call (828) 225-3497 or visit www.thejunctionasheville.com to book or for more information!
A note from Stephen St. Claire: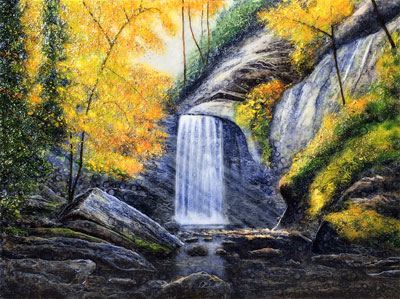 Looking Glass Falls
December has been busy working on end of the year commissions and of thinking in terms of what I want to do this next year. I've got a 6′ x 8′ painting of Cullasaja Falls on my "to do" list for the winter months. This will be the largest painting I've ever done and will have taken 6 – 9 months when completed. As a practice run, I decided I needed to brush up on waterfalls so I tackled a shot of Looking Glass Falls (a local favorite) and am really pumped now about starting the large piece. Aluminum leaf will be applied in early January and then I can start the actual paint application.
One fun surprise last month was a call from the Asheville Channel about doing an interview. If you're interested in what I do and why I do it and how it all happened…well here's the link…https://ashevillechannel.com/blog/st-claire-studio/. Asheville Channel is a great place to find out about what's going on in our town, so do check them out often!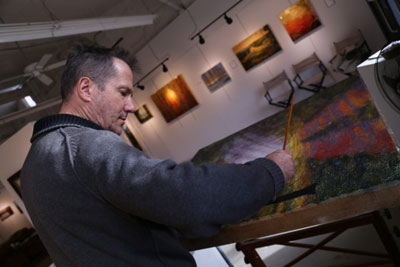 Stephen in his studio
Joseph Pearson painting to be featured in Cheap Joe's catalog: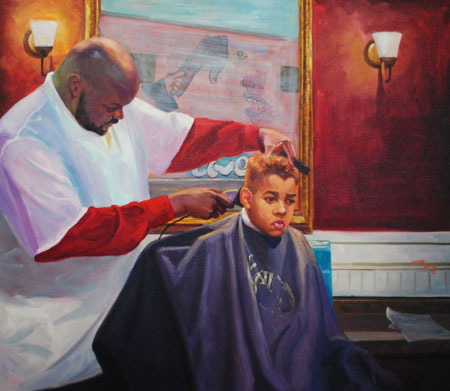 Grooming the Future
Joseph Pearson's painting "Grooming the Future" will be featured in the new Cheap Joe's Art Stuff catalog. Cheap Joe's is a local art supply store located at 829 Riverside Drive in Asheville.
Visit the Cheap Joe's Art Stuff website here.
10 Top U.S. Cities for Art Lovers: Asheville
Pink Dog Creative is the feature photo for a "Top 10" article on AARP!
Read more at AARP Travel online.
Asheville, North Carolina is unlike anywhere else in the South
"[Asheville's] singular mix of worldliness and hominess gives it a character unique among cities below the Mason-Dixon line."
"A visit to the emerging River Arts District felt more my speed. A string of converted industrial buildings along the French Broad river, it's now home to working artists in spaces that New York creatives would give both arms for. It's impossible to categorize the talent here, but in just a few hours, I met abstract-animal painter Daniel McClendon (349 Depot St., danielmcclendon.com) and record producer-turned ceramicist Akira Satake (122 Riverside Dr., akirasatake.com), whose airy workshop houses his wife's exquisite pastry shop, Yuzu Patisserie (122 Riverside Dr, yuzubycynthia.com)."
Read more of this article at the NY Daily News.
Pink Dog and RAD in the Mountain Xpress
The Junction Restaurant and Bar:
A Winter Survivor
While some local restaurants choose to hibernate by limiting their hours or closing altogether, the Tribers are driven to meet their customers' expectations. As Charles says, "Sometimes it's harder to stay here through winter than to just shut your doors and wait for the season to change. But we can't do that to our guests. We really owe it to them to be here."
Read the full article at mountainx.com.
The Evolution of Depot Street and RAD
The district a decade ago looked pretty different — even two years ago. Depot Street, once dilapidated territory, now shines at night. Pink Dog Creative at 342-348 Depot St. turned an old Nabisco plant into artist studios, an arts supply store, a gallery (the Artery), the Asheville Area Arts Council's offices and a restaurant (The Junction). Next door, nonprofit development organization Mountain Housing Opportunities built the Glen Rock Depot, a mixed-use complex that includes street-level businesses, such as The Magnetic Field bar and theater.
Read the full article at mountainx.com.