Randy Shull and Hedy Fischer are creating a colorful sensation on Depot Street in Asheville's River Arts District. The former textile manufacturing and warehouse building at 342-348 Depot Street has been transformed into an exciting mix of artist studios and retail spaces.
Pink Dog Creative shares the neighborhood with New Belgium & the Wedge Breweries, 12 Bones Smokehouse and hundreds of local artists. Pink Dog has 25 artists working in their studios, The Junction Restaurant and Bar, Fresh West Wood Fired Pizza, and Sunnyside Trading Company.
Open Hours: Artists work odd hours but we promise to have our studios open for the public on Fridays and Saturdays from 11-5.
We're thrilled that Pink Dog Creative was chosen to represent Asheville in this stunning short film.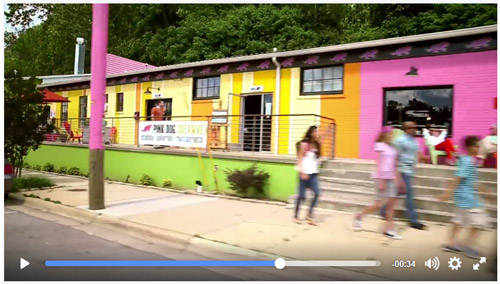 Ongoing Exhibitions & Artist News
Ralph Burns' work has been included in
CREATED BY LIGHT- Photographs from North Carolina Collections,
at the Cameron Art Museum, Wilmington, NC
September 16, 2017 – February 11, 2018
Exploring the photography collections of eight North Carolina institutions, the exhibition will examine the evolution of photography highlighting the luminaries of the medium, the connections between the institutions and the NC artists working in photography.
The over 100 works included in the exhibition range from 1887 to 2016 with pioneers of the medium including Ansel Adams, Diane Arbus, Lewis Hine, Robert Mapplethorpe, Eadweard Muybridge, and Andres Serrano among others.
Ralph Burns' work is in the permanent collections of both the North Carolina Museum of Art and the Asheville Art Museum.
Read more at the museum's website.
Jeremy Phillips: IMPOSSIBLE INTERIOR BABEL
Pink Dog Creative Gallery
August 18 – September 30, 2017
Opening Night: Jeremy Phillips talks colors and shapes from Blue Ridge Public Radio on Vimeo.
See more of Jeremy's work at his website.
Read more about Jeremy and his work in the Mountain Xpress article by Thomas Calder.
Christie Calaycay: Best of WNC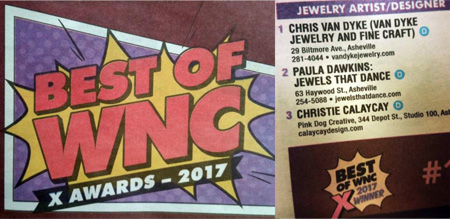 Congratulations Christie Calaycay for being voted #3 Best Jeweler in the WNC Best of Awards! Visit Christie in her studio Monday-Friday in Suite 100 and online at calaycaydesign.com.
Man & Nature: Pathway to Renewal
Group show at the Asheville Area Arts Council
Thom Robinson and Ray Griffin Gallery at The Refinery Creator Space
207 Coxe Avenue, South Slope, Asheville
exhibition through October
Curated by Joseph Pearson, Man & Nature: Pathway to Renewal will examine some of the many facets of our environmental dilemma through two- and three-dimensional art. Among these are: the use of recycled materials, soil, found object sculpture, paint, pencil and a temporary labyrinth. This exhibit will highlight the works of six Buncombe County residents who are not only fine artists, but have extensive knowledge of the environmental sciences and environmental issues through education and/or occupation. Participating artists include: Joseph Pearson, Deanna Chilian, Julie Miles, Leslie Rowland, Roger Munch, Molly Sawyer, and Chuck Hunner.
Read more about the exhibit online.
Karen Keil Brown: Featured Artist at Woolworth Walk
25 Haywood Street in Downtown Asheville
Throughout September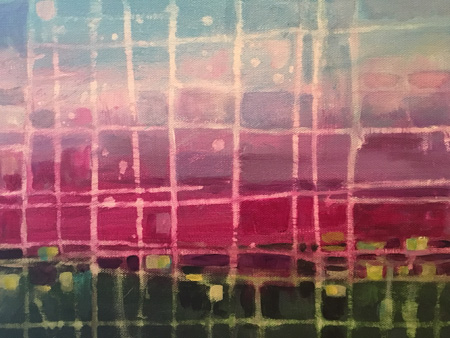 Karen Keil Brown will be the featured artist at Woolworth Walk for the month of September. All are invited to the opening reception on Friday, September 8. The Woolworth Walk, located in a historic building, exclusively represents local artists.

Visit Karen's website here.
Joseph Pearson to host Color Ball pre-party
The Refinery Creator Space
207 Coxe Avenue, South Slope, Asheville
Saturday, September 9, 6:00 – 7:30 PM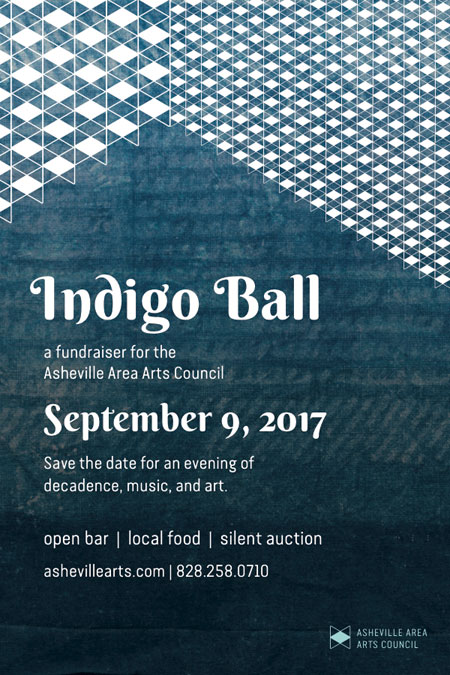 Joseph Pearson will host the Out of the Blue Patron's Party, which will be held the night of the Asheville Area Arts Council's Annual Color Ball.
Read more about the Indigo Ball here.
Reiko Miyagi at the Mint Museum Potter's Market Invitational
The Mint Museum Randolph
2730 Randolph Road, Charlotte, NC
Saturday, September 9, 10:00 AM – 4:00 PM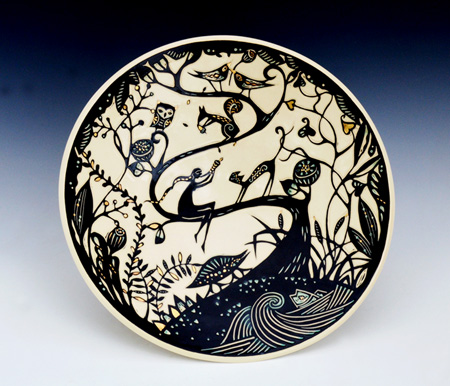 More than 50 North Carolina potters will gather on the lawn of Mint Museum Randolph to sell their creations. PMI showcases the breadth and depth of work by makers in what has become known as the Pottery State. Enjoy this opportunity to purchase works of art directly from North Carolina ceramic artists.
See more of Reiko's work at her website.
Julie Miles: Current Works
Mission Health/A-B Tech Conference Center
340 Victoria Road, Asheville, NC
opening reception Saturday, September 22, 6:30 PM – 8:00 PM
show runs through the end of October


See more of Julie's work at her website.
Recovering the Future: A Talk with William Henry Price
Great Cranberry Island, Maine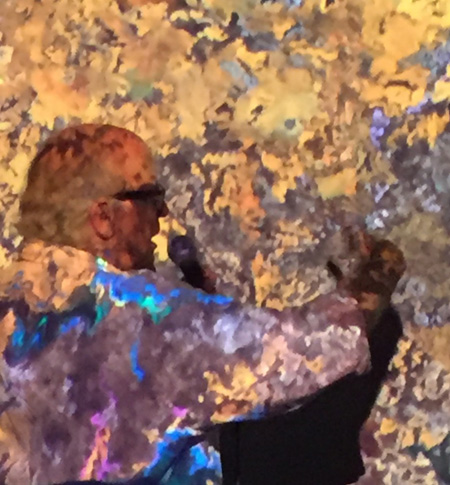 William will be giving a talk in Maine during September, where he is doing a month-long residency on Great Cranberry Island at the Heliker-LaHotan Foundation.
A startling perspective on our future lies with our ancestors. In this talk William brings us into intimate contact with our progenitors through their art and music. By turns we will dig into both ancient and modern art. We move from contemporary works by de Kooning, Barbara Kruger, Brice Marden and others to the pottery vessels of Neolithic Goddess cultures, whose pattern language was so brilliantly elucidated by Marija Gimbutas. William says that everywhere in history, before and after our current materialist mode, art functions as spiritual technology. Amazingly, the fascinating journey of objective science has led us back around to our truly poetic origins. He believes science is at the threshold of non-physical realms. The scientist of the future is an artist.
Christie Calaycay: Equilibrium
Charlton Bradsher Art + Design
opening reception Friday, October 6, 6:00 – 9:00 PM
October 5 – 9, 2017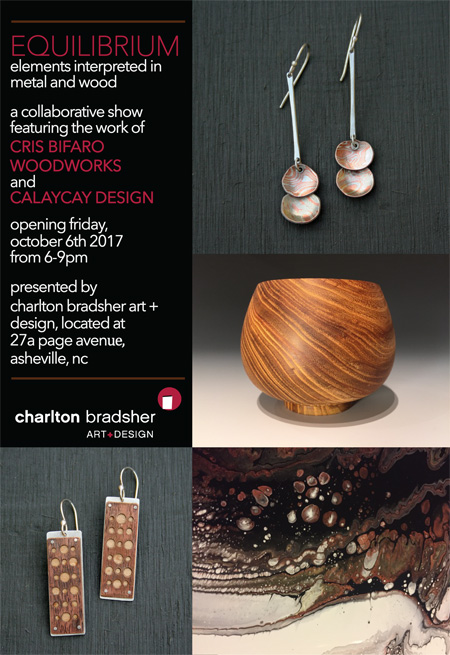 Equilibrium, a collaborative show by Calaycay Design and Cris Bifaro Woodworks, is based on the ancient Five Elements Theory. Wood, fire, earth, metal, and water are believed to be the basic substances of everything in the universe and form a balance, while being in constant movement and cyclical change. Each element is brought to a physical translation in metal and woodwork, observing and honoring natural, creative changes.
See more of Christie's work at her website.
Julie Miles and Andrea Kulish featured in Clouds exhibition
Adler Gallery at Posana Restaurant
1 Biltmore Avenue, Downtown Asheville
exhibition through October
A new art exhibition Clouds will open its doors July 27th at the Adler Gallery in Posana Restaurant. Curator Constance Vlahoulis has ingeniously combined art with science by inviting eighteen local artists to team up with The Collider. The Collider is a local non-profit, where business and science "collide" to develop solutions for climate change. When asked the connection between art and science, Vlahoulis quoted Leonardo daVinci, "Art is the queen of all sciences communicating knowledge to all the generations of the world."
Sixteen of the artists include a host of Asheville's best and most beloved painters, including Julie Miles of Pink Dog Creative. Styles will range from representational land and cityscapes, to atmospheric impression, abstract and whimsical. 3D artist Andrea Kulish of Pink Dog Creative is well known for her pysanky eggs, an ancient Ukrainian process of handwritten wax resist eggs using symbols of nature.
Read more in the Mountain Xpress article.
Black Mountain College Museum receives NEA grant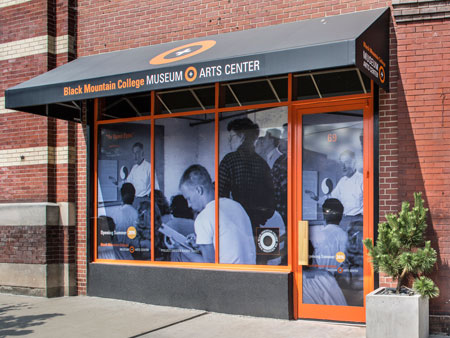 Pink Dog Creative would like to congratulate the Black Mountain College Museum + Arts Center for receiving a $25,000 grant from the National Endowment for the Arts. The BMCM + AC carries on the legacy of the Black Mountain College, one of the foremost innovative platforms for American artists in the 20th century. This particular grant supports a multidisciplinary exhibition about the pioneering visual artist Jacob Lawrence. The exhibition will focus on the summer of 1946, when Lawrence was invited by Josef Albers to teach painting at Black Mountain College. Among the artworks to be included are a series of Lawrence's early gouache paintings and a series of photographs of Lawrence at the campus taken by Beaumont and Nancy Newhall. The BMCM+AC museum was designed by Pink Dog Creative Co-Owner and Creative Director Randy Shull.
Read more at the BMCM+AC website.
Pink Dog Creative display at the I-26 Visitors' Center
I-26 at Mile Marker 6, Mars Hill, NC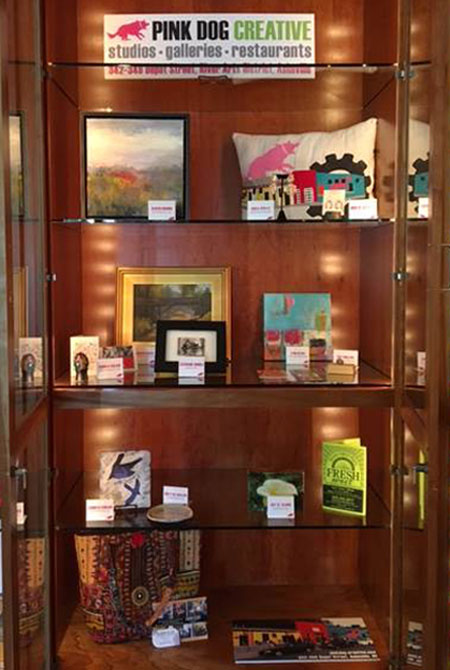 Small works by artists at Pink Dog Creative as well as information about the businesses in the building will be on display at the I-26 Visitors' Center through early January. Be sure to stop in when you are passing by!
More information about the Visitors' Center is at their website.

Beware of the Dog: new mural by Randy Shull
Pink Dog Creative
342-348 Depot Street, River Arts District, Asheville
Come see Randy Shull's newest mural on the two shipping containers in the Pink Dog Creative parking lot, across from the Pink Dog Creative building at 342-348 Depot Street in Asheville's River Arts District. Randy is co-owner and co-creator of Pink Dog Creative.
Here are some recent photos we found on Instagram- be sure to tag your pics with #pinkdogcreative!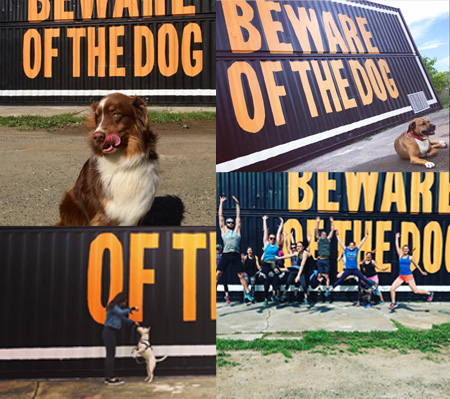 See more of Randy's work at his website.
Viola Spells featured in the Mountain Xpress
Viola Spells was featured in Mountain Xpress article Two Local Artists Follow Their Passions in the RAD by Alli Marshall.
Joseph Pearson painting on cover of WNC Woman

Joseph Pearson's painting Teach them to fish is an older generation teaching a younger generation how to navigate the challenges of life.. "Give a man a fish and you feed him for a day, teach him to fish and you feed him for a lifetime." WNC Woman is a monthly magazine that "celebrates the wisdom, strength and grace of women."
Read the June issue online.

Brett Douglas Hunter in the New York Times

Pink Dog Creative congratulates Brett Hunter, former Pink Dog artist, for his work in the New York Times. Brett now lives in Nashville, TN.
Reiko Miyagi in the National Teapot Show
Cedar Creek Gallery, Creedmore, NC
May 19 – September 5, 2017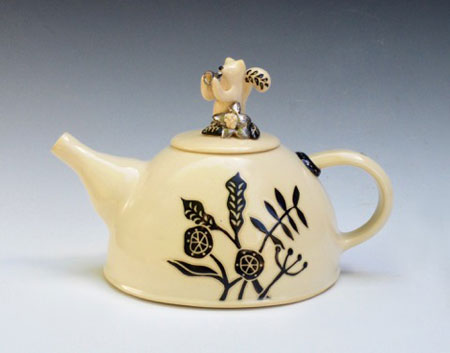 This show has been hosted every three years for the past twenty-six years. Cedar Creek Gallery carries hand-crafted treasures from across the nation to enrich the lives of all those who come across it and supports a healthy, happy community.
Visit the gallery website here,
and see more of Reiko's work at her site.
William Price launches YouTube channel
William has started making videos and started a YouTube channel. This first one is a video diary of the process of painting Firebird.
Sunnyside Trading Company and Northville Apparel
featured in the Mountain Xpress Retail Comes to the RAD article
"When you think of Asheville's River Arts District, what comes to mind are probably things like painting, sculpture, pottery, glass blowing — you get the drift. But as the neighborhood continues to expand and evolve, new businesses are also popping up. In the last six months, a number of retail shops have opened in the district. Xpress met with the owners of three of these newbies to discuss the challenges of developing a business while surfing the changes in a rapidly evolving area." -Thomas Calder, excerpted from the article.
Read the full article at the Mountain Xpress online.
Pink Dog Creative featured in 25 Most Popular Instagram Spots in Asheville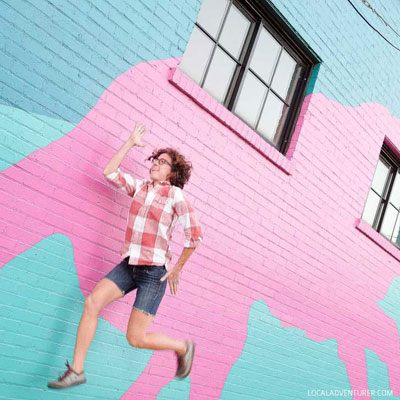 Pink Dog Creative is featured twice in the article 25 Most Popular Instagram Spots in Asheville by the popular blog Local Adventurer.
See the other 23 spots and read the article here.
Joseph Pearson featured in LOCAL HEARTED podcast: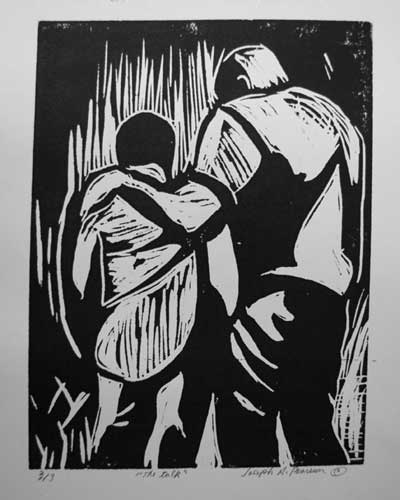 The Talk linocut
Local heARTed host Meredith Adler talks with Joseph Pearson about his paintings themed on guiding children to do well in society, and tips on artist grants. This podcast regularly features interviews with artists of Asheville and Western North Carolina about their inspirations, their lives, and their businesses. Meredith also interviews people in the community with services to help our local artists with the business end of things, such as printing, framing, and social media.
Read the article and hear the podcast on the Local Hearted website.
Fresh West Pizza in the Mountain Xpress
Read Liisa Andreassen's interview of the owner of FRESH West- Quick Dish: Q + A with Mark Tomczak of FRESH Wood Fired Pizza in the Mountain Xpress – read the article here.
10 Top U.S. Cities for Art Lovers: Asheville
Pink Dog Creative is the feature photo for a "Top 10" article on AARP!
Read more at AARP Travel online.
Asheville, North Carolina is unlike anywhere else in the South
"[Asheville's] singular mix of worldliness and hominess gives it a character unique among cities below the Mason-Dixon line."
"A visit to the emerging River Arts District felt more my speed. A string of converted industrial buildings along the French Broad river, it's now home to working artists in spaces that New York creatives would give both arms for. It's impossible to categorize the talent here, but in just a few hours, I met abstract-animal painter Daniel McClendon (349 Depot St., danielmcclendon.com) and record producer-turned ceramicist Akira Satake (122 Riverside Dr., akirasatake.com), whose airy workshop houses his wife's exquisite pastry shop, Yuzu Patisserie (122 Riverside Dr, yuzubycynthia.com)."
Read more of this article at the NY Daily News.
Pink Dog and RAD in the Mountain Xpress
The Junction Restaurant and Bar:
A Winter Survivor
While some local restaurants choose to hibernate by limiting their hours or closing altogether, the Tribers are driven to meet their customers' expectations. As Charles says, "Sometimes it's harder to stay here through winter than to just shut your doors and wait for the season to change. But we can't do that to our guests. We really owe it to them to be here."
Read the full article at mountainx.com.
The Evolution of Depot Street and RAD
The district a decade ago looked pretty different — even two years ago. Depot Street, once dilapidated territory, now shines at night. Pink Dog Creative at 342-348 Depot St. turned an old Nabisco plant into artist studios, an arts supply store, a gallery (the Artery), the Asheville Area Arts Council's offices and a restaurant (The Junction). Next door, nonprofit development organization Mountain Housing Opportunities built the Glen Rock Depot, a mixed-use complex that includes street-level businesses, such as The Magnetic Field bar and theater.
Read the full article at mountainx.com.