Randy Shull and Hedy Fischer are creating a colorful sensation on Depot Street in Asheville's River Arts District. The former textile manufacturing and warehouse building at 342-348 Depot Street has been transformed into an exciting mix of artist studios and retail spaces.
Pink Dog Creative shares the neighborhood with New Belgium & the Wedge Breweries, 12 Bones Smokehouse and hundreds of local artists. Pink Dog has 25 artists working in their studios, The Junction Restaurant and Bar, Fresh West Wood Fired Pizza, and Sunnyside Trading Company.
Open Hours: Artists work odd hours but we promise to have our studios open for the public on Fridays and Saturdays from 11-5.
We're thrilled that Pink Dog Creative was chosen to represent Asheville in this stunning short film.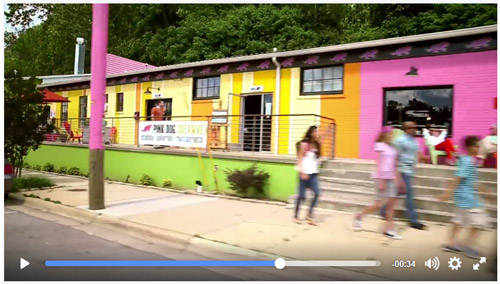 Ongoing Exhibitions & Artist News
The Art of Illumination exhibition
Pink Dog Creative Gallery
March 19 – April 23, 2017
ArtSpace Charter School kicked off their 6th Annual PULSE Art Project just after Martin Luther King Jr. Day on January 20. The following quotes from Dr. King served as the launch pad for this year's theme of Illumination:
"Darkness cannot drive out darkness, only light can do that; hate cannot drive out hate, only love can do that."
"Our lives begin to end the day we become silent about things that matter."
They asked students to consider these words and create a work of visual art that sheds light on a particular issue or concern, or that reflects being a source of light in darkness.
The PULSE Art Project is an annual competition open to 6th-8th grade students at ArtSpace. It is an initiative of their school-wide bully-prevention program, PULSE (Promoting Understanding, Love, Safety and Empathy). Previous themes for this project were Peace, Kindness, Unity, Compassion, and Diversity.
Participation in the project is voluntary and the work is done independently at home. Entries are judged anonymously with a rubric that rates three primary areas: expression of theme, technical skill and originality. Local artists as well as select school staff serve as judges. The work will be on display in the ArtSpace Gallery March 6-17, 2030 US Highway 70 in Swannanoa, and at the Pink Dog Creative Gallery, 348 Depot Street in Asheville from March 19 – April 23.
Learn more about ArtSpace Charter School at their website.
Lynn Bregman Blass to attend Nicolas Wilton workshop
Esalen Institute, Big Sur, California



Lynn Bregman Blass will take part in a painting workshop with Nicholas Wilton at the Esalen Institute in Big Sur later this month.
Learn more about his ArtLife workshops here.
Ukrainian Easter Egg Workshop Schedule announced
March – May 2017

Spring is here, the traditional time to make Easter, or springtime, eggs. In this workshop we will be making beautiful Ukrainian Easter eggs – pysanky. You will learn the method of batik – also called wax-resist – dying. You will also be familiarized with the wide range of Ukrainian folk art traditional patterns, designs and symbols and their history. The designs are made with beeswax which is melted in the flame of a candle and applied to the egg using a tool called a kistka. The eggs are dipped into successively darker dyes. At the end of the process the beeswax is melted off to reveal the beautiful and colorful design. You may use the traditional patterns, or also freestyle and make up your own design. Classes taught at Studio A or your location.
View more information about workshops at Studio A online.
Sunnyside Trading Company and Northville Apparel
featured in the Mountain Xpress Retail Comes to the RAD article
"When you think of Asheville's River Arts District, what comes to mind are probably things like painting, sculpture, pottery, glass blowing — you get the drift. But as the neighborhood continues to expand and evolve, new businesses are also popping up. In the last six months, a number of retail shops have opened in the district. Xpress met with the owners of three of these newbies to discuss the challenges of developing a business while surfing the changes in a rapidly evolving area." -Thomas Calder, excerpted from the article.
Read the full article at the Mountain Xpress online.
Lynn Bregman Blass / Andrea Kulish website collaboration

Lynn Bregman Blass and Studio A artist/designer Andrea Kulish have collaborated on Lynn's new website, which includes galleries of Lynn's encaustic and mixed media work, as well as more information about her Visual History Collaborative project and psychotherapy practice.
A note from Stephen St. Claire:

Maroon Bells
February is usually pretty slow around here. That's okay though, because it's given me much needed time to rebuild my inventory. And although walk-in traffic is slow, I'm still working on commissions that came in near the end of 2016. The one (pictured here) is of Maroon Bells, two 14K+ peaks in the Colorado Rocky Mountains. Commissions like this are such a joy to me, as I don't usually feel daring enough to paint something like the Rocky Mountains for my Asheville studio/gallery; tourists visiting Asheville aren't usually looking for Rocky Mountain art, you know? But growing up out west, "proper" mountains to me were always rocky peaks that extended above the tree line, with glaciers and icy cold lakes full of trout. Being asked to actually paint one of the most beautiful scenes in our country was an honor. It now hangs in its brand new home in Austin, Texas.
See more of Stephen's work at his website.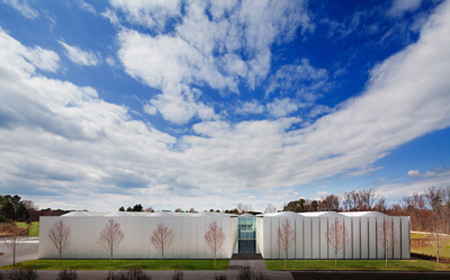 Randy Shull has been appointed to the North Carolina Museum of Art's Board of Trustees. Located in Raleigh, The North Carolina Museum of Art serves all the people of North Carolina and was named by INSIDER one of the top 25 museums in the USA. Architectural Record named NCMA as one of the top 125 buildings in the last 125 years. Randy is immensely proud to serve on the board and brings his knowledge and passion for collecting contemporary art and looks forward to engaging with this special museum.
Read more about the museum at the NCMA blog.
Pink Dog Creative featured in 25 Most Popular Instagram Spots in Asheville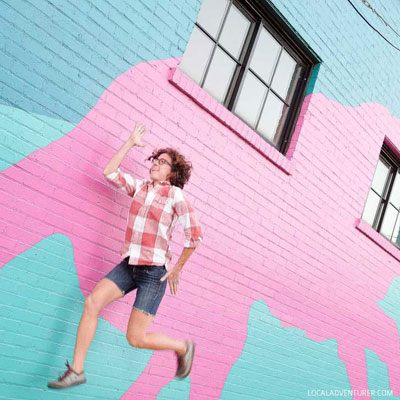 Pink Dog Creative is featured twice in the article 25 Most Popular Instagram Spots in Asheville by the popular blog Local Adventurer.
See the other 23 spots and read the article here.
Joseph Pearson featured in LOCAL HEARTED podcast: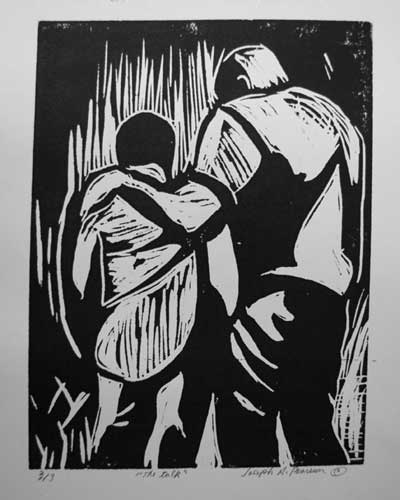 The Talk linocut
Local heARTed host Meredith Adler talks with Joseph Pearson about his paintings themed on guiding children to do well in society, and tips on artist grants. This podcast regularly features interviews with artists of Asheville and Western North Carolina about their inspirations, their lives, and their businesses. Meredith also interviews people in the community with services to help our local artists with the business end of things, such as printing, framing, and social media.
Read the article and hear the podcast on the Local Hearted website.
Fresh West Pizza in the Mountain Xpress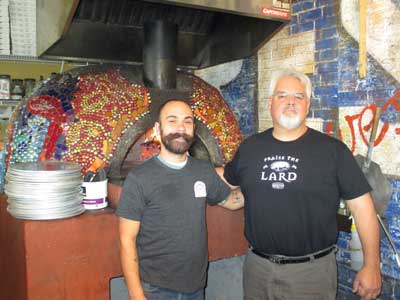 FIRE IT UP: Chester Oland, head pizza craftsman at Fresh West, is pictured
with owner Mark Tomczak in front of the oven at FRESH West.
Photo by Liisa Andreassen
Read Liisa Andreassen's interview of the owner of FRESH West- Quick Dish: Q + A with Mark Tomczak of FRESH Wood Fired Pizza in the Mountain Xpress – read the article here.
10 Top U.S. Cities for Art Lovers: Asheville
Pink Dog Creative is the feature photo for a "Top 10" article on AARP!
Read more at AARP Travel online.
Asheville, North Carolina is unlike anywhere else in the South
"[Asheville's] singular mix of worldliness and hominess gives it a character unique among cities below the Mason-Dixon line."
"A visit to the emerging River Arts District felt more my speed. A string of converted industrial buildings along the French Broad river, it's now home to working artists in spaces that New York creatives would give both arms for. It's impossible to categorize the talent here, but in just a few hours, I met abstract-animal painter Daniel McClendon (349 Depot St., danielmcclendon.com) and record producer-turned ceramicist Akira Satake (122 Riverside Dr., akirasatake.com), whose airy workshop houses his wife's exquisite pastry shop, Yuzu Patisserie (122 Riverside Dr, yuzubycynthia.com)."
Read more of this article at the NY Daily News.
Pink Dog and RAD in the Mountain Xpress
The Junction Restaurant and Bar:
A Winter Survivor
While some local restaurants choose to hibernate by limiting their hours or closing altogether, the Tribers are driven to meet their customers' expectations. As Charles says, "Sometimes it's harder to stay here through winter than to just shut your doors and wait for the season to change. But we can't do that to our guests. We really owe it to them to be here."
Read the full article at mountainx.com.
The Evolution of Depot Street and RAD
The district a decade ago looked pretty different — even two years ago. Depot Street, once dilapidated territory, now shines at night. Pink Dog Creative at 342-348 Depot St. turned an old Nabisco plant into artist studios, an arts supply store, a gallery (the Artery), the Asheville Area Arts Council's offices and a restaurant (The Junction). Next door, nonprofit development organization Mountain Housing Opportunities built the Glen Rock Depot, a mixed-use complex that includes street-level businesses, such as The Magnetic Field bar and theater.
Read the full article at mountainx.com.