Randy Shull and Hedy Fischer are creating a colorful sensation on Depot Street in Asheville's River Arts District. The former textile manufacturing and warehouse building at 342-348 Depot Street has been transformed into an exciting mix of artist studios and retail spaces.
Pink Dog Creative shares the neighborhood with New Belgium & the Wedge Breweries, 12 Bones Smokehouse and hundreds of local artists. Pink Dog has 30 artists working in their studios, GRIND Coffee Bar, Fresh West Wood Fired Pizza, Vivian Restaurant and A.C.E. Bicycles. Pink Dog raises funds and awareness for people and organizations working to make our communities more equitable and just, including Southside Rising, Youth Artists Empowered and the Edington Center, among others.
Open Hours: Artists work odd hours but we promise to have our studios open for the public on Fridays and Saturdays from 11–5.
We're thrilled that Pink Dog Creative was chosen to represent Asheville in this stunning short film.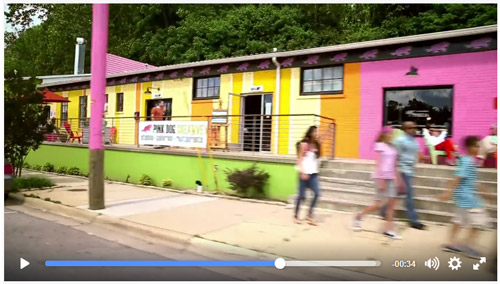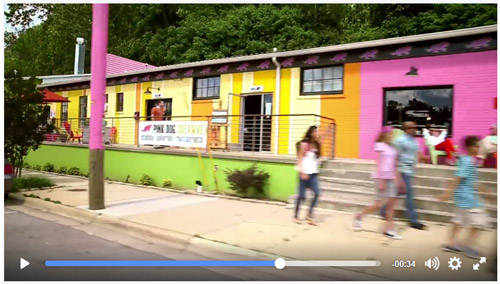 Ongoing Exhibitions & Artist News
Our Story
Exhibition by Connie Bostic
Pink Dog Gallery, 348 Depot Street
Opening reception Friday, September 17, 6:00–8:00 PM
September 17–October 17, 2021
ARTIST STATEMENT:
It is commonly thought that as people age they tend to think more and more about their childhood, but for several decades I have created work about growing up in Spindale. Family photographs have provided 
inspiration for most of the paintings in Our Story. This current body of work was sparked by a snapshot of my sister and me flanking an African American woman standing in front of my grandmother's wisteria tree. I don't 
remember the woman's name but I do remember being awe struck by the angle of the pockets on her dress. Along with this photo, there was one of a young boy hired during canning season to keep us entertained and from under foot. He pushes us in our red wagon.
These situations were quite common in the 1930's and 40's with little change through the 50's, 60's and 70's. Earlier in our history women were ripped from their African homeland to nurse and raise the babies of white women. Gradually through the years the "Mammy" became a symbol of the loyal, happy slave. Her persona was that of a middle aged, dark complexioned, overweight, and contented woman who loved her young white charges to distraction. The fact that her own children were left without their mother so she could ensure the comfort and security of white children was ignored.
As my interest in this history grew, a few people kindly shared their own family photos. I began to worry: was I overstepping boundaries? Did I have any right to depict these women? Was this cultural appropriation? Then I realized that these stories were also the stories of the children raised by these women. It was our story, too. One young woman remembered her relationship with Kermit Holland who had cared for her since birth. When she was nine years old Kermit died. Her father took her to Kermit's funeral and then to the cemetery where she became uncontrollably hysterical. She was in such a state that when the other 
mourners left her father paid the grave diggers to lift the coffin from the grave and open the lid. "There she was," the woman said, "the only one who loved me." The stories are as varied as those telling them, but there is no doubt that these women played an important part in the social fabric of America. They deserve recognition.
Contact:
Connie Bostic
Email: [email protected]
(828) 691-0405
Dreamscapes
Beyond Prison Artist Alliance Art Exhibition
Opening reception: Friday, October 22, 2021 5-7 pm
Exhibition dates: October 22– November 21, 2021

The artists of Beyond Prison Artist Alliance approach the theme Dreamscapes from a wide angle: somewhere between dream and reality, escape and landscape. The work in this exhibition expresses the unique perspectives and styles of the ten contributing artists. Some artists communicate Dreamscapes through the lens of personal family narratives, others visualize historical events, mythology, or surrealist tenets. The work in this exhibition represents dreams as dichotomy—diving deeper into reality for some, for others, escaping farther from it. Each piece expresses a unique perspective and style, while communicating as a whole within unified themes of connection, purpose, and movement. The show highlights technical approaches in graphite, colored pencil, painted acrylic, and mixed media paper sculpture. Dreamscapes is an opportunity for these ten artists to flex their wings, and share their vision and perspective with us all.
Artist names: Ted Brason, Matthew Caldwell, Corey Higgins, William Hopkins, Eric Hughes Sr., Edward Hyleman, William Inscoe, David Jones, Matthew Otter, Robert G. Reid, Edwin Riegger, Juan Santiago, Michael Sheets, and Leon Ward.
Program description:
The Avery Mitchell Correctional Institution (AMCI) is a medium security prison in Spruce Pine, NC, about a fifteen minute drive from the Penland School of Craft. The Beyond Prison Artist Alliance began in December 2017 out of a series of conversations between AMCI Case Manager Angela Lamm and Penland Community Collaborations Manager Stacey Lane, who were trying to address requests for drawing instruction coming from those incarcerated at AMCI. Beyond Prison began as a ten-week pilot drawing course taught by Daniel Beck, Rachel Meginnes, and Sarah Rose Lejeune. It has evolved as a continuing program of visiting artists, discussion, and technical and conceptual workshops. This program's purpose has become building artistic community—finding and supporting connection and commonality across both sides of the gatehouse. This mission includes the pursuit of exhibition opportunities to share these artists' vision beyond the prison walls. The incarcerated participants in this program are active and highly skilled artists, many of whom hold long sentences. More than anything, the artists at AMCI would like you to know that they have talent, heart, and soul and do not want to be forgotten. Beyond Prison aims to be a human and empowering force, one that challenges all of its participants, incarcerated and free, to imagine art as an essential tool for building a more just future.
The Beyond Prison Artist Alliance would not be possible without the tireless work of AMCI Volunteer Coordinator Angela Lamm and Penland's Community Collaborations Manager Stacey Lane, the grant writing efforts of Nancy Lowe, and the support of Penland School of Craft. This project was made possible in part by support from the William R. Kenan, Jr. Charitable Trust.
Viola Spells in Black in Black on Black: Making the Invisible Visible
Center for Craft, 67 Broadway Street, Asheville
Opening reception Friday, September 10, 6:00–8:00 PM
September 6, 2021–January 7, 2022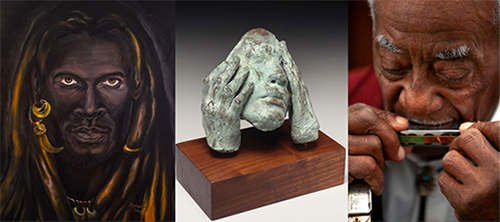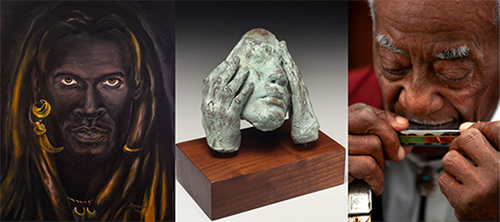 Black in Black on Black: Making the Invisible Visible is a visual conversation about the lives and contribution of Black/African American communities in Western North Carolina (WNC). Bringing together stunning artwork and historic accounts by WNC-based artists Viola Spells, Ann Miller Woodford and Rhonda Birtha, with social science data and stories, this exhibition invites audiences into an often invisible history of our region. Reception is on Friday, September 10, 2021 from 6-8 pm at Center for Craft, 67 Broadway Street. Timed entry tickets available.
More info at the Center for Craft website.
Cindy Walton in Metamorphosis
Tubac Center of the Arts, Tubac, AZ
Opening reception Friday, October 1, 5:00–7:00 PM
October 1–November 12, 2021
Cindy Walton has three works of art in the upcoming national juried exhibition, Metamorphosis at the Tubac Center of the Arts in Arizona. The opening reception will be held on Friday, October 1 from 5–7pm. The exhibit runs from October 1 through November 12.
Read more about the exhibition at the arts center website.
Lucy Cobos in Pure Color International Juried Exhibition
September 1–September 30, 2021
Lucy Cobos' pastel painting of a scene from the River Arts District was juried into the Pure Color 5th Annual ONLINE International Juried Exhibition of Pastel Paintings. Of the 873 paintings, 175 were chosen by juror Isabelle V. Lim, PSA-MP, IAPS/MC, SPF-MP, to be in the show. The online show starts September 1 and runs through September 30.
Visit https://www.pastelsocietyofnc.com/ for the link to the show beginning on September 1.
Duke Hospital acquires Randy Shull painting
Raleigh, NC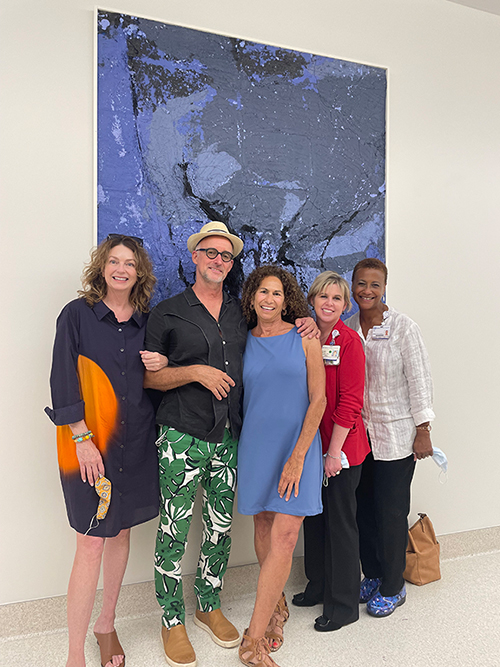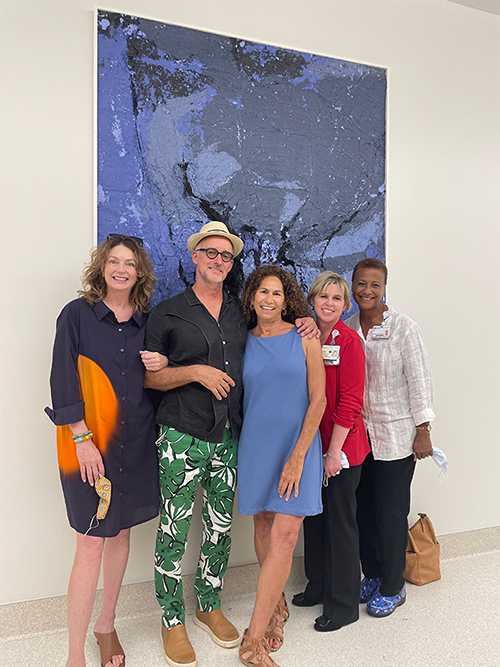 Duke Hospital acquires Periwinkle by Randy Shull, 2021, 90″ x 70″ for its new Raleigh location. Thanks to Marjorie Hodges with Artsuite; Leigh Bleecker, CEO of Duke Hospital, Raleigh; Dia Holman, Facilities Design Coordinator at Duke Hospital and Tracey Morgan Gallery.
See more of Randy's work at his website.
Ralph Burns Featured in Leica Fotografie International
August 2021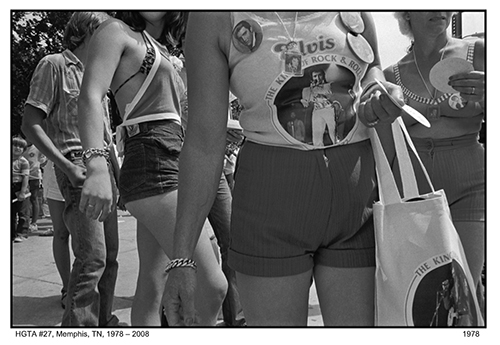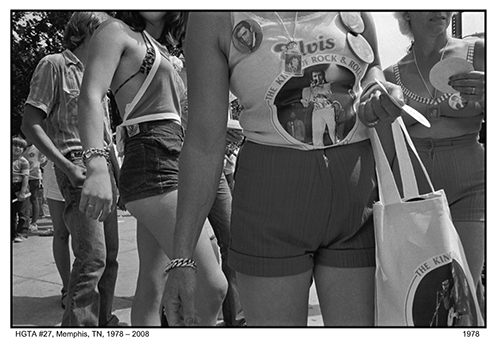 Leica Fotografie International, the prestigious 70 year old European photographic
magazine, is featuring work by Ralph Burns in its August, 2021 publication. LFI's
6/2021 issue also carries a homage to the Magnum photographer Harry Gruyaert,
who is celebrating his 80th birthday this year, in addition to Kerem Uzel's
reportage on a second waterway between the Black Sea and the Marmara Sea,
Martin Herrera Soler's Nómade series, as well as Joakim Kocjancic's melancholic
journey of exploration throughout Europe.
Burns is also featured in LFI's Blog, under the ONE PHOTO – ONE STORY section:
https://lfi-online.de/ceemes/en/blog/
To see more of Ralph Burns' work, or to contact him, go to:
www.ralphburnsphotography.com
Joseph Pearson commissions
Joseph Pearson's commissioned painting, Heritage, for the Cathedral of all Souls in Biltmore Village was recently unveiled. The painting addresses the history of the historically Black community of Shiloh in south Asheville as well as some of the programs of the Cathedral. Heritage is in honor of the Very Rev. Todd Donatelli, Dean of the Episcopal Cathedral of All Souls, upon his retirement after 24 years.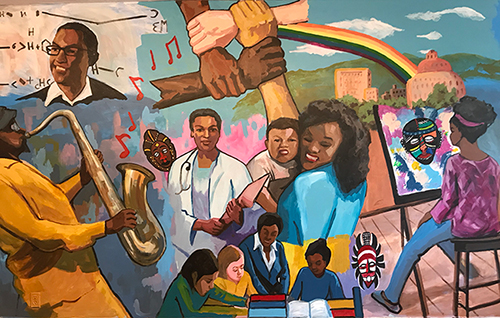 Pictured above, Joseph Pearson recently completed an 8′ x14' mural for Delta House Development Center on French Broad Ave in Asheville. In other news, on July 17th he taught his third adult workshop at the Asheville Art Museum; this was the second figure drawing workshop he taught there.
To see more of Joseph's work, please visit his website.
Women of Distinction: If you can see it, you can be it!
Paintings by Joseph Pearson
UNCA Asheville Library
Opening Reception TBD
August 9–September 30, 2021
Joseph Pearson created this body of work to honor the women in his family–he states, "…women whose love, nurture and support made me who I am. These were women who worked hard at home and in the community."
This desire was precipitated with the celebration of his last living aunt's 97th birthday, which led him to consider doing something to honor her and the women of her generation, including his mother and her older sister. Through this body of work Pearson presents a few of the many professional women from the local community as examples for younger women and girls as they strive to reach their goals and potential. "It's a way of giving back something of the nurture and encouragement I received from the women in my life."
Learn more in this interview of Joseph by Blue Ridge Public Radio and in the Asheville Made article.
Lucy Cobos receives Pastel Society award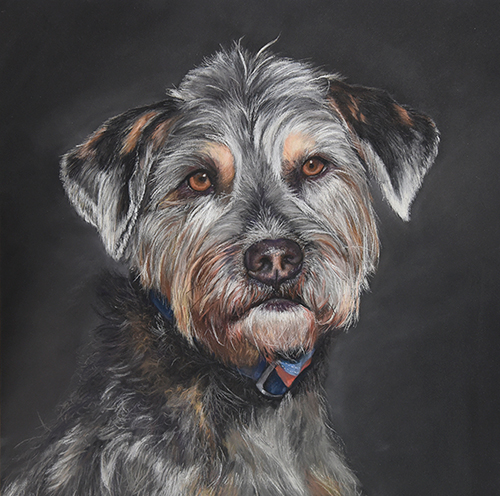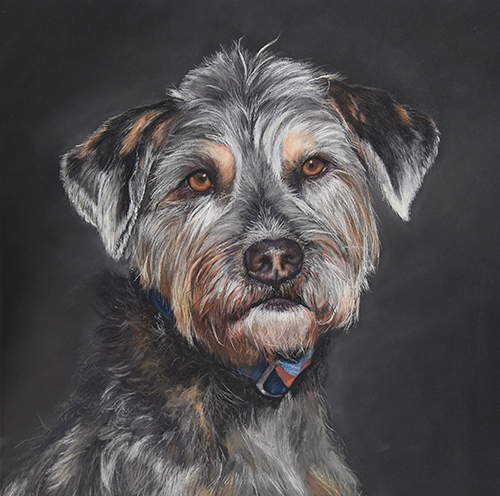 Lucy Cobos' pastel painting was juried into the 2021 Massachusetts Pastel Society Marks of Distinction show out of 359 entrants. 26 paintings out of 100 final selections were awarded prizes by juror Tony Allain, an internationally acclaimed award winning painter, author and member of the Master Circle of the International Association of Pastel Societies. Lucy was awarded "The Cape Cod Pastel Society " award for her painting, which was a commissioned piece, entitled A Boy Named Bert.
Click here to see more of Lucy's work.
Welcome A.C.E. Bikes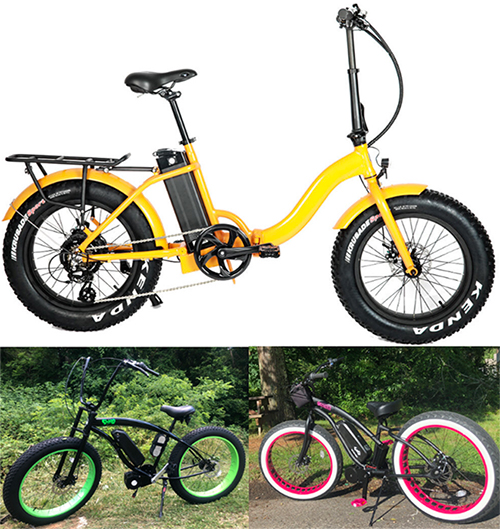 Welcome A.C.E. Bikes to Pink Dog Creative! Specializing in custom e-bikes, rentals, and sales, A.C.E. Bikes is located next to Fresh West Pizza.
For more info please contact Brian at 707-312-0920 or visit the website
www.theACEbikes.com.
Grind Marketplace
Pink Dog Creative, 346 Depot Street
Saturdays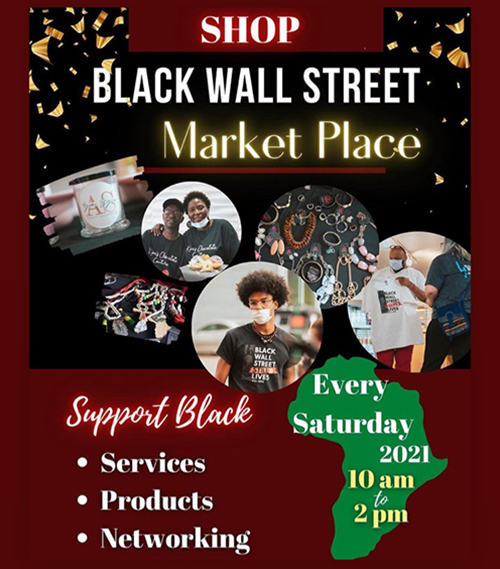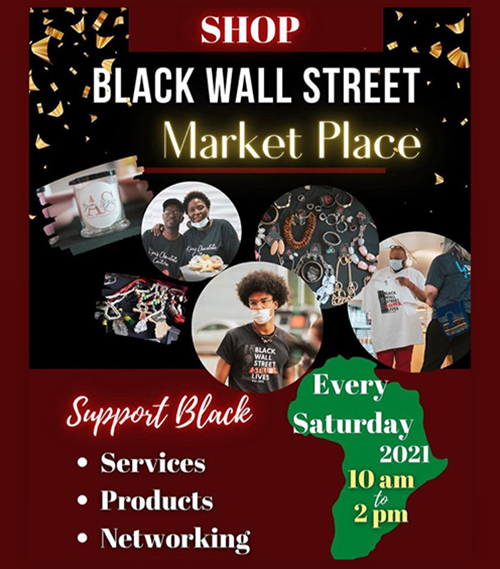 Support Black services and products at the Black Wall Street Market Place. Every Saturday from 10am to 2pm be sure to visit the this weekly pop-pup shop at GRIND Coffeehouse.
More details at GRIND's website.

Welcome Beth Hill
Suite 101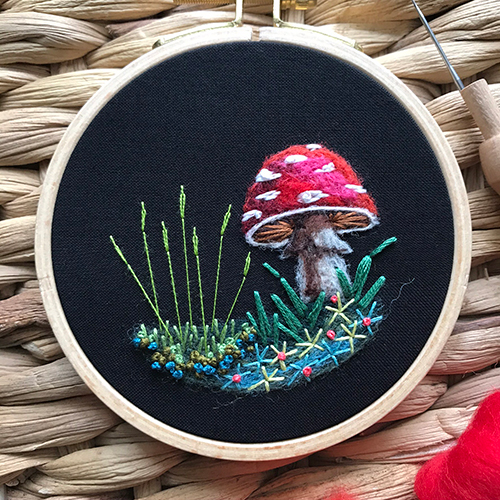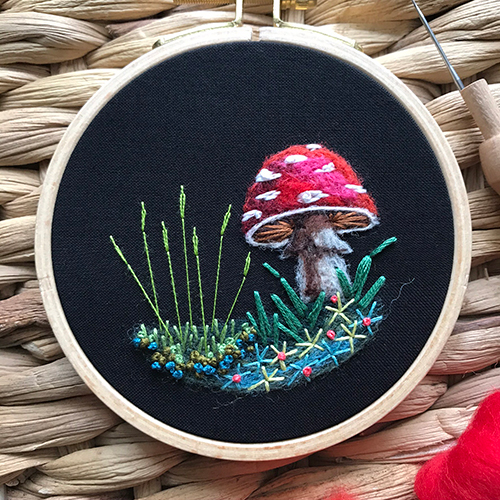 Pretty. Sassy. Funny. Beth's hand embroidered work includes both artistic and detailed pieces as well as quotes and funny sayings that bring a smile. Come by and learn a stitch or two, and take home some fresh flowers that she grows and arranges.
https://www.instagram.com/purpose.bybeth/
https://www.instagram.com/backyardbloomsofasheville/
Welcome Clare Beumer-Hill
Suite 101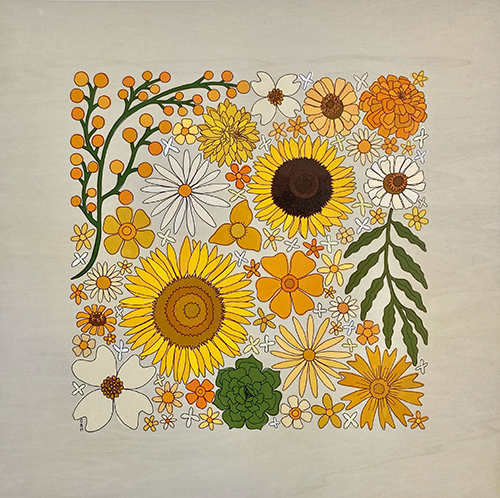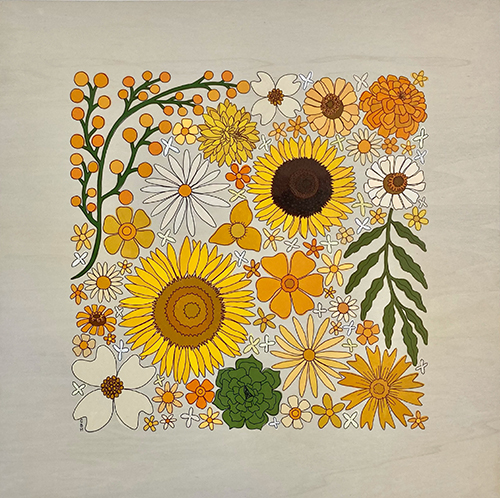 Hand painted acrylic florals inspired by the natural and imagined, vintage textiles, and the way colors interact.
See more of Clare's work at her Etsy shop.
Welcome Gayle Paul
Suite 140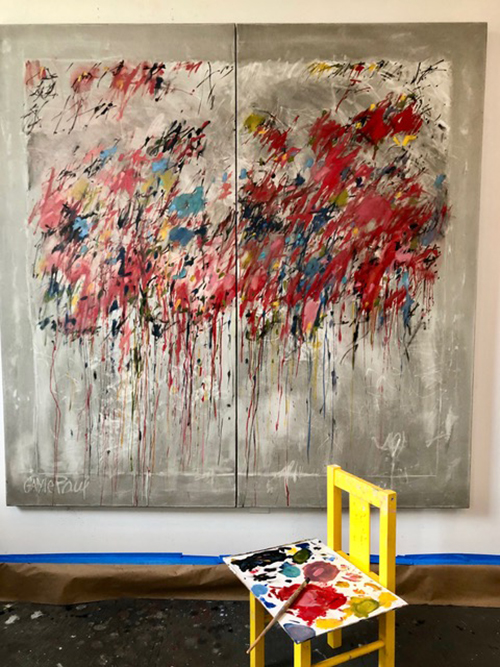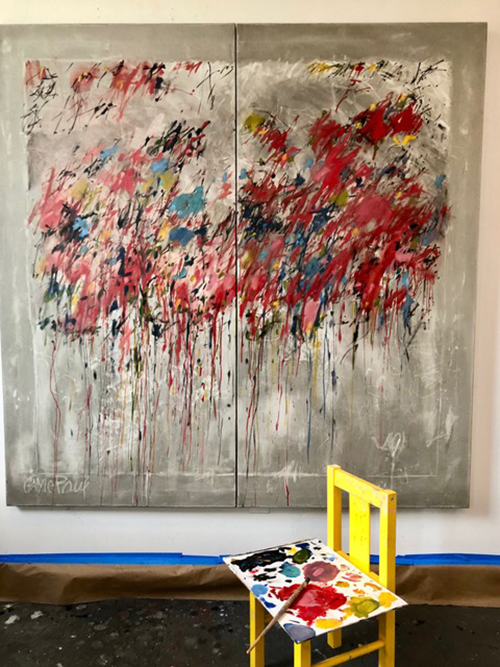 Gayle Paul's Artist Statement: "Time and space are the subjects for this collection of new paintings. How has time spent painting over a long career influenced my work and how can time be the subject? Time is my experience both as a painter and as an observer. Space is the canvas, paint, and brushes that I use to express both visual and abstract thoughts. I think of myself as a constant painter — a painter who continuously tries to translate what I see and feel to visual paintings."
Andrea Kulish featured in Our State Magazine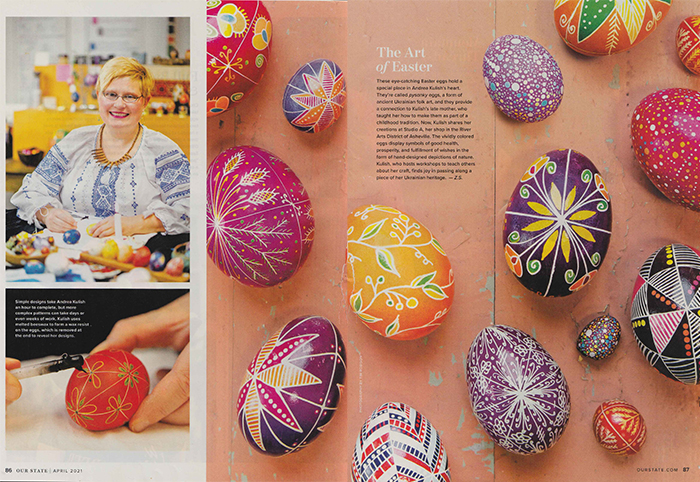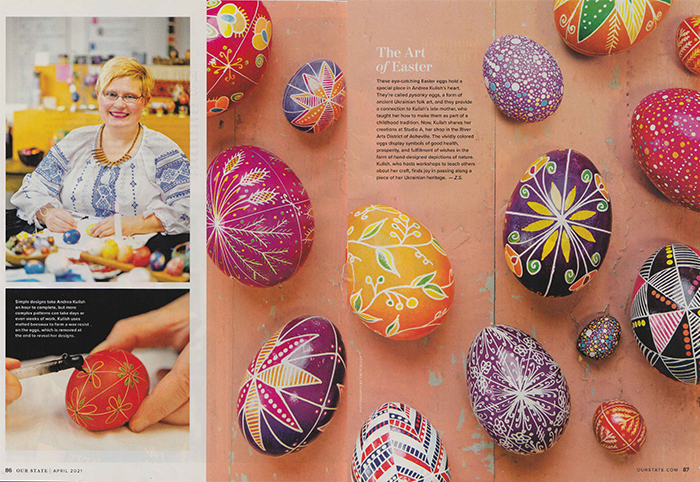 Andrea Kulish and her Ukrainian pysanky eggs are featured in Our State Magazine's April edition, which has a theme of Art. Available at North Carolina newsstands or read the online version here.
In Solidarity has Raised $12,170 for Charities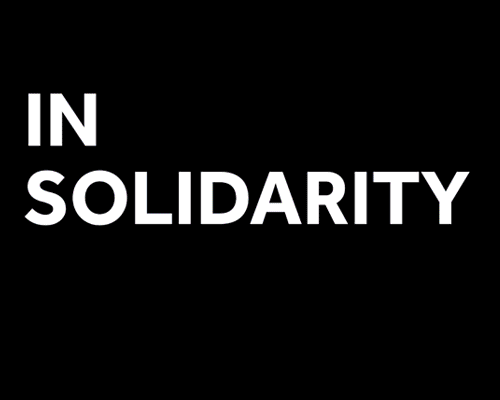 As of this date, sales from In Solidarity have raised $12,170 for charities. This exhibition by Pink Dog Creative artists and associated friends, seeks to speak to the violence, fear and grief caused by centuries of injustice to Black people and to celebrate the many contributions made by people of African descent to the culture of this country and the world. At Pink Dog we stand for justice and equity for everyone. We are outraged and saddened by the recent deaths of George Floyd, Ahmaud Arbery and Breonna Taylor and the unnecessary violence against Johnnie Rush in our own city. These names are only the more recent victims in a long history of racism in this country. We believe that artists speak to our times and that art can uplift, enlighten and encourage dialogue. Art can be a vehicle for social change.
Up to 100% from the sale of art from this exhibition will go to the following charities whose mission is justice and equity, Black Lives Matter, BeLoved Asheville, and the Equal Justice Initiative. We encourage you to join us in donating to organizations that are working to progress racial equality. Pink Dog Creative will match all donations from sales from this exhibition. Now also on view in the Pink Dog Gallery, 348 Depot Street. Click here to see the exhibition.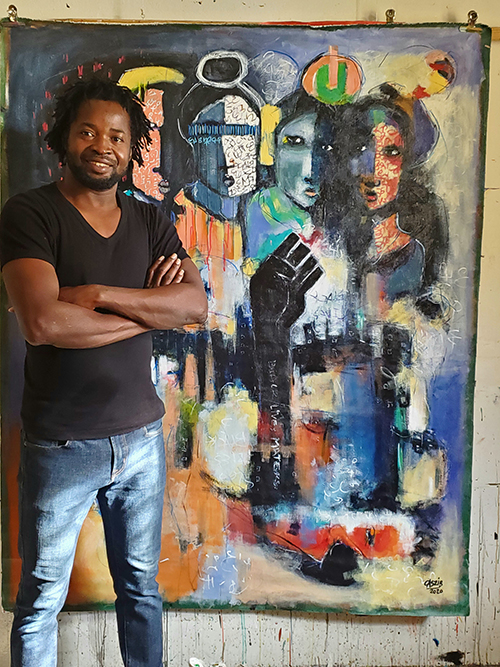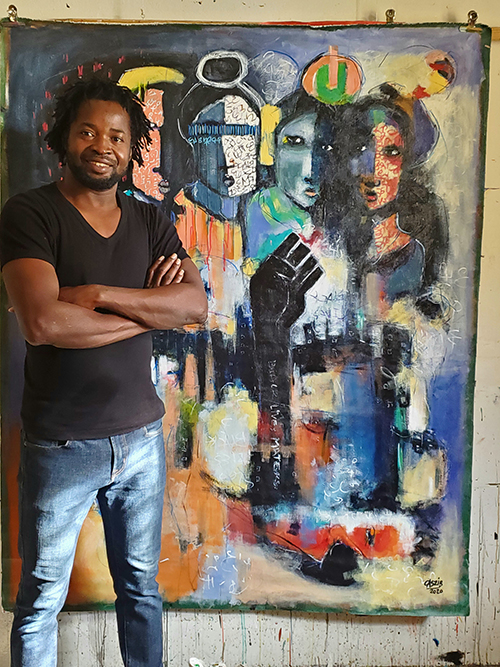 Congratulations to Casimir Bationo (Caszi B) on the sale of his "Black Lives Matter" painting as part of the "In Solidarity" exhibition. 35% of the sale of this painting went to Black Lives Matter, and this amount has been matched by Pink Dog Creative, doubling the donation amount. See the online exhibit at http://www.pinkdog-creative.com/in-solidarity
Pink Dog Creative featured in Asheville Made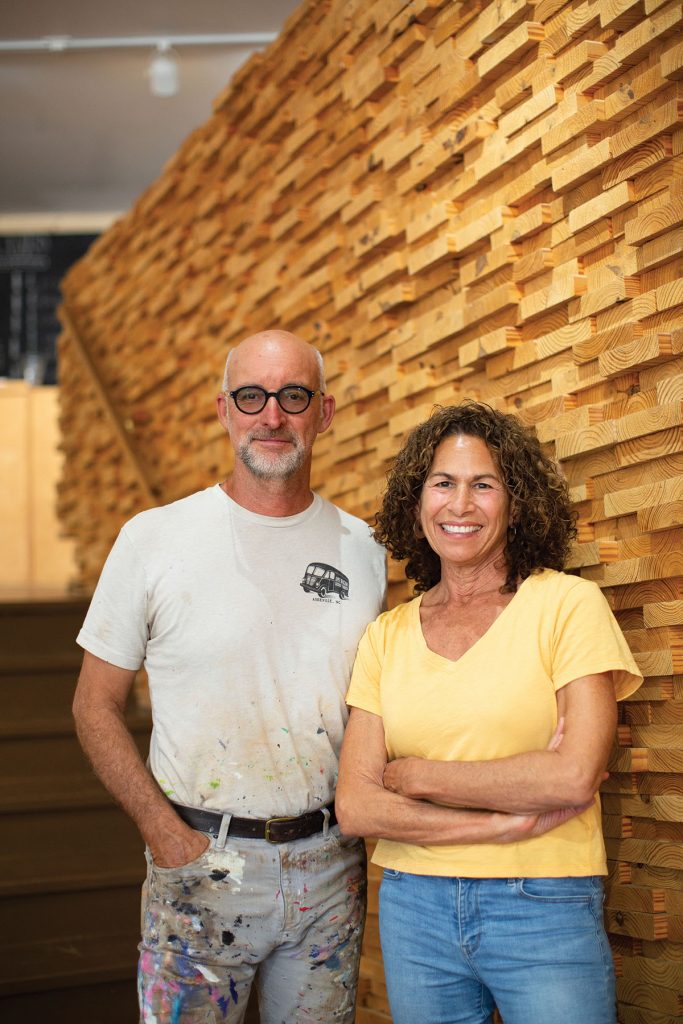 Pink Dog Creative is featured in the November issue of Asheville Made. Paul Howey's article Gallery Addresses Big Issues in Bright Hues includes the history, current artists, restaurants and retail which comprise Pink Dog Creative.
Please click here to read the article.
Welcome GRIND Coffee Bar and Co-Working Event Space
346 Depot Street, Asheville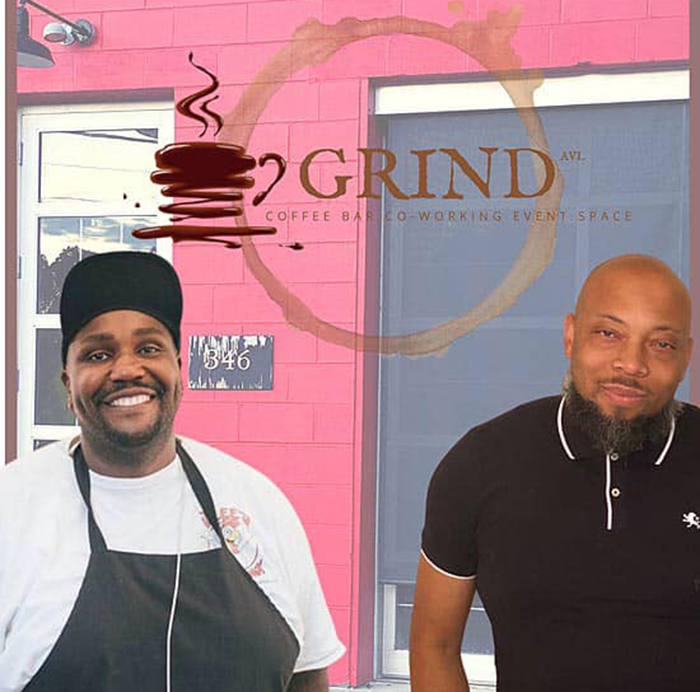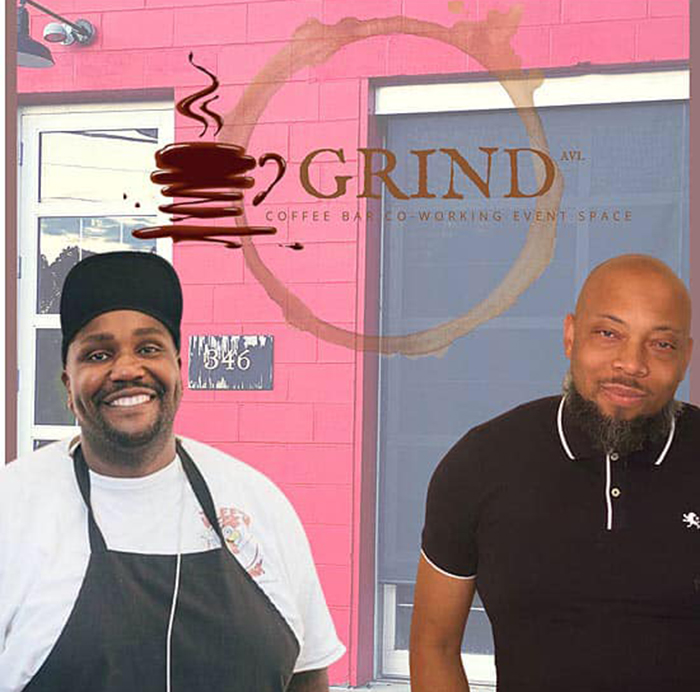 Asheville's first Black-owned coffee shop, GRIND is a place for coffee. It's also a place for co-working, events, team meetings, business decisions and hanging out enjoying the best coffee in town. GRIND is located at 346 Depot Street and will be open 7 days a week.
For more information call The Grind at 828-785-0233, email [email protected], read the article in Urban news or visit GRIND's website.
Support GRIND and other Black-Owned Businesses year-round at: https://www.websiteplanet.com/blog/support-black-owned-businesses/
In Love's Shadow Featured in The Bitter Southerner
In Love's Shadow, a short documentary film about Ralph Burns and his multi-decade photography project, How Great Thou Art, is showcased in a recent issue of The Bitter Southerner. The film, made by Jethro Waters, follows Burns as he returns to Graceland on the 40th anniversary of Elvis Presley's death, and looks at the relationship of this project to Burns' fuller body of work. In Love's Shadow was produced by David Raymond, and was made possible with the generous support of many.
Link to film and article: bittersoutherner.com/in-loves-shadow
Joseph Pearson and Jenny Pickens Lead Artists for Asheville Black Lives Matter Mural
Joseph Pearson and Jenny Pickens were Lead Artists for the Asheville Black Lives Matter Mural. On Sunday, July 19, 20+ artists came together to create this mural in the heart of downtown Asheville. Many thanks go to Councilwoman Sheneika Smith for providing the leadership to bring community members, artists, and the Asheville of City together to create this community project.
Read more about the artists and mural here.
Andrea Kulish Artwork Acquired by Pysanka Museum
Kolomyia, Ukraine
Pink Dog congratulates Andrea Kulish as the Pysanka Museum in Kolomyia, Ukraine acquires three of her pysanky eggs for their permanent collection. The museum will be launching their first-ever exhibit dedicated to the pysanka artists of North America. This historic exhibit will present how traditional pysanky writing was preserved in North America by waves of immigrants and enthusiasts, and how the artform has grown to include innovative techniques, methodology and creativity. The Evolution of Pysanky in North America exhibit opens on Saturday, April 25, during the annual Kolomyia Pysanka Festival.
Visit the museum's website to learn more.
VIVIAN Wins 2019 Best Restaurant of the Year Award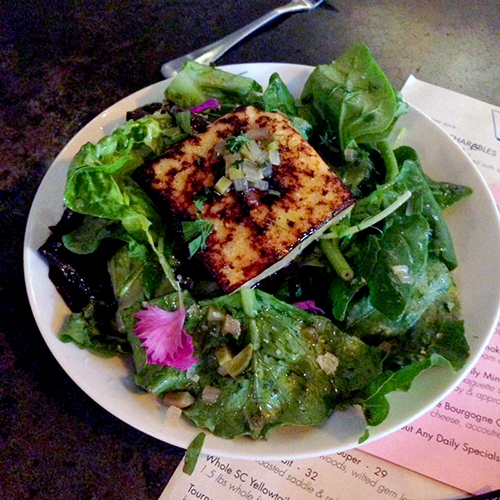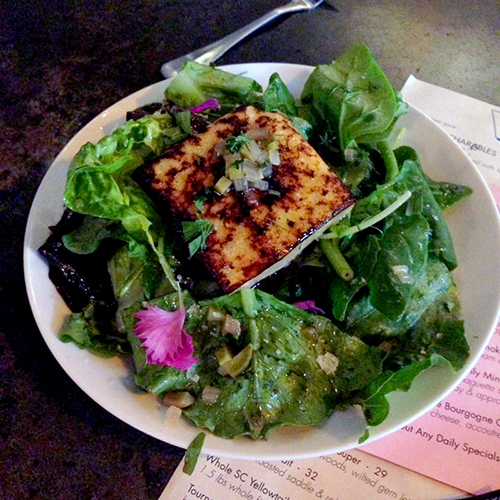 Congratulations to VIVIAN restaurant for winning the 2019 Asheville Food Fan Award for Best Restaurant. This is the second year in a row that VIVIAN has won this honor.
Read more about VIVIAN and make a reservation at their website.
Congratulations Brett Douglas Hunter for being included in Architectural Digest
Brett, formerly a Pink Dog studio artist, had a successful exhibition of his artwork at the Pink Dog Gallery in October, 2015. He also created a mural of Manute Bol for the Container Project at Pink Dog Creative.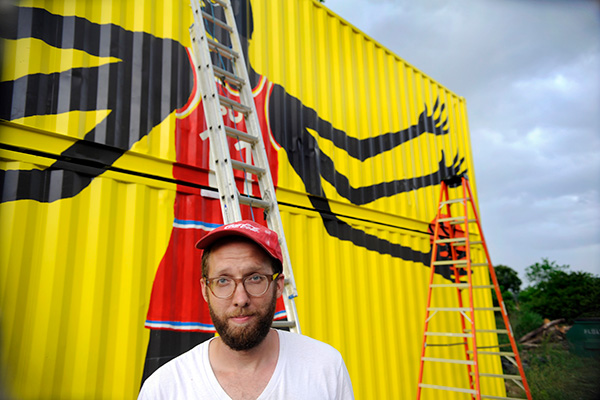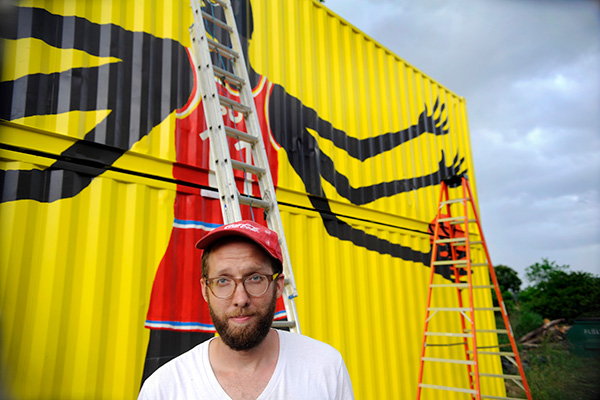 Ralph Burns Photographs Acquired by North Carolina Museum of Art
Raleigh, NC
A suite of twelve vintage photographs by Ralph Burns has been acquired by the North Carolina Museum of Art. The photographs, all from Burns' three decades long project, How Great Thou Art, Memphis, TN, 1978 – 2007+, were acquired in December, 2019, and will be held in the museum's permanent collection.
In writing about How Great Thou Art for a European/British exhibition, the German/Israeli Curator Doreet LeVitte Harten wrote that "(his) insight into the religious character of the Graceland pilgrimage makes Burns' works, apart from their aesthetic qualities, into documents of anthropological significance."
With this latest acquisition, the North Carolina Museum of Art will have 16 of Burns' photographs in their collection.
See more of Ralph's work at his website.
Joseph Pearson artwork featured in Time Magazine and The New York Times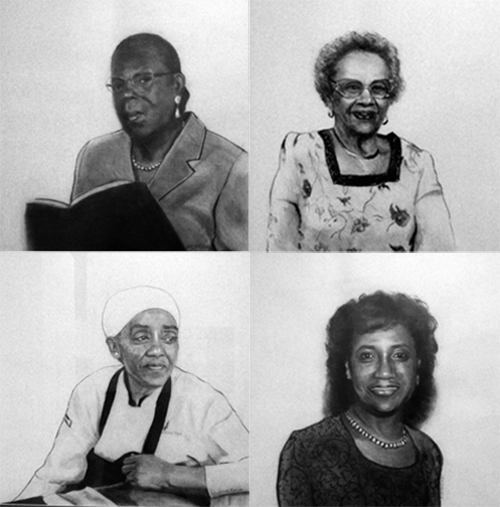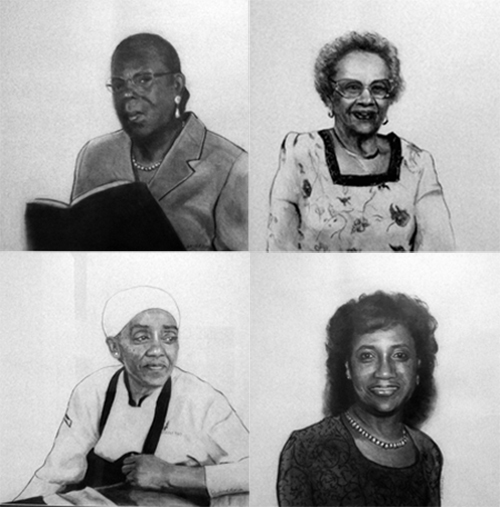 Joseph Pearson's painting The Block, Looking Back In Time has been featured twice this month in national publications, the New York Times and Time Magazine. Time Magazine named Benne on Eagle, a restaurant in the Foundry Hotel in downtown Asheville, one of their World's 100 Greatest Places of 2019. Illustrated in the article is artist Joseph Pearson's painting, The Block, Looking Back In Time, documenting the historic African American business district of Asheville, along with charcoal portraits of four significant female black business owners when The Block was in it's heyday.
The New York Times also highlighted the Benne on Eagle along with a photograph of Joseph's painting, in the article, "Summer's Not Over Yet! 8 Ways to Extend Your Vacation."
Pearson states, "I was honored to be a part of reflecting our history in this area, realizing that without this documentation in visual form, in a few years of gentrification no one would know the rich Black history of The BLOCK."
See more of Joseph's work at his website and Instagram.
Randy Shull's Open Space acquired by

Congratulations to Randy Shull as the Asheville Art Museum acquires Open Space. Shaping negative space with a combined artistic and mathematical precision, Shull explores the boundaries and intersections between furniture and fine art. In Open Space, sculptural components comment on the relationship between furniture and art as well as their implications when occupying a shared environment. Considering furniture to be an equalizer among people in its ubiquity and daily utility, Shull encourages us to not only reconsider our personal rapport with furniture but also the ways in which we navigate our world.
See more of Randy's work at his website.
Hedy Fischer appointed to Art21 Board of Trustees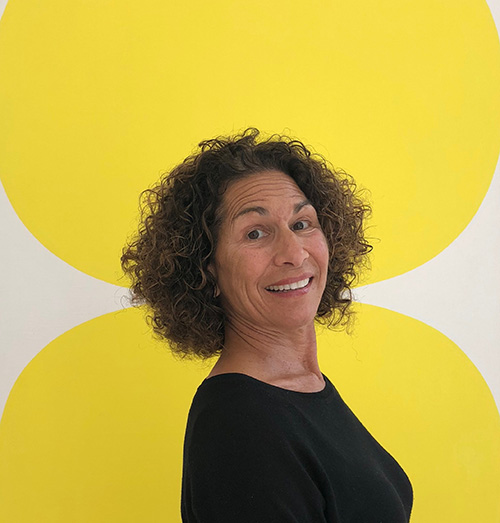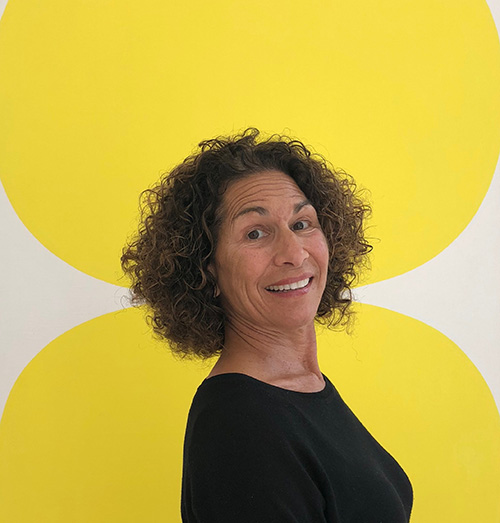 Hedy Fischer, co-founder of Pink Dog Creative, has been named to sit on the Board of Trustees of Art21. Art21 provides unparalleled access to the artist's voice to diverse audiences around the world, using the power of digital media to introduce millions of people to contemporary art and artists. For over two decades, Art21 has changed the paradigm for teaching and learning about the creative process.
In addition to its Peabody Award-winning PBS-broadcast television series Art in the Twenty-First Century, Art21 produces the digital film series New York Close Up and Extended Play; as well as special artist projects. Art21 also creates educational resources and professional development programs; annual public programming; an online publication featuring guest contributors; and a comprehensive website at Art21.org.
Community Container Project in The Laurel
Pink Dog Creative's Community Container Project was recently featured in The Laurel. Connection was a theme for Trinity Harper Pierce as she created her work. "If you don't love your community, there are lots of things that could happen that could be bad, like more violence and heartache," says Pierce. "It's sad to see families lose loved ones to violence." Pierce says creating art helps her feel calm and express herself, and seeing her art on such a large scale gave her lots of emotions. "I feel a little bit nervous because I have never done anything like this and I am excited at the same time," she says. "I hope that when people see the mural that their hearts grow bigger than the heart in the middle."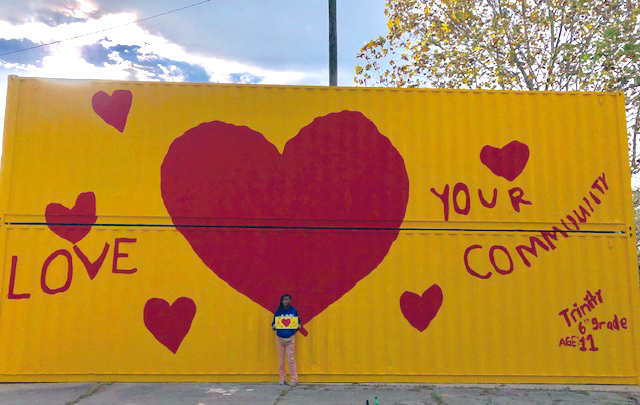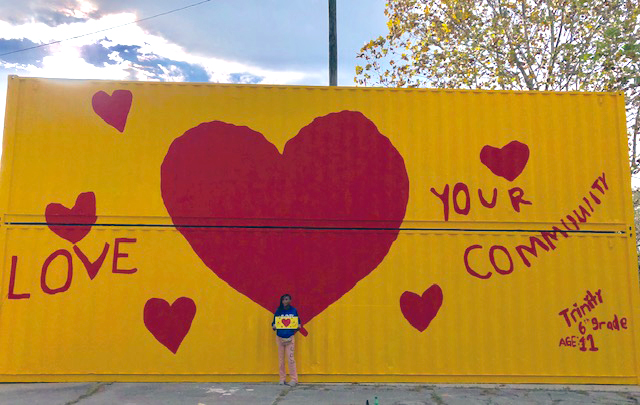 Read the full article at The Laurel website.
VIVIAN wins Best New Restaurant and Best Restaurant in the 2018 Stoobie Awards
Congratulations to Vivian restaurant for winning not one, but two awards in the 2018 Stoobie Awards. Vivian won Best New Restaurant and Best Restaurant. Vivian is "an insanely great restaurant, and a brilliant new jewel in the crown of high-end dining establishments that currently rings our city." – Stu Helm
Click here to read about Vivian and the other winners at the Stoobie Awards website, and here to see Vivian's menu and make a reservation.
Vivian receives Best New Restaurant Award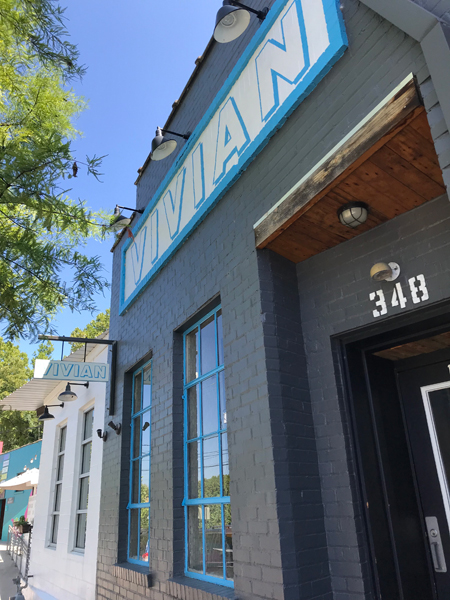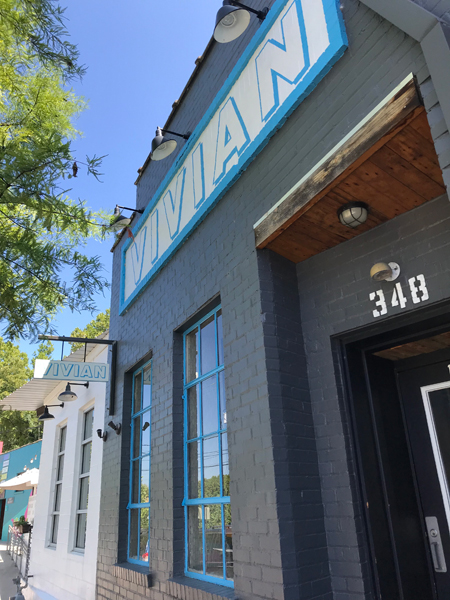 Vivian is honored to receive a "Best New Restaurant" award from Mountain Xpress Best of WNC Awards for Asheville in 2018. Vivian would like to thank all their wonderful guests who voted for their nomination in this category; they look forward to serving you many more delicious meals!
Learn more and make a reservation at Vivian's website.
Pink Dog Creative and 22 London Featured in Burnaway article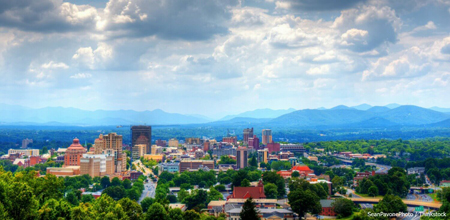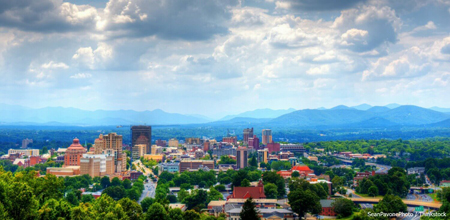 Pink Dog Creative, 22 London, and the upcoming exhibit Say It Loud at 22 London were all mentioned in a new article in Burnaway, The Voice of Art in the South. The article is entitled How Did Asheville Make the List of 40 Most Vibrant Arts Communities in America? by Diana Stoll.
Read the full article at burnaway.org here and the original research findings about the 40 Most Vibrant Art Cities here.
Dining review: RAD's Vivian grows from Salt & Smoke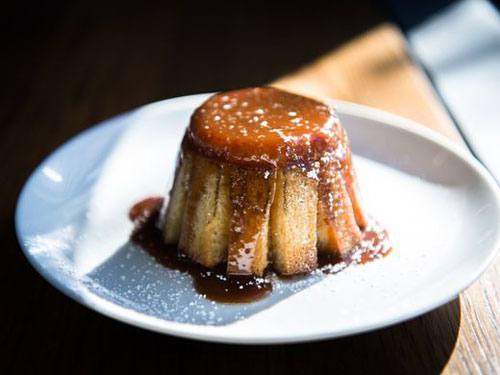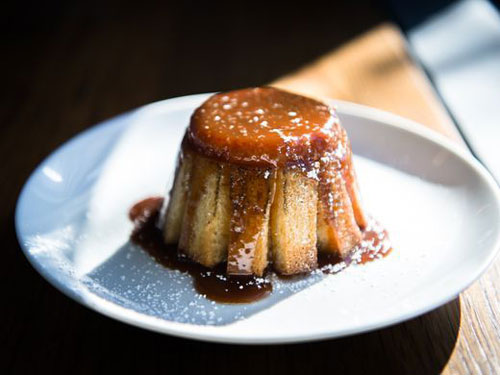 An excerpt from the article: "Vivian feels as though it's been operating for years. Its cuisine is clearly defined, and the warm hospitable approach to the service helps makes the restaurant a success… Vivian set out to meld southern and European cuisines in an elevated way, and it succeeds. "
Randy Shull work acquired by Spartanburg Art Museum
Spartanburg, SC
Pink Dog congratulates Randy Shull as the Spartanburg Art Museum acquires Striped Reflection, a recent piece from his reflection series that explores the relationship between painting and furniture. Fundamentally, Shull says the work is about pairing and relationships.
See more of Randy's work at his website.
Viola Spells featured in the Mountain Xpress
Viola Spells was featured in Mountain Xpress article Two Local Artists Follow Their Passions in the RAD by Alli Marshall.
Fresh West Pizza in the Mountain Xpress
Read Liisa Andreassen's interview of the owner of FRESH West- Quick Dish: Q + A with Mark Tomczak of FRESH Wood Fired Pizza in the Mountain Xpress – read the article here.
10 Top U.S. Cities for Art Lovers: Asheville
Pink Dog Creative is the feature photo for a "Top 10" article on AARP!
Read more at AARP Travel online.
Asheville, North Carolina is unlike anywhere else in the South
"[Asheville's] singular mix of worldliness and hominess gives it a character unique among cities below the Mason-Dixon line."
"A visit to the emerging River Arts District felt more my speed. A string of converted industrial buildings along the French Broad river, it's now home to working artists in spaces that New York creatives would give both arms for. It's impossible to categorize the talent here, but in just a few hours, I met abstract-animal painter Daniel McClendon (349 Depot St., danielmcclendon.com) and record producer-turned ceramicist Akira Satake (191 Lyman St., akirasatake.com), whose airy workshop houses his wife's exquisite pastry shop, Yuzu Patisserie (191 Lyman St., yuzubycynthia.com)."
Read more of this article at the NY Daily News.