Randy Shull and Hedy Fischer are creating a colorful sensation on Depot Street in Asheville's River Arts District. The former textile manufacturing and warehouse building at 342-348 Depot Street has been transformed into an exciting mix of artist studios and retail spaces.
Pink Dog Creative shares the neighborhood with New Belgium & the Wedge Breweries, 12 Bones Smokehouse and hundreds of local artists. Pink Dog has 33 artists working in their studios, GRIND Coffee Bar, Fresh West Wood Fired Pizza, Vivian Restaurant and A.C.E. Bicycles. Pink Dog raises funds and awareness for people and organizations working to make our communities more equitable and just, including Southside Rising, Youth Artists Empowered and the Edington Center, among others.
Open Hours: Artists work odd hours but we promise to have our studios open for the public on Fridays and Saturdays from 11–5.
We're thrilled that Pink Dog Creative was chosen to represent Asheville in this stunning short film.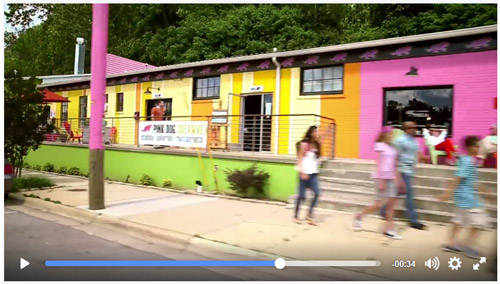 Ongoing Exhibitions & Artist News
Cindy Walton: Without Limitations
Pink Dog Gallery, 348 Depot Street
June 17–July 17, 2022
When the COVID-19 lockdown period arrived in March of 2020, I found myself at home "limited" by place and workspace, however, without the limitation of a certain amount of time to create. Having been a painter most of my adult life, I found myself wanting to explore different ways of expressing myself beyond the abstractions of recent years such as The Water Series. I began constructing assemblages of torn paintings on paper, repurposed by weaving, sewing, and gluing to create new painting surfaces. As the limitations the of time period developed, so did the three-dimensional works and the exploration of new ways of painting. The combination of oil paint, wax, spray paint, and pigment sticks are present in this collection of works. Once limits were lifted and I moved to a much larger studio space, the paintings on canvas were beginning to change also, the work was getting larger and bolder. Recently, an important group of paintings, Steps, has emerged which are whimsical, bold, and have an architectural aspect which echoes both the constructs and the abstraction. As the period of limitations has receded, I am excited to showcase this new body of work and continue to push myself forward with the exploration of new methods of feeding the soul through painting.
See more of Cindy's work at her website.
Ygnacio Rivero: Sleepwalking: 2004–2022
Pink Dog Gallery, 348 Depot Street
Opening reception Saturday, July 23, 5:00–7:00 PM
July 23–August 22, 2022
Ygnacio Rivero of Mérida, Mexico, holds multiple degrees and is a photography teacher at the National School of Higher Studies and at the Marist University of Yucatan. He began to teach himself photography in 1977 and to date has maintained constant activity in the national and international artistic and cultural realm. He has been awarded at the Visual Arts Biennials of Yucatan in 1985, 1991 and 1995. He was awarded the "Medal of Artistic Merit in Plastic Arts" by the Government of the State of Yucatan in 1997. He has obtained two annual creation grants (1994 and 1998) from the Yucatan Institute of Culture and a FONCA grant for creators with a career (2005). In 2014, he obtained recognition from the Municipal Fund for Visual Arts. He was a founding member of the group "Imagen Alterna", organizer of the event "ABRIL. International Month of Photography" in Mérida, Yucatán from 1985 to 2000. Rivero has been a representative of Mexico in ORACLE, International Circle of Critics and Promoters of Photography in the meetings of 1995 in Daytona, United States and 2002 in Cologne and Berlin, Germany.
Follow Rivero's photography on Instagram.
Mark Flowers work on view at Asheville Regional Airport
July 2–November 1, 2022
Mark Flowers is pleased to announce that four of his paintings will be included at the next exhibition at the Asheville Regional Airport from July 2 until November 1. Flowers is especially pleased that his piece Airport Seduction will be on display, as he has always said that if he hadn't pursued a lifetime of teaching art as his day job, he would have worked at an airport. Flowers states, "There is something very interesting to me about how humanity travels. In an airport we cross between each other, possibly meet on purpose or by chance. In each traveler there are individual stories that are waiting to be discovered."
See more of Flowers' artwork at the St. Claire Art Studio/Gallery and on his Instagram page.
Amanda Clark: Regeneration II
Cindy Walton Fine Art, PInk Dog Creative, Suite 180
Opening Reception August 13, 5:00–7:00 PM
August 1–13, 2022
Cindy Walton Fine Art is hosting an exhibition for artist Amanda Clark. Amanda has been a summer intern with Cindy and is finishing her senior year at Western Carolina University with a BFA in studio art. Clark uses abstraction and the human figure to explore emotional and physical connections. She finds taboo topics such as the human reproductive system and mental illness as inspiration for her works. Coming from a large family, she has seen and felt the effects that miscarriage, abortion, and mental illness can have for generations. She has also been able to witness and take part in the healing journeys of herself and her loved ones and pulls from this to create uplifting works of art. Clark's exhibit, Regeneration II can be viewed in Walton's studio at Pink Dog Creative from August 1–August 13, with an opening reception on Saturday, August 13 from 5–7pm.
Majik Studios in Seasons of the Smokies Fashion Show + Dinner
Convergence Event, Knoxville, TN
Friday, July 15, 2022, 7:15–9:00 PM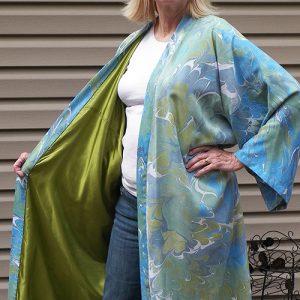 Pam Granger Gale of Majik Studios and Marcia Mills of MG Mills Studio collaborated on a long, marbled kimono reminiscent of the flowing cool waters of the Appalachian mountains. The kimono will be included in the Seasons of the Smokies fashion show featuring wearable art designed and handmade by fiber artists from around the world, run by the Hand Weavers Guild of America. Inspired by the Seasons of the Smokies these works are as diverse and unique as the flowers, weather, climate, colors, and outdoor activities that change and unfold with each season.
Majik Studios at Southern Highland Craft Guild Fair
Harrah's Cherokee Center, Downtown Asheville
July 21–24, 2022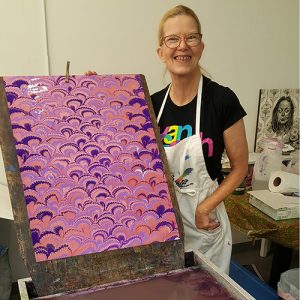 On July 21–24, Pam Granger Gale and Majik Studios will be demonstrating the process of marbling on silk scarves for attendees of the 75th annual Southern Highland Craft Guild Fair. Pam will be just inside the door at Harrah's Cherokee Center. The fair hours are Thursday-Saturday 10-6 and Sunday 10-5.
More info at the Majik Studios website.
Joseph Pearson: IMAGES OF DIGNITY–WHO WE ARE AS A PEOPLE
Lyric Theatre and Cultural Arts Center, Lexington, KY
June 1–July 28, 2022
The Lyric Theatre & Cultural Arts Center proudly presents IMAGES OF DIGNITY: WHO WE ARE AS A PEOPLE, an exhibit by artist Joseph Pearson. Offering a counter-argument to the seemingly negative perceptions of Black men in the United States, this exhibit will be displayed from June 1–July 28, 2022.
Featuring portraits of famous figures alongside snapshots of everyday life, this body of work places emphasis on positive representations that address the various perceptions of Black men. The subjects capture only a small portion of the contributions Black men have made to America and beyond, from science and politics to military service.
See more of Joseph's work at his website.
Andrea Kulish Fundraisers for Ukraine in Time and Wall Street Journal
Third Thursday Fundraiser for Ukraine
Studio A, 344 Depot Street, Suite 100
Thursday, July 21, 2022, 5:00–7:00 PM
Andrea Kulish, a first generation Ukrainian-American, is raising funds to help Ukraine. At Studio A, Stand With Ukraine stickers, handmade items from Ukraine, pysanky eggs, t-shirts and more are available for purchase by donation. 100% of funds collected are being donated to the UNWLA Humanitarian Aid Fund for life-saving medical equipment for Ukraine. Studio A has raised over $52,000 for the fund as of this date.
Read more in this Wall Street Journal article about pysanky eggs, and in a recent Time.com article.
Follow Andrea on Instagram for more of her fundraising updates.
Lucy Cobos work acquisition
The Bascom, A Center for the Visual Arts
The Bascom: A Center for the Visual Arts in Highlands, NC has acquired two pastel paintings by Lucy Cobos, Elephant Rock Beach and To the Summit, as part of their retail collection.
See more of Lucy's work at her website.
Welcome Pam Granger Gale
Suite 140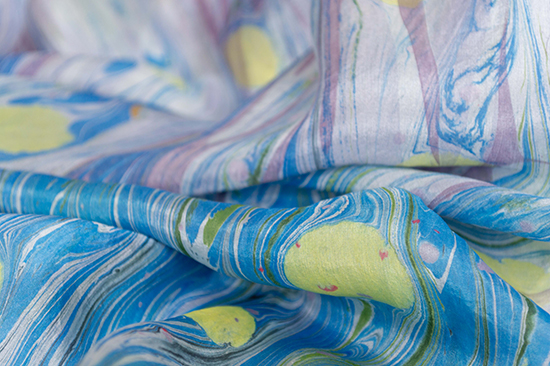 Pam Granger Gale is a retired art teacher with 31 years of experience teaching all ages in different media. She has narrowed her personal art love to marbling. She has a BA degree in Art Education from Limestone College and attained National Board Certification in 2004 and 2014. Pam fell in love hard over thirty years ago with the process of marbling. As a lifelong teacher and learner, she has continually shared her love of the fickle process with others, introducing them to a relaxing addiction. Marbling, the ancient art of floating paint on a thickened water surface, is commonly remembered as facing pages in old books and Bibles. When the desired pattern is achieved, then it may be printed by laying paper to capture or freeze the design.
Learn more about Gale's marbling and classes at her website.
Welcome Heather Divoky
Suite 101
Heather Divoky is an artist and poet living and working in Asheville, North Carolina. She obtained her BA in Art History at Appalachian State University and her Masters in Arts and Culture at Leiden University, the Netherlands. She has worked in the arts as a creator, curator, historian, designer, and administrator. Her work is shown nationally and internationally from Nashville to Amsterdam. Her primary concern is story-telling through great detail and color. Divoky works with marker, ink, wire, and stained glass, although she is always trying new media and techniques.
See more of Divoky's work at her website.
Randy Shull Honors Ukraine
Pink Dog Creative, 342-348 Depot Street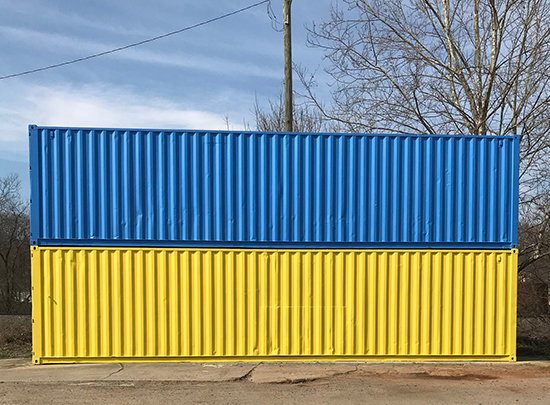 Randy Shull Honors Ukraine, the newest Container Project by Randy Shull at Pink Dog Creative, was painted on March 5. Visitors are encouraged to take selfies in front of the artwork and post using hashtag #standwithUkraine in support of Ukraine.
Learn more about past Container Projects here.
Fundraisers for Ukraine at Studio A
Suite 100



Andrea Kulish, a first generation Ukrainian-American, is raising funds to help Ukraine. At Studio A, Stand With Ukraine stickers, hand painted and handmade items from Ukraine, pysanky eggs, t-shirts (coming soon) and more are available for purchase by donation. 100% of funds collected are being donated to the UNWLA Humanitarian Aid Fund for Ukraine, which goes directly to four hospitals to help wounded soldiers and civilians, and to aid displaced civilians in Ukraine. Studio A has raised over $10,180 for the fund as of this date. Andrea also co-organized and co-hosted an online benefit concert. Click here to watch the concert, which has raised almost $8,000.
Follow Andrea on Instagram for more of her fundraising updates.
Welcome Colleen Lineberry
Suite 101
Colleen Lineberry has exhibited her abstract paintings during the past 22 years in International juried shows and civic spaces in New Jersey, New York, Pennsylvania, and North Carolina, including George Segal Gallery, City Without Walls, Monmouth Museum, Atlantic City Museum, Memorial Sloan Kettering Hospital, Emerge Gallery, Sky+Ground Contemporary Art, and more. Her earlier work includes designing and creating textiles using batik and varied surface design techniques and dye methods as well as building collage and mixed media abstract paintings. She is currently working in oil, cold wax, and mixed media on wood and paper.
Ms. Lineberry taught creative nonfiction, poetry, fiction, and memoir for more than 30 years at Brookdale Community College, and as a consultant, created and taught creative expansion and writing workshops throughout New Jersey. She has shared her passion for creativity and the arts through painting, teaching, and writing and has been the recipient of fellowships at Princeton University, Rutgers University, and Vermont Studio Center. In 2018 she attended Edgewood Farms Arts Residency, adjacent to the Cape Cod National Seashore.
Lineberry states, "Art-making, for me, is an expression of spirit and a form of meditation as I try to convey my passion for the feeling and energy of a place or moment, especially in the natural world. I'm inspired by color, texture, and pattern, and I love how moments in the outer landscape combine with my own inner landscape to fuel my intuitive, creative process."
See more of Lineberry's work at her website.
Welcome Liz Hosier
Suite 101
Liz Hosier believes that art is that process of seeking truth through color, light and form inspired by sight, feelings, and contemplation supported by life experiences. Her work reflects this belief as she explores art through her love of nature, travels, and her innate need to create. As an abstract artist, she works primarily in oils, encaustics, and mixed media.
Liz recently returned to Weaverville, NC, where she was born. While living in Wilmington, NC for 30 years, she taught at the Museum School at Cameron Art Museum, participated in several art organizations (Wilmington Art Association, Diverse Works), and participated in regional and local art exhibitions and individual shows throughout the southeastern United States. Currently, her work hangs in Gallery Citrine in Wilmington, NC.
Click here to see more of Liz's work.
Mark Flowers receives Artist Support Grant
Mark Flowers has been awarded a North Carolina Arts Council Artist Support Grant to support a future exhibition, Baltimore. In March of 2021, while his wife Kristy was having brain surgery at Johns Hopkins, Mark rode a commuter train from downtown Baltimore out to the suburbs and back. He stuck his cell phone to the window of the train and recorded still images as the train moved from downtown to the suburbs and back. These images are the foundation of the work in a series of new paintings that he will exhibit in the future under the title Baltimore.
See more of Mark and Kristy's work at their website.
Pink Dog Creative accepted into the Blue Ridge Craft Trails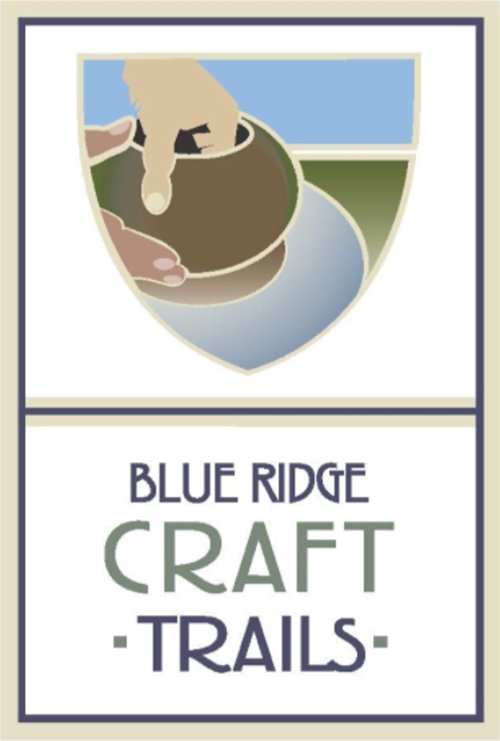 Pink Dog Creative has been accepted to be part of the Blue Ridge Craft Trails. The artists of the building and the building itself will be featured on maps, website and other materials from this non-profit.
Welcome Jeremy Phillips
Suite 103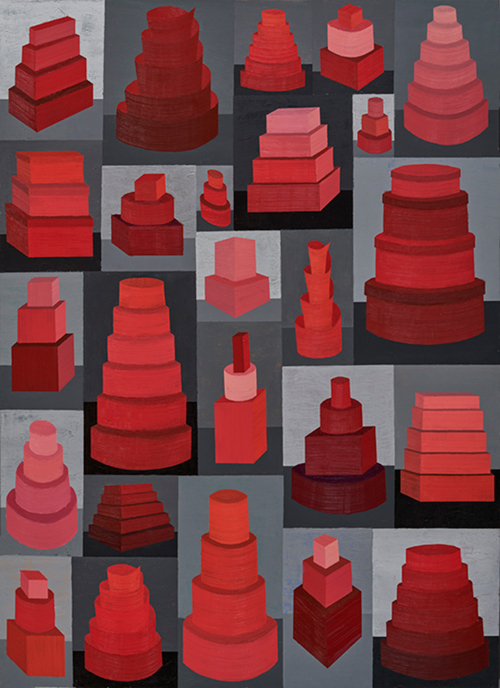 Jeremy Phillips works in a variety of styles from geometric abstraction to realism and collage.
See more of Jeremy's work at his website.
Welcome Aaron Tucker
Suite 103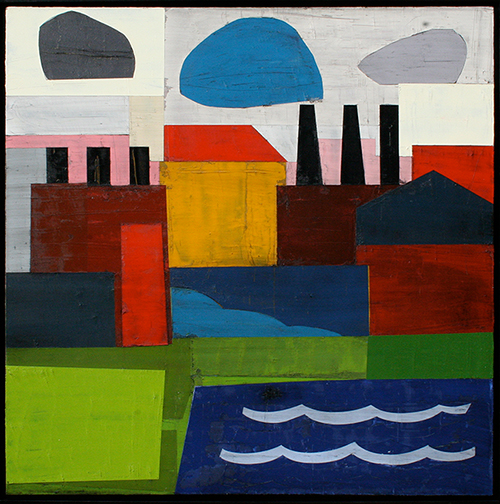 Aaron Tucker is a southern artist who finds inspiration in marks, scratches, scrapes, and half-worn images. His work is aged and weathered, the color is raw. He draws heavily from antique children's books, isolating images, then replacing original content with a new, fractured perspective.
​Aaron has always worked in both oil paint and collage, using one to influence the other. "Several years ago, I began collecting colored scraps of paper, which I found useful in developing the structure for paintings. Finding marks left behind by children in books from years past drove me toward scratching marks into wet paint, mimicking the uninhibited hand."
​"As a child growing up in North Carolina, I spent much time wandering around in the woods, finding treasures, dragging them home, and then making art out of whatever broken bottle or metal scrap I found. These findings soon developed into the paintings I create today."
View more of Aaron's work at his website.
Duke Hospital acquires Randy Shull painting
Raleigh, NC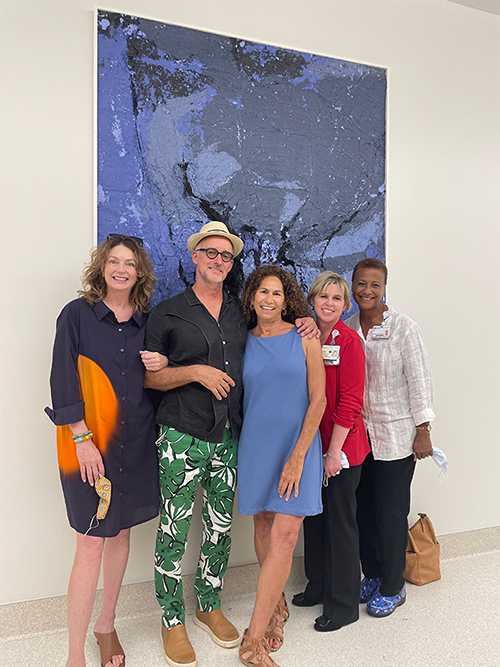 Duke Hospital acquires Periwinkle by Randy Shull, 2021, 90″ x 70″ for its new Raleigh location. Thanks to Marjorie Hodges with Artsuite; Leigh Bleecker, CEO of Duke Hospital, Raleigh; Dia Holman, Facilities Design Coordinator at Duke Hospital and Tracey Morgan Gallery.
See more of Randy's work at his website.
Joseph Pearson commissions
Joseph Pearson's commissioned painting, Heritage, for the Cathedral of all Souls in Biltmore Village was recently unveiled. The painting addresses the history of the historically Black community of Shiloh in south Asheville as well as some of the programs of the Cathedral. Heritage is in honor of the Very Rev. Todd Donatelli, Dean of the Episcopal Cathedral of All Souls, upon his retirement after 24 years.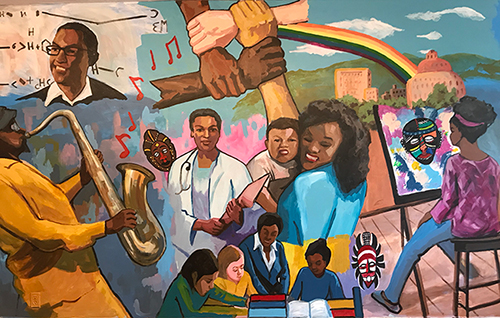 Pictured above, Joseph Pearson recently completed an 8′ x14' mural for Delta House Development Center on French Broad Ave in Asheville. In other news, on July 17th he taught his third adult workshop at the Asheville Art Museum; this was the second figure drawing workshop he taught there.
To see more of Joseph's work, please visit his website.
Welcome A.C.E. Bikes

Welcome A.C.E. Bikes to Pink Dog Creative! Specializing in custom e-bikes, rentals, and sales, A.C.E. Bikes is located next to Fresh West Pizza.
For more info please contact Brian at 707-312-0920 or visit the website
www.theACEbikes.com.
Pink Dog Creative featured in Asheville Made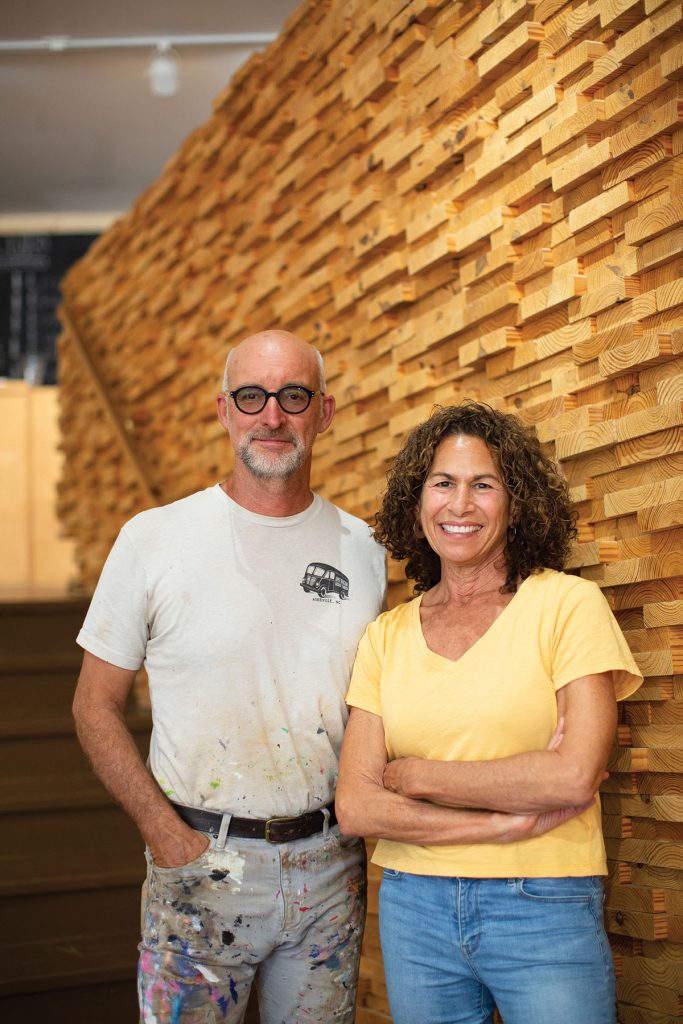 Pink Dog Creative is featured in the November issue of Asheville Made. Paul Howey's article Gallery Addresses Big Issues in Bright Hues includes the history, current artists, restaurants and retail which comprise Pink Dog Creative.
Please click here to read the article.
Welcome GRIND Coffee Bar and Co-Working Event Space
346 Depot Street, Asheville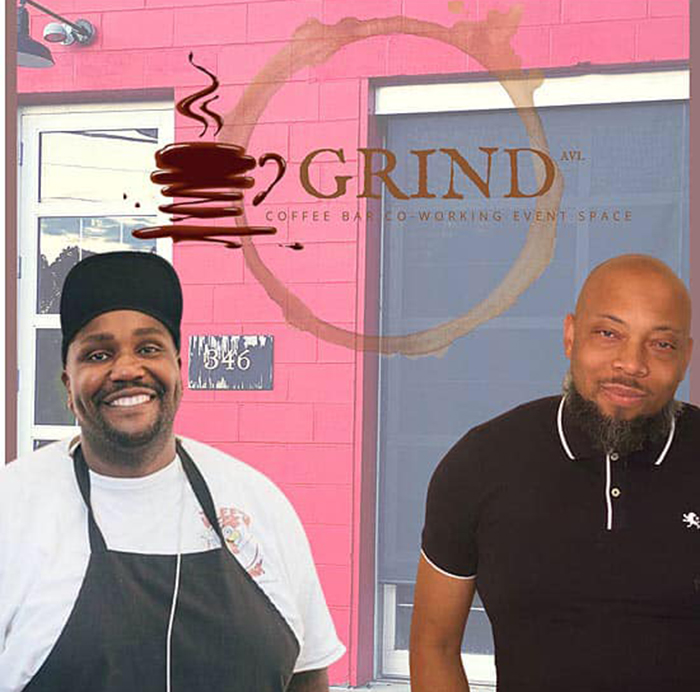 Asheville's first Black-owned coffee shop, GRIND is a place for coffee. It's also a place for co-working, events, team meetings, business decisions and hanging out enjoying the best coffee in town. GRIND is located at 346 Depot Street and will be open 7 days a week.
For more information call The Grind at 828-785-0233, email [email protected], read the article in Urban news or visit GRIND's website.
Support GRIND and other Black-Owned Businesses year-round at: https://www.websiteplanet.com/blog/support-black-owned-businesses/
In Love's Shadow Featured in The Bitter Southerner
In Love's Shadow, a short documentary film about Ralph Burns and his multi-decade photography project, How Great Thou Art, is showcased in a recent issue of The Bitter Southerner. The film, made by Jethro Waters, follows Burns as he returns to Graceland on the 40th anniversary of Elvis Presley's death, and looks at the relationship of this project to Burns' fuller body of work. In Love's Shadow was produced by David Raymond, and was made possible with the generous support of many.
Link to film and article: bittersoutherner.com/in-loves-shadow
Joseph Pearson and Jenny Pickens Lead Artists for Asheville Black Lives Matter Mural
Joseph Pearson and Jenny Pickens were Lead Artists for the Asheville Black Lives Matter Mural. On Sunday, July 19, 20+ artists came together to create this mural in the heart of downtown Asheville. Many thanks go to Councilwoman Sheneika Smith for providing the leadership to bring community members, artists, and the Asheville of City together to create this community project.
Read more about the artists and mural here.
Andrea Kulish Artwork Acquired by Pysanka Museum
Kolomyia, Ukraine
Pink Dog congratulates Andrea Kulish as the Pysanka Museum in Kolomyia, Ukraine acquires three of her pysanky eggs for their permanent collection. The museum will be launching their first-ever exhibit dedicated to the pysanka artists of North America. This historic exhibit will present how traditional pysanky writing was preserved in North America by waves of immigrants and enthusiasts, and how the artform has grown to include innovative techniques, methodology and creativity.
Visit the museum's website to learn more.
VIVIAN Wins 2019 Best Restaurant of the Year Award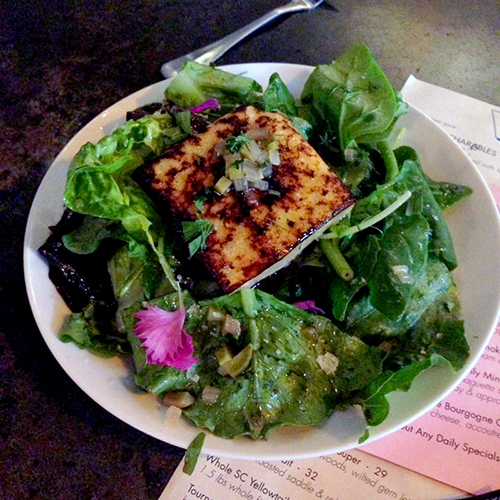 Congratulations to VIVIAN restaurant for winning the 2019 Asheville Food Fan Award for Best Restaurant. This is the second year in a row that VIVIAN has won this honor.
Read more about VIVIAN and make a reservation at their website.
Ralph Burns Photographs Acquired by North Carolina Museum of Art
Raleigh, NC
A suite of twelve vintage photographs by Ralph Burns has been acquired by the North Carolina Museum of Art. The photographs, all from Burns' three decades long project, How Great Thou Art, Memphis, TN, 1978 – 2007+, were acquired in December, 2019, and will be held in the museum's permanent collection.
In writing about How Great Thou Art for a European/British exhibition, the German/Israeli Curator Doreet LeVitte Harten wrote that "(his) insight into the religious character of the Graceland pilgrimage makes Burns' works, apart from their aesthetic qualities, into documents of anthropological significance."
With this latest acquisition, the North Carolina Museum of Art will have 16 of Burns' photographs in their collection.
See more of Ralph's work at his website.
Randy Shull's Open Space acquired by

Congratulations to Randy Shull as the Asheville Art Museum acquires Open Space. Shaping negative space with a combined artistic and mathematical precision, Shull explores the boundaries and intersections between furniture and fine art. In Open Space, sculptural components comment on the relationship between furniture and art as well as their implications when occupying a shared environment. Considering furniture to be an equalizer among people in its ubiquity and daily utility, Shull encourages us to not only reconsider our personal rapport with furniture but also the ways in which we navigate our world.
See more of Randy's work at his website.
Hedy Fischer appointed to Art21 Board of Trustees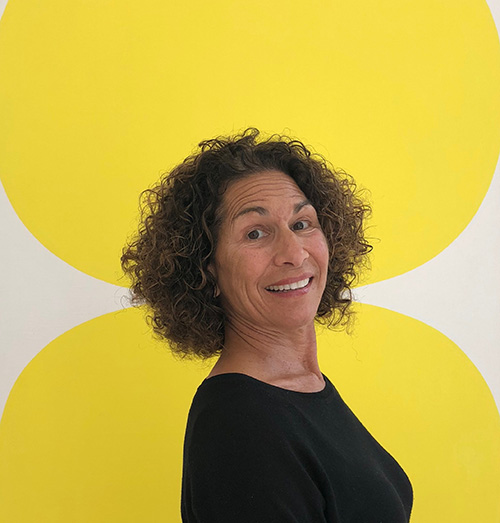 Hedy Fischer, co-founder of Pink Dog Creative, has been named to sit on the Board of Trustees of Art21. Art21 provides unparalleled access to the artist's voice to diverse audiences around the world, using the power of digital media to introduce millions of people to contemporary art and artists. For over two decades, Art21 has changed the paradigm for teaching and learning about the creative process.
In addition to its Peabody Award-winning PBS-broadcast television series Art in the Twenty-First Century, Art21 produces the digital film series New York Close Up and Extended Play; as well as special artist projects. Art21 also creates educational resources and professional development programs; annual public programming; an online publication featuring guest contributors; and a comprehensive website at Art21.org.
Community Container Project in The Laurel
Pink Dog Creative's Community Container Project was recently featured in The Laurel. Connection was a theme for Trinity Harper Pierce as she created her work. "If you don't love your community, there are lots of things that could happen that could be bad, like more violence and heartache," says Pierce. "It's sad to see families lose loved ones to violence." Pierce says creating art helps her feel calm and express herself, and seeing her art on such a large scale gave her lots of emotions. "I feel a little bit nervous because I have never done anything like this and I am excited at the same time," she says. "I hope that when people see the mural that their hearts grow bigger than the heart in the middle."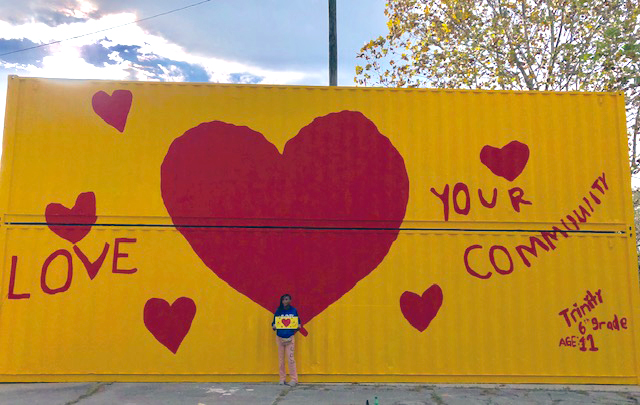 Read the full article at The Laurel website.
VIVIAN wins Best New Restaurant and Best Restaurant in the 2018 Stoobie Awards
Congratulations to Vivian restaurant for winning not one, but two awards in the 2018 Stoobie Awards. Vivian won Best New Restaurant and Best Restaurant. Vivian is "an insanely great restaurant, and a brilliant new jewel in the crown of high-end dining establishments that currently rings our city." – Stu Helm
Click here to read about Vivian and the other winners at the Stoobie Awards website, and here to see Vivian's menu and make a reservation.
Vivian receives Best New Restaurant Award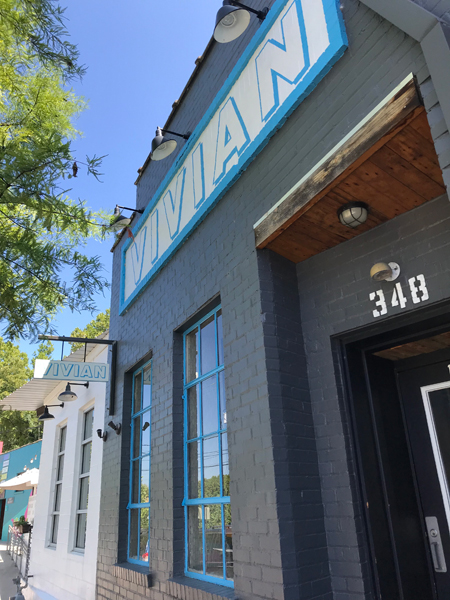 Vivian is honored to receive a "Best New Restaurant" award from Mountain Xpress Best of WNC Awards for Asheville in 2018. Vivian would like to thank all their wonderful guests who voted for their nomination in this category; they look forward to serving you many more delicious meals!
Learn more and make a reservation at Vivian's website.
Pink Dog Creative and 22 London Featured in Burnaway article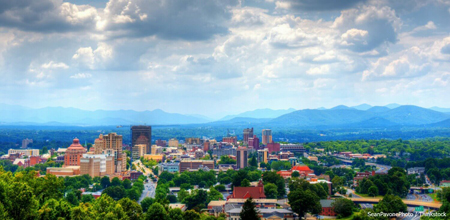 Pink Dog Creative, 22 London, and the upcoming exhibit Say It Loud at 22 London were all mentioned in a new article in Burnaway, The Voice of Art in the South. The article is entitled How Did Asheville Make the List of 40 Most Vibrant Arts Communities in America? by Diana Stoll.
Read the full article at burnaway.org here and the original research findings about the 40 Most Vibrant Art Cities here.
Dining review: RAD's Vivian grows from Salt & Smoke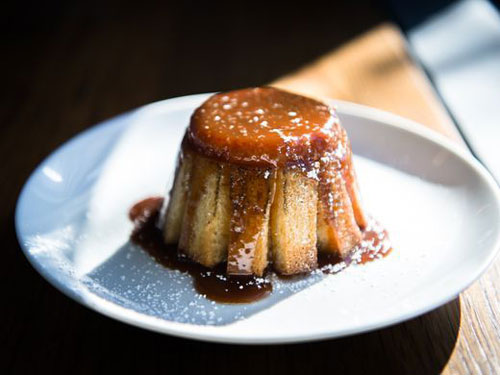 An excerpt from the article: "Vivian feels as though it's been operating for years. Its cuisine is clearly defined, and the warm hospitable approach to the service helps makes the restaurant a success… Vivian set out to meld southern and European cuisines in an elevated way, and it succeeds. "
Randy Shull work acquired by Spartanburg Art Museum
Spartanburg, SC
Pink Dog congratulates Randy Shull as the Spartanburg Art Museum acquires Striped Reflection, a recent piece from his reflection series that explores the relationship between painting and furniture. Fundamentally, Shull says the work is about pairing and relationships.
See more of Randy's work at his website.
Viola Spells featured in the Mountain Xpress
Viola Spells was featured in Mountain Xpress article Two Local Artists Follow Their Passions in the RAD by Alli Marshall.
Fresh West Pizza in the Mountain Xpress
Read Liisa Andreassen's interview of the owner of FRESH West- Quick Dish: Q + A with Mark Tomczak of FRESH Wood Fired Pizza in the Mountain Xpress – read the article here.
10 Top U.S. Cities for Art Lovers: Asheville
Pink Dog Creative is the feature photo for a "Top 10" article on AARP!
Read more at AARP Travel online.
Asheville, North Carolina is unlike anywhere else in the South
"[Asheville's] singular mix of worldliness and hominess gives it a character unique among cities below the Mason-Dixon line."
"A visit to the emerging River Arts District felt more my speed. A string of converted industrial buildings along the French Broad river, it's now home to working artists in spaces that New York creatives would give both arms for. It's impossible to categorize the talent here, but in just a few hours, I met abstract-animal painter Daniel McClendon (349 Depot St., danielmcclendon.com) and record producer-turned ceramicist Akira Satake (191 Lyman St., akirasatake.com), whose airy workshop houses his wife's exquisite pastry shop, Yuzu Patisserie (191 Lyman St., yuzubycynthia.com)."
Read more of this article at the NY Daily News.