Randy Shull and Hedy Fischer are creating a colorful sensation on Depot Street in Asheville's River Arts District. The former textile manufacturing and warehouse building at 342-348 Depot Street has been transformed into an exciting mix of artist studios and retail spaces.
Pink Dog Creative shares the neighborhood with New Belgium & the Wedge Breweries, 12 Bones Smokehouse and hundreds of local artists. Pink Dog has 33 artists working in their studios, GRIND Coffee Bar, Fresh West Wood Fired Pizza, Vivian Restaurant and A.C.E. Bicycles. Pink Dog raises funds and awareness for people and organizations working to make our communities more equitable and just, including Southside Rising, Youth Artists Empowered and the Edington Center, among others.
Open Hours: Artists work odd hours but we have our studios open for the public most days from 11–5.
We're thrilled that Pink Dog Creative was chosen to represent Asheville in this stunning short film.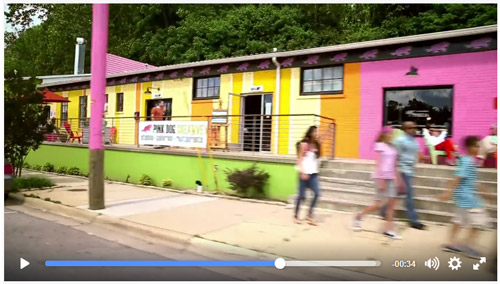 Ongoing Exhibitions & Artist News
The Colors of Pink
Pink Dog Gallery
Opening reception Saturday, December 9, 2023, 5:00–7:00 PM
December 8, 2023–February 25, 2024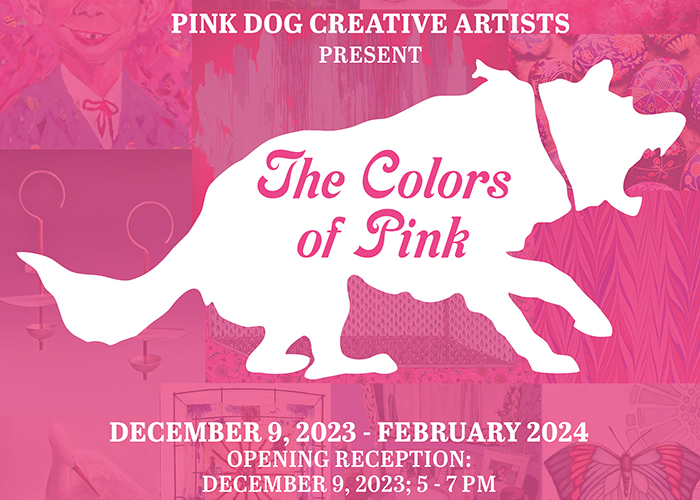 Pink Dog Creative Artists are excited to present The Colors of Pink, a collaborative show about the creative studio's unusual name. Each artist will present artwork that explores and represents the role of color in their work.
Artists in this exhibit include Karen Keil Brown, Christie Calaycay, Heather Divoky, Julieta Fumberg, Pam Granger Gale, Aaron Hill, Liz Hozier, Amanda McLenon, Joseph Pearson, Pat Phillips, Viola Spells, Sarah St. Laurent, Larry Turner, Christine VanCott, Cindy Walton, Emelie Weber Wade, Maya White, and Andrea Kulish Wilhelm.
An opening reception will be held on Saturday, December 9, 2023 from 5 to 7 PM. The show will run through February 25, with a to-be-determined closing reception. There will also be several artist talks scheduled during the three month exhibit.
Please click here for more info.
Pat Phillips in Still Processing online exhibition
The Society of North American Goldsmiths (SNAG)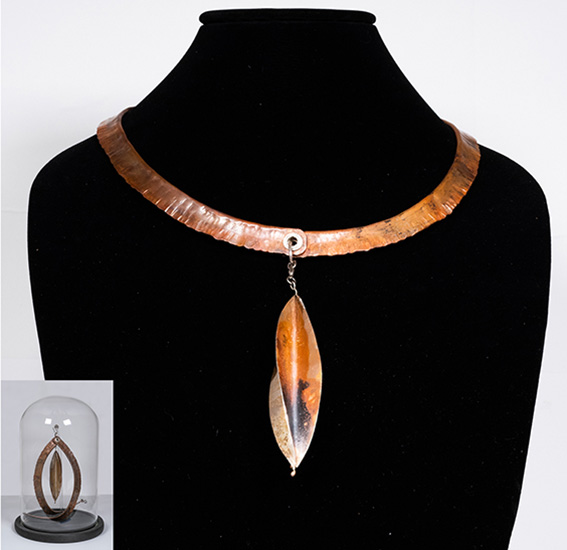 Pat Phillips' work has been selected for inclusion in an online exhibition of the Society of North American Goldsmith (SNAG). The show, Still Processing, is a reflection on the nature of creative practice through the lens of adornment. It will be online through Jan 15, 2024.
Please click here to see the exhibition.
Majik Studios Ornament Workshops
Pink Dog Creative, Suite 140
Fridays and Saturdays, November 17–December 16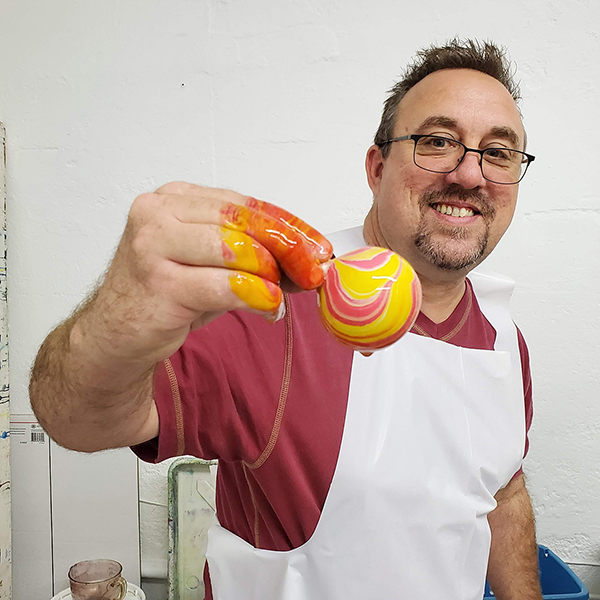 Majik Studios is hosting its second annual ornament marbling classes beginning November 17 through December 16. This hour long, family friendly event is generally held on Fridays and Saturdays.
Click here for more info and to sign up.
Ukrainian Pysanky Egg Ornament Workshops with Andrea Kulish
Pink Dog Creative, Studio A, Suite 100
Evenings in December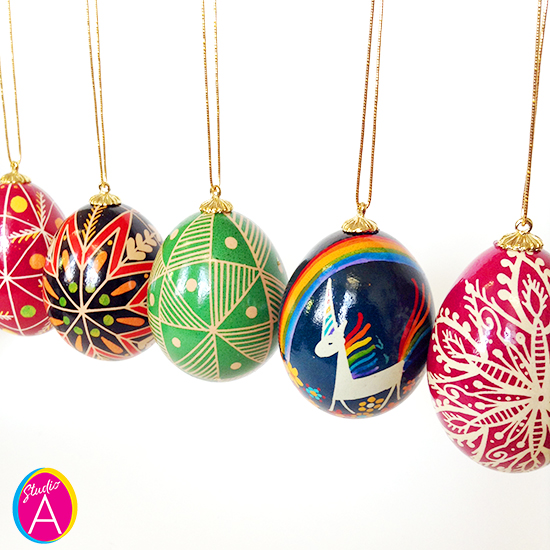 Pysanky are a lot like Asheville- unique, fun and colorful! In this workshop we will be making beautiful Ukrainian Easter eggs – pysanky- as holiday ornaments. You will learn the method of batik – also called wax-resist – dying. You will also be familiarized with the wide range of Ukrainian folk art traditional patterns, designs and symbols and their history. The designs are made with beeswax which is melted in the flame of a candle and applied to the egg using a tool called a kistka. The eggs are dipped into successively darker dyes. At the end of the process the beeswax is melted off to reveal the beautiful and colorful design.
For more information or to book a class, please visit the Studio A website.
Joseph Pearson exhibitions
Anderson Brickler Gallery
Tallahassee, FL
September 1–December 30, 2023
Joseph Pearson is part of Her Blood Runs Through My Veins, a three man exhibition at Anderson-Brickler Gallery in Tallahassee, Florida. This exhibition celebrates the women in our lives and women in general. Pearson also has had a piece accepted in the 110th annual online exhibit sponsored by Allied Artists of America. The piece, titled Girl with Orange will go live on the exhibition website on September 1st.
Please click here to see more of Pearson's work.
Julieta Fumberg receives 2023 WWBC Mountain Climber award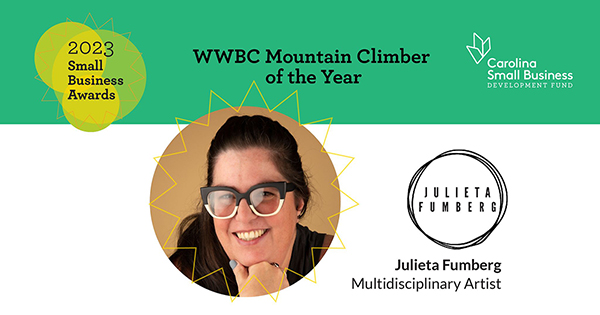 The Carolina Small Business Development Fund announced Julieta Fumberg as the recipient of the prestigious 2023 Western Women's Business Center Mountain Climber award. This recognition highlights Julieta's exceptional accomplishments as a small business owner, her dedication to achieving remarkable growth and success, and being a small business champion who is helping to grow North Carolina's small business ecosystem.
Julieta is a multidisciplinary artist, and her main mediums are acrylics, watercolors, graphic design, and photography. Originally from Buenos Aires, Argentina, Julieta has found a home in Asheville, and continues to channel her creativity and passion for art into her daily life as an artist and entrepreneur.
"Being an artist is what I was meant to be, and I knew it since I was a kid in Argentina growing up. Through adversity and with resilience, from being an immigrant to being a Latino Jew and artist, to being a part of a wonderful community in Western North Carolina, I couldn't ask for a more accepting and encouraging community." Julieta works to help as many people and businesses with their imagery needs, and believes that being creative is a way of life. She is deeply imbedded in Asheville's business community, working to support events for local businesses, the Chamber of Commerce, and the WWBC.
Click here to peruse Fumberg's website.
Welcome Amanda McLenon
Pink Dog Creative Suite #102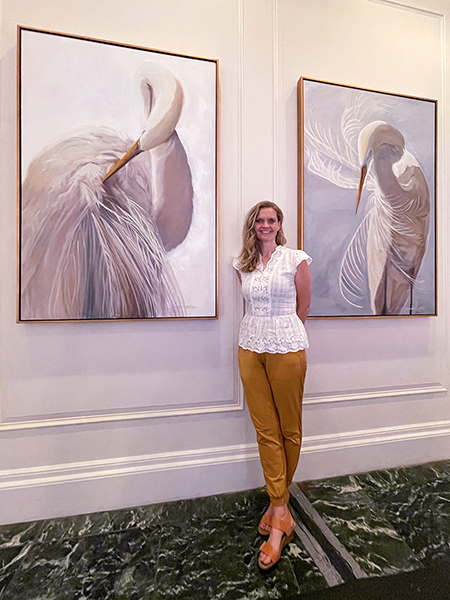 Amanda McLenon is a conservationist at heart who started her career teaching high school biology in Michigan, and completed her Masters in marine biology in Charleston, SC. During her studies, she started painting and was quickly recognized for her accurate wildlife paintings and unique style. In 2012 she received the prestigious Lowcountry Artist of the Year award. Amanda's final scientific work was a 53-day research cruise to Antarctica. When she returned to Charleston, SC she committed full time to her art, where she exhibited at the Charleston Farmers Market, Piccolo Spoleto, and the Southeastern Wildlife Exposition. In 2022, Amanda moved to the mountains of WNC and originally joined NorthLight Studios. In July of 2023 she moved across the street and opened "Amanda McLenon Fine Art Gallery and Studio" at Pink Dog Creative at 342 Depot St., #102.
Click here to visit McLenon's website.
Welcome Maya White
St.Claire Art, Suite 104
Maya White is an artist, live painter and muralist working in the mountains of Asheville, NC. She paints expressive portraits, as well as capturing the life of pets in a beautifully rendered painting. White is also a live painter for weddings and events and leads mural projects in businesses and residential spaces. In her studio you will witness a portfolio ranging from cute pet paintings, landscapes, and portraiture, to colorful abstract and explorative work of interior scapes.
Visit White's live painting site here and her studio work site here.
Jewels of the Southern Coast
New photography book by Tim Barnwell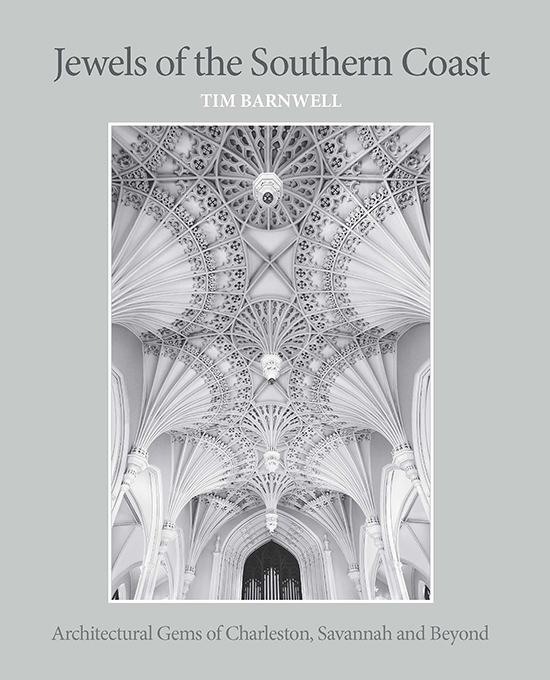 Photographer and author Tim Barnwell has a new book out, Jewels of the Southern Coast: Architectural Gems of Charleston, Savannah and Beyond. The book includes 130 full page black-and-white photographs, made over the past 20 years along the South Carolina and Georgia coast. It highlights the beautiful, historic buildings of coastal towns including civic, governmental, religious and residential structures. Also included are landscape images to set the scene. A brief history of the area with an emphasis on its architecture is included in the Introduction by Robert Salvo. The new book, along with Tim's seven other titles, are available at his studio, Suite 106, or by calling 828-251-0040, or on his website at www.barnwellphoto.com.
Welcome Emelie Weber Wade
Suite 101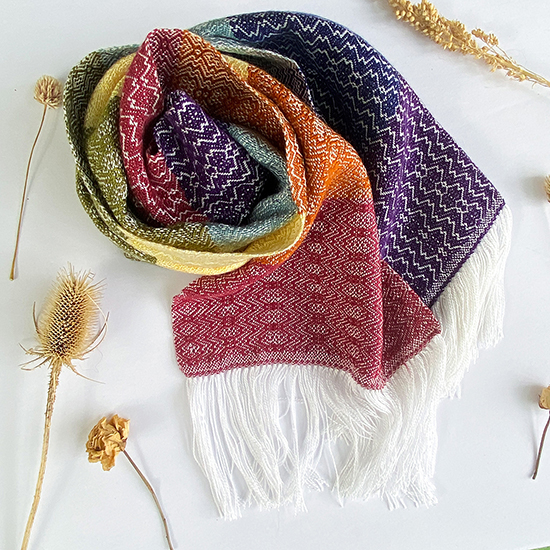 Emelie Weber Wade is a weaver and designer working on 4 and 8-shaft floor looms to create modern textiles for the old soul. Wade's current focus is on wearable art and soft sculpture constructed with sustainable, handwoven materials. She designs her own weaving patterns using computer software, then weaves the fabric on a loom and finishes it on a sewing machine. Each piece is one-of-a-kind and never replicated again. Wade's body of work is inspired by flowers, trees, plants, and insects.
Wade has 10 years experience in production weaving. She received training as a weaving apprentice at Berea College, where she also earned a Bachelor's degree in studio art with a concentration in fibers. In 2014, she received the Sarah Fuller Smith Loom Award, which allowed her to purchase a loom of her choice to continue the craft.
Andrea Kulish Fundraisers for Ukraine in Time and Wall Street Journal
Studio A, 344 Depot Street, Suite 100
Pysanky demonstrations on most Saturdays 12noon-5:00 PM
Andrea Kulish, a first generation Ukrainian-American, is raising funds to help Ukraine. At Studio A, Stand With Ukraine stickers, handmade items from Ukraine, pysanky eggs, t-shirts and more are available by donation. 100% of funds collected are being donated to the UNWLA Humanitarian Aid Fund for life-saving medical equipment and humanitarian aid for Ukraine.
Read more in this Wall Street Journal article about pysanky eggs, and in a recent Time.com article.
Follow Andrea on Instagram for more of her fundraising updates.
ACE E-bikes new brands and models in stock
342 Depot Street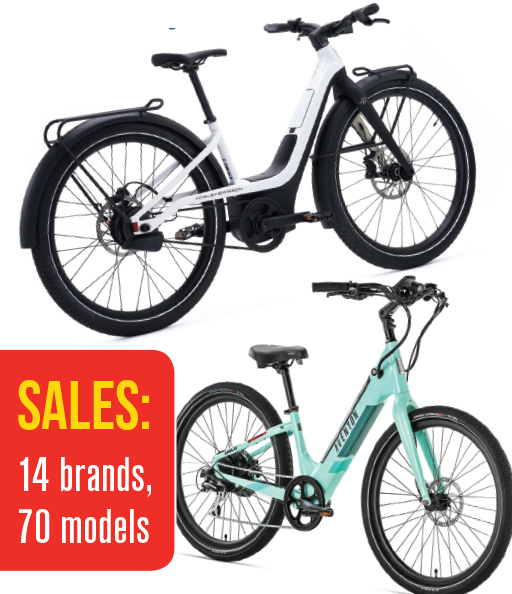 For information on sales and rentals, please check out the ACE Bikes website theacebikes.com or call 27ACEBIKES (272-232-4537). ACE Bikes is located at 342 Depot Street next to Fresh West Pizza.
Welcome Pam Granger Gale
Suite 140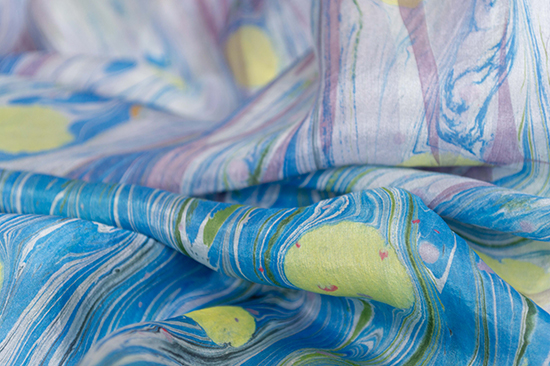 Pam Granger Gale is a retired art teacher with 31 years of experience teaching all ages in different media. She has narrowed her personal art love to marbling. She has a BA degree in Art Education from Limestone College and attained National Board Certification in 2004 and 2014. Pam fell in love hard over thirty years ago with the process of marbling. As a lifelong teacher and learner, she has continually shared her love of the fickle process with others, introducing them to a relaxing addiction. Marbling, the ancient art of floating paint on a thickened water surface, is commonly remembered as facing pages in old books and Bibles. When the desired pattern is achieved, then it may be printed by laying paper to capture or freeze the design.
Learn more about Gale's marbling and classes at her website.
Randy Shull Honors Ukraine
Pink Dog Creative, 342-348 Depot Street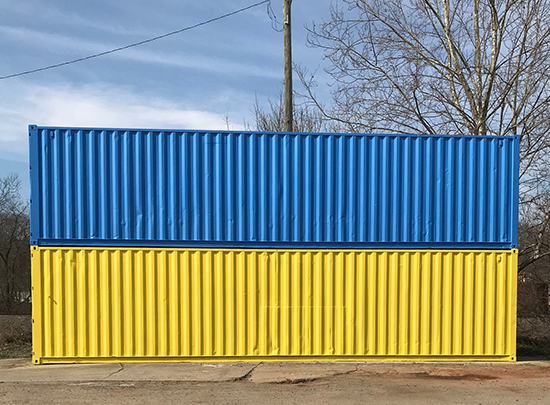 Randy Shull Honors Ukraine, the newest Container Project by Randy Shull at Pink Dog Creative, was painted on March 5. Visitors are encouraged to take selfies in front of the artwork and post using hashtag #standwithUkraine in support of Ukraine.
Learn more about past Container Projects here.
Fundraisers for Ukraine at Studio A
Suite 100



Andrea Kulish, a first generation Ukrainian-American, is raising funds to help Ukraine. At Studio A, Stand With Ukraine stickers, hand painted and handmade items from Ukraine, pysanky eggs, t-shirts and more are available for purchase by donation. 100% of funds collected are being donated to the UNWLA Humanitarian Aid Fund for Ukraine, which goes directly to four hospitals to help wounded soldiers and civilians, and to aid displaced civilians in Ukraine. Andrea also co-organized and co-hosted an online benefit concert. Click here to watch the concert, which has raised almost $8,000.
Follow Andrea on Instagram for more of her fundraising updates.
Pink Dog Creative accepted into the Blue Ridge Craft Trails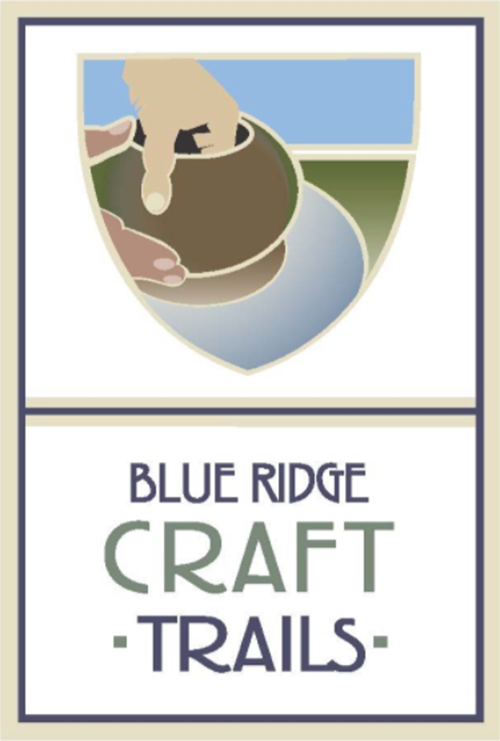 Pink Dog Creative has been accepted to be part of the Blue Ridge Craft Trails. The artists of the building and the building itself will be featured on maps, website and other materials from this non-profit.
Duke Hospital acquires Randy Shull painting
Raleigh, NC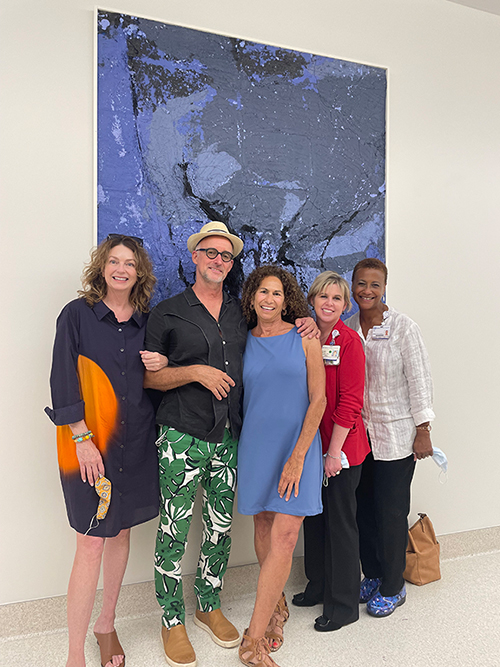 Duke Hospital acquires Periwinkle by Randy Shull, 2021, 90″ x 70″ for its new Raleigh location. Thanks to Marjorie Hodges with Artsuite; Leigh Bleecker, CEO of Duke Hospital, Raleigh; Dia Holman, Facilities Design Coordinator at Duke Hospital and Tracey Morgan Gallery.
See more of Randy's work at his website.
Welcome GRIND Coffee Bar and Co-Working Event Space
346 Depot Street, Asheville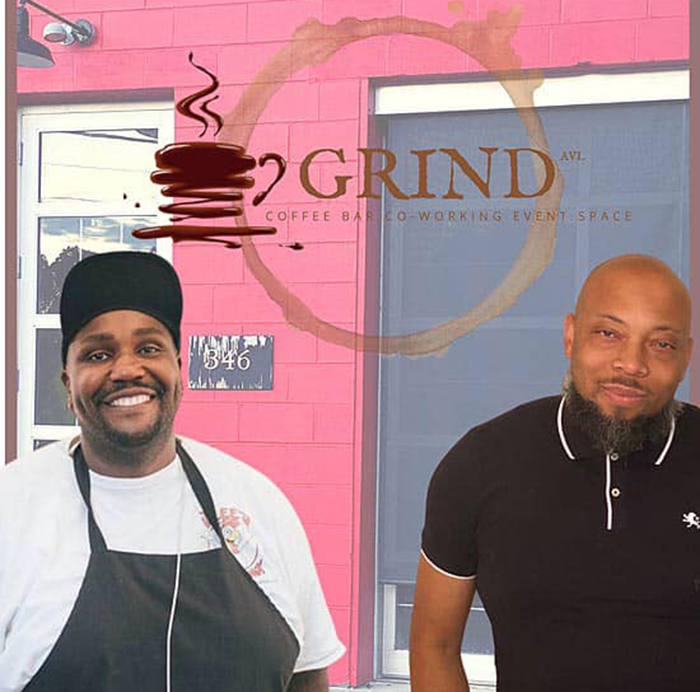 Asheville's first Black-owned coffee shop, GRIND is a place for coffee. It's also a place for co-working, events, team meetings, business decisions and hanging out enjoying the best coffee in town. GRIND is located at 346 Depot Street and will be open 7 days a week.
For more information call The Grind at 828-785-0233, email [email protected], read the article in Urban news or visit GRIND's website.
Support GRIND and other Black-Owned Businesses year-round at: https://www.websiteplanet.com/blog/support-black-owned-businesses/
In Love's Shadow Featured in The Bitter Southerner
In Love's Shadow, a short documentary film about Ralph Burns and his multi-decade photography project, How Great Thou Art, is showcased in a recent issue of The Bitter Southerner. The film, made by Jethro Waters, follows Burns as he returns to Graceland on the 40th anniversary of Elvis Presley's death, and looks at the relationship of this project to Burns' fuller body of work. In Love's Shadow was produced by David Raymond, and was made possible with the generous support of many.
Link to film and article: bittersoutherner.com/in-loves-shadow
Joseph Pearson and Jenny Pickens Lead Artists for Asheville Black Lives Matter Mural
Joseph Pearson and Jenny Pickens were Lead Artists for the Asheville Black Lives Matter Mural. On Sunday, July 19, 20+ artists came together to create this mural in the heart of downtown Asheville. Many thanks go to Councilwoman Sheneika Smith for providing the leadership to bring community members, artists, and the Asheville of City together to create this community project.
Read more about the artists and mural here.
Andrea Kulish Artwork Acquired by Pysanka Museum
Kolomyia, Ukraine
Pink Dog congratulates Andrea Kulish as the Pysanka Museum in Kolomyia, Ukraine acquires three of her pysanky eggs for their permanent collection. The museum will be launching their first-ever exhibit dedicated to the pysanka artists of North America. This historic exhibit will present how traditional pysanky writing was preserved in North America by waves of immigrants and enthusiasts, and how the artform has grown to include innovative techniques, methodology and creativity.
Visit the museum's website to learn more.
VIVIAN Wins 2019 Best Restaurant of the Year Award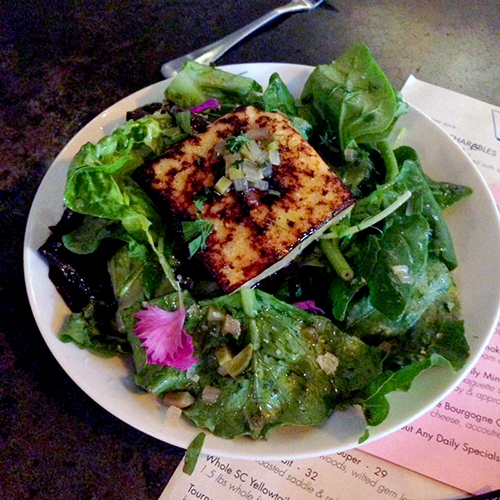 Congratulations to VIVIAN restaurant for winning the 2019 Asheville Food Fan Award for Best Restaurant. This is the second year in a row that VIVIAN has won this honor.
Read more about VIVIAN and make a reservation at their website.
Ralph Burns Photographs Acquired by North Carolina Museum of Art
Raleigh, NC
A suite of twelve vintage photographs by Ralph Burns has been acquired by the North Carolina Museum of Art. The photographs, all from Burns' three decades long project, How Great Thou Art, Memphis, TN, 1978 – 2007+, were acquired in December, 2019, and will be held in the museum's permanent collection.
In writing about How Great Thou Art for a European/British exhibition, the German/Israeli Curator Doreet LeVitte Harten wrote that "(his) insight into the religious character of the Graceland pilgrimage makes Burns' works, apart from their aesthetic qualities, into documents of anthropological significance."
With this latest acquisition, the North Carolina Museum of Art will have 16 of Burns' photographs in their collection.
See more of Ralph's work at his website.
Randy Shull's Open Space acquired by

Congratulations to Randy Shull as the Asheville Art Museum acquires Open Space. Shaping negative space with a combined artistic and mathematical precision, Shull explores the boundaries and intersections between furniture and fine art. In Open Space, sculptural components comment on the relationship between furniture and art as well as their implications when occupying a shared environment. Considering furniture to be an equalizer among people in its ubiquity and daily utility, Shull encourages us to not only reconsider our personal rapport with furniture but also the ways in which we navigate our world.
See more of Randy's work at his website.
Hedy Fischer appointed to Art21 Board of Trustees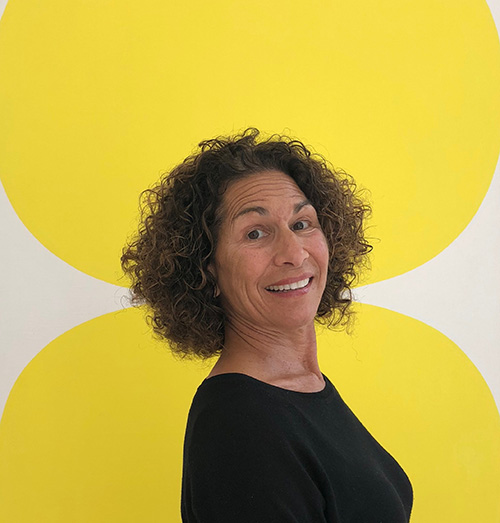 Hedy Fischer, co-founder of Pink Dog Creative, has been named to sit on the Board of Trustees of Art21. Art21 provides unparalleled access to the artist's voice to diverse audiences around the world, using the power of digital media to introduce millions of people to contemporary art and artists. For over two decades, Art21 has changed the paradigm for teaching and learning about the creative process.
In addition to its Peabody Award-winning PBS-broadcast television series Art in the Twenty-First Century, Art21 produces the digital film series New York Close Up and Extended Play; as well as special artist projects. Art21 also creates educational resources and professional development programs; annual public programming; an online publication featuring guest contributors; and a comprehensive website at Art21.org.
Community Container Project in The Laurel
Pink Dog Creative's Community Container Project was recently featured in The Laurel. Connection was a theme for Trinity Harper Pierce as she created her work. "If you don't love your community, there are lots of things that could happen that could be bad, like more violence and heartache," says Pierce. "It's sad to see families lose loved ones to violence." Pierce says creating art helps her feel calm and express herself, and seeing her art on such a large scale gave her lots of emotions. "I feel a little bit nervous because I have never done anything like this and I am excited at the same time," she says. "I hope that when people see the mural that their hearts grow bigger than the heart in the middle."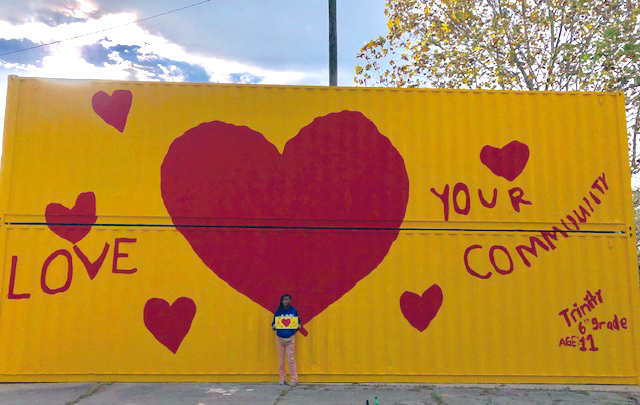 Read the full article at The Laurel website.
VIVIAN wins Best New Restaurant and Best Restaurant in the 2018 Stoobie Awards
Congratulations to Vivian restaurant for winning not one, but two awards in the 2018 Stoobie Awards. Vivian won Best New Restaurant and Best Restaurant. Vivian is "an insanely great restaurant, and a brilliant new jewel in the crown of high-end dining establishments that currently rings our city." – Stu Helm
Click here to read about Vivian and the other winners at the Stoobie Awards website, and here to see Vivian's menu and make a reservation.
Vivian receives Best New Restaurant Award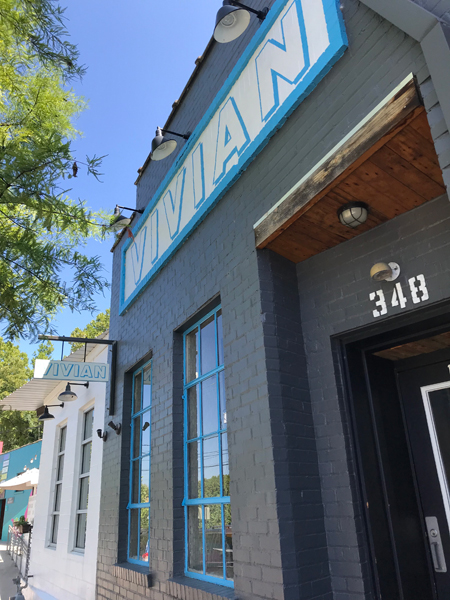 Vivian is honored to receive a "Best New Restaurant" award from Mountain Xpress Best of WNC Awards for Asheville in 2018. Vivian would like to thank all their wonderful guests who voted for their nomination in this category; they look forward to serving you many more delicious meals!
Learn more and make a reservation at Vivian's website.
Pink Dog Creative and 22 London Featured in Burnaway article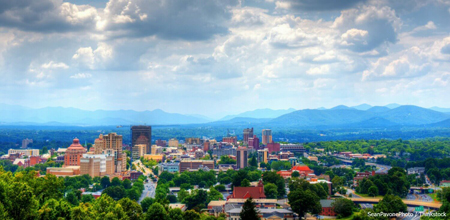 Pink Dog Creative, 22 London, and the upcoming exhibit Say It Loud at 22 London were all mentioned in a new article in Burnaway, The Voice of Art in the South. The article is entitled How Did Asheville Make the List of 40 Most Vibrant Arts Communities in America? by Diana Stoll.
Read the full article at burnaway.org here and the original research findings about the 40 Most Vibrant Art Cities here.
Dining review: RAD's Vivian grows from Salt & Smoke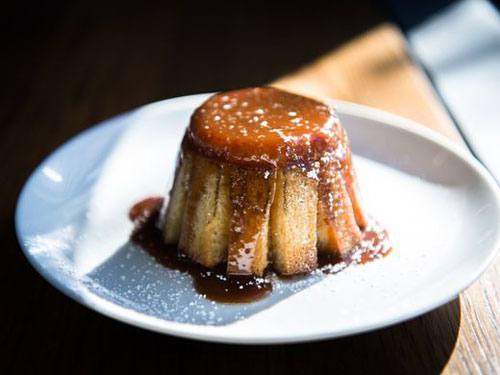 An excerpt from the article: "Vivian feels as though it's been operating for years. Its cuisine is clearly defined, and the warm hospitable approach to the service helps makes the restaurant a success… Vivian set out to meld southern and European cuisines in an elevated way, and it succeeds. "
Randy Shull work acquired by Spartanburg Art Museum
Spartanburg, SC
Pink Dog congratulates Randy Shull as the Spartanburg Art Museum acquires Striped Reflection, a recent piece from his reflection series that explores the relationship between painting and furniture. Fundamentally, Shull says the work is about pairing and relationships.
See more of Randy's work at his website.
Viola Spells featured in the Mountain Xpress
Viola Spells was featured in Mountain Xpress article Two Local Artists Follow Their Passions in the RAD by Alli Marshall.
Fresh West Pizza in the Mountain Xpress
Read Liisa Andreassen's interview of the owner of FRESH West- Quick Dish: Q + A with Mark Tomczak of FRESH Wood Fired Pizza in the Mountain Xpress – read the article here.
10 Top U.S. Cities for Art Lovers: Asheville
Pink Dog Creative is the feature photo for a "Top 10" article on AARP!
Read more at AARP Travel online.
Asheville, North Carolina is unlike anywhere else in the South
"[Asheville's] singular mix of worldliness and hominess gives it a character unique among cities below the Mason-Dixon line."
"A visit to the emerging River Arts District felt more my speed. A string of converted industrial buildings along the French Broad river, it's now home to working artists in spaces that New York creatives would give both arms for. It's impossible to categorize the talent here, but in just a few hours, I met abstract-animal painter Daniel McClendon (349 Depot St., danielmcclendon.com) and record producer-turned ceramicist Akira Satake (191 Lyman St., akirasatake.com), whose airy workshop houses his wife's exquisite pastry shop, Yuzu Patisserie (191 Lyman St., yuzubycynthia.com)."
Read more of this article at the NY Daily News.