The news about Pink Dog Creative is spreading fast! Read what the press has to say about our space.
The Evolution of Depot Street and RAD
The district a decade ago looked pretty different — even two years ago. Depot Street, once dilapidated territory, now shines at night. Pink Dog Creative at 342-348 Depot St. turned an old Nabisco plant into artist studios, an arts supply store, a gallery (the Artery), the Asheville Area Arts Council's offices and a restaurant (The Junction). Next door, nonprofit development organization Mountain Housing Opportunities built the Glen Rock Depot, a mixed-use complex that includes street-level businesses, such as The Magnetic Field bar and theater.
Read the full article at mountainx.com.
Pink Dog Creative and River Arts District in USA Today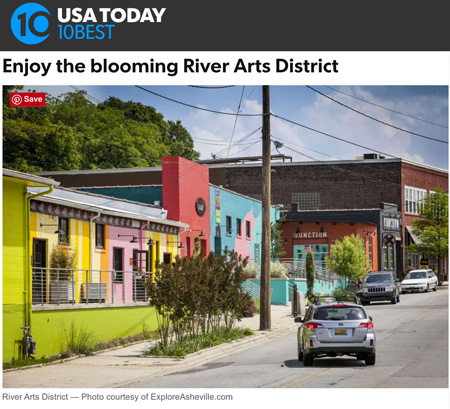 Pink Dog Creative and the River Arts District were featured in USA Today's 10best.com article 10 ways to tune into Asheville's free spirit.
Bold Life
Pink Dog co-founders Hedy Fischer and Randy Shull, photographer Jeff Rich, and curator Ralph Burns discuss WATERSHED: THE FRENCH BROAD RIVER, an exhibition of photographs by Jeff Rich.
From the article:
"Hedy and Randy immediately understood the relevance and value of bringing Jeff's body of work into the heart of the River Arts District," Ralph says. "I found the pictures disconcertingly beautiful and morally challenging." Some 20 photographs are included, although Ralph chose to focus only on the landscapes rather than including the portraiture that appears in the book. "My intentions were to stay as close to the river and its watershed as I could and, then, to allow Jeff's vision and passion and fierce tenderness enough room to speak on their own," he says.
Read the full article on the Bold Life website.
Livability.com
Randy Shull, Pink Dog Creative co-founder and creative director, was featured in a livability.com article about Asheville's River Arts District. Pink Dog Creative was also mentioned as one of the recent RAD transformations that have created homes for artists and studios.
Read the full article at livability.com
Download a PDF of the full livability.com article (2.5 MB)
Our State Magazine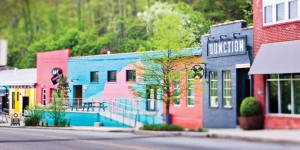 "In the late 1800s, this area was the booming, industrial heart of the city. Factories and mills lined the banks along the French Broad River, producing everything from fabric and flour to crackers and ice. Those businesses have long since faded away. But the district's creativee spirit never died."
Read the full article at Our State's website
Asheville Citizen-Times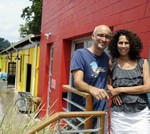 The Asheville Citizen-Times featured Pink Dog Creative as an example of what the Asheville Area Chamber of Commerce hopes to achieve in their new job-creation initiative, Asheville 5×5. Read an excerpt from the original article below:
"But when it's said and done, we did create jobs," Shull said, ticking off the numbers: 15 artists in the buildings; 11 employees at The Junction, an adjacent restaurant; four employees of the Asheville Area Arts Council, which has a gallery in the space; several assistants employed by artists. Shull's economic triumph provides just the sort of example local economic development officials point to as a roadmap for future success.
UNCTV.org
UNCTV featured Pink Dog Creative in a piece about the role of arts in the economy. Hedy Fischer and Randy Shull discuss this topic and talk about the development of Pink Dog.
Mountain Xpress
Dogged Determination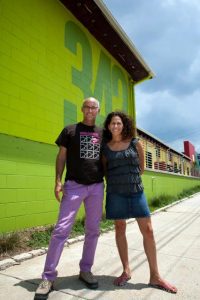 "Inspired by the palette of Merida, the Mexican town where they spend much of their time, the pair decided to use bright colors to turn the former textile warehouse into an arts destination, and in May of last year, after the previous tenant had moved on, Shull began painting the various street-facing sections of the 20,000 square foot structure, creating a panorama of greens, yellows, oranges, reds and blues."
Read the full article at Mountain Xpress
2011 RiverBusiness Award Recipient
Pink Dog Creative has been honored as a 2011 RiverBusiness Award recipient by RiverLink.org. An excerpt is below:
"Pink Dog Creative Studios on Depot Street was founded in 2010, the brainchild of Randy Shull and Hedy Fisher, two long time Asheville artists, entrepreneurs and activists. Randy is an architect, artist and sculptor who has transformed old manufacturing space into more artist studios, a new restaurant and a theater. They added these facilities as entrepreneurs without a government subsidy. It is a vibrant community of 15 artist studios, the Asheville Area Arts Council and The Junction Restaurant and Bar, due to open spring of 2011. Pink Dog Creative's goal is to create a thoughtful community providing space for creative minds to gather, create, show and work eat and drink together."
Open House
Pink Dog Creative had its first open house on Friday, October 1, 2010. Pattiy Torno of www.ashevilleRAD.com really captured the evening's energy with the video below. For more videos, visit ashevilleRAD.com's YouTube page.
In the Beginning
Artist Randy Shull and Hedy Fischer have transformed 342-348 Depot Street into a panorama of colors to house artist studios and retail space. The large Pink Dog logo painted on the front of the building came from a well-executed graffiti tag that was on the building when they bought it. Shull and Fischer decided to incorporate the dog into the building—but paint it pink—thereby taming the ferocious-looking dog into a more approachable and whimsical creature. Pink Dog Creative is right at home in Asheville's River Arts District. Take a look at the before and after pictures to see the dramatic transformation!
*Cleaster Cotton © 2010